Analysis
Morning Metrics: June 25th, 2021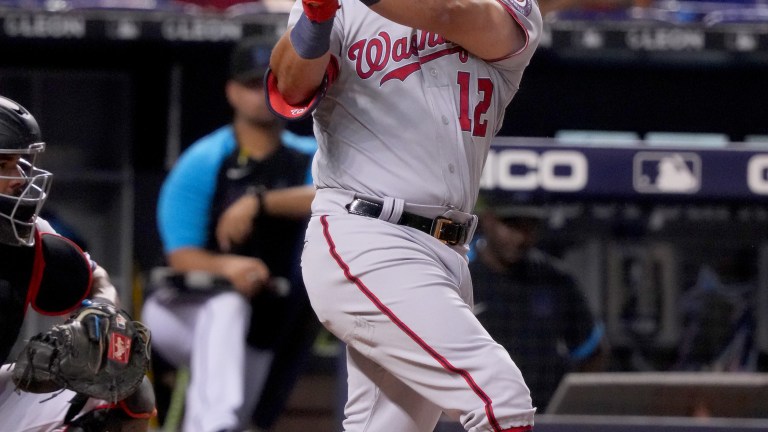 Numbers of the Night
Hardest Hit Ball: Freddie Freeman roped a single up the middle at 113.6 MPH. It was Freeman's hardest hit ball since 2016.
Farthest Home Run: Freeman also produced the longest HR tonight. He smashed one out of Great American Ball Park at 107.9 MPH and 33 degrees for a 442 foot home run. Nine feet off from his farthest home run on record (451 feet in 2015).
FIlthiest Strikeout: Craig Kimbrel hunched over in usual fashion to take the sign before delivering what could be the final pitch of a combined no-hitter against the Dodgers. Kimbrel took a deep breath, reared back and fired a nasty knuckle-curve at 87.4 MPH with almost 2700 RPM of spin. Will Smith, looking like Tony Finau trying to dig himself out of a deep bunker at the US Open, struck out to complete the combined no-hitter for the Cubs. Kimbrel continues his dominance and once again lowers his ERA, which now stands at .60 and trails only Josh Hader and Jacob deGrom.
Top Grab: Nick Pivetta hadn't allowed a hit through 5.1 innings, but Ji-Man Choi's mission was to change that as he clobbered a liner to left field at 107.9 MPH with a expected batting average of .890. Lucky for Pivetta, Hunter Renfroe leaped into the air at full speed and snow-coned the ball to get the second out and save the no-hitter. Pivetta left after 6.2 innings of no-hit ball and the Red Sox lost the no-hitter in the eighth and lost the game in the bottom of the ninth.
Nightly Rundown
Chillin' with the Mortals:
Wander Franco, who I apparently cannot stop talking about, struck out three times for the first time in his professional career last night. He went 216 consecutive games without a three strikeout game and had only had five games where he K'd more than once. MLB pitchers can humble even the best of hitters, so it was bound to happen at some point. Let's see Wander get in the film room and make some adjustments. He was struggling with pitches on the inner half, but it is nothing that I would read into yet.
Kyle Schwarber Heat Check:
Kyle Schwarber's month of June has been the baseball version of the Kyle Korver heat check. He launched his 20th and 21st home runs and his 11th and 12th in the month of June, which is the most in the league over that span. On the month, Schwarber has an OPS of 1.102 and a 185 wRC+.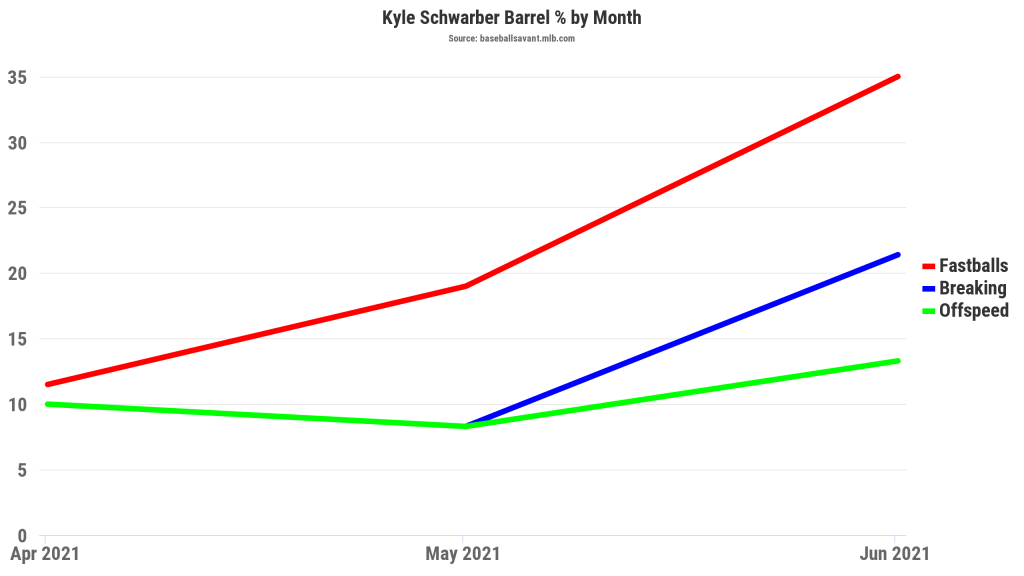 Schwarber is barreling 35% of fastballs and has a .578 wOBA on fastballs since the end of may as well. It would be my recommendation that pitchers everywhere stop throwing Schwarber fastballs… or don't and allow all of us to witness more moonshots.
Pitcher of the Night – Tony Santillan
Pitching line – 6 IP, 8 K, 3 BB, 3 H, HR, ER
Santillan made his third career start last night against the Ronald Acuña-less Braves and really impressed after two very shaky starts to begin his career. Like many Reds pitchers, his slider is the money maker pitch. He threw the slider 46% of the time last night and got 13 whiffs on 19 swings. It was practically an un-hittable pitch. Santillan dominated the evening with 18 whiffs in total, which was most of the night and showed that he deserves a shot to prove himself as a starter.
Hitter of the Night – Aaron Judge
Batting line – 3-3, 2 BB, 2B, HR, 2 RBI
There are few players on this earth that make the art of hitting look as silky smooth as Aaron Judge. Yesterday, each ball into play was over 100 MPH: home run (100.7 MPH), double (107.8 MPH), and a single (109.3 MPH). Judge takes what pitchers give to him and when they get scared of his ferocious power, Judge happily takes his walk to first base. He is walking 13.2% of plate appearances, which is 16th in the league. Judge currently has one of the largest gaps between wOBA, .374, and xwOBA, .423, so watch for him to turn it on in the second half.