News
MLB Injury Report: McClanahan's Injury Likely Season-Ending
Manager Kevin Cash says his ace "likely" needs surgery, but Shane McClanahan will see another specialist before the Rays make a decision.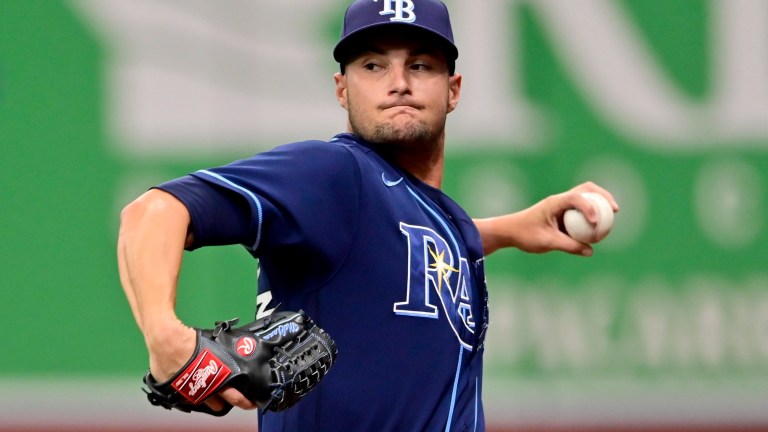 It's almost nail-biting season, folks.
We've got roughly 50 games left in the season, and the standings are tight.
Seven teams across both leagues are within five games of a Wild Card spot, and every division race except the NL East is within five games.
And, like we knew they would, injuries have played a major role in almost every race.
Let's get into this week's injury report.
Rays McClanahan 'Highly Unlikely' To Pitch Again This Year
This is the worst news the Rays could've gotten.
After his start last week against the Yankees, Shane McClanahan said he had discomfort on the outside of his left forearm. The team placed him on the IL and sent him for testing. I wrote about it just last week.
Tuesday, manager Kevin Cash told reporters the team likely wouldn't have its ace for the rest of 2023.
Cash also said "everything is on the table" from a surgical perspective, including Tommy John surgery, flexor tendon surgery and loose body removal, but a final decision wouldn't be made until McClanahan sees another doctor.
This is brutal. Flat out.
The Rays started the season on the biggest heater of all time, but they have played roughly .500 baseball since June and have now lost three high-end starters (Jeffrey Springs, Drew Rasmussen and now McClanahan) to arm injuries.
Currently, they sit two games behind the Baltimore Orioles for the AL East lead and three-and-a-half games ahead of the Astros for the first AL Wild Card spot. They will make the playoffs, that's basically a lock. But what happens when they get there? Now, it's a 'who-knows' situation.
Thank goodness they picked up Aaron Civale at the deadline. Although, his first start in a Rays uniform really didn't go as planned.
Amid Slide, Reds Lose Fraley and Gain India
Let's start with the good. The Reds — on August 10 — are 60-57 and still right in the middle of both a division race AND a Wild Card race.
Now the bad.
The Reds are 5-10 in their last 15, including a stretch of six losses in a row mixed in.
Some in the organization have admitted the team misses Jonathan India, who's been out since the end of July with a foot injury. And that makes sense, if you think about it.
It's not so much about the statistics. He's only slashing .251/.336/.409. It's more about what India is for the Reds. He's the de facto captain, one of the only players on the team with any real experience.
He worked out Monday and was pain-free, expected to be activated Tuesday. When that didn't happen, there was a bit of a concern that something turned for the worse. But, it seems like the team's just being careful, and he'll be back in the lineup Friday when the Reds open the weekend series against the Pirates.
When the Reds do take the field against the Bucs, they will be without Jake Fraley, who just hit the injured list with a stress fracture in the fourth toe of his left foot. Specific, I know.
But this is a big loss. Fraley has a legitimate chance to go 20-20 this season, currently sitting at 20 stolen bases with 15 home runs. He's slashing .263/.346/.467, good for an .813 OPS. It's the unexpected combination of power, speed and on-base that has helped carry the Reds to their current overachieving status. TJ Hopkins has been called up from Louisville to take Fraley's spot.
I'll finish this part of the report with more good news. Hunter Greene, who last pitched for the Reds in June, had his rehab assignment transferred to Louisville.
Why hear it from me, when you could hear it from Jim Day?
Rangers Lose Rookie Slugger Jung to Fractured Thumb
This is a weird one.
Rangers' rookie sensation Josh Jung is expected to miss several weeks after needing surgery to stabilize a fractured left thumb. It happened on this play:
The six-week timetable does leave the possibility open for Jung to return during the regular season, but we'll see what happens as we get closer to that point. As of the writing of this article, Texas is 2.5 games up on the Astros for first place in the AL West.
But back to Jung.
This is now the third straight season in which he's missed time with a significant injury. He broke his foot in 2021 and then injured his left shoulder in the weight room before the 2022 season. It pushed back his development, and that showed when he came up for a cup of coffee at the end of last year.
That said, he's been a middle-of-the-order contributor all year long in 2023. He's slashed .274/.323/.489. His K% (29.3%) is high and his BB% (6.1%) is low, but he leads all American League rookies in homers with 22. Jung had a chance to be the AL Rookie of the Year before this injury. Seems like that's pretty much impossible now.
Dodgers' Grove Down With Lat Injury, While Stars Buehler and Kershaw Work Toward Returns
The Los Angeles Dodgers have had what seems like an 'under-the-radar' kind of season.
Of course, they're still 20 games over .500 and lead the NL West yet again. But they've done it differently this year. They've also had what seems like more obstacles to their success.
The latest came this week, when Michael Grove hit the IL with lat tightness. Manager Dave Roberts doesn't expect him to be down long, possibly only missing the minimum 15 days.
But unlike other situations I'll mention, the timing of this injury is not the worst it could be. That's because future Hall of Famer Clayton Kershaw is tracking to make his return to the mound Thursday, when the Dodgers open their series with the Rockies.
And it's not just the big lefty…
Friend of the program Walker Buehler is facing live hitters in what will eventually be his return to a big league mound. He talked about all that and more here:
While losing Grove is a bit of a blow, the reinforcements on the way make that pill a lot easier to swallow. For those that are interested, Grove is pitching to a 6.61 ERA and a 1.56 WHIP.
Padres Lose Musgrove to Shoulder Injury
Not much has gone right for the Padres this year.
One of the preseason darlings, a team many picked to win the World Series, is currently 55-59 entering Thursday. They're in third place in a competitive NL West and four games back in the Wild Card.
More bad news came last week, when they placed Joe Musgrove on the IL with an injury to the capsule of his throwing shoulder. Here he is giving reporters a detailed explanation of what happened:
Not only is the injury itself tough to swallow, but the timing couldn't have been worse either. Across 31 innings, Musgrove was pitching to a 1.45 ERA, striking out 36 batters and walking only 5 in that span. Opponents were hitting just .204 against him. It was by far his best month of the season.
This injury puts even more pressure on Blake Snell, Yu Darvish and that star-studded lineup to claw out of the hole they put themselves in. In the video, Musgrove tells reporters his doctors told him he needed three weeks of downtime to let the area recover. Let's hope there are still meaningful games to be played for the Padres when that time comes.
Carlos Rodón Out Again; This Time With Hamstring Strain
Now to my favorite segment of the week – trying to figure out how the New York Yankees are going to find themselves a part of this report.
Aaron Judge is back and getting on base at a ridiculous clip. Jonathan Loáisiga has pitched in a big league game for the first time since April. And Nestor Cortes fired four solid innings of work against Houston on Saturday.
But, as has been the case all year, when the Yankees take one step forward, they also take one step (sometimes several steps) backward. The latest came over the weekend, when Carlos Rodón was tagged by the Astros for five runs in just 2.2 innings, then left the game with a hamstring injury.
Here's the play:
After the game, Rodón talked to reporters and told them what happened.
He was diagnosed with a strain and placed on the 15-day IL. Similar to Musgrove, the timing makes his injury worse than it may have otherwise been. Rodón's already missed a ton of time this year with back problems, and he hasn't been good since coming back. Jeff Nelson was all over it on Sunday in the Yanks' booth.
Even more, the Yankees rotation is in a rough place right now. Luis Severino has been one of, if not the worst, starter in the league, while Cortes is still under a pitch limit as he builds his way back. Domingo Germán's situation will force him to miss the rest of the year. So the team was really relying on their $162-million man.
The bright side? He is set to continue throwing on flat ground, to hopefully keep his stint on the IL at the minimum.
Future Hall of Famer Greinke Down With Elbow Injury
Is this the end for Zack Greinke?
The no-doubt Hall of Famer hit the IL with posterior elbow soreness, basically soreness at the back of the joint. As of right now, we don't know how long he's expected to be out.
The 39-year-old has a long history of success in the league but is having one of the worst seasons of his illustrious 20-year career. He's pitching to a 5.53 ERA, striking out just 15.8% of batters faced, the second-lowest mark of his career. He's also allowing a career-worst exit velocity against (89.5 mph) and barrel percentage (8.6%).
If this is the end for Greinke, it's been a helluva career. But let's just hope we're not at that point yet.
Cedric Mullins On Verge of Return
As if Orioles fans needed anything else to cheer about.
Before I go, I just wanted to make sure everybody saw Cedric Mullins showing out while on his rehab assignment in Bowie.
He's set to rejoin the Orioles on Friday. That's the first place Orioles, to you.