Analysis
Is it Time to Panic About the Cincinnati Reds?
The Cincinnati Reds have gotten off to a rough start in August, which has them losing ground in their race to win the NL Central.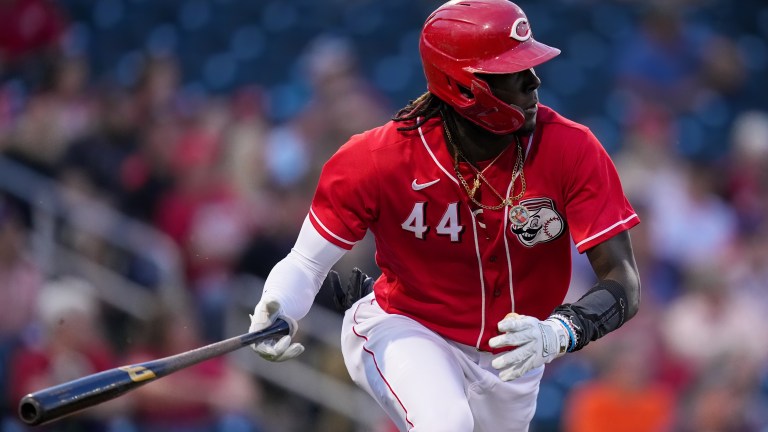 "America's Team" was a nicknamed coined after an incredible stretch in June. Entering June with a 26-28 record, the Reds pieced together an incredible month going 18-8, including an improbable 12-game winning streak.
Prospects that were once discussed like royalty joined the fray and helped the team put together the best stretch of baseball in recent team history.
For a moment, fans were able to dream of a special playoff run and rework budgets to secure the first home playoff tickets since 2012. Everything was clicking, and Cincinnati was in position to add at the deadline and be in the driver's seat of a weak division.
Well, the trade deadline came and went with the only new face being Sam Moll, a second southpaw in the bullpen. While the Moll addition has looked great, fans were left wanting more, and I don't blame them. The rotation needed help, even a back-end starter, to help get through injuries and the dog days of summer. For the first time in what feels like forever, the Reds were positioned to win the division and have a taste of success.
The crowd that wanted them to add and the crowd that wanted them to stay the course both have the same end goal: success. One wanted it now, at almost any cost. The other has lacked it for so long they did not want to risk moving off the plan in place which is looking like it will lead to success. Neither are wrong.
With the Reds rather sleepy deadline, followed by a 1-7 start to August, is it time to panic about the Reds chances in 2023?
The answer: No
Hunter Greene is nearing a return with Nick Lodolo not far behind. Tejay Antone, Ben Lively, Jake Fraley and Jonathan India should be back in the coming weeks. All have played a big role in the Reds success either this season, or in recent enough years.
Counting on Greene, Lodolo, and especially Antone to return from injury and automatically provide the value we know they can bring is asking a lot. We do not know how they will look, or how healthy they truly are. I'd bet on at least one of Lodolo or Greene being an upgrade over Luke Weaver, however. But, keep in mind, this team reached heights we have not seen in a decade, without them. Maybe it was just lucky, but that's baseball. The highest of highs and the lowest of lows and never as extreme as they feel. Which breaks me to their recent stretch in August.
A recent six-game losing streak has lead some to believe the season is over. This team is cooked. Fun ride, but they aren't good enough to win a division. I wonder if they said the same thing after the six-game losing streak in July? How about the six-straight they dropped in April?
Each time the Reds responded, winning five of six in April and July.
Cincinnati is 1.5 games back in the NL Central and right in the thick of it for the last Wild Card spot. On August 9th, the Cincinnati Reds are in a legitimate Playoff race. Sure, they are hitting a speed bump, but it's not time to give up on a team that has never gave up all season. Hell, they have 36 come back wins!
Time and time again the Reds have proven the common narrative wrong. All these rookies can't possibly be successful enough at the same time. Wrong. Joey Votto will not provide anything to this team. Wrong, 13 pumps in 40 games. They will fall out of it with Greene and Lodolo. Wrong.
Why can't they prove us wrong again?
No, I don't think the Reds have the roster for a World Series run. They are not there yet and will have to go through some growing pains and continue to add to the roster before reaching that level. But getting into the playoffs is still a very real expectation.
Luckily, the other teams fighting the Reds for a spot have their flaws too. The Brewers are looking a lot more like the 86-win team that missed the playoff last year, than the 95-win team that won the NL Central back in 2021. The Cubs are on a hot streak, but come with plenty of questions around their roster. Despite what a computer calculation might say, the Reds are still alive down the stretch.
Regardless of how this season ends in Cincinnati, the momentum is real. The young players are showing more than we ever expected this early on, and there will be more money to spend this offseason. The Reds are in a great position now, and well into the future. Rome wasn't built in a day.