News
MLB Injury Report: Stanton, Springs, Seager Highlight Stars To Hit the IL
Injuries continue to hit some teams harder than others this season, as Giancarlo Stanton, Jeffrey Springs, and more big names head to the IL.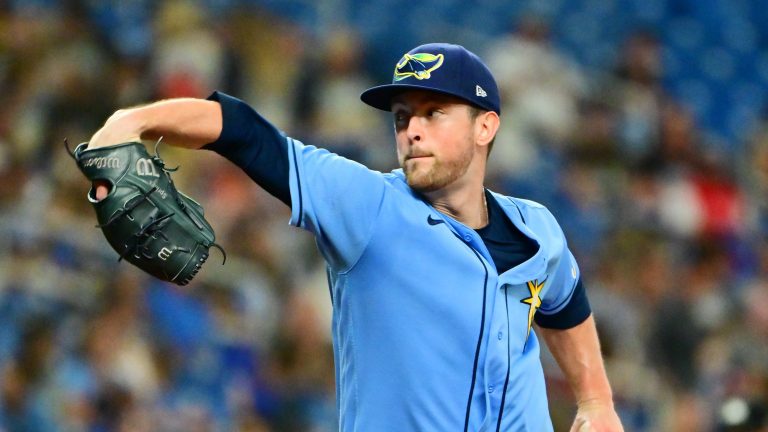 Another week gone by, another set of stars on the injured list.
Just three weeks into April, and some MLB teams are already starting to scroll way down the depth chart. Let's take a look at this week's biggest injuries.
Corey Seager Suffers Another Hamstring Injury
When was the last time we heard this? The Texas Rangers are in first place.
The infusion of talent into the roster has worked. They're 12-6 and playing some great ball to start the year.
But it's not all good news.
Last week, their star shortstop Corey Seager hurt himself going into second base and had to leave the game.
He was placed on the IL with a Grade 2 left hamstring strain. The Rangers say he'll be out a minimum of four weeks, but that seems oddly optimistic. Not only is this injury usually a 6-8 week kind of thing, but Seager has an injury history with this hamstring. He strained his left hamstring back in 2019 and spent roughly a month on the IL.
This stinks, because our boy was balling to start the year. He was slashing .359/.469/.538 with four doubles, one home run, and more walks (nine) than strikeouts (seven).
In his absence, they're 5-2, with Josh H. Smith getting a majority of the looks at shortstop. He's just 2-for-17 in that time, but it hasn't slowed the team down at all.
One reason why: Marcus Semien.
Since his double-play partner got hurt, Semien is 8-for-22 with 3 home runs, 9 RBI and 8 runs scored.
Quickly, on a different note, Jacob deGrom was four innings into a no-hitter when he was pulled after 58 pitches. The Rangers are calling it "right wrist soreness" and say he left the game as a precaution. For now, we'll treat it as such.
Moving on …
Giancarlo Stanton's Legs Continue to Cause Problems
From one hamstring to another…
For Yankee fans, this has to bring on feelings of, "here we go, again."
Big G was mashing to start the year, hitting balls harder than anyone in baseball.
And then Saturday afternoon rolled around. Stanton swatted a ball off the wall — a ball a lot of people (Michael Kay included) thought was a home run — and limped into second base. Then he looked in the dugout and gave his best 'Jack Black in School of Rock' impression, with the "let's rock, let's rock today" finger wiggling, signaling he needed a pinch runner.
Here it is, at the 50-second mark.
Stanton also has a Grade 2 left hamstring strain and could be out for 4-6 weeks. In his place, the Yankees have called up Oswald Peraza.
But that's not the only Yankee injury news. Josh Donaldson wasn't activated off the IL Wednesday like he was supposed to be. Aaron Boone says his hamstring was tight and didn't feel good after a rehab game.
Carlos Rodón's back is still barking, and Boone told reporters Wednesday the initial tests have shown nothing significant. Boone says something is "nagging" the star pitcher.
I'll tell you one thing. Any lineup that has Isiah Kiner-Falefa, Kyle Higashioka and Aaron Hicks hitting 7-8-9 is not going to be very effective.
Thankfully for the Yankees, Harrison Bader's rehab assignment is going according to plan.
Jeffrey Springs' Breakout Comes to a Screeching Halt
The old saying goes, "all good things must come to an end."
In this case, "good things" meant two and a half starts from Jeffrey Springs.
It happened here:
Springs would leave that game, and after a few diagnoses, we were hit with the worst one of all. Springs is expected to have Tommy John surgery to repair the ulnar collateral ligament in his left elbow, meaning he'll miss the rest of 2023 and even some of 2024.
If he wasn't so good last year, I'd say Springs was in the middle of a breakout. But in his case, it was more like he was already taking the next step, beginning what could've become a Cy Young season. Yes, I know it's April, but the numbers were outstanding. In 16 innings pitched, Springs was 2-0 with a 0.56 ERA, 0.50 WHIP and 24 strikeouts against four walks.
Tough…
But I, for one, am a glass-half-full kind of person. This almost certainly means we'll get to see more of Taj Bradley, and I don't think anybody is complaining about that.
Just Baseball's 35th overall prospect, Bradley has been real good in two starts with the big league club. In 10.1 innings pitched, he's 2-0 with three earned runs allowed and 17 strikeouts against two walks. Confirmed filthy.
I've said it once, and I'll say it again: The Rays, man.
The Brewers Lose Their Ace… Maybe
I would dive into this in more detail, but our own Joey Peterson has already done so. You can read his piece here.
Burnes – Woodruff – Ashby – Varland – Houser. That's a full rotation of pitchers who are hurt.
How is this team 14-5 to start the year?
Hunter Greene's Shin Takes a Hit… But His Wallet Gets a Boost
The Reds are — dare I say it — fun?
They're last in the NL Central, but at 7-11, they've really played some competitive baseball to start the year.
There is so much to be excited about, especially the three-man combination of Graham Ashcraft, Nick Lodolo and Hunter Greene at the top of the rotation.
The Reds got a huge scare earlier this week though, when Greene got hit with a comebacker in the shin.
He left the game but wasn't placed on the IL. That's a great sign. Hopefully, he can make his next start and everything ends up okay.
But you know what can numb the pain of a shin bruise? Money.
The Reds and Greene agreed to a six-year extension worth $53 million. The first piece of the rebuild is officially locked in. Let's go Reds 2024.
The Mets Lose Another Starter
First, it was Justin Verlander. Then it was José Quintana.
On Tuesday, the Mets' starting rotation suffered its latest casualty. Carlos Carrasco was placed on the IL and diagnosed with a bone spur in his right elbow.
Luckily for the Metropolitans, Max Scherzer was able to make his scheduled start Wednesday after being pushed back a few days. Not so luckily for the Metropolitans, Scherzer was ejected from said start after umpire Phil Cuzzi decided he had too much sticky stuff on his glove.
Scherzer's explanation:
But back to the injuries.
Carrasco hasn't been good to start the year. He's pitched to an 8.56 ERA in three starts. But how much of that is because of his elbow? We're not sure.
José Butto came up to start Sunday in Scherzer's place and pitched well. Tylor Megill and David Peterson have held up their end of the bargain at the back end of the rotation.
Best of all, the Mets just took two of three from the Dodgers to start the week.
A Trio of Twins Making Progress
The AL Central leaders have some reinforcements on the way.
Alex Kirilloff and Jorge Polanco had their rehab assignments transferred to Triple-A St. Paul on Tuesday.
Polanco is coming back from left knee tendinitis, which has delayed his season debut. He went 5-for-18 with a double in six games at Low-A Fort Myers before getting the call. He should be back with the big club before long.
Meantime, Kirilloff is recovering from surgery on his right wrist he had back in August of 2022. He's a touch behind Polanco but is tracking to return sometime in May. In Fort Myers, he went 3-for-12 with a home run and has already played in back-to-back games. The Twins have been cautious, because of how debilitating this injury turned out to be. But Kirilloff's lefty power punch will be a welcome addition to the Twins lineup.
Speaking of power, Joey Gallo has returned from his intercostal strain. More power equals more fun for the AL Central leaders.
Waino Working Towards His Return
Finally, some good news for the Redbirds.
Adam Wainwright made a rehab start Wednesday for Double-A Springfield, and by all accounts, everything went according to plan.
In three innings pitched, Wainwright gave up four hits, two earned runs, and struck out three batters. He threw 59 pitches, 40 of them for strikes.
He started the season on the IL, thanks to a groin problem he suffered just after the World Baseball Classic. Thankfully, all signs are pointing to the Cards' ace (maybe ace is a stretch) making his return sooner as opposed to later. That's a good thing, because let's face it, this rotation needs him…badly. I wrote about it here.
Hopefully, Wainwright gives the Cardinals the boost they so desperately need. They were 7-11, but it felt a lot more like 0-18 to some. And then they pounded the Diamondbacks on Wednesday.
So the mood in the clubhouse is better…I guess?