News
MLB Injury Report: Mike Trout Among Several Stars Hitting IL
The Angels' superstar is expected to miss six to eight weeks after undergoing surgery to repair a broken hamate bone.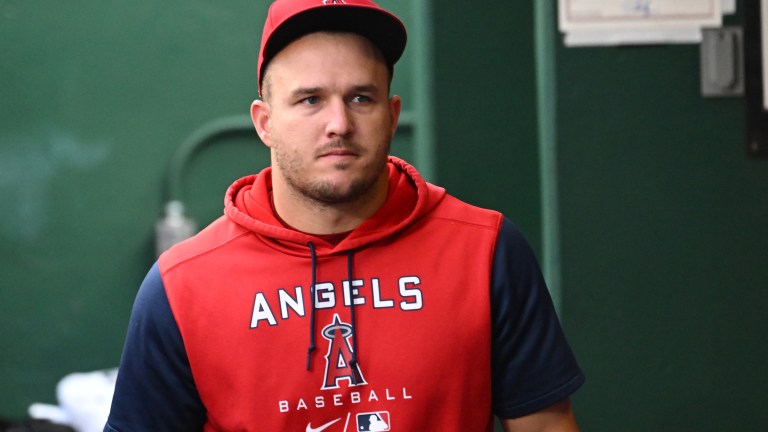 It's amazing what can change in a week.
In just seven days' time, we've gone from mostly quiet on the injury front to a full-on red alert, at least for one team.
Let's get right into this week's injury report.
More Fallen Angels: Mike Trout, Shohei Ohtani, Anthony Rendon all injured in 24-hour span
I saw this one live and knew it didn't look good. And then I watched the replay on Twitter.
This one. Right here.
And I said to myself, "Mike Trout just for sure broke his hamate bone."
Sure enough, 24 hours later, every baseball fan's yearly worst fear became a reality. Trout is set to miss between six and eight weeks with a fractured hamate bone in his left hand.
Not long after, things got exponentially worse for the Halos. An hour and a half later, Anthony Rendon left the game after he fouled a ball off the inside of his knee. Angels' beat man Rhett Bollinger gives us a better look:
AND THEN, it got even worse. Less than an hour after that, Shohei Ohtani left the game with a blister on his pitching finger.
I mean …. COME ON!
Here is the diagnosis on both Ohtani and Rendon, once again from Bollinger:
I'll leave it there with those two. We've written twice now about Rendon's absence in this lineup.
Trout's injury is a really tough blow for this Angels team to swallow. It seemed like our generation's best player was finally rounding the corner. Over the past two weeks, he was hitting .333, with three home runs and a 1.076 OPS.
The Angels are 45-44, firmly in the Wild Card hunt halfway through the season. But without 44% of the team's payroll, what happens over the next two weeks? What if they lose the final two games before the break? That puts them at 45-46, a losing record.
Want to look ahead to the second half? The first six out of the break are against the Houston Astros and New York Yankees, who might have big 99 back at that point. The trade deadline is August 1. At that time, the Angels will be in Atlanta. If the free fall happens, does Ohtani make it out of Atlanta an Angel? We'll see.
Kershaw Gets Curbed: 'Cranky' shoulder lands all-time Dodger great on the IL
I'm not going to spend too much time on this, but it is worth noting.
Last week, we wrote that Dodgers' ace Clayton Kershaw — having a very solid season at age 35 — was dealing with what he himself called a 'cranky' shoulder. He was pulled from his start early because of it, and told reporters he could miss some time.
I'll post it again for you here.
Earlier in the week, the Dodgers indeed put Kershaw on the IL, confirming some of the concern he had while standing at his locker. Like I mentioned, Kershaw has been fantastic this year, pitching to a 2.55 ERA (175 ERA+ … if you're into that sorta thing) and a 1.049 WHIP. He's struck out 105 batters in 95.1 innings, while walking only 24. That's good for a 3.3 bWAR.
Michael Grove got the nod in Kershaw's place Monday, throwing four innings of five-hit ball and allowing just one run. He and Gavin Stone were called up, signaling the Dodgers are hoping for at least one of them to be able to eat Kershaw's innings.
As if that wasn't bad enough for the Dodgers, they announced fireballer Dustin May will need surgery to repair his right flexor tendon and is out for the year.
The MLB Network guys talked about what it means for the Dodgers.
They finish the conversation with "should they make a deal?"
Uh…yeah. I know a guy who could solve all their problems, someone who could hit AND pitch.
Sunblocked: Rays lose ace McClanahan to back tightness
From one ace pitcher to another, the first-place Rays will be without their #1 arm Shane McClanahan for a while. He was placed on the injured list Saturday with back tightness.
Here are some more details from McClanahan himself:
The Rays have managed to handle the injuries somewhat miraculously this season. Shane Baz and Jeffrey Springs are already out for the year, Drew Rasmussen has missed time and Tyler Glasnow got a late jump. Meanwhile, they're 57-31 and have the best record in the American League.
That said, none of those guys is McClanahan. He may be the best pitcher in basebal, and was having another dominant season, amassing a 2.8 bWAR over 96 innings pitched.
Let's hope the back isn't an issue long-term and he can take the All-Star break to get right.
Wain-over: Adam Wainwright's final season hits new low with injury
It's a tricky see-saw to teeter on for professional athletes.
When is the right time to retire?
Some prefer the 'out on top' method, while others will grind it out until there's nothing left to give. It appears, in Adam Wainwright's case, it may be the latter.
The one-time Cardinals' ace has been a masterclass in pitching for 20 years, but this semester, the bell has rung and school is out. Waino has pitched to a 7.66 ERA and a 1.99 WHIP. The under-the-hood numbers are borderline worse than that. He is in the debate for the league's worst pitcher, when for years, he was in the discussion as one of the league's best.
Now the season hits another low. The 41-year-old pitcher hit the IL this week. He's officially been diagnosed with a shoulder issue, but manager Oli Marmol said he has multiple issues and is headed back to St. Louis.
Waino's season has mimicked the Cardinals' season overall. They're 35-50 and in last place in the NL Central, 11 games back of the first-place Reds. Did we ever think we'd say that this year? For Cardinals fans (and believe me, I know more than a few) the season has turned into "What can we get for Goldschmidt and Arenado" as opposed to "Who can we add at the deadline to push us over the top?"
I guess the first step in fixing the problem is admitting it. General manager John Mozeliak did that with his comments to KMOX. Here they are:
This sucks for Wainwright. Sucks for the Cards. It's been a helluva career. You just hate to see things end like this.
On Mute, Again: Jazz to miss more time after another injury
Let's start with the good here. The Marlins are legitimately a good team.
As I write this, they're 50-37 and playing some lovely baseball over the last few weeks. The Luis Arraez at-bats are must-watch TV, and the emergence of Eury Pérez has really stabilized the rotation, especially considering how oddly bad Sandy Alcántara has been in the first half.
If they could only keep Jazz Chisholm on the field.
He's on the IL for the third time this year, this time with an oblique injury. It looked pretty gnarly on video.
Still, Jazz told reporters it felt more like a cramp than anything, and he expects to be ready after the All-Star break. He's only slashing .246/.302/.443 this season through 45 games played (183 PAs), but it's hard to blame the guy when he's spent half his team's games on the IL.
Hopefully, he gets right, takes a few days off and helps the fish keep fighting for playoff position.
Other news and notes from around the league
Legitimately, I could keep this article going for another 1,000 or so words, but I know many of you won't stick around the long.
So with that said, let's quickly round up the rest of the injuries league-wide.
Minnesota's Royce Lewis hits the IL with an oblique injury of his own. He's expected to miss more than a month, a huge gut punch for him and the Twins. The former #1 overall pick was slashing .326/.354/.474 in 99 plate appearances.
Red Sox starter Garrett Whitlock is back on the IL with a bone bruise in his right elbow. He'll be reassessed next week.
White Sox starter Michael Kopech, who's turned his season around quite nicely, landed on the IL with right shoulder inflammation.
Seattle starting pitcher and rookie phenom Bryce Miller is on the IL with a blister on the middle finger of his pitching hand. Manager Scott Servais said the young right hander "not going to pitch for a while." Not good.
San Francisco Giants Anthony DeSclafani and Thairo Estrada both hit the injured list. Estrada is dealing with fracture in his left hand, while DeSclafani has shoulder fatigue. Estrada is having the best offensive stretch of his five-year career.