News
MLB Injury Report: Braves Lose Ozzie Albies to Hamstring Injury
Before the injury, the Atlanta Braves All-Star second baseman had been an ironman, playing in every one of his team's 117 games.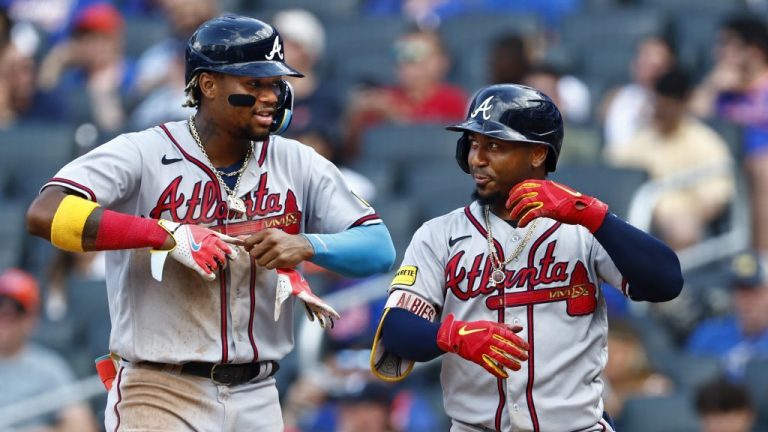 There are just six weeks left in the Major League Baseball season.
It's coming to the point of the year where some injuries may keep players out for the rest of the campaign. Meanwhile, some players will be returning for the most important stretch of the season.
Let's get into this week's injury report.
Braves lose second baseman Albies to hamstring strain
To the outside world, it would seem the one team that has had a flawless season to date has been the Atlanta Braves.
That's not necessarily true. Just ask Max Fried. But, they do have the most complete team in the league, and have had most of their team healthy throughout the year.
To hammer the health point home, let me show you this statistic. As of last week, Matt Olson, Ronald Acuña, Austin Riley and Ozzie Albies had all played in every one of their team's 117 games.
In this day and age, that is remarkable.
But one of the four Atlanta horsemen developed a hitch in his giddy-up in last weekend's series against the Mets. Albies left Sunday's game with what the team called cramps, but became much more serious as they evaluated him. Tuesday, he was placed on the 10-day IL with a left hamstring strain.
After a 2022 season that was riddled with injury, Albies came back with a vengeance. He's slashing .267/.327/.514, with an 120 OPS+ and 3.8 bWAR. He's also on pace to smash his career high in home runs, which was 30 back in 2021. He's also picked his spots on the base paths, going 11-for-11 in stolen bases.
What do the Braves have in his place? Options, which is not something a lot of other teams can say.
Nicky Lopez has slotted into Albies' starting role, and instantly started hitting. He's played in five games as a member of the Braves, collecting seven hits in 17 at-bats, good for a .412 batting average. But the Braves also had an insurance policy down in the minors.
They called up Vaughn Grissom this week, who's been tearing up Triple-A Gwinnett. He's slashing .327/.412/.494, good for a .906 OPS. Over his last 11 games in the minors, it's been even more dramatic. Grissom was getting on base at a .519 clip.
Even with Albies' injury, there is nothing to worry about in Atlanta. They're 78-42 and lead the NL East by 12.5 games. Now's the time for them to rest him up and make sure that loaded lineup is ready for October.
Rays' McClanahan needs Tommy John surgery; likely out all 2024
I won't spent too much time with this one.
I've written about Shane McClanahan twice over the last two weeks, detailing the process the Rays were taking with his injury. That process hit a climax this week, when the team announced he would undergo Tommy John surgery and miss not just the rest of this year, but all of next year as well.
It's a brutal, but not surprising development, considering the team had already placed him on the 60-day IL and said surgery was an option. But the average fan also can't help but wonder what's going on in Tampa.
This is the third (fourth, if you count Shane Baz) member of the pitching staff to require elbow surgery. Jeffrey Springs needed his in April and Drew Rasmussen needed surgery last month.
It's also important to note this is McClanahan's second Tommy John surgery. His first was back in 2016, while pitching at USF.
Tampa enters Thursday two games behind the Orioles in the AL East, and five and a half games ahead of the Mariners, the top non-playoff team in the AL.
José Abreu hits the IL with back injury
Very rarely does it feel like the Houston Astros make a wrong move.
But it certainly seems like that's the case with José Abreu. The former MVP is slashing just .234/.291/.343 on the season, good for a -1.0 bWAR.
Abreu's down year got a bit worse this week, when he was placed on the 10-day IL. David Hensley took Abreu's place on the 26-man roster. He's been up with the Astros a couple of times this season, hitting just .120 with one home run.
Houston is 70-52, in second place in the AL Wild Card race.
The most insane part about Abreu's injury doesn't even involved Abreu. It involved Jon Singleton, who's back in the big leagues for Houston after an eight-year absence.
And, just like the baseball gods drew it up, Singleton reintroduced himself to the league with two home runs Sunday night against the Angels.
Reds' fireballer Hunter Greene set to return (plus, what's going on with Jonathan India?)
Boy, do the Cincinnati Reds need a shot in the arm.
Their play has slipped of late. They're just 4-10 since the trade deadline and they're now deadlocked in a three-way tie for the last NL Wild Card spot.
That shot in the arm may come in the form of a 6'5′ 240-plus pound fireballin' righty. Hunter Greene, who's been out since June with a hip injury, is set to make his return this Sunday against the Blue Jays.
In his last rehab start on Tuesday, Greene was back to his old self. Here's a look:
The Reds need Greene, and Nick Lodolo for that matter. Their other arms are talented, yet inexperienced, and have been exposed of late. Many fans wanted this team to add at the deadline. Instead, they simply stood pat, waiting on their two young studs to push them over the top.
Are Greene and Lodolo enough? We'll find out.
While I have you here, let's quickly revisit Jonathan India.
Last I wrote, he was on the verge of returning from a foot injury he suffered a few weeks ago. Then something odd happened. He suffered a setback, and a MRI revealed the tear in his plantar fascia had gotten worse.
The details are below.
Now, it looks like the Reds' de-facto captain will be sidelined until at least September.
There is an interesting caveat to this though. Since India was sidelined, Elly Da La Cruz, Matt McLain and Spencer Steer have gotten consistent time at shortstop, second base and third base, respectively. While the Reds have struggled, perhaps the uninterrupted experience is exactly what these young players need for their developments.
Maybe 2023 isn't the Reds year. But they sure are set up for the future.
Tanner Houck set to make Sox return Monday
How about the Boston Red Sox?
The team everyone wrote off in February is very much still entangled in the AL Wild Card race. They're 63-58 and playing their best ball at the best time. Triston Casas has been revolutionary in the second half, hitting homer after homer since the All Star break. And how about the ever-consistent Justin Turner?
Now the Sox are set for some good injury news. Tanner Houck, who suffered a facial fracture after being hit by a batted ball, is set to return to the big league rotation Monday when the Sox open their series against the Houston Astros.
Here's the breakdown from the NESN crew.
This is a nice addition to the staff.
Houck hasn't pitched since mid-June, and felt like he was rounding into form when he got injured. Let's see if he can get back into form for the last month and change of the season.
The Sox kick off a weekend set in the Bronx starting Friday, with a chance to put their arch rivals firmly out of the race.
Nestor Cortes' season in jeopardy after second shoulder injury
Speaking of those arch rivals from the Bronx…
The Yankees' playoff hopes are all but dead at this point. It's been a season that can best be described as "un-Yankee like" in almost every way.
What little hope the Bombers did have felt stripped away by a weekend dismantling at the hands of the Braves and yet another injury to the starting staff.
Nestor Cortes is likely done for the season, after suffering a rotator cuff strain in his left shoulder. The crafty lefty had been on the shelf with a shoulder injury since May. He came back on August 5 to make just one start against the Astros, before being shut down again.
It's hard to assess Cortes' season, considering he was hurt for most of it. But it's indicative of the season as a whole for the Yankees, marred by underperformance and injury. The Yankees currently sit six and half games back of Toronto for the third Wild Card spot.
With Boston in town for the weekend, it's now or never.
Resurgent Steven Matz hits IL with lat injury
Similar to the Yankees, the St. Louis Cardinals' season also has been marred by underperformance. The biggest culprit…the starting pitching.
And for the first 53 innings of his 2023, Steven Matz fit the bill. In those innings, which spanned April and May, he gave up 33 earned runs in, good for a 5.63 ERA.
Then something clicked in June.
Over his next 52 innings pitched, Matz has given up just 12 earned runs, good for a 2.08 ERA. The walks were down. The hits against were down, and the innings pitched were up.
As a matter of fact, he'd thrown four-straight quality starts.
Truly, Matz looks like a different pitcher. It was nice to see, even if it was a bit too late to save the Cardinals' season.
But Matz's stellar second half hit a snag Monday, when he was placed on the IL with a left lat strain.
Here's the latest update from Cardinals' beat writer John Denton.
That tweet, while not discouraging, puts a tough timeline on his return. There are just six weeks left in the season, and with the Cardinals out of it, there is no reason to rush him back. He's under contract for another three years, and the Cards have likely seen the resurgence they've needed to feel comfortable penciling him into the rotation in 2024.