News
MLB Injury Report: Cubs' Iron Man Swanson Lands on IL
The Chicago Cubs have announced their star shortstop will be sidelined with a heel contusion to start the second half of the season.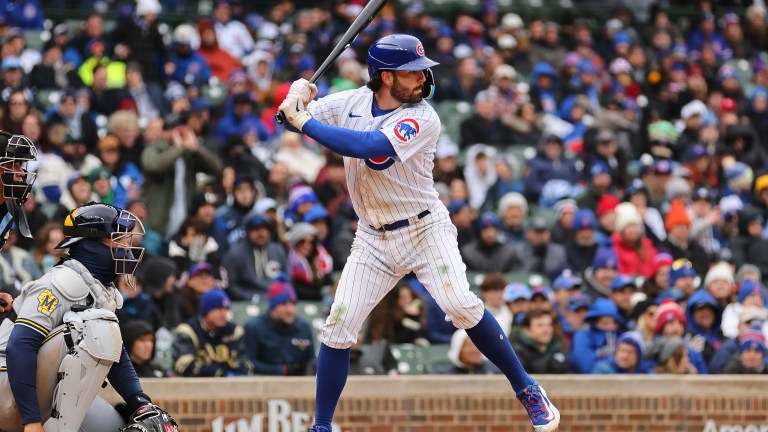 Well everyone, we made it. The first half of the 2023 season is in the books.
And what a first half it was – Trout vs. Ohtani to end the World Baseball Classic, new rules, new bases, no more shifts. We have a man on pace to tie, or break, the AL Home Run record for a second straight year. We have a player on pace for 40-70. And we have a guy flirting with .400.
We're also three weeks away from the trade deadline, and injuries play a major part in teams' lines of thinking as they decide whether to pull the trigger on a deal.
What that said, let's get into this week's injury report.
Dansby Goes Down: Cubs lose star shortstop to heel injury
What an interesting year for the Cubs.
They made a flurry of offseason moves, generated some beginning-of-the-season hype (including from yours truly) and actually finished April above .500 (they were 14-13). Now, we're officially into the second half of the season and the Cubs are 42-47, with most of the buzz about the team centered around whether they'll trade Cody Bellinger at the deadline.
As the Cubs try to claw their way back into the hunt, they'll have to do it without their biggest free agent splash. Shortstop Dansby Swanson, the closest thing MLB has to an iron man these days, hit the IL before the break with a left heel contusion. He suffered the injury last Wednesday while running the bases.
In 83 games this year, Swanson is slashing .258/.343/.409, with 15 doubles, two triples, 10 homers, 36 RBI, 41 runs and 4 steals. That all adds up to a 105 OPS+ and a 2.9 bWAR. In his absence, it's likely Nico Hoerner will shift to shortstop, while Christopher Morel — who started the season on one of the biggest tears ever — will likely move down from the outfield and play second base.
It's not likely Swanson misses a ton of games, but we'll also probably get a better update Friday morning. Still, this team is seven games out in the NL Central and six and a half games out of a Wild Card spot. If they hit a slide right out of the break, the trade rumors could start to get LOUD.
Did I mention? A LOT of Yankees fans think Bellinger would look good in pinstripes.
No Way, Jose: Altuve sidelined with oblique injury (plus updates on Urquidy + Álvarez)
I know there are thousands (maybe millions) of baseball fans who don't quite care, but the Houston Astros have had an injury-plagued kind of season. Michael Brantley hasn't played a game yet, Jose Altuve went down before Opening Day, their starting pitching rotation has been torched by injuries, and Yordan Álvarez has been on the shelf since June 8 with an oblique strain.
Now, Altuve is back on the IL after he too suffered an oblique strain. Here's Houston's general manager Dana Brown talking about the injury:
While this isn't the worst news, it's still another blow to the defending champs. Altuve's only played in 32 games this year. Still, the slash line is good (.264/.371/.479), and he's been impactful when on the field.
But it's not all bad news in H-Town.
Both Álvarez and José Urquidy will start rehab assignments Friday in Triple-A Sugar Land. Urquidy hasn't pitched in a game since April 30 and is 2-2 with a 5.20 ERA in six starts this season, with 23 strikeouts and 10 walks in 27.2 innings.
His return will be a welcome addition, as the 'Stros have been relying on Hunter Brown, J.P. France and Brandon Bielak to get a ton of outs thus far.
And yet, here they are at 50-41, one game ahead of the Yankees for the final Wild Card spot. A little bit of good luck in the health department, plus a starting pitcher or two at the deadline, and the champs will be right where they need to be come September.
Phillies Suffer Bullpen Blow: Alvarado's elbow lands him on IL for second time)
Don't look now, but the Phillies are on a bit of a tear. Make it two years in a row they've done this to us.
They started June at 25-30, but are now 48-41 and just half a game out of the last Wild Card spot. They've got Bryce Harper back, Nick Castellanos is back to playing like an All-Star and, despite starters Aaron Nola and Zack Wheeler underperforming, their bullpen ERA ranks ninth in all of baseball (3.78). Solid, very solid.
But you didn't think things would be smooth sailing from now until the end of the year, did you?
The Phillies announced flame-throwing lefty José Alvarado will have to be shut down for the second time this year because of elbow inflammation. The first time he suffered this injury, Alvarado missed about a month. This time, the Phillies say the swelling is in the forearm instead of the inside of his elbow.
While that sounds ominous, Alvarado said he wasn't concerned.
In Alvarado's place, Andrew Bellatti is getting the call back up to the big club. In 17 innings, he's pitched to a 1.06 ERA and struck out 20 batters at Triple-A Lehigh Valley. The Phils are going to need every bit of that stuff as they enter the second half without Alvarado and Seranthony Domínguez.
Can they piece it together and make another run toward the NL pennant? We'll find out…
Tommy's First Timeout: Edman on IL for first time ever with wrist injury
How many times do people have to write the words "What happened to the St. Louis Cardinals?"
Well, probably not anymore. We know damn well what happened. And we know it right from the general manager's mouth.
The biggest bomb of the All-Star break came Wednesday, when a one-on-one interview with Cardinals president of baseball operations John Mozeliak dropped on social media.
Here it is:
If you didn't watch or listen, here's the one sentence you need to know – "We're going to trade people." It was a blatant admission the season hasn't gone remotely as planned and the organization needs to make changes. Since Mo made that admission, the rumors have gone wild about who or how many players will find themselves in different uniforms next year.
Jordan Montgomery? Paul DeJong? Tyler O'Neill? Jordan Hicks? What about Tommy Edman or Dylan Carlson? Or, better yet, Paul Goldschmidt or Nolan Arenado? The best answer, at this point, is who knows?
But I bring all of this up, in part, because two of the speculated names – Edman and Montgomery – are currently battling injuries. Edman hit the IL last week with right wrist inflammation, while Montgomery was pulled from his start because of a hamstring injury. Both players would make an impact for any team looking to add at the deadline, particularly Montgomery. At one point, the big lefty had the Cardinals' only quality starts of the season. Over the last month, he's pitching to a 1.09 ERA. Talk about an absolute HEATER.
Hey @Astros, what do ya think?
Rays Rotation Stung Again: Rasmussen to need season-ending procedure
Talk about teams who could use an arm at the deadline.
The Rays have been SUPER snakebitten in their rotation. The AL East leaders will now have a third pitcher miss the rest of the season. The team announced the other day Drew Rasmussen will have the ulnar collateral ligament in his right arm repaired and won't pitch again until the middle of next year.
This is Rasmussen's third UCL injury. He's already had Tommy John surgery twice, once in 2016 and again in 2017. This time, he'll have an internal brace procedure, which isn't Tommy John but will still require a lengthy rehab process.
Rasmussen made eight starts this year, pitching to a 2.62 ERA, before he went on the IL with what was originally described as a right flexor strain. That was on May 12. The team thought he might be back at some point, but now that's off the table for good.
That leaves the rotation as Shane McClanahan, who's dealing with back tightness; Tyler Glasnow, who started the year on the IL and left his last start with what Kevin Cash called cramps; Zach Eflin, who's already had a stint on the IL this year; Taj Bradley, who's never pitched this many innings in the big leagues before; and Yonny Chirinos.
As you'd expect, the Rays have lost considerable ground to the Orioles in the process. So much so, the two teams are now tied in the loss column. You can fully expect this team to go all-in on deadline arms.
Call me crazy, but if there's one team with the prospects to make it work…would the Rays dare take a swing at Shohei Ohtani, knowing full well he would out-price their offer come the winter?