News
MLB Injury Report: Rays to Place Ace Shane McClanahan on the IL
The left-handed pitcher experienced discomfort in his forearm after his last start, and the team will shut him down until further notice.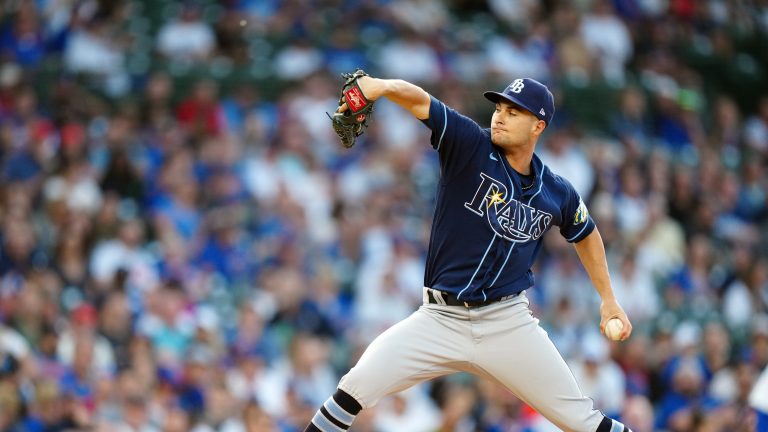 Buckle up, folks.
The trade deadline is behind us, and as Dr. Strange would say, "We're in the end game now."
It's a two-month sprint to the finish, with both divisional and Wild Card races heating up.
While I usually love to provide context and stats regarding injured players and what that means for each team, we have A LOT to cover this week. We have some big injuries, plus big returns from injury, both of which will impact the stretch runs.
So for the sake of cramming things into a tight space, I'll be a bit more brief than usual.
Let's get into it.
Rays to lose McClanahan, suffer another injury to starting rotation
There has been no team in the league as snakebitten as the Tampa Bay Rays, and it seems like it has finally caught up to them.
They came out of the gate scorching, but have gone 26-27 since the start of June. They're now chasing the Orioles in the AL East race.
Their most-recent blow came Thursday night, when the team announced ace Shane McClanahan was going on the IL with discomfort in his left forearm. He first felt the problem after his start against the Yankees, and was sent for imaging early Thursday.
McClanahan was on a Cy Young pace last year, before a late-season shoulder impingement knocked him out of the running. He's not been as good this year, but is still one of the best pitchers in the game. So far in 2023, he's pitched to a 3.29 ERA, striking out 121 batters in 115 innings.
Rotation injuries have been a staple for the Rays. Tyler Glasnow started his season late, still recovering from Tommy John surgery. They lost Shane Baz in the offseason. Then, both Jeffrey Springs and Drew Rasmussen suffered season-ending elbow injuries midseason.
They're still in great shape to secure a playoff berth. They sit three games clear of the second-best Wild Card team and 7.5 games up on the top non-playoff club. Aaron Civale, who they acquired at the deadline, should help. And I'd imagine Taj Bradley gets recalled soon.
Braves' ace Fried set to return Friday
I think everyone would agree the Braves are the best team in baseball. If not the best, certainly the most balanced.
They have it all – pitching, hitting, young players, a legitimate MVP, and one of the 10 best starters in baseball (the quad guy, for those who don't know who I'm referencing here).
And as the saying goes, the rich are getting richer.
The Braves are getting a post-deadline shot in the arm Friday, as Max Fried is set to come off the injured list and take the mound for their weekend series against the Cubs. Fried's been out since the beginning of May with a forearm injury, and has been sidelined ever since. The crazy part is, the Braves really haven't even missed him, because of how dominant they've been for most of the season. That, and Bryce Elder really has filled the void quite nicely.
It might take a couple of starts to knock the kinks out, but if Fried is even a little bit like his old self, it's going to be really hard to bet against the Braves come October.
Cubs lose Marcus Stroman
Let's keep the line moving with the team the Braves are playing this weekend – the Chicago Cubs.
A perfectly timed 8-game win streak turned the Cubs from sellers to buyers, as they elected to keep Cody Bellinger and Marcus Stroman, while adding Jeimer Candelario to fortify third base.
One of the key keeps, Stroman, is now going to the IL with a hip injury. He tried to push through it, but the team decided an IL stint was the best-case scenario to make sure he's on the bump come the Fall. He got a cortisone shot in his hip and is hoping to miss just one start, considering the Cubs have a few off days mushed into the next two weeks.
In Monday's loss, Stroman allowed six runs over three innings, pushing his ERA to 9.11 in July. That's a dramatic uptick from the 2.76, 2.87 and 2.17 in April, May and June, respectively.
As the corresponding move, the Cubs added right-handed reliever José Cuas to the roster, who they acquired in a deadline deal with the Royals. As for who starts in Stroman's place when his next turn through the rotation comes up, I guess we'll see.
Liam Hendriks' season takes another turn
From the north side to the south side, the other Chicago team got a dose of bad news as well.
Closer Liam Hendriks, whose heroic return from cancer has been one of the highlights of the season, is going to need Tommy John surgery to repair the ulnar collateral ligament in his right arm.
It's a brutal blow for Hendriks, who worked so hard to get back on the mound. He's pitched in just five games this season, recording one save and two wins over five innings. The injury is expected to keep him out until 2025.
Hopefully, he can get right and get back on the mound sooner than that.
Blue Jays lose Bo Bichette
Sometimes, the trade deadline comes at a perfect time for teams. An injury can happen right before the clock strikes 6 p.m., and teams can quickly snag a placeholder until their star gets healthy.
That exact situation happened for the Blue Jays, who were able to acquire Paul DeJong at the trade deadline, just hours after announcing Bo Bichette needed an IL stint for an injured knee. Bichette whacked an opposite-field hit on July 31, and came up hobbling as he rounded first base heading for second. Here it is in slow motion.
Luckily for Bo and the Jays, his MRI showed structural damage. That is (pun intended) a step in the right direction. He'll likely miss a couple weeks, and while the Jays will miss his contact bat (Bichette leads the AL in hitting with a .321 BA), DeJong does give them a legitimate power option at shortstop. And hey, you never know. When DeJong's hot, he's scorching.
As of the writing of this article, Toronto is in the third Wild Card spot, 2.5 games ahead of Boston.
Trevor Story on the cusp of a comeback
Speaking of those pesky Red Sox, they have injury news regarding their own star shortstop.
Trevor Story is on his way back to the big leagues, but won't be activated Friday like many thought he could be. Story's been out all year as he recovers from an internal brace procedure on his throwing elbow. Think of it like modified Tommy John, with a shorter recovery time.
The reason Story won't be activated just yet is because he wanted to spend a few more days in Triple-A Worcester to continue rehabbing. The Sox have pieced it together quite nicely in Story's absence, sitting just behind the Jays and (maybe unexpectedly) right in the middle of the Wild Card race. Story will be a welcome addition in the lineup when he gets there.
One more quick injury note. It looks like Justin Turner, who left Monday's game against Seattle with a heel injury, avoided a major injury and could be re-inserted into the lineup in a matter of days.
Also, did I mention – Jays vs. Red Sox this weekend in Fenway.
Rangers lose ace Eovaldi to forearm injury
Deep in the heart of Texas, the Rangers are putting together a surprising season.
Corey Seager, who has battled through his own injury issues, and Marcus Semien have been perhaps the best up-the-middle pair. The young players have panned out. Jonah Heim became an All-Star behind the dish. And the starting pitching, led by Nathan Eovaldi, has been rock solid.
Then the Rangers acquired not one, but two deadline starting pitchers – Max Scherzer and Jordan Montgomery. And just before every Rangers fan cheered, the other shoe dropped. Eovaldi hit the IL with a forearm strain. Righty Grant Anderson was called up in a corresponding move.
Eovaldi hasn't made an appearance since July 18, and his fastball velocity was down in that start. The Rangers then skipped him in the rotation, thinking once through would make a difference. It didn't, and it became concerning for a guy who's had Tommy John surgery twice already in his career. But a MRI showed no structural damage, which is certainly good news.
A few quick nuggets on Eovaldi. As of his last start, he was leading the AL in ERA (2.69) and was second among AL pitchers in bWAR (3.6), only trailing Gerrit Cole.
With Texas deep in the heart of a division race, you know the fan base and the front office are holding their collective breath that he's back in the rotation soon.
Cardinals' Donovan down for the year
This one has felt insanely inevitable for about a month now.
The Cardinals announced Wednesday super-utility man Brendan Donovan is going to miss the rest of the year, because he'll need surgery on his torn right flexor tendon. Donovan had been restricted to hitting only for the past few weeks because of the injury, but with how far out the Cardinals are in the race, it makes sense to sit him out for the rest of the year.
Despite the injury, he looked his best at the plate recently, slashing .312/.354/.494 in July.
Meanwhile, closer Ryan Helsely threw to live batters on Wednesday. He's not pitched since June 6 and has been on the 60-day IL with a forearm injury. The Cardinals were waiting to see how he came out of that live bullpen session, and If he reports no problems, could be sent out on a rehab assignment soon.
2024 can't come soon enough for the Redbirds.
Kelenic gets clarity on broken foot
Thanks to a good stretch of play (9-4 in their last 13 games) the Mariners are back in the thick of the AL Wild Card race. They're doing it without Jarred Kelenic, who's been on the IL with a broken foot after he kicked a water cooler two weeks ago.
While that's a bit of old news, we did get a timeline on Kelenic's recovery. He's expected to stay in his walking boot for 4-6 weeks, with a return possible in early September.
Yankees' Rizzo suffering concussion-like symptoms, Germán to miss rest of season for alcohol abuse
The last injury update of the day is a quick hitter on the Yankees.
The team announced Thursday Anthony Rizzo is headed to the IL after experiencing post-concussion symptoms. The team believes he was first hurt in a collision at first base with Fernando Tatís. That was back on May 28. Here's the play.
Now, here are Rizzo's splits from before and after that date. It's safe to say he was one of the worst, if not the worst, hitter in baseball since.
Aaron Boone said they're calling him 'week-to-week.'
Meanwhile, Nestor Cortes is set to come off the IL for this weekend's series against the Astros. He's been battling shoulder fatigue since the spring, but is set to start Saturday's game. Boone told reporters he'll likely be limited to around 60 pitches.
Last but not least, is an update that isn't even an injury-related update. But it's definitely worth discussing. The Yankees also announced Wednesday Domingo Germán would miss the rest of the year, after agreeing to attend an inpatient treatment facility for alcohol abuse.
Then Thursday, more details emerged about the situation. You can read them here.
Hopefully, Germán can get himself right and back on a mound in 2024.