News
MLB Injury Report: Jazz Chisholm Heading Back to IL
Marlins' center fielder Jazz Chisholm Jr. becomes the latest Major League Baseball star to miss significant time with an injury.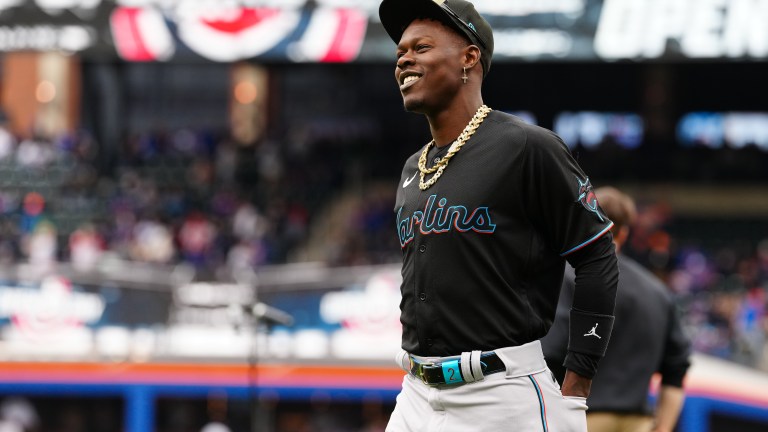 Summer's almost here. We can feel it in the air…literally.
As we pass Mother's Day and push toward Memorial Day weekend, the weather gets warmer, the covers come off the pools and the Major League Baseball season continues. And with that, so do the injuries.
Let's get into the weekly injury report.
Stats updated as of May 17, 2023.
Hold the Music: Jazz Chisholm Jr. Out Weeks With Turf Toe
Without a doubt, this is the biggest injury of the week.
Jazz Chisholm Jr. was placed on the 10-day injured list with turf toe in his right foot. The injury stemmed from a play in Saturday's game when he collided with the center field wall chasing a deep fly ball. You can watch it here.
Now, he's expected to miss 4-6 weeks, yet another big injury in the 25-year-old budding superstar's young career.
He already had a scare earlier this year, when he hurt his shoulder sliding into second base in April. Here's what it looked like:
But Jazz's injury history goes back a couple years now. Remember this one from 2021?
He also had a stress fracture in his back last year while playing through a torn meniscus.
In 2023, Jazz has underperformed, slashing .229/.291/.403, with a 91 wRC+ and a career-high 32.7% strikeout rate. Against lefties, he's just 3-for-32 (.094). That said, it looked like he was turning the corner, hitting bombs in back-to-back games on Friday and Saturday. And where Jazz really turns up is on the bases. He was 14-for-16 swiping bags.
We all know how much he struggled to transition to center field at the beginning of the year, but his defense also seemed to be trending in the right direction.
In his absence, the Marlins have no shortage of options – Garrett Hampson, Bryan De La Cruz, Jon Berti, Peyton Burdick and Xavier Edwards. But none of those guys can fill Jazz's shoes.
I hate to even write this down. But it's starting to seem like Jazz is venturing into Byron Buxton territory—loads of talent and a joy to watch on the field, but infuriatingly injured. Let's hope we're wrong on that.
Another Cardinal Grounded: Dylan Carlson Latest Outfielder to Hit Injured List
Last week, we talked about Tyler O'Neill and what it meant for the St. Louis Cardinals to lose him.
Then, the St. Louis Post Dispatch reported the Cards were open to trading the oft-injured slugger. Then, Oli Marmol said O'Neill hit a setback in his recovery and would not go out for a rehab assignment this weekend.
He's a clip from ESPN St. Louis:
Wednesday, the Cardinals placed outfielder Dylan Carlson on the injured list with an ankle injury. They did not call up Jordan Walker, instead opting for Oscar Mercado.
Back to Carlson, though.
The once untouchable Cardinals prospect has underwhelmed for a while now. In 2023, he's slashing just .230/.278/.350 and has become the topic of many trade conversations, much like O'Neill. He does play plus defense in center field, but it comes at the expense of his now minus bat.
I've said it once, and I'll say it again. The Cardinals need an arm…badly.
I wonder how these injuries affect the trade talks. I also wonder why Jordan Walker wasn't the one to get the call.
Stars Get a Scare: Guerrero, Machado, Bellinger All Avoid Significant Injuries
I'm not going to spend much time here because we're all hoping for the best. And if I don't write about it, things won't get worse…right?
Jokes aside, Vladimir Guerrero Jr., Manny Machado and Cody Bellinger are all banged up and missed their teams' games Wednesday. Guerrero was pulled from Tuesday's game after seemingly tweaking his right knee fielding this bunt from Gleyber Torres:
Jays manager John Schneider says the MRI revealed no structural damage. They're calling him day to day, and we're going to hold our collective breath this doesn't turn into an IL stint.
Machado was hit in the hand Monday night and was not in the lineup Tuesday.
Here's Padres manager Bob Melvin talking to reporters, where he told them the injury "doesn't look to be anything serious."
Last, to Bellinger, who made an unreal catch to rob Kyle Tucker of extra bases on Monday. He fell to the ground holding his knee, left the game, and hasn't played since, but the thought is that he too avoided a major injury.
It's being called a left knee hyperextension, and Bellinger told reporters it was "sore" and that it was not the worst-case scenario. Let's hold our breath for him too, because watching him roam center field has been a treat so far this year.
Stressed Out: Reds' Lodolo In Walking Boot After Suffering Stress Reaction
For all their front office drama, the Cincinnati Reds seem to have stud prospects on deck.
Matt McLain was the latest to make his big league debut, while Just Baseball's No. 1 prospect Elly De La Cruz and Christian Encarnacion-Strand wait in the wings in Louisville.
But one of the Reds' biggest young stars got a big dose of bad news.
Starting pitcher Nick Lodolo is out indefinitely with what the team is calling a stress reaction in his left shinbone. Manager David Bell says the lefty star is in a walking boot and will have another MRI in two weeks. That should help the team better figure out his timeline.
Lodolo was electric to start the season, looking every bit like the first-round pick he was. In his first three starts, he struck out 27 batters across 17 innings and gave up just four earned runs. But things have gone WAY (and I mean way) downhill since. His ERA and WHIP currently sit at 6.29 and 1.75, respectively. If you go under the hood, the numbers are interesting. He's still missing bats, striking out 28.3% of batters. But he's allowing a lot of hard contact, indicated by a 12.7% barrel rate, well above the league average (7.8). It's part of the reason he's tied for the National League lead in home runs allowed.
Specifically, hitters are smashing his sinker and changeup, hitting .615 against the sinker and .471 against the changeup. Compare that to last year, when batters hit .290 against the sinker and .370 against his changeup.
We know that's not the real Nick Lodolo. Every pitcher struggles at times. Plus, it's not like we thought the Reds were going to really make a push this year anyway. So if there is a time to struggle, it's now.
But it stinks for everyone that he can't be out there to push through the struggle and continue his development. Let's hope we get better news in two weeks.
Yankees Update: Sevy Close, While Collection of Others Still Working Their Way Back
Now to our weekly trip to the Bronx, where the Yankees have actually been playing good baseball over the past week and change.
And it seems like even more reinforcements are on the way.
Luis Severino is set to make his 2023 debut Sunday in Cincinnati, while Giancarlo Stanton is "getting close to a rehab assignment," per Chris Kirschner. As for what "close" means, Aaron Boone wouldn't give a date or time. But hey, it's a step in the right direction.
As for Carlos Rodón and his back injury, Boone said he threw from 90 feet and is slowly ramping up. This will likely be a while because Rodón essentially has to re-do spring training. But again, good news all around.
The silence on Josh Donaldson seems a bit telling, though…
Not So Fast: Rehabbing Brantley Shut Down Indefinitely
From one AL contender to the next, the Houston Astros got a mixed bag of results when it came to their own pair of injured stars.
Michael Brantley was said to be "a day or two" away from joining the lineup when the Astros had to shut him down indefinitely after an MRI showed inflammation in his surgically-repaired shoulder. Brantley hasn't played a game this year. Matter of fact, he hasn't played since last June.
But the bigger and better update is that Jose Altuve could be back in the Astros' lineup as soon as Friday night. After Wednesday's game in Corpus Christi, the second baseman is going to join the team in Houston on its Thursday off day. Depending on how that workout goes, he could be penciled in against the A's.
Another One: Rays Down Another Starter as Rasmussen Hits the Shelf
The Tampa Bay Rays have had such a bizarre season so far.
On the one hand, they're 32-11 and absolutely steamrolling teams at times. On the other, they've lost so many arms already and can't really afford any more injuries.
First, it was Shane Baz, who needed season-ending surgery before the season started. Then Tyler Glasnow strained his oblique, an injury he still isn't back from. That said, he's close. Look here:
Then Jeffrey Springs' Cy Young start to the year hit a brick wall when the Rays found out he needed Tommy John surgery and would also miss the rest of the season. I wrote about it here.
Then Friday night, fresh off dominating the Yankees, Drew Rasmussen was placed on the 60-day IL with a flexor strain. The immediate 60-day designation puts his season in jeopardy and puts yet another damper on the Rays' hot start.
It's worth noting Rasmussen has already had two Tommy John surgeries in his career.
Regardless if he'll need a third, the Rays will certainly need a few more arms. You'd have to imagine Taj Bradley will get another look after he looked more than good enough in his first three starts. He went 3-0 in those starts, striking out 23 batters in 15.1 innings pitched. Even better, his expected batting average against (xBA) was just .177, and his walk rate was a minuscule 3.3%. They'll need him, and others, to pick up the pieces, because the AL East will be a season-long gauntlet.
A Regrettable Reoccurrence: Rendon Strains Groin, Hits the IL Again
I remember this like it was yesterday. The year was 2019. The Washington Nationals had won the World Series, and Anthony Rendon was the runner-up for the National League MVP.
Man, how things have changed.
Rendon spent most of the next three seasons injured and got another scare this week. He left Saturday's game with groin tightness and was placed on the 10-day IL. Though manager Phil Nevin told reporters Wednesday he got "encouraging" news, groin strains can be tricky.
In the meantime, the Halos have called up Liván Soto from Double-A Rocket City.
This would be a big blow for the Angels if, in fact, Rendon has to miss significant time. He really looked like he was coming into his own to start the year, slashing .301/.415/.369. His strikeout percentage is less than half the league average, while his walk rate is almost double. The power was the one thing that hadn't quite come back yet, but a solid contact bat between Shohei Ohtani and Hunter Renfroe was exactly what the Angels needed.
Now they'll need him to come back quickly.
Too Good To Be True: Mason Miller's Electric Start Derailed by Elbow Sprain
Let's face it. The Oakland A's are miserable.
There are three bright spots in the whole organization – Brent Rooker, Estuary Ruiz and Mason Miller. Now, one of those three is in jeopardy of missing the rest of the year.
Miller was diagnosed with a mild UCL sprain and will be shut down indefinitely. The A's hope he'll pitch again this year, but elbow injuries, especially to the UCL, are among the most dangerous in sports. That, plus Oakland's season is already lost.
As for Miller, there's no doubt he has big-league stuff. He started in the minors, making one start at Double-A and another at Triple-A before he got the call. Since, he's put together a nice start to his career, with a 3.38 ERA and 0.98 WHIP in four starts, while striking out 22 batters in 21.1 innings. He even flirted with a no-no once this year.
What a tough break for the kid. No need to rush him back.
No Way, José: Alvarado's Injury a Blow to Phillies Bullpen
Talk about a team that's been snakebitten to start.
The Philadelphia Phillies have lost a lot of talent already this year, and this is the latest blow.
Lefty reliever José Alvarado is on the shelf because of inflammation in his throwing elbow. He has no timetable to return. In a corresponding move, the Phillies recalled Andrew Bellatti from the IL.
Alvarado has been one of the league's best relievers to start the year, posting a 1.88 ERA, 0.88 FIP, 0.70 WHIP and 24 strikeouts in 14.1 innings. Almost as impressive, he's only walked one batter.
Needless to say, this is not what the Phillies need. They're 20-23 and are once again falling behind in the NL East. With Alvarado out, they'll need one (or more) of Craig Kimbrel, Seranthony Domínguez and Gregory Soto to step up. As for a lefty option, maybe Matt Strahm can fill Alvarado's slot, at least for a little while.
Hopefully for the Phils, Alvarado won't need surgery and can pitch again this year.
On the bright side, Ranger Suárez finally made his return this past weekend.
Trading Places: Joc Pederson, Mike Yastrzemski Swap Spots
Quick San Francisco Giants update for the folks at home.
It's been a mediocre start for the Giants, and plenty of their talent may end up on different teams come August 1.
Two of those players – Joc Pederson and Mike Yastrzemski – just traded places this week.
Pederson hit the IL Monday with a right hand contusion, while Yaz was recalled to the big club after a hamstring injury. This year, Pederson's been what he's always been – a streaky hitter with big pop who's much better against right-handed pitching. He's slashing .235/.351/.494. Yastrzemski is slashing .275/.321/.490.
The Giants are 20-23 and already 7.5 games behind the Dodgers. If the season continues like this, both of these guys could be in different uniforms by the time the summer's over.