Analysis
It's Time to End the Jazz Chisholm Jr. Experiment in Center Field
Experimenting with Jazz Chisolm in center field was a mistake from the start and one that highlights an underlying problem with the Marlins.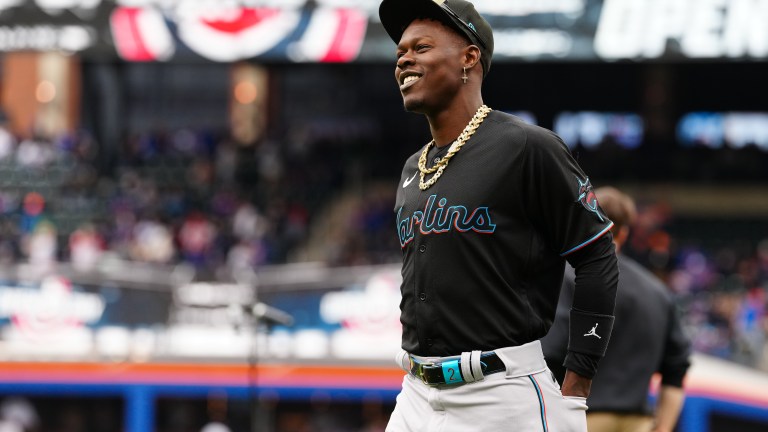 The Miami Marlins have made their fair share of mistakes since they launched a massive rebuild in 2018. I could list a fair number of them here, but that would just be adding insult to injury. What I will say is there may be no bigger mistake they have made than not bringing back Starling Marte. Getting Jesús Luzardo was a great return, but they had a shot at him in free agency and lost out.
Since Marte's departure, center field has been the Marlins' biggest hole and they have simply refused to fill it. They tried Jesús Sánchez, Bryan De La Cruz and Avisail García out there, all with well below average results.
However, no solution to center field has been as verifiably insane as what the Marlins decided to do this offseason.
Now before I get into this let me be clear: this is not an indictment of Jazz Chisolm. I think Jazz is a good dude and a good player. I think what he did–stepping up and telling the team he will play center if they need him to–is admirable. The problem is, Jazz has been put in this position by an ownership group that has ignored their biggest need for years.
The Marlins have put Jazz in an awful spot and it is all their own fault. They have a 25-year-old budding superstar that just graced the cover of the sport's premier video game. How do they reward him? Moving him from middle infield to a position he has never played before because they have ignored their biggest need for years.
Now it seems to be costing Jazz on the field. In his first full years in the bigs, Jazz has typically come out of the gates firing. His 153 wRC+ in March and April is far and away his best in any month. However, he has struggled so far while dealing with the move to center. Though we have played a little over a week, Jazz has just six hits, two home runs and 12 strikeouts in 33 plate appearances. His .360 slugging percentage would be the worst of any month in his first two full seasons.
I will admit it is just speculation that Jazz is struggling because of the adjustment to center field. We do not know that for sure, he could just be off to a slow start. It happens. But is it not a fair assumption? Moving from the infield to center is a massive adjustment, not to mention the pressure of being thrown into the clean-up spot, somewhere he has never hit before.
I have tried to explain away a lot of the Marlins mistakes over the years, but this one I cannot. I have no idea what the organization was thinking with this move. Before we even get to putting Jazz out there, why did they not acquire a center fielder? This is two straight years now the team has not had a true center fielder on their Opening Day roster. How can anybody explain that?
Besides the Marte debacle, perhaps the biggest flaw of this regime's tenure has been their reluctance to move on from failed experiments. Lewis Brinson saw close to a thousand PAs in his four years in Miami, despite never breaking 72 wRC+ or having an fWAR above 0.0. Isan Díaz saw more than 500 PAs in Miami despite never having more than 58 wRC+. They face a similar situation right now with the struggling Avisail García.
They also face one with Jazz Chisholm Jr. in center field. It never should have reached this point, but can we not see where this is going? Even if Jazz becomes serviceable in center field, how many games will be wasted until he does? This is the sixth season since the Marlins tore it down, they cannot still be running experiments to try and figure out what works. These are the years they are supposed to start being competitive. That is not going to happen with a second baseman playing one of the most vital defensive positions on the field.
Jazz has had a couple nice moments this year. He hit a huge home run in their first win of the season, and made a nice diving play in a game against the Mets Friday. However, it just does not look the same. The joy is lacking a bit and he is struggling at the plate. It is easy to wonder if all that has been going on is affecting his play.
I hope this works. I do not want to see the Marlins or Jazz fail, but I just cannot see any world in which the Marlins compete with Jazz out there. He is a legitimately good defensive second baseman, and has played in that part of the field his whole life. That is where he should play!
This all comes down to the fact that the Marlins still have not filled the hole in center. It feels like ever since I joined Just Baseball I have written about how the Marlins could be right there if they just acquired a star in center. It would fix so many of their problems and make the roster look so much stronger.
To me, blaming Jazz for struggling with a new position is pretty unfair. I think the party that deserves the blame here is the Marlins for putting Jazz in this position in the first place.
If they had simply just signed Starling Marte–or traded for literally anybody that has played the position before–they would not be in this position. But here we are and now is the time to fix it. It is time to end the Jazz Chisholm Jr. in center field experiment.