Analysis
Are The Brewers Relying Too Much on Rookie Bats?
The Brewers have one of the least productive offenses in MLB. Are they relying too much on young bats in their pursuit for a division title?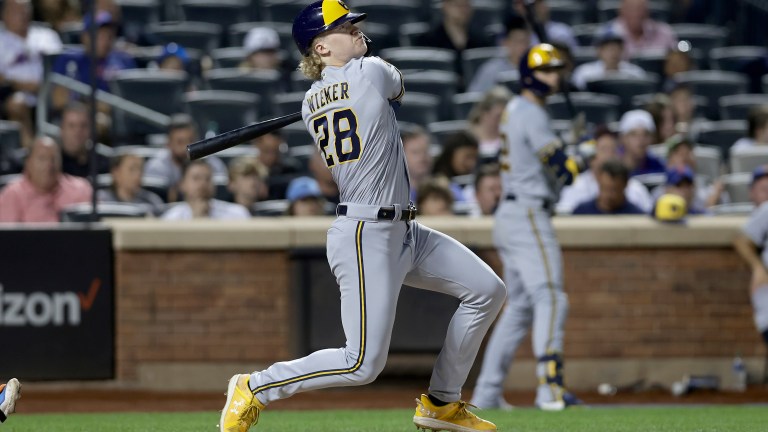 The NL Central standings have been as fluid as can be in 2023. There hasn't been a team to stand out among the rest, as seemingly every team in the division has gone through their ebbs-and-flows to start the year. Only nine games separate first and last place, and it will likely be a season-long shuffle for who will claim first place in the division.
Since June 15th, the NL Central division lead has already changed hands five times. Cincinnati and Milwaukee are currently tied atop the NL Central, and yet it has felt like the Brewers' division to lose. Combining the Cardinal's abysmal start with both the Reds and Pirates overachieving relative to preseason expectations, it feels as if the Brewers are allowing everyone to hang around in a very winnable NL Central division.
As we approach the Midsummer Classic, Milwaukee's offense has been a disappointment thus far in 2023. They are bottom-five in baseball in several offensive metrics, and they have failed to get contributions from the majority of spots of their lineup. Is Milwaukee's substandard offense a result of them relying upon too many rookie bats, or is it their abundance of under-performing veterans?
All stats taken prior to play on June 29th
Milwaukee's Rookie Check-In
Heading into the season, the Brewers had an abundance of young talent in their system who were ready to take the reins at several positions. So far, it has been a mixed bag for Milwaukee's rookies this season. Some have capitalized on their opportunity in the big leagues, and others have been robbed of the chance to contribute this season due to injuries. We'll start by looking at the ladder.
Garrett Mitchell, their up-and-coming center fielder, was off to a solid start this season. After debuting near the end of 2022, he was primed for a big role in the Brewers' lineup this season. He was slashing .259/.306/.366 with a wRC+ of 107 in his 62 plate appearances before going down with a shoulder injury in mid-April.
Mitchell's absence has been felt in the Brewers' lineup and in their clubhouse. He underwent surgery on a torn labrum in early May, so there is a sliver of hope that he could return in the back end of September, but it's more likely that his 2023 season is over.
Sal Frelick, the team's number two prospect, has yet to make his MLB debut. After starting the 2023 season with Triple-A Nashville, Frelick's promotion to the big leagues felt inevitable after Garrett Mitchell hit the shelf with his shoulder injury. Unfortunately, Frelick tore his UCL in his left thumb less than a week after Mitchell's injury, delaying his major league debut even longer.
Frelick underwent surgery on his left thumb, which kept him out of action for about two months. He rejoined Triple-A Nashville's lineup on June 9th, where he is now patiently waiting for his opportunity to contribute for the Brewers. He brings great bat-to-ball skills to the lineup, and his ability to put the ball in play will be a much-needed addition for Milwaukee. It's only a matter of time before the Brewers call his number to take over in the outfield.
Brice Turang – Second Baseman
When the Brewers traded second baseman Kolten Wong to the Seattle Mariners in the offseason, it appeared they were ready to hand over the position to 23-year-old Brice Turang. Turang was the ball club's first round draft pick in the 2018 draft, and he projected out as a plus runner and defender as he progressed through the Brewers' system.
In his 57 games with the Brewers this season, Turang looked natural and fluid both in the field and on the base path. His fantastic speed was on full-display, as he quickly racked up nine stolen bases, four doubles, and two triples.
His quick and light footwork led him to be dynamic defender as well. He was smooth with the glove and had a perfect fielding percentage in the majors this season, demonstrating his ability be a reliable compliment to Willy Adames in the middle infield.
However, Turang's defense and speed are not why he was optioned to Triple-A Nashville in early June. After bursting onto the scene to open his rookie campaign, Turang appeared to have lost all confidence offensively.
Turang's Offensive Struggles
In Turang's 177 MLB plate appearances this season, he slashed .205/.254/.307 for an OPS of just .561 and a brutal wRC+ of 52. Ultimately, his inefficiency at the plate is what led to him being optioned to Triple-A on June 7th.
In his 54 plate appearances prior to getting optioned, he hit just .098, while getting on base at a .148 clip. He had a .153 wOBA during that stretch to go with a .344 OPS and a -12 wRC+. Turang looked out matched by major league pitching, and it was time for him to have an offensive reset in the minor leagues.
Issue # 1: Turang's Battle With The Fastball
Turang has struggled to hit the fastball at the major league level this season. Against fastballs, he is posting a wOBA of just .252, while hitting .194 and slugging .269 against the pitch type.
While it is undoubtedly a small sample size, this was greatly contributing to his lack of offensive efficiency. It's difficult to succeed at the big league level without being able to hit the fastball, and Turang was struggling to do so.
Turang has a run value of -10 against four-seam fastballs this season. That is the third-worst run value against any pitch in all of baseball. It was evident he was being outmatched at the plate, which led to him generating some of the lowest-quality of contact in the sport in 2023.
Issue #2: Turang's Poor Quality of Contact
Turang wasn't expected to bring an explosive bat to the plate for Milwaukee. While he has made great strides in developing his power stroke by tweaking his swing, he was expected to bring an above-average hit tool and a disciplined approach to the plate.
However, that didn't happen for Turang. His contact numbers were poor, he was striking out more than he ever has, and his quality of contact was some of the lowest-quality in baseball.
He is in the seventh percentile in hard hit rate at 28.8%, to go with a below average exit velocity of 87.1 miles per hour. His barrel rate of 3.4% was also in the bottom-10 percent of baseball. In turn, Turang is in the first percentile in xWOBA (.257), the third percentile in xSLG (.316), and seventh percentile in xBA (.214).
Throughout the minors, Turang succeeded at limiting his strikeouts while drawing free passes at an efficient rate. However, that success did not translate to the majors. He was walking at a below-average rate (6.2%) and he was posting a strikeout rate of 27.1%, which sits in the 22nd percentile.
Turang needed a reset at the plate, and it appears his stint in the minors served as just that. He was on a 13-game hit streak with Nashville, hitting .320 during that stretch with five doubles, three home runs, and 15 RBIs, before being recalled from Triple-A Nashville on Thursday afternoon.
Turang's style of play gives him a high floor with an opportunity to be a valuable big leaguer for a long time. Turang was swinging a hot bat after his brief demotion, and now Milwaukee will be counting on him to be a contributor at second base down the stretch this season.
Joey Wiemer – Center Fielder
Joey Wiemer has already found a way to impact the game in 2023. His unorthodox swing and distinctive personality have already led him to become a staple in the Brewers' clubhouse and a fan favorite in Milwaukee. While he is still getting acclimated in center field, his impressive speed and athleticism have allowed him to make a noticeable impact in the outfield and on the base path.
He is in the 98th percentile in outs above average, as he has used his legs to make several plays in center field for Milwaukee. He also has 10 stolen bases and 14 doubles on the season, which are both the second-most on the team.
Wiemer has extreme power potential, and it has been on full display this season. There have been ups and downs for Joey Wiemer in his rookie season, but he is starting to settle in nicely in the Brewers' lineup
The Good – Power Hitting Prowess
Wiemer's power presence has been felt thus far in 2023. He has 11 home runs on the season, which is the third-most on the team, while driving in 30 runs as well. His .197 Isolated Power (ISO) is the best on the Brewers (min 100 PA), and he is posting a slugging percentage of .410 in his 266 plate appearances.
When Wiemer connects with a pitch, he's making high-quality contact. He is in the 78th percentile in barrel rate (12.2%) while posting an above-average hard hit rate of 40.9%. After a brutal month of May, the rookie has turned it around as of late and has put together a strong month of June.
In June, Wiemer is slashing .250/.344/.550 while posting the second-best OPS (.894) and wRC+ (135) on the team. Additionally, his fantastic ISO of .300 in June is the best on the team.
He started the month with a nine-game hit streak, seemingly finding his groove with the turn of the calendar month. In his 36 plate appearances during that stretch, Wiemer totaled 14 hits, including five doubles and three home runs, nine RBIs, and 5 walks.
Additionally, Wiemer has been the best hitter on the Brewers in terms of performance versus left-handed pitching. Milwaukee's greatest shortcoming as an offense has been their inefficiency versus left-handed pitching this season, so Wiemers' contributions in this area are extremely valuable.
In 66 plate appearances against lefties, he is hitting .313, while leading the team in OPS (.989) and wRC+ (162).
The Brewers have won every game that Joey Wiemer has homered in. He is has a knack for making an impact with his bat. However, it hasn't all been good for the rookie. There were concerns with his bat-to-ball numbers as a prospect, and his contact rates have continued to present an issue this season.
The Bad – Contact Issues
Joey Wiemer makes loud contact, but his inability to make consistent contact has been his issue for the Brewers. In his 266 plate appearances, Wiemer is hitting .213, while getting on-base at a subpar clip of .286. His OPS (.696) and wOBA (.302) numbers are both below average, and this is fueled by Wiemer's struggle to put the bat on the ball.
In 2022, Wiemer saw remarkable improvements in his contact numbers when he made the jump from Double-A to Triple-A. He made strides with his efficiency at the plate while cutting his strikeout rate by over 10%. However, Wiemer has not continued that progress at the big league level.
Wiemer is in the bottom-eight percent in baseball in whiff rate (34.2%) while posting a below average zone contact rate of 74.6%. In turn, his strikeout rate of 28.9% is in the 15th percentile. Obviously, Wiemer is still adapting to major league pitching in his first big league season. But, improving his bat-to-ball numbers will be an area of focus in order for him to be a consistent hitter.
Breaking Ball Issues
Unlike Brice Turang, Joey Wiemer has been successful against the fastball this season. However, Wiemer has greatly struggled hitting breaking pitches in 2023.
| Pitch Type | % | XBH | BA | SLG | wOBA | Whiff% | K% |
| --- | --- | --- | --- | --- | --- | --- | --- |
| Fastballs | 44.3 | 16 | .275 | .569 | .392 | 29.2% | 26.9% |
| Breaking | 43.5 | 5 | .162 | .248 | .204 | 37.6% | 33.3% |
Stats Courtesy of Baseball Savant
From the get-go, pitchers were attacking Wiemer with breaking pitches this season. His lack of success against the pitch type was at the heart of his contact issues, and it led to his offensive slump in May. With that being said, it's encouraging to see Wiemer bounce-back offensively as of late. He is adapting to the approach of opposing pitchers, and he is seeing better results because of it.
It's evident that Wiemer has pop in his game. His power potential is what made him such an enticing prospect as he moved through the Brewers' system. There will be growing pains in terms of his contact issues, but he has proven that he can make an impact on this lineup in 2023.
Now that we've looked at Milwaukee's rookie production, how has the rest of the lineup faired as we approach the halfway point of the 2023 season?
Lack Of Production Throughout The Lineup
| Position | OPS (MLB Rank) | wRC+ (MLB Rank) |
| --- | --- | --- |
| Catcher | .721 (9th) | 99 (8th) |
| First Base | .625 (28th) | 70 (30th) |
| Second Base | .647 (25th) | 78 (26th) |
| Third Base | .679 (20st) | 88 (22nd) |
| Shortstop | .628 (25th) | 72 (24th) |
| Left Field | .807 (6th) | 121 (6th) |
| Center Field | .711 (22rd) | 91 (23rd) |
| Right Field | .630 (29th) | 73 (29th) |
| Designated Hitter | .529 (30th) | 52 (30th) |
Stats Courtesy of FanGraphs
The Milwaukee Brewers are getting well-below average production from nearly every position in their lineup. Seven of the Brewers' nine positions in the batting order are in the bottom-10 in MLB in terms of OPS and wRC+ from the position.
Amongst Brewers players who have a minimum of 100 plate appearances this season, only Christian Yelich and William Contreras have a wRC+ over 100. There are numerous veterans who are underperforming throughout the Brewers' lineup.
Underperforming Starters
Willy Adames is in the midst of the worst offensive season of his career. He is posting career-lows in batting average (.201), on-base percentage (.288), slugging percentage (.371), and wRC+ (80). He continues to grapple with swing-and-miss concerns, and his lack of offensive production has been a hole in Milwaukee's lineup.
After an extremely encouraging month of April, Rowdy Tellez has mightily struggled as of late. In his 87 plate appearances in June, Tellez is hitting just .159 with an OPS of .427 and a wRC+ of 15. The Brewers desperately need Tellez to figure something out at the plate, as his inefficiency has been felt in the middle of the lineup.
Jesse Winker was a popular bounce-back candidate heading into the season. However, it's been another down year for Winker. In 156 plate appearances, he is hitting just .201 to go with an OPS of .562 and wRC+ of 62. After a promising start to his Brewers tenure, Winker has yet to find his footing as the Brewers' primary designated hitter.
Brian Anderson and Luis Urias have been reliable defenders at the hot corner for Milwaukee, but their bats have not produced in 2023. Anderson is sporting a .693 OPS with a 91 wRC+, and Urias has a .535 OPS to go with a 60 wRC+ on the season. Luis Urias was optioned to Triple-A Nashville with the promotion of Brice Turang, so perhaps his demotion will be a wake up call offensivley.
There is talent in this Brewers' lineup, but it's been a constant string of players underperforming offensively relative to expectations heading into the season.
The Brewers have had to rely much more on young bats this season than in years past. However, I believe their sputtering offense is more-so a function of underperforming veterans rather than an over-reliance on their rookie bats.
So… Will The Brewers Make A Move?
There are areas the Milwaukee Brewers could address at the trade deadline. They are getting well-below average production from their right field, first base, and designated hitter positions. These could be areas the Brewers could look to upgrade.
However, I feel the Brewers are in a position where they are committed to their current group of players.
The future of their outfield is within their system. It's only a matter of time before Sal Frelick is promoted to help Joey Wiemer anchor down the outfield. Not to mention, they have Jackson Chourio, a top-five prospect in baseball, who could be big league ready as soon as next season. I don't see them adding to the outfield when they already have a surplus of young talent in that area.
The Brewers are in a pinch when it comes to their designated hitter role. Unless there was a clear and substantial upgrade, they are almost committed to Jesse Winker in that role this season. His trade value is likely at an all-time low, and he is too expensive to cut loose. The Brewers will hope he can bounce-back to his early season form.
This is a pivotal year for the Milwaukee Brewers for a couple of reasons. They will have important decisions to make on several key players, including Willy Adames, Corbin Burnes, and Brandon Woodruff. All three players are set to be free agents following the 2024 season, and they each will demand significant financial commitment.
Additionally, manager Craig Counsell and front office executive David Stearns are both in the last year of their contract. With rumors swirling that the New York Mets will be making an aggressive run at hiring Stearns for a front office job in the offseason, it's getting increasingly difficult to predict what the future of the Milwaukee Brewers will look like.
With that being said, the Brewers sit just a half game back from first place in arguably the most winnable division in baseball. After the wicked backlash the Brewers received from trading Josh Hader at the deadline last season, I don't see the Brewers going down that same path this year with some of their other stars. At the same time, I don't think the Brewers have much room to add many pieces either.
While it's not the most exciting outlook, I believe Milwaukee will ride this roster to see where it takes them. Their lineup has been a combination of rookies still gaining their footing at the big league level and talented veterans who are under performing offensively. Whether they can turn it around offensively and recapture a division title remains to be seen.
It will be a race to the finish in the NL Central, and Milwaukee's performance down the stretch shall be closely monitored as we inch closer to the trade deadline.