Analysis
Swing Changes Have Brewers Prospect Brice Turang Ready to Take the Reins at Second Base
A first round pick once labeled as having a limited ceiling has quelled many concerns that surrounded him early in his professional career.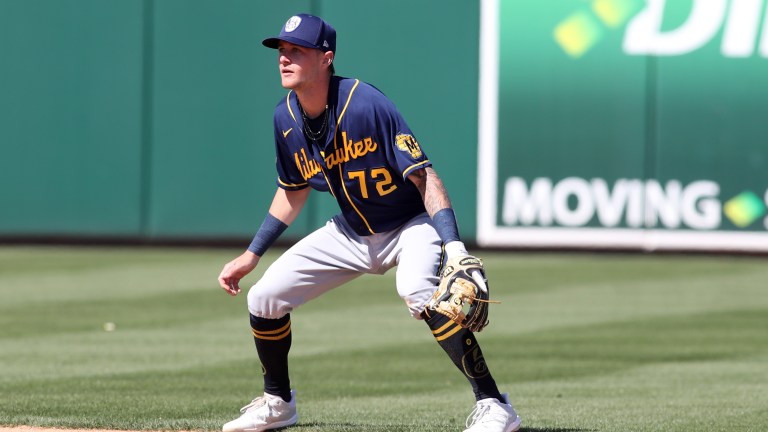 Long considered one of the best high school bats in the 2018 MLB Draft class, Brice Turang wowed scouts with his polish as a four-year starter at Santiago High School in Corona, California. Turang's ability with the glove and strong showings for Team USA's 18U squad had him tracking as a sure-fire first rounder.
As Turang inched closer to his senior year of high school, scouts began to wonder how much upside the left-handed hitting infielder had. Aside from his speed, Turang did not have a plus tool to dream on, and lacked projection in his frame. Turang would "fall" to the 21st overall selection of the 2018 Draft, where the Brewers signed him to an above-slot value bonus of $3.4 million.
In his first season and a half at the Rookie and Low-A levels, it was clear that Turang was more advanced than his lower level counterparts, as he walked nearly as much as he struck out and looked the the part at shortstop. At the same time, Turang did not do much to quell concerns of his limited ceiling, hitting just four homers through his first 171 professional games with an isolated power of .081.
Following 2020's layoff, Turang was assigned to Double-A to start the season, where he held his own as a 21-year-old, but again struggled to muster much impact. He produced a .715 OPS in 73 games before being called up to Triple-A where he produced just a .695 OPS over the final 44 games of the season. Turang even struggled to make a major impact in the stolen base department, swiping 20 bags on 29 tries.
Still climbing the rungs with his glove and bat-to-ball skills, Turang was on his way to an eventual big league debut. That said, Turang seemed to be tracking more like a utility guy than an everyday middle infielder.
Keen on proving that he has more in the tank, Turang showed up in 2022 having made some major adjustments to his swing, and the results were undeniable. The newly-turned 23-year-old slugged over .400 for the first time in his pro career, more than doubled his previous best in the home run department with 13, and set a career high in doubles (24) and stolen bases (34).
The Old Swing
Turang's struggles with his lower half consistency sapped almost any power he had. In 2019, Turang's set up was much more crouched in his legs, likely in an effort to get into his back hip. As hitters will tell you, the most important part of the back hip and lower half is not getting there — it's staying there. Turang really struggled with the latter, often coming up out of his base on off speed and elevated pitches which leaves the arms doing most of the work.
The edge of the dugout works as a great reference point in the video above as to where Turang's head starts versus where it is by the time he launches. That forward body move prior to launch not only kills power, but makes it increasingly difficult to stay back on off-speed stuff as well as catch up to elevated heat.
Between the 2019 and 2021 seasons, Turang posted an OPS below .600 on fastballs 94 mph and above, while his highest swinging strike rate was on four seam fastballs. As you can see in the video below, Turang tries to sink into his backside but comes up out of his base for the elevated heater which causes the bat to drag through the zone and often miss under. Because Turang has such good bat-to-ball skills, he would often foul these pitches off more than whiff, but they would tend to be hittable pitches in fastball counts regardless.
The New Swing
Now for the good stuff. Turang came out in 2022 with a totally adapted set up and pre-swing moves that supported his effort to stay in his legs. He widened his stance, starting slightly open with his weight more stacked on his back side to start. Starting slightly open also helped minimize his tendency to cut his swing off as he struggled to rotate out of that closed position.
Turang also adjusted his hands further away from his body and further back in his stance, the adjustment likely helps him keep his hands back longer while creating more tension/stored energy prior to uncoiling at launch. There's a difference in his leg kick as well, which seems to include much less sway of body weight forwards and backwards, prioritizing more of a coil in his back hip.
As you can see in the video above, Turang has no issue catching up to the elevated fastball, and the data backs it up. Last season, Turang put up an OPS of .804 on fastballs 93 mph and above, along with the lowest swinging strike rate of his career on all fastballs (8%). With improved confidence, body control, and timing on fastballs, he also cut his chase rate by 10%.
By being ready for velocity while also boasting the improved body control to get competitive swings off against unexpected off speed pitches, Turang has drastically broadened his window for success. Instead of reaching out and rolling over with his body taken out of the equation, he is now getting his "A" swing off more frequently with his "B" swing–or swing a hitter takes when they're somewhat fooled–still producing harder hit baseballs. Turang's 90th percentile exit velocity on non-fastballs has jumped by four miles per hour since 2019.
Putting himself in a position to hammer mistake pitches was big for him as well. I don't have the specific data to back this anecdotal point up, but there were numerous occasions when I was combing through off-speed pitches to Turang from the 2019 and 2021 seasons where hangers turned into weak contact because of a premature weight shift forward.
Doing damage on mistake pitches can make all of the difference for a fringy power guy like Turang. He didn't miss the changeup in the video below.
What Can We Expect For 2023 and Beyond?
When the Brewers sent second baseman Kolten Wong to Seattle for Jesse Winker, it became clear that the team was ready to hand the keys to second base over to their No. 3 prospect. It's probably fair to say that if Turang did not make the major improvements we saw last season, the Brewers very well could have not made the trade.
Defensively, there are no questions. Turang projects as a plus defensive shortstop with ridiculous range and the ability to throw from all sorts of arm angles. Similar to Nico Hoerner with the Cubs, Turang will make the move to second base in deference to an established veteran and will likely be one of the better defenders at the position.
It's hard to deny the improvements Turang has made in essentially every offensive category, but with the tangible adjustments and data to back it up, I am absolutely sold on this version of the 23-year-old.
You rarely see a four mile-per-hour jump in 90th percentile exit velocity, but Turang did just that between 2019 and 2022. He produced more 105+ mph batted balls in 2022 than the previous two seasons combined. In terms of max exit velocity, Turang's career-high entering last season was just under 107 mph. Last year, he produced eight batted balls harder than that. These are all different ways of saying that I am buying the power breakout from Brice Turang.
Oh yeah, and last season was his best and most efficient campaign on the base paths. The speedy infielder stole 34 bags on 36 tries. Not only do I think Turang could be an impactful contributor for the Brewers, but if some of the blue chip prospects struggle out of the gate, he is a sleeper candidate for NL Rookie of the Year.