Analysis
Kansas City Royals Offseason Outlook for 2023-2024 Free Agency
The Royals aren't without their strengths, but they have plenty of room for improvement ahead of the 2024 season.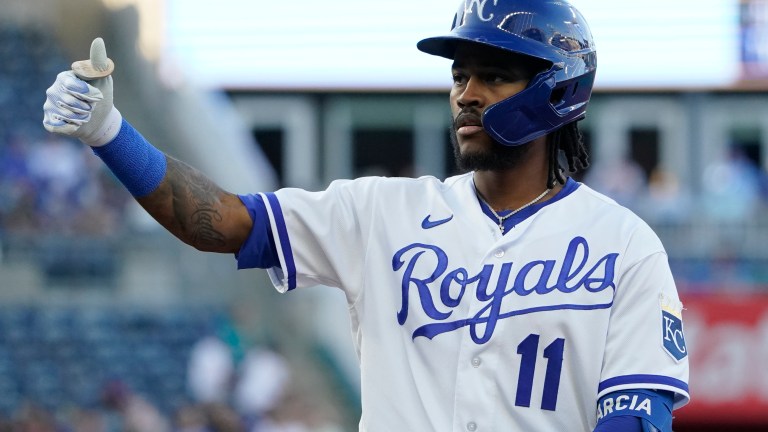 Co-written by: Kevin O'Brien
For Royals fans, the 2023 season wasn't what many were hoping for. With the team having a new manager and general manager and the young players starting to get some more experience, many fans expected a bit better than a 56-106 second-to-worst record in the league. 
Struggles in the rotation and bullpen really hurt Kansas City in the long run. It didn't help that the team kept trying to figure out which of the younger players were going to be part of the long-term lineup.
It is fair to say there is more to the story than the on-the-field record. The Royals ran into some bad luck, losing Vinnie Pasquantino to a season-ending injury, and many of the younger players were still just in their second full season. 
As the 2023-24 offseason kicks off, the Royals have a few strengths as well as many areas that need to be addressed for improvement. We will take a dive into the strengths, areas to improve, focuses for free agency and trades, front office and coaching expectations, and the state of the farm system moving forward.
Where Are the Royals Strong?
Looking at a 56-106 record might make you think there aren't many strengths to this team, but I think that is far from the case for the Royals. As frustrating as it can be to watch your favorite team lose, the Royals have a few places where they are starting to show improvement. 
Bobby Witt Jr., Maikel Garcia, and Michael Massey are starting to look like an infield that you can be excited about for years to come. Sure, Massey needs to improve some offensively, but the trio gave the Royals one of the best infield defenses in the major leagues. 
Garcia has been a breath of fresh air both offensively and defensively for an organization that has struggled to fill the void at third base since Mike Moustakas left. He stole 23 bases and slashed .272/.323/.358 in his first season, flashing bright spots on the offensive side of the ball and giving hope he could be a force at the top of the lineup for the Royals. He went through his struggles at the plate – as many young players do – but overall, Garcia was fun to watch. 
Defensively, it seemed as though Garcia was always making web gem-type plays. Garcia ranked first among AL third basemen in Def. Rating (per FanGraphs), first in Outs Above Average, first in Fielding Run Value (per Baseball Savant), and third in Fielding% (min. 600 innings). The left side of the infield looks like it will be a strength for years to come. 
On top of Garcia on the left side of the diamond, the Royals had Bobby Witt Jr., who continued to flourish into the superstar that he is. The young shortstop had 30 home runs, 11 triples, 28 doubles 96 RBI, and 49 stolen bases. It is safe to say that Witt is no longer on the verge of becoming a superstar – he is one. 
What Improvements Need To Be Made? 
The Royals need to boost the bullpen in a significant way if they want to avoid another 100-plus loss season in 2024. The Royals' bullpen ranked 29th in ERA and BB/9 and 27th in WHIP and HR/9 last season. Things also got worse for the group as a collective after they traded away Aroldis Chapman and Scott Barlow, so the bullpen needs all the help they can get.
There are some pieces internally who could help in 2024. James McArthur, acquired from the Phillies after he was designated for assignment, emerged as the Royals' unofficial closer and looked flat-out dominant down the stretch. He posted a 0.00 ERA, struck out 19 batters, and didn't allow a single walk in 16.1 IP in September/October. Unless the Royals acquire a more veteran reliever in free agency, it's likely McArthur will be the lead candidate for the closer's job when pitchers and catchers report.
The Royals do have a slew of intriguing arms who can throw heat, but all come with a fair number of flaws. John McMillon made his MLB debut after starting the season in Low-A Columbia, but an arm injury shut him down before the end of the season.
Carlos Hernandez and Jackson Kowar also showcased some great stuff but didn't get consistent enough results to be reliable in the late innings. While the Royals pitching coaches will need to get more out of their cost-controlled relievers on the 40-man, the front office will need to look outside the organization to make this group at least average next year.
Free Agency and Trades
What the Royals do this offseason will be intriguing. History tells us that the Royals won't be big spenders in free agency and you'd imagine much of the focus will be on trades. The most notable impending free agents include Zack Greinke, Brad Keller, and Matt Duffy.
When it comes to Greinke, there are some expectations that he might be retiring. Greinke found himself struggling more than he had before in his career, going 2-15 and posting a 5.06 ERA. The legend on the mound has amassed an incredible career that includes 225 wins, 2,979 strikeouts, and a 3.49 ERA. As much as we'd like to see Greinke come back for nostalgia's sake and to possibly get 3,000 strikeouts, it is hard to see him as a viable rotation option. 
As for the other two names, Keller struggled mightily to return from injury, and then it was announced he was experiencing symptoms of thoracic outlet syndrome. It seems as though the expectation is he won't be returning.
Matt Duffy was a fine placeholder-type player on the field and had some decent moments at the plate, but overall, he struggled to be productive. He could possibly return based on his connections to manager Matt Quatraro, but it seems highly unlikely. 
In terms of who the Royals will look to acquire in free agency, it seems likely they will target a starting pitcher, especially since it is likely that Greinke will not return in 2024, and they struggled to find much consistency in the rotation beyond Cole Ragans, who came over from Texas in the Aroldis Chapman trade and absolutely thrived in Kansas City.
The Royals have traditionally not spent much on free agent starting pitching in the past, even during the competitive years from 2013 to 2017. The organization has tended to prefer one-to-two-year deals for veterans looking to rebound who can eat innings and hopefully find some batted ball luck in Kauffman's spacious yard. It worked in 2013 and 2014 with Jeremy Guthrie and in 2015 with Edinson Volquez. Unfortunately, the strategy backfired in 2021 with Mike Minor and last season with Jordan Lyles.
If the Royals want to continue this trend, then it seems like Lucas Giolito, Luis Severino, Kenta Maeda, and Jack Flaherty could all be Royals targets this offseason. All four have demonstrated flashes of brilliance over their careers but are coming off inconsistent or injury-plagued seasons. If J.J. Picollo is willing to spend a little more than the team traditionally has, Michael Wacha, Jordan Montgomery, and Marcus Stroman could be higher-profile targets who will cost a bit more per year but would bring some much-needed consistency at the top of the Royals rotation.
It seems like the Royals may be a year away from acquiring a major player via a trade like they did in 2013 when they acquired James Shields and Wade Davis from the Rays. The farm system is bare and needs to be stocked over the next year, and many of the Royals' promising young players who had immense trade value a year ago are coming off down seasons (MJ Melendez, Brady Singer, Michael Massey).
That said, the Royals have been more open to trading players under Picollo than they were with Moore, and Salvador Perez has been floated as a name who could be dealt this winter. If the Royals get any kind of reasonable trade package that can stock their farm system this offseason, then it wouldn't be surprising to see Perez playing in a non-Royals uniform in 2024.
Expectations for the Coaching Staff and Front Office
Based on the Royals' end-of-the-year press conference with Picollo and Quatraro, it appears that the coaching staff will be coming back fully intact, barring something unexpected happening this offseason. The front office, though, has been a different story so far.
Gene Watson, the Royals' Vice President of Major League Scouting, moved to Chicago for a front office position with the White Sox under new GM and former Royals player/executive Chris Getz. Lonnie Goldberg, who had a major hand in the Royals' draft and scouting department for over a decade and a half, is being reassigned to an unknown role in the scouting department (a sign that they may be phasing out his role and influence).
Lastly, Jin Wong, who had been with the Royals for 24 years and recently held the position of Vice President of Baseball Administration, shockingly stepped down for personal reasons on October 19. No statement was shared officially from the Royals organization about him leaving.
Danny Ontiveros, formerly the Royals' Director of Amateur Scouting, steps into Watson's role, a bit controversial after Ontiveros' aggressive and risky draft strategy this past year. However, while Ontiveros' promotion was peculiar, the Royals have also aggressively hired and promoted guys from outside the organization (or who were part of other organizations not too long ago).
Brian Bridges is the new Director of Amateur Scouting and held a similar role with the Braves from 2015 to 2019. Jim Cuthbert, who came on last year as a special advisor, will be the Director of Pro Personnel and Strategy and has experience as an executive in the Rangers, Marlins, Nationals, and Red Sox organizations. Finally, Daniel Guerrero was promoted to Director of International Scouting and had experience as an intern with the Nationals prior to coming over to Kansas City in 2017.
Picollo and the front office have preached about building the organization through a blend of scouting and analytics, much like successful organizations such as the Rays, Astros, Guardians, and Orioles.
The front office still has to prove it with their moves this offseason, and the Winter Meetings will be key in determining whether or not they are serious about distancing themselves from the old "Dayton Moore" model. That said, the changes in the front office already this offseason show that the team is taking steps in the right direction.
State of the Farm System
The Royals farm system is in a really weird spot right now. For the most part, it ranks at the bottom of the league in terms of talent. For a rebuilding team, that is not what you want to hear. Yet, to be fair, the Royals just recently graduated a lot of top prospects.
The organization doesn't even have a consensus top-100 prospect anymore. Just Baseball recently named Ramon Ramirez a top 100, which gives you some hope, but overall, the system lacks the depth you'd like to see.
The last two drafts have really kept the Royals from restocking and getting themselves even into the middle of the pack in terms of prospect ranks. Their number one overall pick from the 2022 MLB Draft, Gavin Cross, really struggled with swing and miss in his first full season of pro ball. The power and speed were on display, but he consistently struggled to make contact due to chasing out of the zone. On top of that, others from the 2022 class, like Cayden Wallace, haven't exploded or given anyone reason to put them in the top 100. 
The 2023 class was a chance to take some top-100 guys right off the bat, but the Royals took a different approach and went very high upside early with the likes of catcher Blake Mitchell and right-handed pitcher Blake Wolters. 
The risk that comes with these prep prospects is part of the reason they don't fall into the top 100, and it's why many evaluators have their doubts about the Royals' system. They are going to need guys like Frank Mozzicato, Ben Kudrna, Blake Mitchell, Austin Charles, Blake Wolters, Hiro Wyatt, and many others to really take those next steps in their development for this system to move up the ranks.
Unfortunately, it is going to be a waiting game with the farm, which many don't want to hear for a rebuilding team. It could pay off exponentially if these high-upside plays really take off. 
Conclusion
Fans shouldn't expect the Kansas City Royals to be competing in 2024, unfortunately. There are still a lot of question marks at the major league level, and the farm system isn't deep enough with guys close to major league ready to give you hope that someone is going to get called up to save the day. 
The Royals will have some opportunities to possibly move some names like Salvador Perez and Brady Singer this offseason, and it will be interesting to see what direction they decide to take. They will need a few more arms in the rotation that they could possibly acquire via free agency, and the outfield needs some significant help as well. 
Hope for the Royals to at least make progress from the 2023 season and put up a few more wins than they did in 2022. The long rebuild continues.