Analysis
Nick Pratto: A Bright Spot in a Rather Dim Royals Season
Former top prospect Nick Pratto has been impressive on both sides of the ball since making his way back from Triple-A.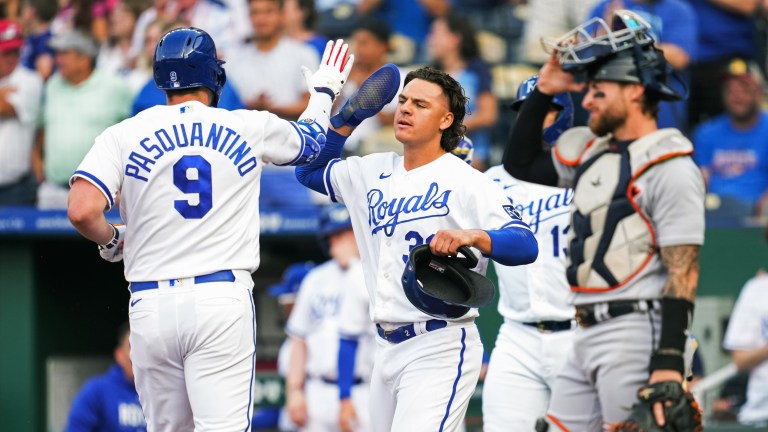 We are through May and the Kansas City Royals are 18-43. That's the second-worst record in the major leagues, only behind the Oakland Athletics. For many fans, it has been hard to watch. The Royals are near the bottom of the league in a majority of statistical categories.
The motto for last year's team was "let the kids play," and now this year that rings true. Bobby Witt Jr., MJ Melendez, Vinnie Pasquantino, Drew Waters, Nick Pratto, Michael Massey and many others are trying to adjust and learn how to handle a full 162-game season against some of the best pitching in baseball.
As frustrating as it is for fans to watch the Royals keep losing, there has to be some patience involved. Developing these guys at the major league level does take time.
There has been one major bright spot in the Royals' somewhat dim season: Nick Pratto. He's been quite impressive on both sides of the ball since being recalled from Triple-A Omaha on April 28.
The potential Gold Glove first baseman has been playing outfield, with Vinnie Pasquantino taking the majority of the time at first base, and has looked good out there.
He's got six outfield assists so far and has yet to make an error. His arm strength isn't the greatest but has been serviceable enough in left field. It is not always easy for a player to just move off position, especially if they are a potential Gold Glover.
But for Pratto, it has always been about doing what is best for the team, and he is showing that each day he goes out there. His team-first attitude has led to Pratto getting more at-bats in a Kansas City Royals outfield that could use some help.
On the offensive side, Pratto has been swinging it well. He has been showing a great ability to hit the ball hard, ranking in the 76% percentile for barrel rate and 71st percentile for hard-hit rate, according to Baseball Savant.
Swing and miss has always been a concern for the power-hitting Pratto, and he sports a strikeout rate of over 30%. But, he has done a great job offsetting that by ranking in the 84th percentile in chase rate and 76th percentile in walk rate.
He is getting on base, scoring 18 runs, and producing with his power by driving 15 runners in. The ability to get on base and not chase bad pitches will only help him as he grows in his career.
The even better news is that Pratto is hitting against both righties (.291 AVG) and lefties (.316 AVG). He has shown a lot less swing and miss against lefties than he did last season, only striking out 13 times in 41 plate appearances.
If he finds ways to pick up spin better and lower his strikeout rate just a tad, Pratto might become an absolute force.
Matt Quatraro hasn't been shy in trying Pratto in different parts of the lineup. He's continued to see time in the leadoff spot, which might be a very good spot for him given his ability to get on base. He's got below-average speed, which limits his ability to run, but he can get good jumps and reads, so he is far from a clog on the base paths in the leadoff spot.
His instincts on the base paths can really help him to be an efficient base runner. With the likes of Maikel Garcia and Nick Pratto, the Royals might have some future table-setters for guys like Bobby Witt Jr. and Vinnie Pasquantino.
While the season thus far might not be what Royals fans wanted, there are some aspects, like Nick Pratto, that can get them excited. Fans were desperate for these guys to get called up last year, and it is way too soon to just give up on many of them just barely two months into the season.
Rebuilds are never full of fun and require a lot of patience. These things take time. The Royals are in their first year of a new general manager, manager, and pitching coaches who have all changed the way the Royals go about their development and strategy at the minor and major league levels.
The steps Nick Pratto has taken and adjustments the other young players have made give fans opportunities to be excited. It can be hard to remain optimistic when L's keep getting tossed on the board each night, but it will take a long journey and a lot of development before we start seeing a ton of W's pile up.
Stats and standings as of Wednesday, June 7.