Analysis
Kansas City Royals Offseason Outlook
The Royals did not have the best season in 2022, but did see their rebuild begin to bare fruit. How can they build off that this offseason?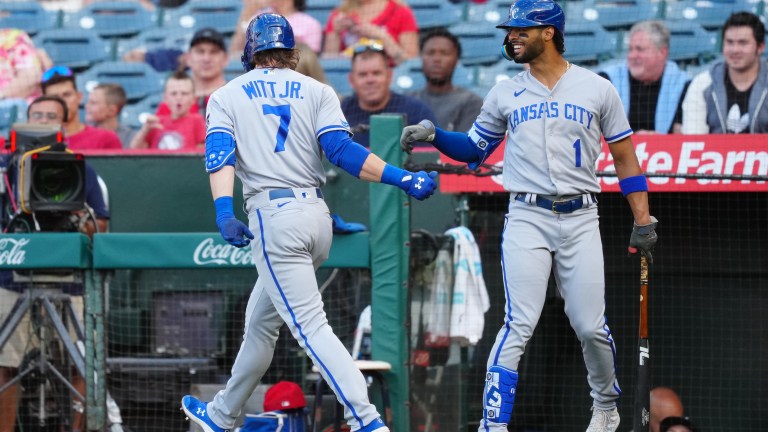 Oh, Royals. Kansas City was hoping for noticeable improvement this year, but they remained at the bottom of the league once again. They started rough and while they were never great, they played near .500 baseball in July and August as more of the youth began to shine.
There was substantive progress within the organization as they saw many of their young players really start to show serious promise as they continue to build toward success in the coming years. They even experienced some breakouts from players like Brady Singer, who should be a key contributor for years to come.
They started the offseason off with a bang as they moved on from longtime general manager Dayton Moore late in the season as they shifted the front office in hopes of returning to contention sooner than later. The changes didn't stop there as new general manager J.J. Picollo decided to move on from manager Mike Matheny and pitching coach Cal Eldred. The Royals will enter this offseason under new control and coaching as they shift their philosophy in hopes of getting back on track.
Coaching Decision
The first and foremost move this offseason is deciding who they want to lead this team into their next era. The coaching options are vast this offseason for the teams with vacancies and it seems there may be a few first-time head coaching hires made as well.
The Royals have multiple in-house options if Picollo decides to play it safe with someone who the players are already comfortable around. Bench coach Pedro Grifol and hitting coach Alec Zumwalt should be at the top of the list if they choose to hire from within.
Grifol has been with the Royals organization since 2013 and fits the mold of someone who could thrive in a manager role. Zumwalt was just promoted to hitting coach this past year but would bring a young and modern approach to the team and could further improve the young bats he worked with this season.
They could also look externally at very popular options like Matt Quatraro or Joe Espada. Both options have been around successful organizations in important roles for a while and bring intelligent young baseball minds to the table. Other youthful external options could include base coaches Dusty Wathan of the Phillies or Clayton McCullough of the Dodgers.
It seems unlikely that this up-and-coming Royals team would want to bring in an older-generation leader, but if they're looking for experience to guide the youth they could consider Ron Washington or Joe Maddon possibly.
The decision that will dictate another rebuilding year for the Royals is the managerial choice as this coach will be expected to usher in the next generation of competitive Royals teams.
Let the Young Hitters Cook
The youth movement on the offensive side of the ball began to show in full effect as the young hitters led by future star Bobby Whit Jr. improved throughout the year. While they were far from elite, the Royals ranked 14th in the league in average at .244 and ranked 23rd in wRC+ over the season. While this may not seem great, it only got better throughout the season as many hitters got increasingly confident.
Bobby Whit Jr. became just the fifth rookie to join the exclusive 20/20 club this season as he flashed the power and speed combination that made him one of the top prospects in MLB. While his glove may need some work, in addition to his approach, he's on a path to stardom. Alongside Whit was MJ Melendez for the majority of the season, who showed signs of being a prolific and powerful hitter for years to come.
Other young players like Vinnie Pasquantino, Nick Pratto, Michael Massey and Drew Waters showed signs of being potential contributors at the big league level. Since they certainly are not going to be competing this year they should lean into the youth movement further and allow this offense to be filled with youth talent, outside of Salvador Perez.
There are really not many additions that need to or should be made on the offensive side of the ball. This group should get constant at-bats to improve and continue to grow into a potentially dynamic lineup. The future of the Royals' offense is definitely bright.
Find Pitching, Please
The Royals' biggest organizational failure over the past few years has been the pitching staff, essentially in its entirety. They have failed to develop and/or bring consistent options for their rotation as many of their former young arms appear to trending towards a short career, while others showed promise but haven't progressed.
Possibly the biggest improvement of the season was Brady Singer who blossomed into the pitcher he's always had the potential to become. He pitched to a 3.23 ERA over 153.1 innings and appears to have top-end starter promise for the future.
You may not like watching him at this point, but Zack Grenkie was adequate this year and played the role of veteran rotation arm to the fullest. The Royals may and honestly should consider bringing him back again to help guide the pitching staff.
Unfortunately, most of the other pitchers failed to show much improvement and there's not much hope going forward. Kris Bubic, Daniel Lynch and Jonathon Heasley didn't show signs of being big-league arms and this staff definitely needs additions. Not a single regular starter aside from Singer and Grenkie finished with an ERA under five. They've waited a while for some arms to show life, but there really just haven't been many positives amongst the pitching group.
While I wouldn't expect the Royals to spend big on arms given the status of their organization, they need to bring in some reinforcements. Regardless of their competing status, they need some serviceable pitching to help grow the future in Kansas City.
2023 Outlook
The Royals are not going to compete in 2023, but they have the capability to make serious additions and build toward being a competitor in the near future. They can afford to bring some external pitching additions that can help improve the roster while the young hitters continue to mature.
I think the Royals should be able to improve upon their 67 wins and reach at least the 70s if they make a conscious effort to add pitching help to one of the worst pitching groups in the league. It might not seem like it, but this team is coming along slowly but surely and should have a real shot at competing in the next five years.