Analysis
Sean Murphy Has Been One of the Best Players in Baseball
Sean Murphy is off to an incredible start to his Braves career, as he leads the National League in OPS, wRC+ and FanGraphs WAR.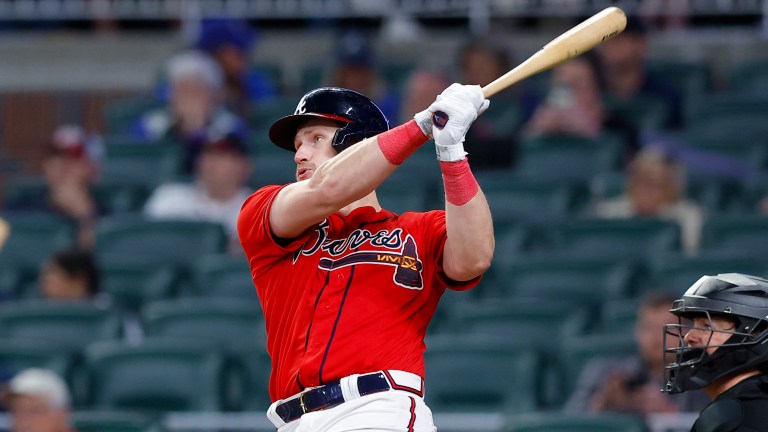 Ronald Acuña Jr., a popular preseason NL MVP pick, is off to a tremendous start in 2023. But while Acuña is slashing .338/.431/.551, he doesn't lead the Senior Circuit in FanGraphs' version of WAR. Heck, he doesn't even lead the Atlanta Braves.
Instead, it's catcher Sean Murphy, who currently has the top mark among all position players with 2.2 fWAR. Murphy is off to an incredible start to his tenure with the Braves after he was acquired in a December trade with the Oakland Athletics.
Over 31 games, Murphy is slashing .282/.426/.621 with nine home runs, 28 RBIs, 21 walks, a 1.048 OPS, and the aforementioned MLB-leading 2.2 fWAR. Mind you, while Murphy was one of the better catchers in baseball over four seasons with the A's, he slashed .236/.326/.429 with a .755 OPS during that time. Those numbers feel especially modest compared to what he's doing with the Braves.
What's more, Murphy has one defensive run saved and currently grades out as the best pitch framer in baseball. He already has one Gold Glove Award on his resume from the 2021 season, and it seems as though he'll be in position to compete for another in 2023.
However, with both J.T. Realmuto and Will Smith in the NL, it certainly won't be easy for Murphy to make his first All-Star team in 2023. Not only do those two have reputations as the best catchers in the league, but since every team must have at least one All-Star, some deserving names from teams with numerous candidates will miss out. And the Braves, who lead the NL with 24 wins, will certainly have many All-Star candidates.
But to this point, Murphy has played at such a high level that regardless of how Realmuto and Smith perform and how many other All-Stars the Braves have, it would be hard to deny him a spot in the Midsummer Classic, barring a massive dropoff over the next six weeks.
Naturally, Murphy signed a six-year, $73 million deal with the Braves on the way in, one that includes a $15 million club option for the 2029 season. Murphy can be added to the list of Braves players with extremely team-friendly deals, a list that already includes Acuña, Ozzie Albies, Austin Riley, Matt Olson and Michael Harris II.
Furthermore, perhaps Murphy needs to be a more serious candidate when discussing the top catchers in baseball today.