News
Daniel Murphy Attempting MLB Return After Retirement in 2021
Murphy, who played for the Mets, Nationals, Cubs, and Rockies throughout his career, will attempt a comeback with the Los Angeles Angels.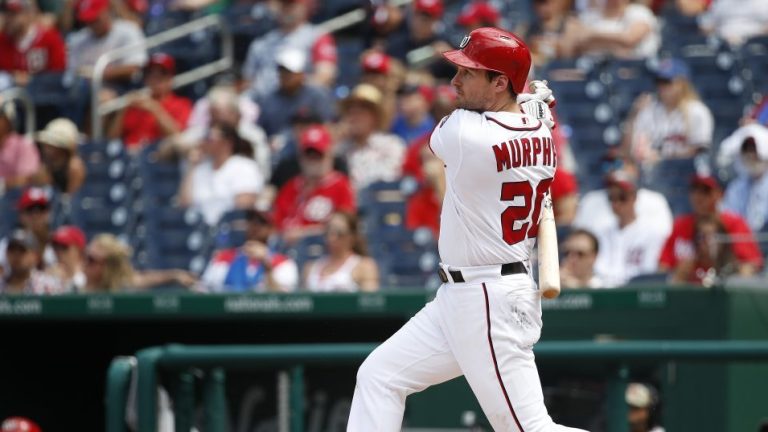 Among Los Angeles Angels players, Mike Trout and Shohei Ohtani already combine for four American League MVP Award victories. Now, the organization has added a former National League MVP runner-up in an attempt to reach the postseason for the first time since 2014.
Daniel Murphy — he of the 1,572 career hits — has had his contract purchased from the Independent League Long Island Ducks by the Los Angeles Angels. It will be a minor-league deal for Murphy with the Angels, with Jon Heyman of the New York Post noting that Murphy will head to Triple-A Salt Lake.
This continues the comeback attempt for Murphy, who last played at the Major League level with the Colorado Rockies during the pandemic-shortened 2020 season. In 40 games for the Rockies in 2020, Murphy slashed .236/.275/.333 with just a .608 OPS. To the surprise of many, Murphy — who had announced his retirement from baseball in January of 2021 — joined the Ducks in March, suggesting that he believed this was the first step toward a return to the highest level of the sport.
"This game is part of my soul, and my passion for playing grew as great as ever when I discovered certain things that I believe will enable me to be productive on the field again," Murphy said. "I am immensely grateful to Mr. Boulton, Wally Backman and Michael Pfaff for allowing me to live my dream for a second time."
In 142 at-bats for the Ducks, the 38-year-old Murphy slashed .331/.410/.451 with two home runs, 19 RBIs and an .861 OPS. He did so on a team that includes a ton of former major leaguers, including Alejandro De Aza, Alex Dickerson, Adeiny Hechavarria, Chance Sisco and Kevin Quackenbush.
Now, he'll work toward joining an Angels team that is 37-31 and desperately trying to convince the aforementioned Ohtani to re-sign with the team this offseason, rather than departing via free agency.
Of course, at his peak, Murphy was one of the best pure hitters in the sport. He won the NLCS MVP while playing for the New York Mets in 2015, homering seven times and driving in 11 runs during a postseason run that ultimately ended with a World Series loss to the Kansas City Royals.
Murphy parlayed a breakout in his late-20s into a three-year, $37.5 million free-agent deal with the Washington Nationals prior to the 2016 season. In lineups that included Bryce Harper, Anthony Rendon, Trea Turner, Ryan Zimmerman, Jayson Werth and Wilson Ramos, Murphy was arguably the most valuable offensive piece for his first two seasons with the Nationals. That included 2016, when he slashed .347/.390/.595 with 25 home runs, 104 RBIs, a .985 OPS and a 5.0 fWAR, ultimately finishing second in NL MVP voting to Kris Bryant.
The former 13th-round pick is the second former star New York infielder to return to affiliated baseball in the last week. Didi Gregorius — who proved to be an excellent successor to Hall of Famer Derek Jeter at shortstop for the Yankees — signed a minor-league deal with the Seattle Mariners organization last week after a successful stint playing for Algodoneros de Unión Laguna in the Mexican League.