Analysis
Who Should Start the All-Star Game at Catcher?
With the second phase of All-Star voting under way, let's take a closer look at two of the closest races on the ballot.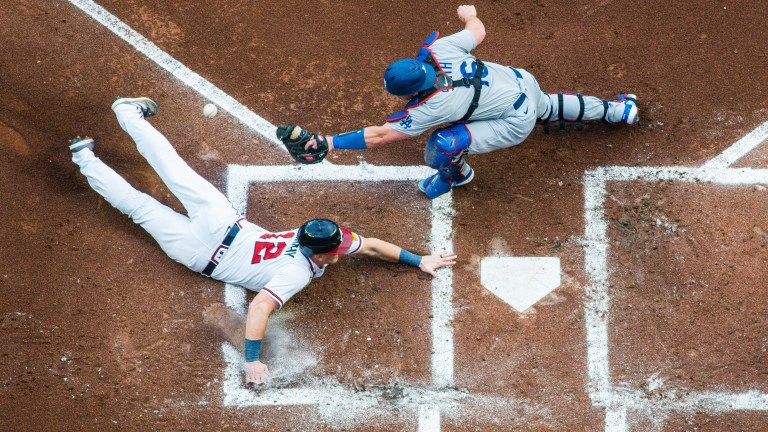 With the first phase of All-Star voting in the books, we're starting to get a clearer picture of each league's starting lineup.
As the top vote-getters in the AL and NL, respectively, Shohei Ohtani and Ronald Acuña Jr. have rightly earned their spots on the squad. The remaining finalists will duke it out in head-to-head voting matchups over the next four days.
All-Star voting is impossibly hard to predict (fans are fickle, and the criteria are subjective), but in my estimation, the closest race in each league should be at the same position: catcher. All four players in contention are having excellent seasons, and as far as I'm concerned, catcher is the only position where all of the most deserving candidates advanced to Phase 2.
Jonah Heim. Adley Rutschman. Sean Murphy. Will Smith.
Every one of those players is a deserving All-Star, but only two of them can win the starting jobs. Let's talk about who that should be.
American League
The Case for Jonah Heim
2023 Batting Stats: 271 PA, 11 HR, 54 RBI, .283/.332/.482, 124 wRC+
2023 Fielding Stats: 506.1 innings, 10-for-38 CS, 5 DRS, 86th-percentile framing
Jonah Heim just keeps getting better.
Here's what I had to say about the Rangers' catcher entering the season: "Heim is a terrific defender, and his glove will always be his carrying tool, but he needs to contribute something with the bat in order to stick in the starting lineup."
Heim must be a regular reader of Just Baseball, because he heard me loud and clear. He crushed his 11th home run of the season yesterday, raising his OPS to .814. That's not "good for a catcher" – it's just good.
Meanwhile, Heim continues to be an asset behind the plate. He doesn't have the strongest arm or the fastest reflexes, but he boasts the most valuable skill a catcher can possess: elite pitch framing. According to FanGraphs, he's been the second-best framer in the AL, while Baseball Savant and Baseball Prospectus both have him ranked number one.
Heim has also been durable this season, ranking third among AL catchers in plate appearances and second in defensive innings. He's on pace to qualify for the batting title for the first time in his career.
All-around talent and durability make for a beautiful combination, so it's no surprise Heim leads the American League in both FanGraphs and Baseball Reference WAR.
The Case for Adley Rutschman
2023 Batting Stats: 327 PA, 10 HR, 32 RBI, .265/.376/.415, 122 wRC+
2023 Fielding Stats: 484.1 innings, 9-for-46 CS, 0 DRS, 69th-percentile framing
Adley Rutschman is trailing Jonah Heim in OPS, wOBA, and wRC+, but he leads AL catchers with an 85th-percentile xwOBA. Rutschman has also demonstrated extraordinary plate discipline; his walk-to-strikeout ratio ranks fourth in all of baseball.
On the defensive side, Rutschman has stronger tools, but none of his skills stand out like Heim's pitch framing. The Orioles' catcher has a big arm and hasn't allowed a passed ball all year, but the defensive metrics agree that Heim has been the more valuable player.
The number one argument in Rutschman's favor is playing time – he has racked up more plate appearances than any other backstop. Nearly a quarter of his games have come at DH, but that doesn't mean he isn't catching – the Orioles just need his bat in the lineup every single day. Rutschman still ranks fourth in the AL in games played and defensive innings behind the dish.
He ranks second among AL catchers in fWAR and bWAR, but he has a slight edge over Heim in Baseball Prospectus WARP.
Final Prediction
The starting catcher for the AL All-Stars should be Jonah Heim.
The starting catcher for the AL All-Stars will be Adley Rutschman.
Both players have had similar seasons at the plate, but Heim's pitch framing gives him the edge. However, Rutschman has quickly become a fan-favorite around the league, and he held a sizeable lead as of the final Phase 1 voting update.
---
National League
The Case for Sean Murphy
2023 Batting Stats: 240 PA, 12 HR, 43 RBI, .290/.388/.531, 148 wRC+
2023 Fielding Stats: 448.1 innings, 12-for-45 CS, 5 DRS, 91st-percentile framing
The year after his phenomenal breakout performance, Sean Murphy is having another phenomenal breakout performance.
In 2021, Murphy established himself as a solid, everyday catcher. The following season, he proved he was one of the best catchers in the game. This year, Murphy looks like one of the very best players, period.
The Braves' backstop ranks sixth in the National League in wOBA, wRC+, and WAR, all while playing elite defense at the most challenging position on the diamond. He has developed huge power to go along with solid plate discipline, and he's an all-around stud with the glove. He blocks, he throws, he frames, and he rarely makes mistakes.
Murphy leads NL catchers with 3.0 FanGraphs WAR. On an fWAR-per-game basis, he's been the second-most valuable player in the National League.
The Case for Will Smith
2023 Batting Stats: 246 PA, 12 HR, 41 RBI, .291/.407/.518, 153 wRC+
2023 Fielding Stats: 437.1 innings, 5-for-49 CS, 4 DRS, 25th-percentile framing
Will Smith was off to an incredible start (1.058 OPS in 11 games) before a concussion stopped him in his tracks. However, he hasn't let a head injury hold him back from a career-best season.
After a 15-day stint on the injured list, Smith was back to business as if nothing had happened. Over the last two months, he's hitting .281/.404/.488 with nine home runs and a 147 wRC+. He's walking more often than he strikes out and reaching base in more than 40% of his plate appearances.
Smith is an offense-first catcher, but he isn't a liability on defense. His framing skills are so-so, but he has only made a single error and given up one passed ball.
Furthermore, Smith isn't as awful as his caught-stealing percentage would make you think. In fact, his pop time, exchange time, and arm strength are all career highs. As Mike Petriello of MLB.com pointed out, the Dodgers' pitching staff just doesn't give him many opportunities to throw runners out.
While Sean Murphy has the edge in fWAR, Smith has a slight lead in bWAR and WARP. Murphy was the clear favorite in Phase 1 of voting, but Smith should benefit from the clean slate in Phase 2.
Final Prediction
The starting catcher for the NL All-Stars should be Will Smith.
The starting catcher for the NL All-Stars will be Sean Murphy.
Murphy turned heads with a blistering hot start to the season, yet Smith has been the better player for the past seven weeks. It's a close competition, but Smith is pulling ahead. Unfortunately for the Dodgers' catcher, All-Stars voters are often more heavily swayed by early-season performance.
---
Phase 2 of All-Star voting begins today at noon ET and runs until Thursday, June 29. You can cast your ballot on MLB.com.