Analysis
Cleveland Guardians Trade Deadline Outlook
The Guardians are right in the mix in the AL Central. If they add a few quality bats at the deadline, Cleveland could push the Twins for the division.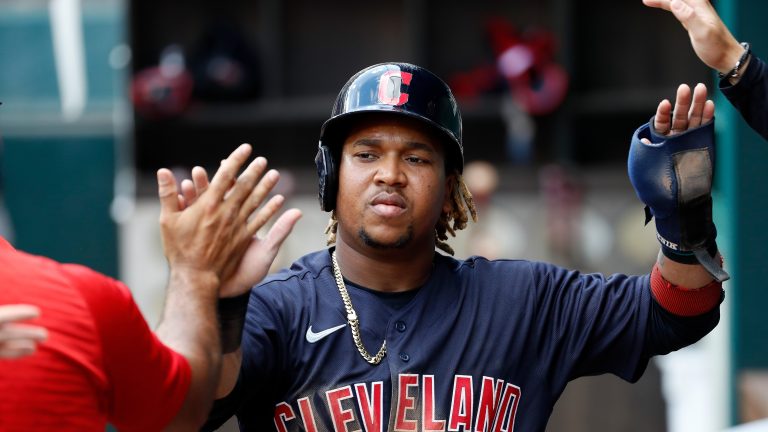 The Cleveland Guardians are in a very interesting spot. While they currently sit just one game over .500, the AL Central is very much up-for-grabs. Many throw around the term "one bat away" but with the Guardians, that could truly make the difference.
They are an organization whose knack is developing pitching, however, their farm system has a good mix of bats and arms. More importantly for the trade deadline, the Guardians should be willing to part with some talent to win now. Below, we take a look at some potential options for Cleveland, who most certainly have their eyes on a playoff run in 2022.
Catcher
Current Options: Austin Hedges, Luke Maile, Bryan Lavastida (Minors)
We all know how good of a defender Austin Hedges is, and while that will be beneficial for a potential backup role, Hedges' bat is hurting this offense. Through 190 plate appearances, Hedges is slashing .174/.231/.267, with an abysmal 41 wRC+.
With just one catcher listed in their top 30 prospects, it seems to be a good time to trade for a controllable backstop, like the two listed below.
Targets
Sean Murphy – C – Oakland Athletics
Murphy seems like the perfect fit for Cleveland. Known for his strong arm and defensive ability, the 27-year-old backstop hit 17 homers in 2021 and has hit 11 so far this season. Outside of Frankie Montas, Murphy seems to be the most likely to get moved in the next week and should drive a decent price tag, that Cleveland should be able to afford.
Willson Contreras – C – Chicago Cubs
Possibly the best catcher on the market this summer, Contreras has had a terrific first half, owning a .372 wOBA along with 14 bombs. While Murphy is three years younger and has more team control, Contreras has been the better offensive player.
There are countless other teams calling about catchers, so Contreras' asking price could skyrocket, possibly forcing the Guardians to go after Murphy instead.
Bench Bats
Current Options: Luke Maile, Ernie Clement, Owen Miller, Alex Call, Richie Palacios (Minors)
Right now, Cleveland's bench may be one of the worst among contending teams. Having quality options to fill in where needed is the key to winning a division and making a deep rotation. Luckily, these options are easy to come by, with tons of different players available from all around the league.
Targets
David Peralta – OF – Arizona Diamondbacks
This would be a classic trade deadline move for a contending team. Go out and pick up a veteran bat that may have a little left in the tank, hoping that he produces come October. The 34-year-old lefty swinger has been productive this year, putting up a 107 wRC+ through 301 plate appearances. While many expect Steven Kwan to take most of the reps in left field, Peralta could fill in periodically or at designated hitter.
Seth Brown – OF/1B – Oakland Athletics
Maybe a toss-in along with Sean Murphy? It could certainly work. Brown has some pop in his bat and has the ability to play the outfield along with first base. By analytics standards, Brown has been a league-average hitter but his defensive versatility is what the Guardians should be interested in.
Cavan Biggio – 2B/3B/1B/LF – Toronto Blue Jays
Second base, first base, right field, designated hitter, left field, third base. Those are all of the positions that Biggio has played over the past two seasons. He is yet another guy who can fill a utility role who has average hitting stats but gets on-base at a high rate.
First Base
Current Options: Josh Naylor, Owen Miller
Josh Naylor has been a pleasant surprise for Cleveland this season. In 67 games, Naylor has 14 bombs along with a 131 wRC+ and a .829 OPS. On top of these productive numbers, all the clues seem to point to him not slowing down. Naylor's walk rate is up, his strikeout rate is down, and he is hitting the ball at the hardest rate of his career.
The best part about him? Naylor plays multiple positions, which could allow the Guardians to target one of the best bats on the market.
Targets
Josh Bell – 1B – Washington Nationals
Notice that there is only one name on this list. If they can swing a trade for Josh Bell, who is at the top of many team's lists, it would move Josh Naylor into a super-utility role. Bell would fit perfectly into this lineup, being a switch-hitting power bat that can do damage from both sides of the plate. His 144 wRC+ ranks seventh among qualified first basemen, while ranking sixth in WAR at 2.5.
Adding Bell to give Jose Ramirez some real protection in the lineup could be just the thing that pushes the Guardians into a playoff position this season.