Feature
How the Arizona Diamondbacks Got to the 2023 World Series
It took a collective effort top-to-bottom for the Arizona Diamondbacks to make this magical run to their first World Series since 2001.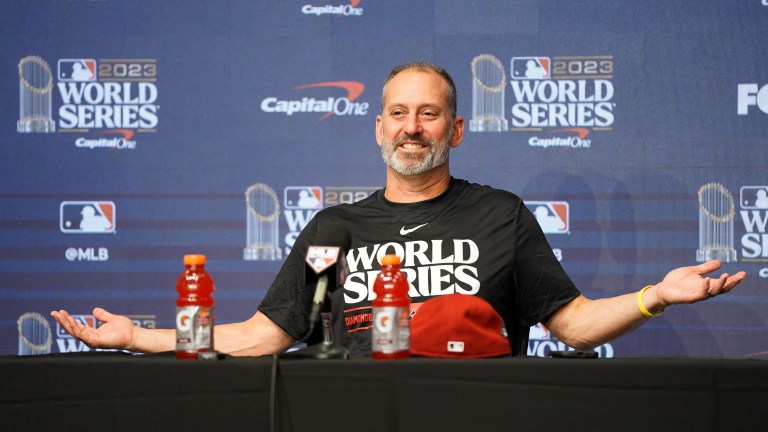 As a long-time Colorado Rockies fans, I've watched a lot of Arizona Diamondbacks baseball, especially before 2023's balanced schedule.
Since 2020, the Rockies and D-backs have fought to avoid finishing the season with the worst record in the NL West because neither team was very good.
I'm telling you this to provide a sense of how I became a believer in the Arizona Diamondbacks.
For me, it started in September 2022 when a 65-72 D-backs team arrived at Coors Field for the final contest between two cellar-dwellers. Their record indicated that the D-backs were better than they had been for the last two seasons, especially 2010's 110 losses. It was also my first time watching recently called-up Corbin Carroll and Alek Thomas — and they were clearly going to be good.
That's when I knew the D-backs were for real, and while the Rockies saw themselves as fellow-rebuilders, the Phoenix club was far ahead of the Rockies.
Actually, as David Roth points out, in terms of the roster, the D-backs of 2023 were not that different from the ones who took the field in 2021 because the team never actually did a rebuild. (Zac Gallen, Merrill Kelly, Christian Walker, Ketel Marte, Joe Mantiply, and Kevin Ginkel were on the 2021 team.)
"Our goal was to contend the whole time," general manager Mike Hazen told Nick Piecoro. "Everybody was like, 'Oh, the Diamondbacks are going to rebuild.' We didn't rebuild in 2021. We stunk. That's the facts."
Ultimately, that core, the emergence of some exceptional prospects, and a few good trades (e.g., Lourdes Gurriel Jr, Gabriel Moreno in the offseason and Tommy Pham and Paul Seawald at the trade deadline) resulted in a team tailor-made for MLB's new rules, specifically those designed to increase base stealing.
Even though the Arizona Diamondbacks are going to the World Series as a team that finished 16 games behind the NL West-winning Los Angeles Dodgers, had a -15-run differential, and managed only 84 wins, the third-fewest for a World Series team, here's how they did it.
They had good players
Look at the D-back's roster.
Corbin Carroll will almost certainly win Rookie of the Year, and for the first half of the season, he was a contender for NL MVP. His numbers show just how good Carroll is — 6.0 fWAR, which ties him for the eighth-highest in baseball. Ketel Marte (4.2 fWAR) was back (as in NLCS MVP-back), and Evan Longoria (0.1 fWAR) provided veteran leadership to his much-younger teammates.
Meanwhile, probable Cy Young finalist Zac Gallen was worth 5.2 fWAR, a number that ties him for Gerritt Cole at fifth in MLB. His teammate Merrill Kelly (3.2 fWAR) is often overlooked, but he is as important to this rotation as Gallen is.
Adding Seawald at the trade deadline stabilized an unsteady bullpen.
The team was fast and stole 166 bases — only the Cincinnati Reds stole more — and when the D-backs got on base, they were effective (8.9 BsR, the sixth-highest in MLB). They also played exceptional defense (35.1 Def, the third best in baseball), which helped minimize opposing teams' offense.
The data shows they were just above average in most offensive categories, but they made the most of their opportunities.
And they had some luck, which isn't measurable, but it matters in baseball.
They have an exceptional coaching staff
In 2023, a team cannot play effective baseball without good data and a coaching staff that enables players to use that data. The D-backs have been successful here as well.
But it's about more than data. This is a front office and coaching staff that came to trust each other through some difficult times.
Here are two cases in point.
The Diamondbacks organization came together to help Mike Hazen and his family in 2020 when Hazen's wife, Nicole, was dying from glioblastoma (read more here and here). No one did more than manager Torey Lovullo, Hazen's long-time friend and work partner.
It made sense, then, that when the D-backs finally returned to Chase Field to host a postseason game, Mike and Nicole Hazen's four sons threw out the first pitch.
Mike Hazen on what his sons throwing out the first pitch meant to his family
Conversely, when Lovullo was weathering some miserable seasons, Hazen stood by his manager. Lovullo told the media in Philadelphia:
"Trust me when I saw there were some real hardships. There were some very dark days in my career. We lost 110 games two years ago. So for me to sit here and tell you that I wouldn't trade that in — if you told me that I would be coming out on the other side of it like this, I would understand why I was having to go through that."
For D-backs' CEO Derrick Hall, the relationship just works: "They are supportive of each other, yet brutally honest and critical at the same time."
That trust, then, finds its way to the rest of the coaching staff and, ultimately, the players. As Lovullo put it during the NLCS:
"The players deserve the credit for trusting the coaches. Love, trust, commitment, and effort are the backbone of our culture. So when a coach does that and you build that backbone and you start to gain that trust, players will listen. It's easy to not listen when you are a player who is frustrated. But at their tough test moments, the coaches go out there and coach their butts off."
They have a strong analytics team — these analysts don't get a lot of press, but their place in this should not be overlooked. Then there's the coaching staff, which Jack Sommers details here.
There's one coach in particular I want to point out because he should get more attention than he does: pitching coach Brent Strom. You probably remember him from his time with the Houston Astros, and this 2019 piece from Tyler Kepner is terrific in terms of describing Strom's career and coaching philosophy. But here's the passage that stayed with me:
Last year (2018), Strom helped transform Charlie Morton's approach from sinker-heavy to one that emphasizes fastballs up and curveballs down. Morton had the best season of his career, and then won Game 7 in both the American League Championship Series and the World Series. Now he is 7-0 with a 2.26 ERA, enjoying the freedom Strom gives pitchers to explore all part of the zone.
In other words, Strom empowers pitchers. Zach Gallen has said as much. Strom gave him the confidence to explore all of the zone — and it went counter to much of the previous instruction he had received.
Think, too, of Brandon Pfaadt, the 25-year-old, rookie pitcher (drafted and developed by the D-backs) who absolutely befuddled the murderers' row of hitters in the Phillies lineup.
Pfaadt had struggled during the season and was optioned to the minors twice while trying to figure things out. And then, as Jack Sommers explains, Brent Strom thought of something.
Brandon Pfaadt was relaxing with family back in Kentucky during the MLB All-Star Break in July when his phone rang late one night. His initial reaction was one of surprise when he saw the caller ID indicate it was Brent Strom on the line. "It might have been 11:00 p.m. I was, like, what does he want?" Pfaadt said.
Strom, it turns out, had an idea: He said Pfaadt should move to the first-base side — he had data to back up his proposal. And it worked. In addition, Strom knew the D-backs would probably need Pfaadt later in the season if the team made a run. He was helping the rookie gain some confidence.
When a coach is that attuned to a player's needs, it shows his commitment. And players understand that.
Think back to Game 7 of the NLCS, bottom of the fourth with two outs and two on. The score is Phillies 2, D-backs 1. Pfaadt looks over to Strom in the dugout and proceeds to walk Brandan Marsh. Next up is Johan Rojas, who strikes out swinging, ending the inning.
That's the kind of trust the pitching staff have in Brent Strom. Every time Strom goes to the mound to talk to a D-backs pitcher, their trust is clear — and a young pitching staff needs that kind of confidence.
They trust their data
The D-backs had done the math, and they had confidence in it, even when acting on the data was hard.
Here are two cases in point.
Think back to Game 3 of the NLCS when Pfaadt had successfully worked his way twice through the Phillies lineup, and Lovullo came to the mound to pull him. The crowd began booing.
As Lovullo said after the game:
I was booing myself as I walked out to the mound. I didn't need to be in the stands. I'm sure I was the most unpopular guy in the city of Phoenix, in the downtown area, and maybe even the entire state of Arizona.
I want everybody to know that is trying to think along with me . . . I have a strategy for everything that's done. Everything that's done is well talked about. It's not just analytics. I know how quickly playoff baseball can change. I felt like Brandon kept the game under control and it was time to turn it over. Yes, I am prepared to be booed, I am prepared to get second-guessed.
Analyst Mike Petriello shared the numbers during the game that justified Lovullo's decision:
Lovullo was right. The D-backs won Game 3 and changed the momentum of the NLCS.
A second case in point, Lovullo's decision to pull Merrill Kelly in Game 6.
After the game, Lovullo explained, "It's what I expect from Merrill. He is an unbelievable competitor, never wants to be taken out of a game until his tank is absolutely empty . . . . He was making statements to me that told me he was capable of going back out there, but I've got to be the parent in the room and make a tough decision and hand it over to the bullpen that's been very efficient."
These are the actions of a coach using data effectively and his players coming to see the reasons for his decisions, even if they were unclear in the moment.
They got hot (and lucky) at the right time
As a baseball fan, you have to accept that baseball involves a certain degree of randomness. If Bryce Harper hits a home run rather than a fly ball in the bottom of the fifth in Game 7 of the NLCS, maybe the Phillies win this one.
"That's baseball, Suzyn."
The D-backs got everything to work just enough this year, despite enduring a nine-game losing streak in late-July and early-August. They did then, as they had all season, "answered back."
Skill and momentum would allow them to sweep the Milwaukee Brewers (in Milwaukee) and then the Los Angeles Dodgers (in Los Angeles) and then come from behind to win a series — in Philadelphia — against the Phillies.
Next week, we'll know if they can see it through when they face the Texas Rangers in the World Series, but whatever happens, the Arizona Diamondbacks are a young team that's here to stay.