Analysis
Ketel Marte Has Been Rejuvenated by the Winning in Arizona
While the Arizona Diamondbacks have been led by Corbin Carroll, it is a bounce back from Ketel Marte that has helped propel them over the top.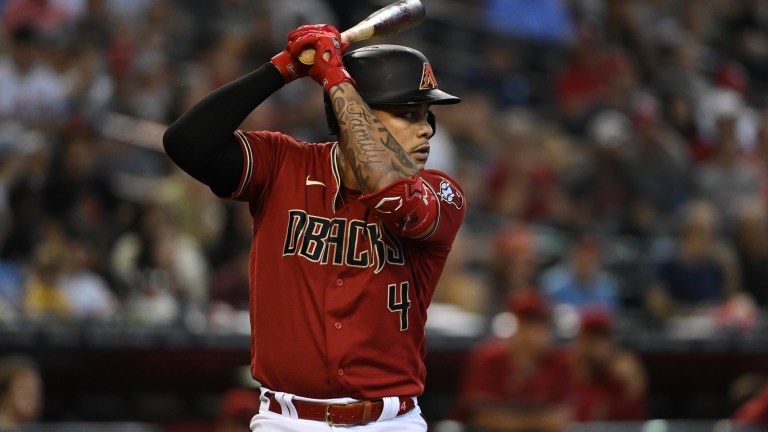 So far this season, the Arizona Diamondbacks have been one of the best stories in baseball, with Corbin Carroll, Zac Gallen and Geraldo Perdomo getting a lot of attention for the teams success. This makes sense given that each player is having an exceptional year on an D-backs team with a 50-35 record. 
But can we please take a minute to appreciate the remarkable, under-the-radar season of second baseman Ketel Marte.
Start with the Numbers
Marte's 2.3 fWAR makes him the third-most valuable position player on the D-backs roster behind Carroll and Perdomo. (He's fifth among all MLB second basemen.) His consistency has him batting second in a powerful D-backs lineup, as he sets the table for Carroll, one of the most effective hitters in baseball. It's worth noting that Marte leads the D-backs with 61 runs. (Carroll is second with 60.)
Consider, then, wRC+. Marte's 136 is second-best on the team. (Only Carroll's is higher.) In a season defined by consistency, Marte is slashing .289/.369/.508 in 344 plate appearances. That includes 15 home runs, which ranks third for the D-backs. 
In terms of all second basemen, only Ozzie Albies and Nolan Gorman have hit more home runs, and only Luis Arraez (in the midst of an historic season) has a higher wRC+. When considering runs, only Marcus Semien has more with 67 to Marte's 61.
In short, Ketel Marte is having a very good season, and no one's really paying attention.
Jesse Friedman has noticed, though, and he argues that Martel should have been an All-Star. 
He's not wrong — and perhaps the D-backs' second basemen will yet find himself on the final ASG roster — but it's another example of the ways in which Marte's quiet play has been overlooked. 
However, such consistency has not always been typical for the 29-year-old second baseman. Marte broke out in 2019 when he finished the season with 32 homers and a 6.2 fWAR. His career average wRC+ is 113, however, so he is having an exceptional season.
In the past, health issues have affected his game.
Through all of this, though, the Diamondbacks' faith never waned. Martel is currently in the second year of a five-year, $76 million contract with a 2028 club option.
So what's different in 2023?
He sees health as a key factor in his performance, telling Jack Sommers, "I've been healthy the entire year. That's been what's the key here. That's the kind of player that I am. That's the kind of player that categorizes me. That's what's most important."
The defensive side of Martel's game also remains sharp.
He currently has six DRS — only D-backs catcher Gabriel Moreno has more. In terms of all MLB second basemen, only Andres Gimenez has more with seven DRS. 
Ketel Marte is having an all-around good season, which is probably both the result of an off-season training plan that saw him working on flexibility as well as being on a contending team that's been in the works for awhile and is ahead of its projected window.
We have a competitive team, we have incredible talent, you know, from the veterans like Longoria who is helping us win, to the youngest like McCarthy who came back up and is doing his job, and we have Carroll who is the best player in the entire league. We're good, thanks God. The difference is we're playing ball the way we're supposed to and taking care of things. Atmosphere is very chill, we have fun, here in the locker room and on the field.
The Diamondbacks are fun alright — and they're also sneaky-good.
For his part, Ketel Martel is both providing veteran leadership and using his game to meet the moment with a team focused on the postseason.