Analysis
NL Rookie of the Year is Corbin Carroll's Award to Lose
The Arizona Diamondbacks newfound superstar has run away with this year's Rookie of the Year award in the National League.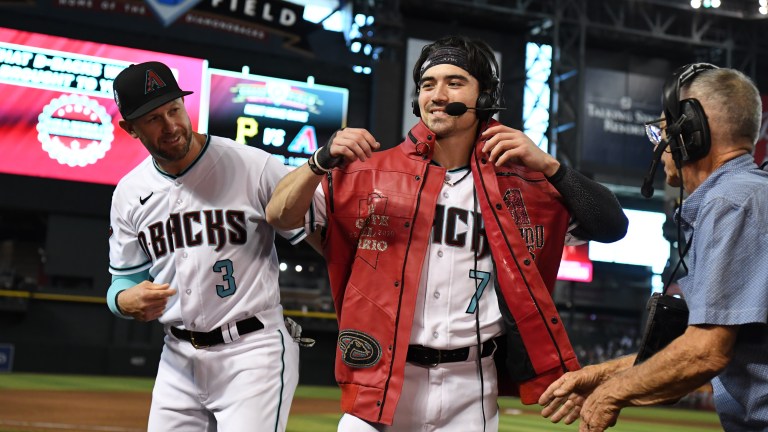 Let's cut to the chase — because no article making a case for Corbin Carroll as NL Rookie of the Year needs an engaging introduction.
The numbers speak for themselves.
Right now, Corbin Carroll's 5.2 fWAR ranks him eighth among all MLB players. He is third in stolen bases with 41, which makes sense given that he is the sixth-fastest player in MLB with a sprint speed of 30.1 ft/sec. His 11.0 BsR leads MLB. (Esteury Ruiz is second with a score of 9.7.)
He has hit 24 home runs. On the Arizona Diamondbacks' roster, only Christian Walker has hit more. Caroll has slashed .282/.361/.525 with a wRC+ 138, the 11th-highest in baseball. His 99 runs rank seventh. He leads the NL in triples with nine.
That's among all MLB players, not just rookies.
As rookie stats go, he is just the fourth rookie in AL/NL history to hit at least 20 homers and steal 40 bases. Who else has done that? Tommie Agee (1966), Mitchell Page (1977), and Mike Trout (2012).
Carroll leads all qualified rookies in runs (99), triples (9), home runs (24), extra base hits (56), and total bases (238).
He's been as effective on the road (136 wRC+) as at Chase Field (139 wRC+). All of this is remarkable.
For the first half of the season, it was not out of the question that Carroll would be a contender for NL Most Valuable Player — he was that good. However, a nagging shoulder injury and a mild slump in July and August — where he was still batting above leage-average — quelled those hopes.
But Carroll is back and the clear front runner for NL Rookie of the Year.
Consider him in comparison to his most likely competition in terms of position players as shown by FanGraphs.

Carroll is the clear leader, and it is not especially close. His 5.2 fWAR is much higher than James Outman's 3.6. Moreover, Carroll has shown a consistency that has evaded Outman. It's possible to make a case for Matt McLain, but he has recently been sidelined with injuries, and he still trails Carroll in terms of overall production.
Two other players should be considered as possible NL ROYs: Kodai Senga and Bobby Miller. Comparing pitchers with position players is an inexact science, but it's worth a try. Again, this is from FanGraphs:

Senga has been one of the best pitchers in the National League and is even pitching himself into a top-10, if not top-five finish in the NL Cy Young voting. He just shutdown the Seattle Mariners on Friday night, striking out a dozen batters as he makes a push towards a 200-strikeout season.
Still, in terms of fWAR Carroll is the best player. That's not to undervalue the work of Senga or any of these other players, who have clearly had remarkable rookie seasons. There is just no way that any of them can take this award away from him.
Especially when voters consider the excitement factor. This is, obviously, unmeasurable, but Carroll has it. When he does well, the D-backs do well; when he struggles, the D-backs are less effective. He's an electric player who makes his teammates better.
Conventional wisdom argues that the D-backs are a year ahead of their window. It's not unreasonable to argue that Carroll's performance has been the catalyst that led to his team's 2023 overperformance and Wild Card contention.
That's all subjective, but the data is the data: Corbin Carroll has earned the NL Rookie of the Year Award and it would take a massive collapse down the stretch for anyone to seriously consider anyone else.