Analysis
Evan Longoria Has Been a Key Cog for the Arizona Diamondbacks
Evan Longoria is settling into his part-time role with the Arizona Diamondbacks, showing he can still produce for a team late in his career.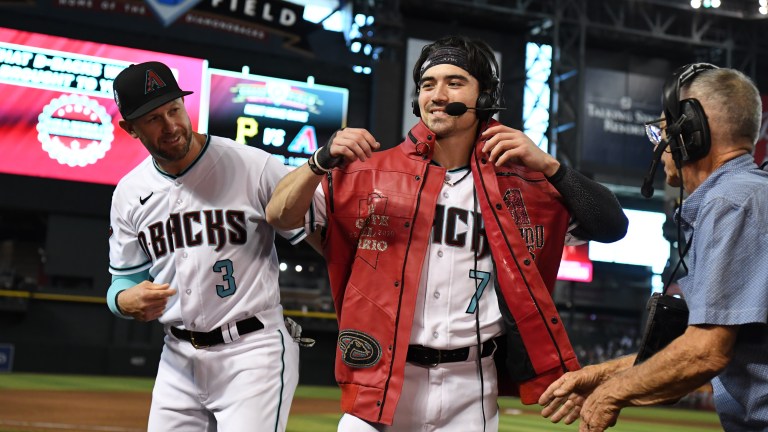 Back in December, when Evan Longoria signed a one-year, $4 million contract with the Arizona Diamondbacks, he was clear that he intended to play serious baseball.
"I came to put on the uniform and be between the lines as much as I can be and help this team win," Longoria told Cameron Cox. "My first focus is getting myself ready to play as many games as I'm asked to play and doing as much as I can to help this team win."
It's safe to say he's done that.
In his 16th MLB season, the 37-year-old third baseman is experiencing a renaissance of sorts.
On the Field
There's no question that Longoria has had a successful career — as in 55.2 fWAR.
However, since 2016, Longoria's numbers had begun to decline primarily due to injuries and the kinds of regression a player typically experiences with age.
Last season, Longoria suffered a number of health setbacks that included hamstring and oblique strains as well as a hand injury that required surgery. Still he managed to hit 14 home runs while slashing .244/.315/.451 in 298 PAs.
When he became a free agent, the D-backs saw him as a solid platoon with lefty Josh Rojas.
As Leo Morgenstern noted after the signing, in 2022, the Diamondbacks were not good when facing lefty pitchers (83 wRC+). Signing Longoria and trading Daulton Varsho helped the team even things out. Currently, they've improved to 96 wRC+ when facing LHPs.
Now consider Longoria's numbers so far with the D-backs. In 155 PA across 47 games, he has hit 11 home runs (he was projected to hit eight) while slashing .237/.303/.525 with a wRC+ of 117. His career average is 118.
He was projected to be worth 0.4 fWAR but has already accumulated 0.6. It's also worth noting that his SLG is the highest it's been since 2012.
In other words, Evan Longoria is playing good baseball this season.
In addition to staying healthy, he has accomplished this with improved plate discipline as well as swing adjustments, topics Esteban Rivera has discussed in detail.
Evan Longoria has made the kinds of changes expected of a veteran player.
He is currently the seventh-most valuable player on the D-backs' roster as measured by fWAR, and his 117 wRC+ ties him at fourth. Remember: He's on a roster with Corbin Carroll, Ketel Marte, and Christian Walker, so he's performing well when compared to some of the best players in MLB right now. So far, his on-field performance in 2023 is as solid as can be expected.
Off the Field
The D-backs are a young team — their average age is 28 — and in signing Longoria, the organization was looking for someone to help young players adjust.
"I explained to him some of the deficits we had with guys being able to corral the group, take them out to dinner," manager Torey Lovullo said. "It happens on this team, but he likes it to happen more often, and I do too. I think some of the things you do off the field build camaraderie and build that fellowship a little bit stronger."
General manager Mike Hazen also sees this as a key part of Longoria's clubhouse leadership.
"I think players like Evan contribute in major ways that aren't always seen to those winning moments," Hazen told Nick Piecoro. "Whether it's helping a young player pick out a pitch they're going to get or surviving a tough loss and making sure your team bounces back the next day, I think those are the biggest areas that we feel there could be an impact here, off the field."
Recently on "Intentional Talk," Longoria discussed the dynamics of the D-backs clubhouse, and veteran perspective is clear.
Although it's impossible to measure something like leadership, all indications are that Longoria has been equally effective off the field.
Closing Thoughts
The question now is whether the D-backs can continue. They spent much of the first half of the season leading the NL West before being swept by the New York Mets last week. Their 52-39 record now has them just behind the Los Angeles Dodgers (51-38).
Complicating matters, the D-backs have the toughest remaining schedule among NL contenders. In the near-term, they will be on a road trip that has them facing the Toronto Blue Jays, Atlanta Braves, and Cincinnati Reds. The results of those series will probably determine the D-backs- approach to the trade deadline.
In the meantime, Evan Longoria needs to keep doing what he's already done so well this season.