Analysis
Justin Verlander Traded Back to the Houston Astros
After days of speculation, the Astros and Mets have come to terms on a deal for three-time Cy Young winner Justin Verlander.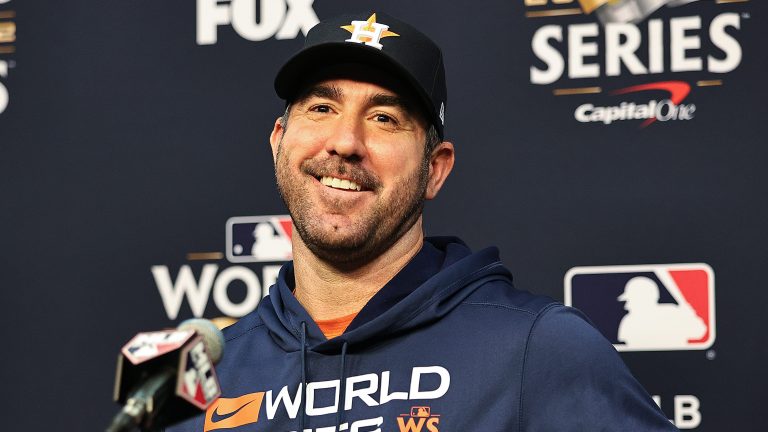 BANG! After an extremely slow Tuesday, news dropped at 2:45 pm ET that the Houston Astros are bringing back nine-time All-Star and two-time World Series champ Justin Verlander.
I don't think I need to paint the picture of the type of pitcher Verlander is. The future first-ballot Hall of Famer is still getting it done at 40 years old. Through 16 starts, he has a 3.15 ERA and a 3.81 FIP. Houston gets another bona fide starter, which they certainly needed.
Trading Verlander had its complications. Verlander had the right to refuse trades, meaning the destination would be one of his choosing. Of course, getting out of the Mets' situation was an easy choice, and returning to the place he called home for five seasons was even easier.
The Astros have dealt with a long list of rotation injuries, so a starter was an obvious need. However, many thought a tier two or three option would be the route they took.
Yet after being quiet up to this point, they struck big and now have the game one dog the Rangers did not get – and I haven't forgotten about the Scherzer trade. The Astros know what it takes to win a championship. They paid a steep price, but the fit was too perfect to complain about the prospects they gave up.
New York did very well on the return. Former first-round outfielder Drew Gilbert has been one of the hottest names in the prospect world and ranked at the top of Houston's farm system.
The 22-year-old has slashed .274/.363/.458 with 12 home runs and 10 stolen bases across two levels this season. Simply put, Gilbert is an all-around ballplayer. There's no obvious hole in his game, and he is, without a doubt, a major leaguer one day.
Clifford is another lefty outfield bat who ranks in the top five of the Astros system, which is admittedly not the strongest system. That shouldn't take away from his talent, however. He is much more than just a throw-in.
After being selected in the 11th round in 2022, Clifford has done nothing but hit. He's slashing .291/.399/.520 with 18 home runs across two levels. At only 20 years old, there's plenty of time and room for him to grow and develop.
Once again, the Mets did the right thing. They took it on the chin, said it was over, and moved their big pieces. Gilbert can fly through the system and be in the majors very soon, and Clifford is poised for a major prospect bump.
The Astros add not just a high-level arm with tons of experience, but a guy they are familiar with – a pitcher they know how to use and can count on. He'll be comfortable with no adjustment time needed.