Analysis
Angels Acquire Lucas Giolito as They Start to Go All-In
Late last night, the Angels acquired Lucas Giolito and Reynaldo López from the White Sox in exchange for prospects Edgar Quero and Ky Bush.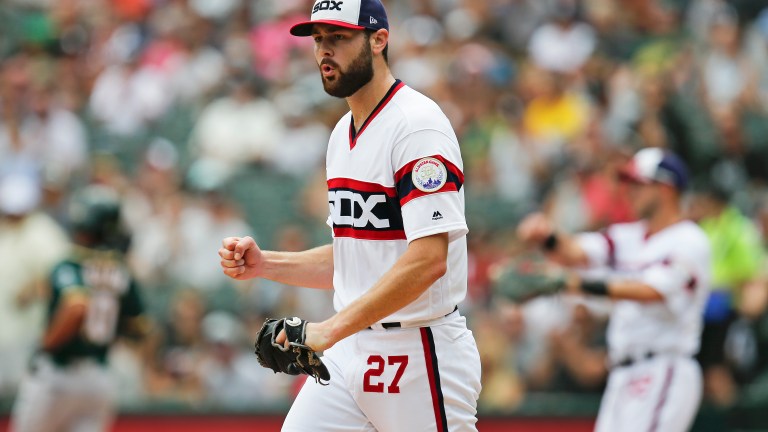 Late last night, the Angels acquired starter Lucas Giolito and reliever Reynaldo López in exchange for two prospects: catcher Edgar Quero and left-hander Ky Bush. This is the first major trade of the deadline, as the Angels are officially going for it this season in an effort to keep Shohei Ohtani in town.
Giolito and López are both set to become free agents at the end of the season, while Quero and Bush are regarded as two of the top five prospects in the Angels' farm system.
This deal came just hours after the Angels decided they were not going to trade Shohei Ohtani, which ultimately meant they were going to buy at all costs in an effort to bolster the roster around the best player in the game. This means they're likely not done just yet, even after adding pieces to their rotation and their bullpen.
In Giolit, the Angels got a starting pitcher who has been a dependable arm atop the White Sox rotation in four of the last five seasons. While he experienced a major down year in 2022 that resulted in a 4.90 ERA, he has bounced back nicely in 2023 and clearly elevated his trade value in the past few months.
Giolito has a 3.79 ERA with 131 strikeouts across his 121 innings pitched on the season. His ERA is also slightly skewed by a recent blowup against the Mets and was sitting around 3.50 for a while prior to that game.
While he's allowing a much higher contact rate than he did a few seasons prior, he has still been a consistently strong arm this season. Gioltio produced a strikeout rate well over 30% during the 2019 and 2020 seasons in which he established himself as the ace in Chicago. His ERA sat between 3.41 and 3.53 in each season from 2019 through 2021.
He hasn't pitched at that level over the past two years, but his nearly 26% strikeout rate with a significantly above-average whiff rate is promising nonetheless.
Giolito has had to adapt his game many times, and following a shaky season last year, he decided to lose substantive weight and adjust his approach on the mound.
His fastball has become a much more effective pitch this season, with greater command and -12 run value. His signature changeup has continued to generate whiffs even with him utilizing it less often while prioritizing the slider.
Giolito is set to be a free agent after the season and is likely going to get a sizeable contract this winter, which makes him a true rental piece for the Angels. With Ohtani sticking around and the Angels likely to continue adding pieces, Gioltio will slot nicely into the middle of the rotation with Patrick Sandoval and Reid Detmers.
López was acquired with Lucas Giolito in the Adam Eaton trade, which was one of the key moves made when the White Sox embarked on their initial rebuild in 2016.
He was a high-level prospect as a starting pitcher but struggled with command and consistency for years while pitching in the White Sox rotation. He put together a great 2018 season at just 24 years old and seemingly established himself as a future rotation piece. Yet after struggling badly with command and effectiveness the following two seasons, he became a question mark for the future.
In 2021, López missed the first half of the season and returned to the contending White Sox without a clear spot in the rotation. He pitched very well out of the bullpen before getting the chance to slide back into the rotation for a handful of starts where he struggled again. After this drastic difference became evident, he became a full-time reliever in 2022 and put together the best season of any White Sox reliever last year.
López finished 2022 with a 2.75 ERA and an impressive walk rate of just 4.3% while pitching in many high-leverage situations.
This season started off rough for him due to a drift in his command, and he's got a 4.29 ERA because of that. His spike to a 12.4% walk rate is worrisome, but his strikeout rate has increased by nearly 5% from his breakout season. López has yet to allow a run in his eight innings of work in July and has clearly gotten back on track in comparison to his early-season self.
The Angels paid a steep price in order to bring in these two pitchers from Chicago, but that won't matter if they're able to make a playoff run and keep Shohei Ohtani in town next season. While it's certainly a risky move, it's one they felt they had to make as they begin to build their roster for a playoff push.
The White Sox were able to bring in a player at their weakest organizational position in catcher Edgar Quero. He was ranked 57th on our preseason top 100 prospects list.
Quero is a 20-year-old switch-hitting catcher who had one of the most impressive seasons in the minors league last year. He put up a slash line of .312/.435/.530 with 17 home runs across 111 games at just 19 years old in Single-A. His plate discipline is impressive for a catcher of his age, and he has a very low chase rate at this point in his career. He walked 71 times in those 111 games in 2022.
Quero was aggressively promoted to Double-A following his huge season and has seen his offensive output decrease drastically, but he has plenty of time to adjust within the White Sox system.
The young catcher is slashing .246/.386/.332 this year but has continued to show excellent discipline with 55 walks and just 53 strikeouts in his 321 plate appearances across 70 games. Quero could likely wind up at High-A Winston-Salem and get his offensive production back on track at a more appropriate level for his age.
The farm system in Chicago had essentially zero projectable catchers, and it now has one with a ton of upside and a lot of potential for growth. He immediately becomes the catcher of the future, in all likelihood, for the White Sox. Getting a prospect of his caliber is a big win for the White Sox in exchange for two players that were likely set to leave in free agency.
The second piece heading back to the White Sox is 6-foot-6 left-hander Ky Bush. The projectable pitcher was drafted in the 2nd round in 2021 and broke out as one of the best pitchers in the Angels' ranks last season. He spent the whole 2022 season in Double-A in just his first full professional season and pitched to a 3.67 ERA with 101 strikeouts across 103 innings pitched. He displayed lots of promise with more room to grow given his stature.
Bush was injured earlier in the season and has appeared in just six games back with Double-A this year. His command has been shaky, resulting in a 5.88 ERA, but his stuff has been working well and should continue to get better as he settles in with his new team. He has 33 strikeouts in his 26 innings of work, and his biggest issue has been some long balls and his 14 walks allowed thus far.
Now nearly 24 years old, Bush has some work to do in order to get back to where he was last season. Still, he has the frame and talent to grow into a back-end starter for the White Sox.
When you put the frustration of embarking on another version of a rebuild aside, the White Sox got substantial value for two rental pitchers they would likely have seen walk in free agency.
Neither the White Sox nor the Angels are done yet, as each team is set to undergo more changes in the next week as the White Sox sell off more pieces to retool their roster and the Angels push the chips in to make the playoffs this year.