Analysis
San Diego Padres Trade Deadline Guide
The San Diego Padres find themselves in a less-than-ideal position heading into this year's MLB trade deadline.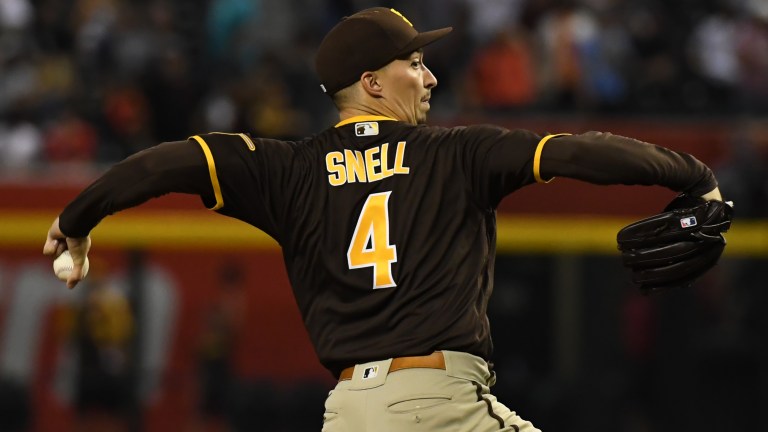 With lots of lows and plenty of dark depths, the San Diego Padres find themselves in a less-than-ideal position heading into this year's MLB trade deadline. Instead of being the small-market heroes out to shift the entire league landscape, they've instead been in a dead-heat with the Mets for the most disappointing team of the last decade (or longer?).
Despite having three players in the top-15 of fWAR (Juan Soto 9th, Ha-Seong Kim 10th, and Fernando Tatis Jr. 14th), being ninth in home runs, having a closer with a sub-1 ERA, being tied for the third-best starting pitching ERA (3.77), and even elite defensive numbers (1st in OAA, 4th in DRS), the Padres are — in what can only be described as Divinely Impressive — 49-54 on the season and 6.5 games back of a Wild Card berth.
Their +52 run differential is better than all the teams ahead of them…and yet!
They also just managed, despite the urgency for some wins, to lose a series against the Pirates. The loser energy the team exhibits is nearly enough to make incels and the Dallas Cowboys jealous.
So, naturally, one would think that they'd be a candidate for being sellers at the deadline. After all, their highly-publicized level of talent is still mostly intact and their farm system has rebounded fairly well considering everything they lost in the Juan Soto trade.
However, early reports indicate that the Padres may actually be tentative buyers at the deadline, despite how they could very easily run the table in a fairly lackluster market.
So, what exactly can — or perhaps more interestingly, should — the Padres be doing during this pivotal week?
Greatest Assets
| | | |
| --- | --- | --- |
| | Salary | STATUS |
| Blake Snell | $16,000,000 | UFA 2023 |
| Josh Hader | $14,100,000 | UFA 2023 |
| Juan Soto | $23,000,000 | UFA 2024 |
| Ha-Seong Kim | $7,000,000 | Mutual Option-2025 |
| Seth Lugo | $7,500,000 | Player Option-2024 |
| Michael Wacha | $4,000,000 | Mutual Option that turns into separate player options kinda? 2024 |
With such a bloated roster full of immovable contracts (Manny Machado, Yu Darvish, Xander Bogaerts, etc.), the Padres don't have much in terms of volume. They do, as you can see, have more than enough in terms of quality.
The two most obvious and, if there were to be a major sell-off at all, realistic moves they could make are with pitchers Blake Snell and Josh Hader. Snell, for his part, has been absolutely electric for nearly two months now.
Over his last twelve starts, Snell owns a 0.78 ERA and has struck out 35.9% of batters he's faced — easily the most dominant pitcher in the game over that stretch. It's tricky to gauge the return in value for rentals, but Snell's hot stretch would make him an exciting piece for any team.
The same goes for Hader, who will also be a free agent following the 2023 season and potentially break the mark that the Mets' Edwin Diaz set this past offseason. There's really not much to say about Hader in terms of his skills, as hardly any closer has been as consistently effective as him since 2017 (!). His 0.95 ERA has been a major reason for the Padres bullpen being effective. Relievers may not be the most exciting acquisitions to make, but Hader is decisively worth it.
Thanks to the Padres spending spree, not just this offseason but season's beforehand, it's fairly unlikely the team will be able to retain their services. Furthermore, it's questionable whether or not they should, considering how they've fared with them anyways.
The next few pieces are a pipe dream to be traded, but depending on what camp you fall under there may be an incentive for the Padres to give it a try. Last year's blockbuster acquisition, Juan Soto, has had another excellent season at the plate, slashing .262/.416/.501 to go with a 152 wRC+. It's just too easy for this guy.
If the Padres were inclined to try and recoup all they lost in getting the superstar in the first place, Soto could fit the bill single-handedly. And, if you're the conspiracy type, it's quite odd the team was willing/able to hand out so much money to other players (Manny Machado, Robert Suarez, Yu Darvish, Xander Bogaerts, and Jake Cronenworth), yet couldn't do so for the very player they traded their future for. Does this at all hint at the team being ready to move him if things went poorly? Or did they genuinely just like the idea of having Soto for two and a half years?
The latter is most likely, and rather disturbingly so, but nevertheless, it would likely take a true late-hour change of mind and a massive package to sway AJ Preller and company to part ways.
The last three players are included mostly because it gives me an excuse to write more, and it's also fun to imagine the possibilities with Ha-Seong Kim especially. Currently top-10 in fWAR, Kim has improved mightily on his already-impressive 2022 season by becoming a true force at the plate (105 wRC+ in 2022, 126 in 2023) and is a utility monster with some of the best defense in the game. Considering his salary and the years of control, the Padres could make out like bandits. But of course, this is just for fun exercise, not because it's realistic or smart.
Michael Wacha and Seth Lugo, on the other hand, are hardly monsters with their output but provide some decent rotation depth for teams looking to make some improvements around the edges. Lugo has fared decently as a reliever-turned-starter even if he has a penchant for giving up some nukes, and Wacha even won himself a pitcher of the month award not too long ago.
Any Bat With a Pulse
Alright, alright, alright…enough with the talk of the selling! These are the PADRES for crying out loud!
Aside from cosmic-level curses and any sense of clutch hitting, the big problem with the Padres lineup has been a general lack of depth. Aside from the big names, the Padres can't seem to get anyone to step up.
Jake Cronenworth has regressed mightily at the plate, the Matt Carpenter/Nelson Cruz platoon experiment has been a disaster (the former hitting under .200 and the latter being released), Trent Grisham strikes out too much, Austin Nola was somehow permitted to start more than 50 games, and Matthew Batten + Brandon Dixon + Rougned Odor has been a thrilling game of Pick Your Poison.
If the Padres want to make some sort of second-half surge, they'll need to settle on a designated hitter that can simply be average. In that regard, there are plenty of options, but here are just a few potential names:
| | |
| --- | --- |
| Cody Bellinger | .314/.363/.540, 140 wRC+ |
| Jeimer Candelario | .257/.334/.486, 119 wRC+ |
| Randal Grichuk | .313/.370.487, 117 wRC+ |
| Joey Meneses | .280/.323/.402, 96 wRC+ |
| Tommy Pham | .271/.355/.472, 129 wRC+ |
| Carlos Santana | .231/.321/.405, 98 wRC+ |
The top of the list is obviously the big fish of this year's deadline. But given the likely super-competitive market for those players (namely Bellinger and Candelario), it might behoove the Padres to try going to the bargain bin instead. Plus, Candelario's good glove would go to waste given the Padres already have Manny Machado.
Tommy Pham's name is there because it'd be undeniably funny to see him return to the west coast after failing miserably in his prior stint, and Carlos Santana should be a target simply as a form of damage control. Randal Grichuk is on the Rockies and in-division trades are incredibly rare, but it's also the Rockies so who knows? But in all seriousness, a name to keep an eye on might be Joey Meneses given he'd cost next to nothing and could be a piece to bring out against lefties (103 wRC+ against).
Nothing spectacular, certainly, but it'd behoove the Padres to take a more cautious approach given how poor they've been this entire season.
Building Around the (Bullpen) Edges
It might sound weird to say a team with Josh Hader desperately needs bullpen help, but here we are. Before the Padres lost two straight games via walk-off to the Giants (June 19th), the Padres bullpen was pretty spectacular on the surface (3.25, 3rd-best in MLB). Following the Giants series, the Padres bullpen skyrocketed to being the 8th-worst (5.20) during that span.
Such a decline might initially signify that the pen is overworked or just in a slump, but looking at things like win probability and high-leverage situations, the Padres bullpen may have looked strong only because they didn't have many leads to protect.
During that stretch before the Giants, the Padres had only the 16th-best bullpen ERA in what FanGraphs qualifies as high-leverage situations. So, basically, this is a long-winded way of saying that the Padres bullpen definitely needs some work.
Thankfully, as is the case with every trade deadline, there are plenty of options. While everyone will be focusing on Candelario, the Nationals have a couple of arms like Kyle Finnegan (3.16 ERA) and Carl Edwards Jr. (3.69 ERA) that could provide support.
José Cisnero (3.96 ERA) of the perpetually-rebuilding Tigers could be enticing, Jordan Hicks (3.67 ERA) has suddenly become a big-name closer assuming the Cardinals don't pull a Rockies to extend him, and Adbert Alzolay (2.45 ERA) is quietly rising in the reliever hierarchy.
Look, just get a name to help out.
At the End of the Day…
The Padres weren't supposed to be in this position. Middling? Sure. Having some issues with depth? Also sure. But being five games under .500 and failing to muster any sort of momentum or urgency is outright insulting. It's not good for baseball that teams that, in simple but wholly true terms, Actually Tried have floundered so magnificently. All they had to do was have a few guys be average. All they had to do was have their stars play like stars.
And yet? Here we are.
This isn't a team that's collapsing, because that would imply they were at any height to suffer such a fall to begin with. As Kevin Acee noted in his San Diego Union-Tribune newsletter, in the past 10 full MLB seasons there has been no team to make the playoffs without having at least one winning streak of at least five games. The Padres have only mustered one sweep, and it was against the Angels after they had Shohei Ohtani, Mike Trout, and Anthony Rendon go down with injuries.
It seems only logical, rational, and sane for the team to be locked in to a selling mindset — especially with Blake Snell and Josh Hader. But at this rate, early indications seem to be that the Padres will simply stay the course, for better or likely worse. Can Preller pull off the same level of magic without completely mortgaging what remains of the future?
That remains to be seen, but if the Padres don't handle this deadline properly they may be looked at as a cautionary tale more than the exciting underdogs that changed the sport.