Analysis
Baltimore Orioles' Rebuild Is on the Verge of Being Complete
After years of dwelling in baseball's basement, the Baltimore Orioles are trending up in 2022. More importantly, the future is only going to get brighter from here.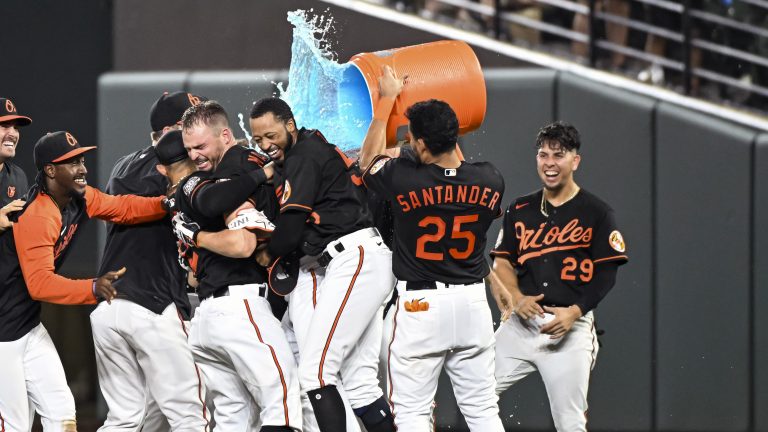 Over the last five seasons (2017-21), the Baltimore Orioles posted an MLB-worst 253-455 record. The team lost at least 108 games in three of those five campaigns and accrued a miserable .357 winning percentage. The long-running rebuild was expected to spill over into this season with most Vegas odds-makers giving the Orioles a pre-season win total somewhere around 62.5 games.
Yet, as we near the All-Star break, Baltimore is on pace for 78 wins despite residing in baseball's toughest division. The Orioles are relevant once again and they deserve our attention.
Putting it Together
Since June 1, Baltimore owns a 20-14 record. That's eighth-best in baseball over that span. The Orioles are coming off their first winning month in nearly five years and have improved their winning percentage each month this season. They also already have three walk-off wins in the first eight days of July and are riding a six-game winning streak as we move into the second weekend of the month.
For the season, Baltimore has a winning record against teams not named the New York Yankees (37-35). They're sneaky solid and crazy fun.
The O's are paced by their bullpen, which has the fifth-best ERA (3.24) among all relief gangs. This comes after the Orioles finished dead last in bullpen ERA in 2019 (5.79) and 2021 (5.70). That remarkable transformation has largely been due to Jorge López, who is pitching to a 1.79 ERA in his first season exclusively as a reliever.
López is also 15-for-19 in save opportunities and ranks 21st in reliever fWAR (0.9).
Building Blocks in Place
The Orioles are laying an impressive foundation with several franchise cornerstones already in place. Adley Rustchman began the season as one of the top prospects in all of baseball and has started to heat up after some early struggles.
Since June 11, Rutschman has four home runs, 11 RBI and an .857 OPS in 89 plate appearances. Baltimore is 15-7 in his 22 appearances during that stretch.
Cedric Mullins was an All-Star in 2021, as his impressive blend of power and speed enabled him to achieve just the 65th 30 home run-30 stolen base campaign in MLB history.
Ryan Mountcastle has displayed elite power throughout his career and has 52 long balls in only 250 MLB games. Meanwhile, Austin Hays is putting together a breakout season for Baltimore and represents another pillar in the outfield.
On the mound, Tyler Wells has been quietly strong with a 3.11 ERA and 1.00 WHIP over 75.2 frames.
More Help Coming
Things are only going to get better from here, as the Orioles have one of the best farm systems in baseball. Our own Aram Leighton had six O's in his updated top 100 prospects list from April. Ruthschman, who debuted shortly after the release of the article, and starter Grayson Rodriguez both slotted inside the top-five.
Another starting pitcher in DL Hall, along with outfielder Colton Cowser and infielders Coby Mayo and Gunnar Henderson joined those two among baseball's most promising young players. At least four of those six names are expected to make Camden Yards their home by 2023. Oh yeah, and the Orioles have the number one overall pick in next week's MLB Draft. The rich get richer.
Rodriguez dominated the Triple-A ranks when healthy earlier this season. The 22-year-old pitched to a 2.09 ERA and 0.84 WHIP with an eye-opening 80 strikeouts in 56 innings. He was on the precipice of his MLB debut when he got shut down with a lat strain in early June and now could miss the rest of the season. Obviously, Baltimore will exercise immense caution with their future ace, but let's hope he gets healthy sooner rather than later.
One More Sale?
The looming question for the Orioles now is what to do at the trade deadline. The next three weeks will provide more answers, but Baltimore is currently just four games back of a playoff spot. That's meaningful for a team that hasn't made the postseason since 2016.
Robinson Chirinos and Rougned Odor are the only impending free agents on the O's roster, but veterans like the aforementioned López, Trey Mancini and Anthony Santander could serve as valuable trade chips if they're moved.
It's hard to envision Baltimore jumping any of the four contenders ahead of them in the AL East to earn a playoff spot. Each of their divisional foes are currently on pace for at least 85 wins and they'll all be buyers at the deadline.
The Orioles would probably be best served selling one more time and stocking their loaded farm with even more prospect depth. But who could blame them if they decide to keep this group together and give it a run down the stretch.