Analysis
Unlikely All-Star: Austin Hays Enjoying Breakout in Baltimore
The 26-year-old outfielder is looking like the best bet to represent the Baltimore Orioles at this year's Midsummer Classic.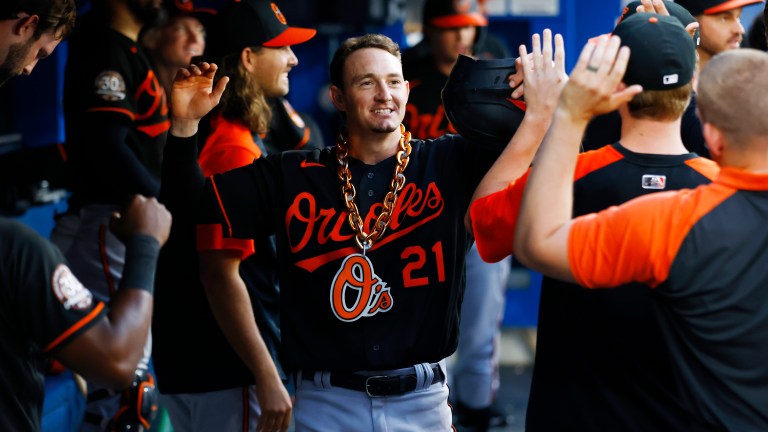 With the MLB All-Star game just a few weeks away, it's a great time to discuss some names that will represent their clubs at this year's event. Due to MLB's ASG rule, each organization must have one representative that makes the roster. Ryan Finkelstein wrote an incredible article just a few days ago outlining why the Reds Brandon Drury is making the best case for the struggling Cincinnati Reds.
Today, let's discuss the Baltimore Orioles. The O's, surprisingly enough, have been a competitive ballclub this season. Sitting at 31-39 in an ultra-talented AL East is no small feat for a team that was expected to be bottom-feeders in 2022.
Baltimore has had a number of standouts during their rather impressive campaign. Names such as Trey Mancini, Ryan Mountcastle and Anthony Santander have been excellent contributors to this team. However, the one man that should represent this team at the Midsummer Classic is none other than 26-year-old outfielder Austin Hays.
Hays has experienced a breakout year during his first 65 games, making him the perfect representative for this team.
Austin Hays' All-Star Case
Traditional Stats: .287/.347/.482, 10 HR, 27 XBH, 37 R, 40 RBI, 49 K, 271 PA's
Advanced Stats: 18.1 K%, 7.0 BB%, 136 wRC+, .360 wOBA, 1.7 fWAR
After numerous amounts of stints with the team over the past five years, Hays finally experienced his first full season as an Oriole in 2021. Posting a respectable 106 wRC+ last season, Hays was expected to remain a regular in this lineup this season.
The anticipation of a breakout season however, was non-existent. I personally expected Hays to be a player that would be a consistent big-leaguer, but never on an All-Star level.
However, after his first 271 plate appearances in 2022, he looks like the real deal. The 26-year-old has been the Orioles best qualified hitter this season, while putting out a mediocre product in the outfield with -4 Outs Above Average. The bat is where the real value lies with this player. With a loaded ballot of outfielders this season, Hays has made a real case to make the American League All-Star roster.
Hays leads Baltimore in average, on-base percentage, slugging percentage, wRC+, and his 10 home runs is the third-highest tally on the squad. The outfielder has been the best hitter for the O's in 2022. For crying out loud, the man literally just hit for the cycle last night. That's kind of impressive!
MLB has a plethora of options to select from this Orioles team, as I mentioned before. The veteran Trey Mancini continues to rake. Anthony Santander has been HOT recently. And Ryan Mountcastle is firmly assuring his place in this Baltimore lineup for years to come. But for me, Hays is the pick of the bunch.
Does Hays have a future in Baltimore?
With just two years of major league experience under his belt, Austin Hays still remains arbitration eligible for the next three seasons, before becoming an unrestricted free agent in 2026.
As I mentioned before, this Orioles team has a ton of talent. The youth movement is in full effect. However, this has left some questions to be answered regarding the future of some of these players. Despite their early season success, it's obvious that this squad won't be entangled in a playoff race at the end of the season. There's a large possibility that the organization will look to move on from their veteran pieces at the deadline in exchange for younger talents.
Hays should be safe. The massive amount of money we were expecting Cedric Mullins to receive seems more unlikely by the day, with the O's centerfielder unable to replicate the magic of a 30/30 season last year. Maybe it goes to Hays instead in a few seasons.
I wouldn't include Hays in the group of players that could leave the club at the deadline. With one of the top bullpens in baseball this season, and aging bats who could help a real contender, those are the pieces that can go. The outfielder could work as a centerpiece of the new-age O's.
With Adley Rutschman already in the bigs, and top pitching prospect Grayson Rodriguez surely set to make his debut next season, time is of the essence for this Orioles team. And if Hays continues to succeed, he can spearhead this movement for the future.
Is Hays' success sustainable?
Austin Hays is a bad defender. That is a proven fact, as he ranks in just the seventh percentile in Outs Above Average. However, the bat plays. For him to continue to succeed as a big-leaguer, he has to continue to mash. Hays' Baseball Savant page numbers aren't eye popping, but have steadily increased over his three qualified seasons.
Hays ranks in the 60th percentile or above in hard-hit percentage, expected slugging, sprint speed, xWOBA, whiff percentage, expected batting average and strikeout rate. These numbers are a long way ahead his previous ranks, living under the 30% mark for the majority of his MLB tenure. This is clearly showing signs of improvement as a hitter, and there's a real chance that he could get even better.
Hays' 40 RBIs ranks as the 29th-highest in baseball today. With a team that has the 23rd-ranked offense in the league, spouting a team total of a 93 wRC+, that's an impressive mark. His OPS of .829 is the second-highest among all left fielders in baseball, trumped by Ian Happ of the Chicago Cubs. He's hung around with some of the brightest names in the sport at his position.
The 26-year-old still has a ton of time to improve as a player. We've already seen the flashes of this immense potential, and he could be around for a long time in this league if he plays his cards correctly. With his first All-Star nod seemingly in the cards in 2022, he could replicate this success once more.
Contrary to the last edition of this series with Brandon Drury, Hays still has a ton of time left.
Hays is my pick for the All-Star game from the Baltimore Orioles if it wasn't obvious enough already. Carrying the Orioles offense at times this season, he's been incredible. While he won't start the game, he deserves to be in Los Angeles next month with the big boys.