Analysis
2023 Underrated Players: Up and Coming Pitchers
These underrated pitchers solidified themselves as big leaguers last year and are primed to break out even further in 2023.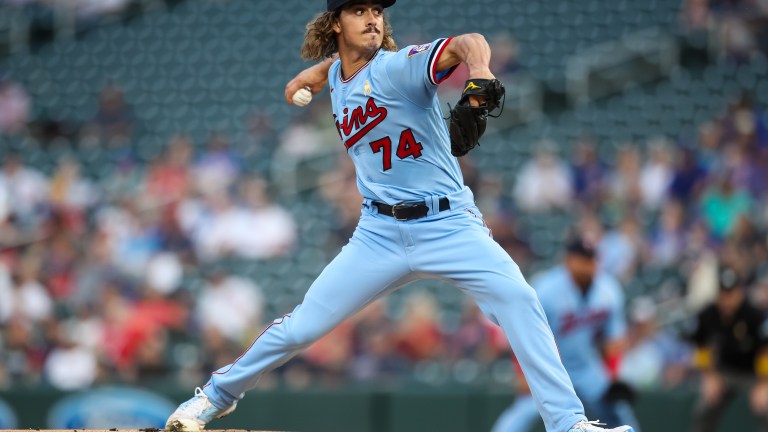 We're moving right onto the other side of the ball! After finishing up looking at underrated players on the offensive part of the game, I'm really excited to dive into some pitchers here in part three of this series. In many cases, pitching can often be even more volatile than hitting and many young pitchers can go through huge ups and downs early in their career, before either settling in or falling out of the league soon.
It's also even more common for talented pitchers to fly under the radar due to fewer daily appearances and the wide range of innings thrown by a given pitcher due to injuries and time spent in the minor leagues. Many of these pitchers that I looked into are names that many fans have never heard of and don't necessarily have a reason to watch regularly. However, these 10 pitchers showed some very promising stuff last season that bodes well for their futures.
There is certainly a possibility that many of these arms could either revert back to former failures, or regress from their excellent starts to their career. This is just the reality of a sport like baseball but it doesn't mean we shouldn't have hope and enjoy young talent for the time being. I could end up being completely wrong about some of these players but I believe they're all on an upward swing on their path to being quality Major League arms.
Up and Coming Pitchers
Cionel Peréz: Baltimore Orioles RP
We're starting this list off on an excellent note. While closer Félix Bautista deservedly commanded most of the attention regarding the Orioles' young bullpen, Perez was actually their best relief arm in 2022. He appeared sporadically over three seasons with the Astros but spent most of his time in the minors.
Peréz had an opportunity to earn a role with the Reds in 2021 but struggled when given chances and bounced back-and-forth between the big league club and Triple-A throughout the season. The Orioles claimed him off waivers in the offseason and clearly, it worked out for them.
Peréz changed his arsenal this past season as he cut out his change-up entirely while developing a sinker as his third pitch and significantly lowering his 4-seam fastball usage. This not only helped him locate more efficiently but also led to much lower contact rates. While his new sinker was hit at a higher rate in terms of average, the expected numbers against it were actually lower than his fastball. The xBA against his new sinker was just .225 while it was at .256 against his fastball.
Peréz was simply elite for the majority of the year with the Baltimore. He pitched to a 0.29 ERA (!!!) in Baltimore last season and an excellent 1.40 ERA overall. Peréz even got better throughout the season and finished out the year by allowing just one earned run in September and October.
The O's bullpen was one of the most underrated units last season and figures to be once again with Bautista and Peréz closing games down. Cionel has quickly become one of my favorite bullpen arms and while he likely won't replicate his numbers from last season, I expect him to be a high-leverage effective arm for a while.
Hayden Wesneski: Chicago Cubs SP
Yes, I'm cheating a bit here because Wesneski technically is still rookie eligible, and I claimed that rookies wouldn't be included in this series. However, I think he showed enough last year for me to consider him and discuss the potential he possesses. Wesneski was sent over by the Yankees last season in a trade for relief arm Scott Effross, in a deal the Yankees may regret for many years.
While Effross may continue to be effective after his return from Tommy John, likely in 2024, he has nowhere near the upside Wesneski showed last season.
He appeared in six games with the Cubs and was very impressive to the tune of a 2.18 ERA across 33 innings. He employs a deep repertoire of pitches that all starts with an impressive slider that he utilized 31.9% of the time last year. His slide-piece has seven inches of horizontal break more than the average MLB slider. He mixes in three variations of a fastball via his 4-seam, cutter, and sinker as well as an occasional changeup.
For a young pitcher, his ability to regularly locate all of these pitches was very impressive in his limited innings and he figures to be a high command style of pitcher moving forward. His strikeout rate was 25% while his walk rate was very low at just 5.3% on the year.
His slider and 4-seam fastball allowed a mere .119 and .120 batting averages respectively as they both were very consistent. Furthermore, he produced a whiff rate above 30% on three of his pitches (slider, cutter, changeup) as he seemed to keep hitters off balance on a regular basis.
He certainly won't be able to produce the numbers he did last year over a full season and his role on the Cubs currently isn't necessarily clear, but I expect him to keep developing as an impact arm. His versatile pitch mix and strong command should provide a fairly stable floor for him as he continues to grow. In my opinion, the Cubs would be making a mistake by not at least giving him a chance to earn a rotation spot early in the season.
Brock Burke: Texas Rangers RP
Here's a guy who has definitely not had an easy path to the Major Leagues and was able to find immediate success when given a full opportunity. He was originally drafted 96th overall by the Rays, but was sent over to Texas in a three-way trade with Oakland. He debuted for the Rangers towards the end of the 2019 season, but struggled mightily in the six games. He missed all of 2020 with a torn labrum and struggled all season in 2021 while playing in Triple-A. However, he was able to earn a spot in the Rangers' bullpen heading into 2022.
Burke showed up and showed out all season long as one of the best arms on the Rangers. The left-hander pitched to an impressive 1.97 ERA over 82.1 innings in a versatile relief role. Not only did he stay healthy, but he pitched a ton of innings and helped the Rangers all season long.
When he debuted in 2019, he had a very different pitch mix than what he utilizes now. He throws a lot more fastballs now and shifted his former curveball into a sharper and more effective breaking ball (it's called a slider but I'm not sure it really is) to pair with his changeup. Against left-handers, he nearly exclusively uses his fastball and slider, which has led to great success. He allowed just a .196 batting average to opposing hitters facing his fastball or slider.
Burke's strikeout and walk rates are completely different now compared to his former self. He finished this past season with a strikeout rate of 27.4% and a walk rate of just 7.3%, as he commanded the zone regularly all season.
Opposing hitters hit the ball harder than it seems based on his overall metrics which causes a bit of concern but if Burke is even 70% of what he was last season, he'll remain a vital bullpen piece for the Rangers. He may be somewhat of a late bloomer, but he seemed to find his groove last year in the bullpen for Texas and I believe he'll continue to be a very solid arm.
Aaron Ashby: Milwaukee Brewers SP
Why is a guy with a career 4.47 ERA over his first two seasons on this list? Let me break it down. Ashby came up and debuted for the Brewers in 2021 after being drafted in 2018. He appeared in 13 games that season while starting in four of them and had an up-and-down performance on the year. He flashed some impressive stuff, though and his peripherals indicated there was more there than what he was able to show. He had an xERA of 3.01, significantly better than his actual ERA.
Coming into 2022, it seemed like he was likely to earn a spot in the back of the Brewers rotation. He started the season as more of a swingman as he appeared in 11 games through April and May, but only started in five of them. However, he performed very well regardless of the role.
Ashby became a true two breaking ball pitcher as he upped the usage of his curveball after nearly exclusively using his slider the previous year.
The issues with Ashby began to come into play due to his health. His ERA shot up in June as a result of three poor games that preceded him heading to the Injured List because of a foreman issue. This arm issue was definitely part of his struggle in June and shouldn't be factored in when looking at his ability. He bounced back in July and most of August once settling back post-injury.
However, he had a blow-up start against the Cubs in late August and landed on the IL once again with a shoulder issue. This further develops the claim that his arm issues were a major cause of his struggles.
The Brewers limited his innings over his last four appearances of the year, following his second stint on the IL. The arm issues were definitely a major cause of his poor starts and there are still underlying indications that he's a much better pitcher.
His 3.75 xERA last season feels much more like the type of pitcher that he is as he ranks in the 70th percentile or better in hard-hit rate, whiff rate, strikeout rate, and other metrics.
If Ashby is able to further develop his command while remaining healthy, I expect a much better season from him that resembles his expected numbers much more than his standard metrics so far in his career. The Brewers' strength remains in their rotation and I think Ashby has the ability to make it even better this season.
Ron Marinaccio: New York Yankees RP
The Yankees' early season dominance was supported in a huge way by their elite bullpen and underrated arms. The entire unit was performing well and helped lead the team to one of the best first-half starts in MLB history. There are honestly many guys I could highlight from that bullpen, but I wanna focus on Ron Marinaccio.
He worked his way through the Yankees minor league system over the past five years and eventually debuted in 2022. He bounced up and down from Triple-A at many times due to the depth of the Yankees bullpen, but he finished his rookie season with a 2.05 ERA and a still very strong 2.70 xERA.
Marinaccio features a very simple 4-seam fastball, changeup, and slider, with his most impressive offering being the changeup. The slider is a work in progress and the development of a breaking ball could help continue his growth.
He was nasty over many stretches last year as his fastball and changeup combo was extremely effective. Those two pitches had -7 and -8 run values, respectively. I'd also like to point out his 40.9% (!) whiff rate with his changeup because that's disgusting.
Furthermore, all three of his offerings feature two or more inches of horizontal break greater than the average MLB pitch. These high-movement pitches led to him producing a strong 30.9% strikeout rate, but also led to a 13.3% walk rate that ranks well above the league average. The lack of consistent command was the only thing holding him back from becoming a truly elite option.
Marinaccio will need to reign in his command in order to continue developing as a pitcher, but he has the stuff to become a bullpen ace for the Yankees moving forward. Opposing hitters hit just .115 against his fastball and .141 against his changeup, while slugging just around .200 against both pitches. He only allowed two home runs all season, as he prevented hitters from regularly hitting the ball hard. If he can bring his walk rate below the double digits, I think Marinaccio can be one of the best arms in the New York bullpen moving forward.
Reynaldo López: Chicago White Sox RP
Now we get to dive into one of my personal favorite development stories from the past few seasons: Reynaldo López. He was acquired by the White Sox alongside Lucas Giolito and Dane Dunning in a trade that sent Adam Eaton to the Nationals during the White Sox fire sale that sparked a rebuild.
López came and showed serious promise to the degree of a 3.91 ERA during his first full season in 2018, while Giolito struggled mightily and was one of the worst arms in baseball. The script couldn't have flipped more in 2019 as López was horrendous all season and Giolito became the ace of the White Sox staff over the following three seasons. Reynaldo finished 2019 with a 5.38 ERA and fell all the way to a 6.49 in the shortened 2020 season.
I'll admit…I was so out on him after that. His location was all over the place, he was allowing a rough hard-hit rate of 43.2%, and his confidence was sapped. However, something happened in May of 2021 that completely changed his career.
The right-hander got Lasik eye surgery to improve his vision. López admitted that he had a hard time seeing and trusting the pitches being called and that he generally didn't have conviction in the pitches being thrown. The results became immediately clear when he made his season debut in July of 2021. He took on a swingman role that season for the White Sox and excelled with his newfound vision.
Reynaldo was particularly effective out of the bullpen in various long and middle-relief scenarios. A few end-of-the-season implosions skewed his numbers when, in reality, he pitched to a 2.05 ERA in the first 16 of his 20 appearances. Not to mention that his walk rate went from 12.4% in 2020 all the way down to 5.9% that year.
López features a high-90s fastball, and an impressively sharp slider so it's no surprise to see him succeed with better vision and the ability to see where he's throwing the ball.
He entered the 2022 season as a full-time relief pitcher and was probably the best arm in the White Sox bullpen last season. He had one of the best walk rates of any pitcher in the game at 4.3% and his strikeout rate reached a career-high at 24.8% on the year. López finished the season with a 0.95 WHIP, nearly half of his 2022 mark.
Watching the change in his pitching post-surgery was one of the biggest turnarounds I've ever witnessed and I think bullpen pitcher Reynaldo Lòpez is just getting started.
Patrick Sandoval: Los Angeles Angels SP
The Angels have struggled to surround Mike Trout and Shohei Ohtani with the proper pieces to become a true contender. In Trout's case, this is an issue that span a decade. However, they have definitely found a valuable piece in starter Patrick Sandoval.
A rough start to his career had things looking fairly bleak for Sandoval following his first two limited seasons in the league. He pitched a total of 19 games between 2019 and 2020 and finished with an ERA over 5.00 in both of those seasons. He was hit particularly hard in 2020, leading to a 47.4% hard-hit rate that was in the bottom 5th percentile of the league.
Sandoval started the 2021 season at the Angels alternative site, following a really shaky start to his career. He was brought up in May though and made an instant impact. In his first two years, he threw a much higher percentage of fastballs and primarily supported it with a slider and changeup.
However, he added a sinker the following season and became a much more varied pitcher that threw fewer 4-seam fastballs and a substantive portion of all five of his pitches. In 2021, the changes Sandoval made were noticeable due to his 3.62 ERA over 17 games, and his new pitch mix made a difference.
His fastball has regularly been an average or below-average pitch his whole career, but the sinker really began to find its groove in 2022. He entered the season fully locked into the rotation following an injury that cut short his breakout 2021 year and he was easily the second-best starter behind Ohtani for the Angels.
He's frankly a completely different pitcher now than just two seasons ago and looks like a future mainstay of the Angels' rotation. His slider and sinker had -9 and -8 run values respectively this past year and he reduced his 4-seam usage to just over 20%, which resulted in an excellent 2.91 ERA on the year.
Sandoval has made huge adjustments since his first two brief seasons and there's no reason to believe he's stopping now. I think he's going to continue to be one of the better arms on the Angels roster and he'll only get better if he continues to emphasize his slider and sinker.
Penn Murfee: Seattle Mariners RP
The Mariners' bullpen is simply filthy. I truly could highlight about seven pitchers in that bullpen that are underrated in comparison to their production from last season. There's a good chance this bullpen will be one of the top three, if not the best in baseball this coming season.
Because of how insane this bullpen is, I decided to highlight one of the less-known players within it: Penn Murfee. He's coming off an impressive rookie season where he finished with a 2.99 ERA across 69.1 innings pitched.
Murfee entered the Mariners organization as a 33rd-round pick out of Santa Clara University in 2018 with very little pedigree. It's safe to say he's already exceeded those expectations. Murfee may have been overshadowed by the other talents around him, but his metrics were exceptional.
He ranked in the 97th percentile in hard-hit rate allowed and 95th percentile in average exit velocity against him. He rarely allowed any hard contact and struck out batters at a 27.9% rate as well. Murfee was one of the most steady relief arms in the league by all forms of advanced metrics and his xERA was even better than his actual, sitting at 2.64 last year.
As a relief pitcher, his simple three-pitch mix works very effectively. He mainly focuses on his slider and 4-seam fastball, with both of them being quality pitches. His slider had a -8 run value last season and features a well-above-average 16.9 inches of horizontal movement.
Murfee's funky release point and excellent slider led to him being a consistent option in the middle innings for the Mariners and he should remain one of many elite pieces ready to go for the M's next year as he continues to grow as a Major League pitcher.
Joe Ryan: Minnesota Twins SP
The double first name! Joe Ryan and his mustache put together a quality first full season following his short five-game stint with the Twins in 2021. He clearly established himself as a key piece of the Twins' rotation moving forward, with a 3.55 ERA across 27 starts this past season.
Ryan was consistent within a rotation that was shaky at best many times last year, he was regularly putting together quality starts.
The biggest key to Ryan's success as a rookie was his fastball, as highlighted by our Peter Appel in his piece about the best pitches of 2022. I won't dive into it too much because you can go read all about the fastball, but the pitch had a -21 run value (!!!) and produced a 27.1% strikeout rate. He threw it 60% of the time and all of his other offerings were actually below-average pitches in terms of run value. His fastball was so incredible that it almost didn't matter.
I think Ryan will need to develop his off-speed more in order to continue growing as a pitcher, but his fastball movement and location bode well for his ability to compete with batters moving forward. The Twins have improved the rest of their rotation this winter by adding Pablo López and hopefully returning key pieces from injury, but there's a chance that Joe Ryan can be their best arm next year.
Yency Almonte: Los Angeles Dodgers RP
How in the world do the Dodgers keep doing this??? I could've included their entire bullpen because they seem to churn out stud relief pitchers every year, whether it be from their farm system or a player let go by another team.
Almonte is the perfect example of this archetype as he went from being one of the worst pitchers in all of baseball with Colorado to a bullpen ace last season with the Dodgers.
Almonte finished with a 7.55 ERA in 2021 and then signed with Dodgers on a minor-league deal. After changing up his pitch mix by increasing his slider and sinker usage, while only using his 4-seam fastball and change-up against left-handed batters, Almonte reached a new level.
He was lights out all season, to the tune of an impressive 1.02 ERA over 35.1 innings pitched. His increased usage and effectiveness of the slider was a major contributor as opposing hitters had just a .152 xBA against the pitch. He also seriously improved his location to the level of a 7.4% walk rate, after producing a horrendous 13.4% rate the year prior.
The expected numbers show that Almonte is obviously due for some regression as seen by his 3.17 FIP and 3.02 xERA, but I see no reason why he can't remain a useful piece in the bullpen.
Almonte doesn't allow hard contact and even when he was struggling with the Rockies, he wasn't often getting hit that hard which bodes well for his future outlook. The Dodgers continue to produce elite bullpen numbers every season and Yency will likely be part of yet another elite Dodgers bullpen in 2023.