List
MLB's Most Underrated Players
These players deserve more love.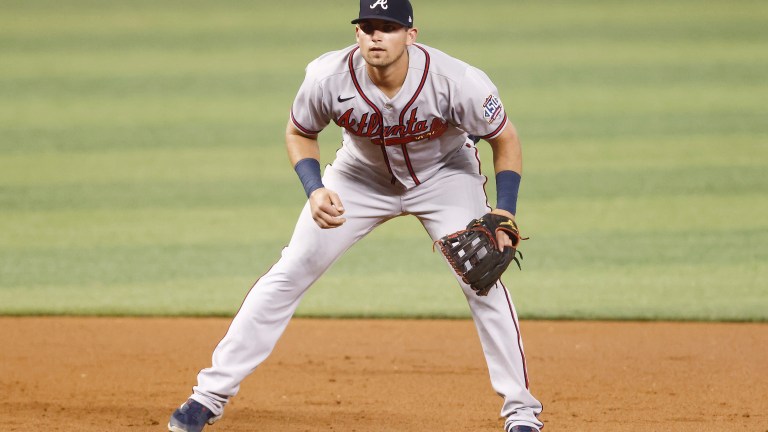 The MLB season is a marathon filled with ups and downs for teams and individual players. With so much happening on a daily basis, it is easy for certain players to get overlooked.
This season has featured many breakout stars who deserved some love for their stellar play in the 2021 campaign. On the latest episode of the Just Baseball Show, hosts Peter Appel and Jack McMullen revealed the ten players in the MLB who have had the most underrated seasons thus far. The criteria to make this list is simple; no All-Star game appearances in their careers.
Honorable Mentions:
Kolton Wong (2B), Milwaukee Brewers
Diego Castillo (RP), Seattle Mariners
Tyler Rogers/Jake McGee (RP), San Francisco Giants
In order to properly evaluate the entire league, the list is split into two categories: the top five most underrated pitchers and the top five most underrated position players. Here is the list of the ten guys who deserve more praise for their production this season:
Top 5 Underrated Starting Pitchers
5: Dylan Cease (SP), Chicago White Sox
Dylan Cease has struggled with command early on in his young career, but he has completely turned it around in 2021. Now in his third season at just 25-years-old, the Southside star is striking out nearly 12 batters per nine innings, and he's helped the White Sox claim a comfortable lead in the NL Central.
Cease has improved tremendously in terms of limiting damage, as his opponent slugging percent is far lower than last year and his line drive rate is at a career-low. With a staff that already features Lance Lynn and Carlos Rodon, as well as an elite bullpen, the White Sox and poised to do some damage when October comes around. 
4: Frankie Montas (SP), Oakland Athletics
One of the hottest pitchers in all of baseball, Montas hasn't let up more than three runs in a start since the last week of May. 
Now in his fifth season in Oakland, Montas has turned his fastball into a lethal weapon. He consistently hits north of 96 mph, and his fastball is a strike more than 70% of the time. Whoever ends up facing off in the AL Wild Card game should be praying they don't have to square off with Montas in a do-or-die situation.
3: Tyler Mahle (SP), Cincinnati Reds
Tyler Mahle only needs three pitches. He chucks his fastball up and away, paints his slider on the bottom half of the zone, and tortures righties with his splitter. The 26-year-old is having the best year of his career, and he's led a red hot Reds squad to a potential postseason bid.
The big bats of Jesse Winker, Nick Castellanos, and Joey Votto have thrust the Cincinnati Reds into the second Wild Card spot behind the Los Angeles Dodgers. Mahle is a future All-Star who could easily take over in a must-win Wild Card game; the Red need to focus on getting their first.
2: Logan Webb (SP), San Francisco Giants:
After watching him in the shortened 2020 season, it is safe to say that nobody expected Logan Webb to turn himself into one of the best pitchers in baseball. Webb spent the offseason tailoring his arsenal to his strength and has since seen amazing results. 
Last season, Webb posted a 5.47 ERA since he threw his fastball 34% of the time and his sinker 15% of the time. This year, he barely uses his fastball (11%) and prefers the sinker (36%), which has led to a 2.65 ERA. Webb is still just 24-years-old, so don't be surprised if he makes an All-Star team soon.
1: Joe Musgrove (SP), San Diego Padres:
Joe Musgrove is one of the most entertaining pitchers in the game. He has a crazy four-pitch mix that features a lethal slider and curveball. The former first-round pick throws offspeed for strikes more than 60% of the time, and hitters have a .156 batting average against his slider. His curveball is even better.
Musgrove uses his curveball nearly 30% of the time, and hitters have a .079 average against it.
He has the best ERA on the Padres rotation, which features Yu Darvish and Blake Snell, by more than a run. If San Diego can sneak into the Wild Card game, Joe Musgrove may be their only hope at a playoff run.
Top 5 Underrated Position Players
5: Ty France (UTIL), Seattle Mariners 
Last year, Ty France came on to the scene when he hit over .300 in 23 appearances during the shortened season. The 26-year-old carried that success into 2021, and he has turned himself into a future All-Star. He currently has a .292 batting average to pair with 16 home runs and a WRC+ of 128.
France is a versatile defender, logging in games at first, second, and third base. He strikes out less than Trea Turner and Ozzie Albies, and his offensive WAR is higher than Joey Votto and Michael Brantley. The Seattle Mariners need to lock up Ty France as soon as possible.
4: Tyler O'Neill (OF), St. Louis Cardinals
Tyler O'Neill may look like a UFC fighter, but he's actually really good at baseball. A freight train on the diamond, O'Neal has an elite combination of strength and speed. He measures in the 97th percentile on hard-hit balls and exit velocity, and he's in the 98th percentile in sprint speed.
O'Neill's physical gifts have helped him hit 21 home runs and steal ten bases this season. He also won a Gold Glove last season and has continued to hold down the fort in left field for St. Louis. Hopefully, the Cardinals get hot and fight for a Wild Card bid because O'Neill is a guy you want to watch in the postseason.
3: Kyle Tucker (OF), Houston Astros
Kyle Tucker would be a household name if he were on any other team. Tucker has always been a stud, he was the fifth overall pick in the 2015 MLB Draft, but his production has been under-appreciated since he's on a team with guys like Alex Bregman, Carlos Correa, Jose Altuve, and Michael Brantley. 
In his fourth season with the Astros, Tucker has notched 22 home runs, and 73 RBI's to go along with a .280 batting average. He also has a WRC+ of 134 and has stolen 12 bags on the year. Tucker has had an All-Star caliber season, and is just 24-years-old.
2: Darin Ruf (1B/OF), San Francisco Giants
Darin Ruf has been one of the biggest reasons why the Giants currently have the best record in all of baseball. After a few seasons out of the league, Ruf returned to MLB in 2020 and put up a 140 WRC+ in 40 games. The 35-year-old has put up even better numbers in 2021 and is now one of the best hitters in the MLB.
If he qualified for the leader boards (he's only played 98 games so far), Ruf would rank fifth in the MLB in WRC+ and third in the MLB in OBP. That puts him in the same category as guys like Fernando Tatis Jr., Bryce Harper, and Joey Gallo. Don't be surprised if Darin Ruf is the one who steals the show this postseason.
1: Austin Riley (3B), Atlanta Braves:
Where did this guy come from? He went from hitting .239 in the 2020 season to putting up All-Star numbers for the Atlanta Braves when they have needed him most. The 41st overall pick in the 2015 MLB Draft is having the best offensive season out of any third basemen in baseball. 
He is currently hitting .303 with 28 home runs, and 80 RBI's on the year. With a WRC+ of 141, Riley has flashed MVP potential this season, and he is still just 24 years old. Assuming the Braves hold on to their young core, Atlanta has the chance to be a powerhouse when the pitching comes around. He might walk away this season with MVP votes if he keeps this up.