Rankings
The Top 10 Pitches of the 2022 MLB Season
From Justin Verlander's fastball to Sandy Alcantara's changeup, these are the pitches every hitter prepares for, to no avail.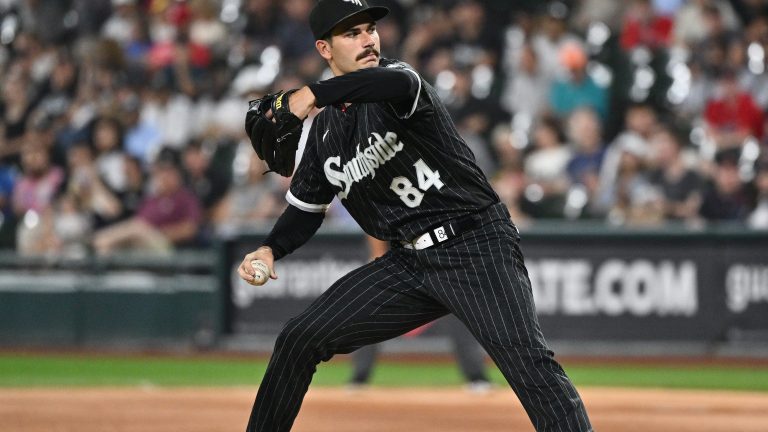 These are the pitches every hitter game-plans for, to no avail. After this article, I promise to stop talking about 2022.
What is run value? It's a stat to define "the run impact of an event based on the runners on base, outs, ball, and strike count." It's a great way to define the impact of a pitch when it comes to run production. A pitcher wants a negative run value on a pitch because it means that a particular offering prevented a certain amount of runs.
Baseball is a simple game. You will come out on top if you score more runs than your opponent. Run value isn't everything when evaluating a specific pitch, but in my opinion, it's the best overarching stat we have to quantify the value of a pitch. Some pitches have more movement or can be thrown at higher speeds, but these are the ten best at limiting run production.
RV/100 is another way to evaluate pitches that weren't thrown as often as these ten, which you can find on Baseball Savant. Some pitches performed better on a per-100 basis, but these are the ten best by total value.
1. Dylan Cease's Slider (-36 RV)
This was the best pitch of 2022, and it wasn't all that close. Cease threw his slider about 30% of the time in 2021, and opponents hit .176 against it. Cease upped his usage to 42.9% the following year, throwing it even more than his fastball, and hitters couldn't touch it. They hit .128 against it with a 22.3% hard-hit rate. Last year, Nick Madrigal had a 24.6% HH rate, so Cease's slider turned the average batted ball into a Nick Madrigal groundout.
Opponents swung and missed at a 42.9% rate, similar to Devin Williams' changeup. Cease threw his slider 1,338 times and only allowed 12 extra-base hits. The pitch propelled him to a second-place finish in the AL Cy Young voting, and he's working on a new offering.
The only pitch that has rivaled Dylan Cease's slider since Baseball Savant started tracking run value in 2019 is Gerrit Cole's fastball in 2019 with the Astros.
2. Shohei Ohtani's Slider (-28 RV)
This Shohei guy is pretty good. Did you know he also hits? Not only did Ohtani record the fifth-fastest home to first time as a runner, but he also had the second-best pitch in baseball last year.
That pitch you see there traveled 90 MPH. Name me an athlete that can hit a 460-foot home run, throw a 90 MPH slider, and run a 4.4 40-yard dash (an estimation, but it feels accurate). I'll save you the mind twister; you can't.
He averages 85.3 MPH on the pitch, but it was unhittable last season. Like Dylan Cease, Ohtani's usage on the pitch has skyrocketed since 2021. Last season, Ohtani threw his slider 39.1% of the time compared to just 22% of the time the year before. Ohtani has posted two straight seasons where opponents hit under .200 against his slider.
3. Sandy Alcantara's Changeup (-25 RV)
Most pitchers are confident averaging 92 MPH on their fastball. That's how fast the NL Cy Young Award winner throws his changeup. Alcantara's offspeed was always a great pitch, but in 2022 it was on a different level.
The theme of this article is "throw your best pitches more." That's been the case for the first three pitchers, and you'll see that throughout. Sandy's changeup usage rose 4.2% from 2021, and opponents didn't have a chance.
You and I had as many home runs against Sandy Alcantara's changeup as the entire league in 2022. He threw it 899 times with excellent results: zero home runs, ten doubles, and one triple. Opponents hit just .145 against the pitch, but it was put in play more often than the first two on this list. It's not a put-away pitch like Ohtani's slider, but it's harder to square up.
Sandy's job is to log innings, not rack up the strikeouts that balloon his pitch count. His changeup is a perfect pitch for a job like this; he should throw it even more next year.
4. Justin Verlander's 4-Seam Fastball (-24 RV)
39-year-old Verlander is still throwing gas. Last year's AL Cy Young Award winner, Justin Verlander, is our modern-day Roger Clemens.
The Rocket and Verlander have plenty of similarities. 39-year-old Roger Clemens put up a 4.35 ERA in 180 innings riding a 93 MPH fastball. Verlander recorded a 1.75 ERA in 175 innings while averaging 95 MPH on the heater before his 40th birthday.
No matter what age, Verlander always seems to have a little extra juice in the tank when he needs it most. He may not be able to run it up over 100 MPH anymore, but he can still routinely touch 98-99 with the heater. It was the best fastball in baseball last year.
5. Edwin Díaz's Slider (-22 RV)
I can already hear the Mets fans. "HOW IS EDWIN DÍAZ'S SLIDER NOT THE BEST PITCH IN BASEBALL?!" I hear you, I see you, but it didn't limit runs at the same level as the first four.
With that said, it's the nastiest pitch I've ever seen in person.
Díaz led pitchers who threw at least 50 innings last year in strikeout rate, which had a lot to do with the slider. He only throws two pitches, and even though he averages 99.1 MPH on his fastball, he throws the slider at a 58.3% rate. He threw the pitch 539 times and allowed one extra-base hit: a 363-foot home run by Daulton Varsho that scraped the fence in right field.
The Edwin Díaz slider prevented more runs than any other pitch from a relief pitcher.
6. Nestor Cortes Jr.'s 4-Seam Fastball (-22 RV)
This might be the first pitch on the list where you start to question whether run value is a stat I made up to confuse you. First, look at the video above; that's Nasty Nestor hitting 95 MPH from the left side.
Nestor's fastball isn't as fast as those of the hard throwers throughout baseball, but it has as much vertical movement as anybody else's. The induced vertical break gives his fastball that "rising" effect. The ball isn't rising; it drops less than a typical fastball. He averages 92 MPH on the four-seamer, but it appears much faster than that.
The pitch is deadly, but it gets even crazier when Nestor throws five different wind-ups at you. Nasty Nestor is famous for varying leg lifts and release points. He does an excellent job of changing a hitter's timing; no wonder they only hit .157 against the pitch. Nestor's fastball allowed just eleven extra-base hits even though he threw it over 1,000 times, making it his most used pitch.
7. Carlos Rodón's 4-Seam Fastball (-22 RV)
Since 2021, Carlos Rodón's fastball has had a -48 RV. That's the best in baseball during that span, so it's been the best overall pitch for the last two seasons.
Rodón throws this fastball at 61.2%, the highest pitch usage on this list. Remember our theme, "throw your best pitches more"? Rodón takes that to heart, throwing his fastball and slider 93% of the time.
Since 2021, Carlos has thrown his 96 MPH fastball 3,218 times, allowing just 20 home runs. When a player steps in against Rodón, he knows the fastball is coming. It doesn't move quite as much as Nestor's, but it's three miles per hour harder. Rodón touched 99.5 MPH last year with the fastball, and with the way it works with the slider, it's one of baseball's best.
8. Dillon Tate's Sinker (-21 RV)
By run value, Dillon Tate has the best sinker in baseball and the second most valuable pitch from a relief pitcher in 2022.
The story behind his sinker is fascinating. I grew up in Santa Barbara, where Tate went to college, so I remember heading to the ballpark and watching Tate start for the UC Santa Barbara Gauchos. He's always had this high leg lift and hides the ball well. He dominated in college, which led to him being drafted fourth overall in the 2015 draft by the Rangers.
He didn't have a sinker until he landed in a bullpen role with the Orioles. He started throwing his slider much more in 2022 to pair with the sinker he threw 50% of the time. He can throw it wherever he wants, varying the velocity from 92-99 MPH. It may not have as much movement as other sinkers you see on Pitching Ninja, but it was the most valuable. SABR agrees.
9. Joe Ryan's 4-Seam Fastball (-21 RV)
When making this list, this was the only pitch that had me questioning run value as a stat. Once I dove deeper into it, it became clear that this was one of baseball's most valuable fastballs.
While it only ranges from 91-95 MPH, it's tough to barrel up. It has a lower batting average against, a higher whiff rate, and a higher put-away rate than Justin Verlander's fastball. It has a lower hard-hit rate than Carlos Rodón's fastball.
Ryan's fastball has horizontal and vertical movement, leading to his rise as one of the better young pitchers in the game. Over the last two years, opponents have been hitting .173 against the pitch while seeing it 63% of the time. A pitch has to be elite when the batter knows it's coming and they still can't hit it. It's incredibly deceptive and was the fourth most valuable fastball in 2022.
10. Corbin Burnes' Cutter (-21 RV)
If I were making this list based on personal opinion, Burnes' cutter and Díaz's slider would be at the top. Burnes' repertoire of pitches is my absolute favorite; he's a modern-day artist.
His cutter propelled him from being an exciting young pitching prospect to one of the best pitchers in the game. It's the only pitch to rank in the top ten by run value every year for the past three seasons.
Coming off a 2019 season where Burnes rocked an 8.82 ERA, he upped his cutter usage from 0.9% to 31.5%. His ERA dropped from 8.82 to 2.11, and he never looked back. In 2022, it was his most-used pitch at 55.4%. Its average velocity has dropped from 96 to 95 MPH over the last three seasons, but the pitch is still performing at an elite rate.
Not only is it the most valuable cutter in the game, but it's also the most valuable pitch in baseball since 2020.
Just Missed
Andrés Muñoz's Slider (-20 RV), Spencer Strider's 4-Seam Fastball (-20 RV), Alek Manoah's 4-Seam Fastball (-19 RV), Yimi Garcia's 4-Seam Fastball (-18 RV), Max Scherzer's Slider (-18 RV)