List
MLB's All-Underrated Team
Looking closely at the game's most underrated talents left out of this year's All Star Game.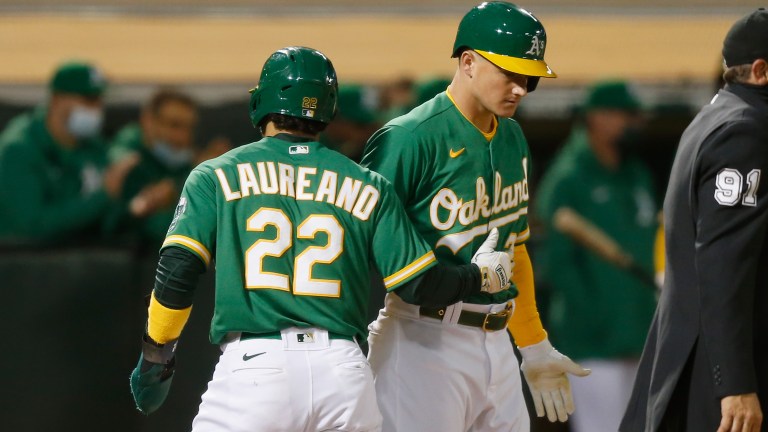 All-Star week is now behind us, which means the game's biggest stars received their much deserved recognition. This year's crop of All-Stars are as good as any in recent memory, with so many young, exciting players around the league. However, we're going to talk about something a little bit different today. We are going to give some love to the guys who did not make the cut for the mid-summer classic yet in their careers. These are MLB's best players who fly under-the-radar.
This is the MLB all-underrated team for the first-half of the 2021 season. We'll have a player at every position, as well as a designated hitter, and six pitchers. These were the criteria players had to meet to be selected:
1. Players can't have ever made an All-Star team
2. Players can't be a 2021 All-Star finalist
3. Position players must have a minimum of 200 plate appearances in 2021
4. Position players must have a minimum of 10 games played at their listed position in 2021
5. Starting pitchers must have a minimum of 60 innings pitched in 2021
6. Relief pitchers must have a minimum of 25 innings pitched in 2021
Catcher: Sean Murphy – Oakland Athletics
In his first season as the Athletics' everyday catcher, Sean Murphy has developed into a quality MLB backstop. While he isn't an elite hitter, his 12 HR and .427 SLG are both top 10 amongst catchers with at least 200 plate appearances. If he can improve his plate discipline a little, he should take the next step in his progression offensively. However, most of Murphy's value comes on the defensive side. He's the top-rated pitch-framer in baseball according to Statcast. If he can get it going a little more with the bat, Murphy will become one of the rare catchers that's elite both offensively and defensively.
First Base: Garrett Cooper – Miami Marlins
Once a throw-in piece in a trade between the Yankees and Marlins, Garrett Cooper has become one of Miami's best hitters over the last few seasons. This season, Cooper is ranked inside the top ten amongst first basemen (minimum 200 plate appearances) in OBP (.370), OPS (.859) and wRC+ (141). The 30-year-old is also in the 91st percentile of hitters with a 51.9% hard hit rate. Cooper isn't the best defender in the world, but he brings some versatility to the table with his ability play both first base and the corner outfield spots. All in all, he's a severely underrated hitter who gets overlooked playing for a Marlins team that has struggled offensively this year. He's also the hottest hitter in the game right now:
Second Base: Jonathan India – Cincinnati Reds
Jonathan India has turned into a classic post-hype breakout in 2021. The fifth overall pick in the 2018 Draft, India's stock tanked the last few years after a couple pedestrian seasons in the minors. However, everything has come together for the 24-year-old this year, as he's top ten in OBP (.392), OPS (.803), wRC+ (123), and WAR (1.9) amongst second basemen. India's ability to get on base has earned him the lead-off spot for the elite Reds offense heading into the All-Star Break.
His defense needs some work, but it's important to note that he's never played second base everyday like he is this season. Improvement in that department could easily come with time. For now, his contributions at the plate more than make up for it.
Shortstop: J.P. Crawford -Seattle Mariners
Already an elite defensive shortstop, J.P. Crawford has added some offense to his game in 2021. Crawford is top ten in both OBP (.343) and wRC+ (109) for shortstops this year. This is also the first season that Crawford has had a wRC+ above 100.
Crawford's nine DRS this year ties him for second best at the position, and he won a Gold Glove last year. The 26-year-old was considered a failed top prospect for the Phillies a couple of years ago, but he has found his place in Seattle the last few seasons. He's a great example of why it can be foolish to give up on talented young players quickly.
Third Base: Austin Riley – Atlanta Braves
Elite raw power is the name of the game with Austin Riley. The 24-year-old has always been able to slug it with the best of them, but this year his approach at the plate has improved as well. His 10% walk rate is easily the best of his career, and he has drastically cut down on the strikeouts as well, dropping from 36.4% in 2019 to 25.2% this season. On top of that, Riley's 126 wRC+ is tied for sixth best amongst third basemen. He has always been a streaky hitter, and we've seen some of that this season as well, but the overall production is the best its ever been. Atlanta will need that to continue with Ronald Acuna out for the rest of the season.
Outfield: Trent Grisham – San Diego Padres
It's easy to forget about Trent Grisham in the star-studded San Diego lineup, but he's quickly becoming one of the game's best all-around outfielders. Grisham is a well-above-average hitter, ranking in the top 15 amongst all outfielders in both OPS (.855) and wRC+ (135). The 24-year-old has also chipped in seven steals on the league's best base-swiping team. Defensively, Grisham's three DRS place him 19th out of 53 qualified outfielders. Acquiring him on the cheap from Milwaukee during the 2019 offseason has turned out to be one of A.J. Preller's shrewdest moves as Padres General Manager.
Outfield: Ramon Laureano – Oakland Athletics
Full disclosure, Ramon Laureano is one of the my favorite players in baseball. He's one of the most underrated players in the league, with a fiery personality and an extremely well-rounded game. He doesn't get enough credit for his solid offensive game due to his elite defense, but Laureano has been a legit 20/20 threat the last few seasons. This year, he's already got 13 home runs and 10 stolen bases despite missing two weeks with a hip injury in June. He also has a more than solid 119 wRC+. As for his other-worldly range and arm in the outfield, I don't need to bore you with any stats to prove it. Instead, just watch this video:
Outfield: Tyler O'Neill – St. Louis Cardinals
Tyler O'Neill has always been super "toolsy," but the skills never translated into on-field success until this year. He's top 20 in HR (15), SB (7), OPS (.879) and wRC+ (138) out of all outfielders with at least 200 plate appearances this season. Additionally, his .271 ISO ranks fourth in the position group. On top of all of that, O'Neill's batted ball profile is insane. He's in the top 10% of hitters in exit velocity, hard hit rate and barrel rate. The 26-year-old is also a well-above average defender, with five DRS on the season after winning a Gold Glove last year. He's turned into an all-around stud this year for a Cardinals team that desperately needs it.
DH: Franmil Reyes – Cleveland Indians
Much like Austin Riley and Tyler O'Neill, Franmil Reyes is close to the top of the league in raw power. The 26-year-old designated hitter ranks eighth in baseball with 60 Home Runs since the start of the 2019 season. This season, Reyes has already clubbed 14 home runs despite missing over a month with an abdominal injury. He's also top 25 in all of baseball in OPS (.923), wRC+ (143) and ISO (.324). Aptly nicknamed "The Franimal," Reyes is in the 90th percentile or better in exit velocity, hard hit rate and barrel rate. On a Cleveland team without much offensive firepower, Reyes's importance cannot be overstated.
SP: Wade Miley – Cincinnati Reds
Moving into pitchers now, here's a guy whose exclusion from the All Star team really confuses me. Miley is tops in WAR (2.4) and third in ERA (2.80) out of all qualified starters not to be named an All Star. The 34-year-old lefty has always been viewed as a middle-of-the-rotation journeyman, but this year he's had a full-fledged breakout in Cincinnati. He's top 20 in the sport in ERA, FIP and WAR. Miley doesn't throw hard, but he has great command and limits hard contact, as the veteran lefty is in the top five percent of pitchers in average exit velocity against. His crowning achievement came back on May 7th when he threw the first No-Hitter of his career:
SP: Sean Manaea – Oakland Athletics
Sean Manaea has quietly developed into one of the best pitchers in the American League this season after years of flashing that potential. The 29-year-old southpaw is top 25 amongst qualified starters in both ERA (3.19) and FIP (3.34). His best skill is his elite control that has helped him post a walk rate in the top 15% of pitchers for three of the last four seasons. Consistency has always been an issue for Manaea, and it'll be worth watching that in the second half of the season, but it looks like he's taken a step forward in that department in 2021. He has 10 quality starts in 18 trips to the mound this year, and has allowed more than four runs just twice.
SP: Pablo Lopez – Miami Marlins
The Marlins might have the best rotation in baseball that doesn't get talked about enough, and Pablo Lopez is a big reason why. Like teammate Sandy Alcantara, it's easy to forget about Lopez amongst the bigger names in Miami like Trevor Rogers and Sixto Sanchez. Yet, he's top 20 in starter's ERA (3.03) and FIP (3.20), while also owning a very solid batted ball profile. Lopez ranks in the 87th percentile in both exit velocity against and hard hit rate. Additionally, his elite four-seam fastball has a -9 run value, making it the 38th best pitch in baseball according to Statcast. Hitters are batting just .207 against it this year. If the Marlins keep their current rotation intact, watch out once they find some offense.
SP: Joe Musgrove – San Diego Padres
Joe Musgrove has bounced around quite a bit in his young career. The Padres are already his third team in just six Big League seasons, but it looks like he might have found a home in San Diego. Musgrove is 18th in ERA (2.93) and 26th in FIP (3.47) amongst starters. Even more impressively, his 0.95 WHIP is eighth amongst qualified starters. He's been a stud and it's surprising he missed out on the NL All Star team. The 28-year-old righty has dominated this season with a slider that grades out as the 21st best pitch in baseball (-10 run value). Batters have just a .198 slugging percentage against the offering with a 35.6% whiff rate. If Musgrove can keep things going, he should be in for a big payday when he hits free agency after next season.
RP: Jonathan Loaisiga – New York Yankees
It's easy to be the forgotten man in a bullpen with Aroldis Chapman, Zack Britton and Chad Green. However, Jonathan Loaisiga has been better than all of them this season. A converted starter, this is Loaisiga's first season pitching exclusively as a reliever. My guess is it won't be his last. Out of all qualified relievers, Loaisiga is top 25 in both ERA (2.11) and FIP (2.59). He's also third in relief innings pitched (47.0). His best pitch has been a curveball that's limiting hitters to a .091 batting average, with an insane 52.7% whiff rate. In lieu of Aroldis Chapman's struggles over the last few months, Loaisiga has more than picked up the slack. The Yankees will need him to continue to do so during the stretch run. He also indisputably should've made the All Star team over Chapman.
RP: Giovanny Gallegos – St. Louis Cardinals
In a sneaky good trade for both sides, the Yankees acquired Luke Voit from the Cardinals for Giovanny Gallegos and Chasen Shreve back in 2018. Since being sent to the Midwest, Gallegos has become one of the best relievers in the game. This season, Gallegos ranks in the top 25 in both reliever FIP (2.80) and WAR (1.1). He's also eighth in innings pitched amongst relievers (46.1). Moreover, the 29-year-old righty is in the top 20% of relievers in both strikeout rate and walk rate. Interestingly, he only has seven career saves, as manager Mike Shildt deploys him in the highest leverage spots regardless of inning. Unfortunately, it's probably why Gallegos gets overlooked and also proves why saves are not a barometer of elite relief work anymore.