Analysis
2023 Underrated Players: Bounce Back Hitters
Even some of the best players in MLB have down years. The only question is, can they bounce back? Here are some hitters looking to in 2023.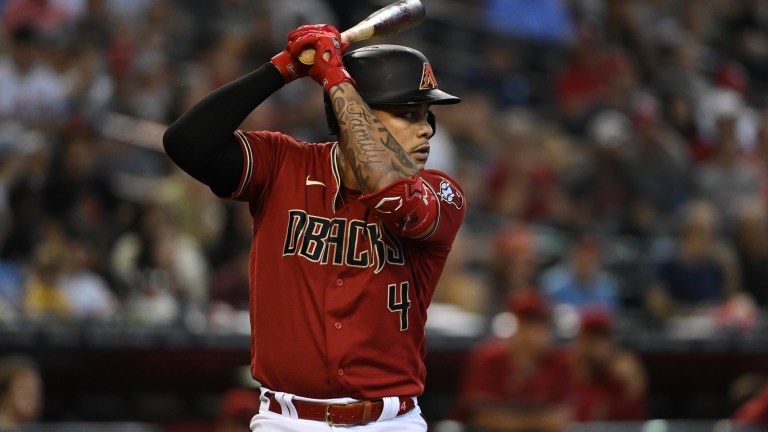 Some of the absolute best storylines from every MLB season are derived from players that turn their careers around in one way or another. The ebbs and flows of a demanding 162-game season can take a toll on players and often causes good players to have a down season. However, many players use the offseason as an opportunity to recalibrate and come back stronger the following year.
These bounce-back candidates stem from a variety of sources such as injury, team struggles, and mechanical issues, among other causes. Many of these players will come into the season being undervalued because of last year, but will look to prove themself once again as they have done in the past.
These 10 players I'm going to look into are just some of the numerous players looking to bounce back from underwhelming 2022 seasons.
Bounce Back Hitters
Ketel Marte: Arizona Diamondbacks 2B
This one feels almost too obvious in my eyes. Marte was one of the absolute best hitters in the game in 2019 and was approaching that once again in 2021, but injuries held him out for a large chunk of the season. Marte consistently ranks amongst the league-best in max exit velocity, which shows his ability to just smash baseballs. He was also in the elite tier of offense metrics such as OPS, SLG, and wOBA during both the two seasons mentioned above.
I think it's safe to say that last season was an outlier for Marte as he failed to reach even close to the levels that he was expected to and put together his worst season since coming to Arizona in 2017. His OPS fell all the way to .728, after sitting all the way up to .909 the year prior and his batting average dropped almost 80 points as well. His power dropped off a cliff as well as he played 47 more games in 2022 but managed to hit two fewer home runs than in 2021. He was essentially worse in every single way.
One encouraging sign for Marte was that even with his bat struggling to produce like he used to, his plate discipline actually improved. This was a counter-adjustment to some degree as he knew that he needed to find a way to get on base when he wasn't hitting effectively. His walk and strikeout rates ranked near the 70th percentile of the league and marked the best walk rate of his career during a mostly healthy season. This improved approach will only help Marte if he can turn things around with his bat.
One factor that will help Marte is the talent around him. The Diamondbacks lineup is in a better position than it has been in a while, with copious young talent entering the lineup and continuing to develop. Marte doesn't have to carry the load the way he did in past seasons and this should help him get back to the elite hitter he's shown he can be. His 2019 may have been his absolute peak, but I expect production similar to his 2021 season this upcoming year for an Arizona team that could turn some heads.
Michael Conforto: San Francisco Giants OF
This is a pretty unique case of a bounce-back player as there's technically no season to bounce back from because Conforto didn't play last season. He spent the season recovering from shoulder surgery and opted to not try and make a comeback for someone later in the year. He remained a free agent all season and entered this winter's free agency as one of the biggest question marks on the market. He ended up earning a $36 million dollar deal from the Giants and will look to get back to his former status as a high-end outfielder.
Conforto is also coming off one of his worst seasons in 2021, in which he only managed to slash .232/.344/.384 across 125 games. However, he was one of the more consistently productive hitters in the game from 2017 through the shortened 2020 season. He hits the ball consistently hard, regularly walks at an elite rate, and was a very good outfielder in the corners. Conforto has the ability to regain this level of play, but it may not come fast. It's likely he may start the season slow given an entire year without playing ball.
He hit at least 27 home runs in all three years from 2017-2019 and could become one of the biggest bats in the Giants lineup this year. With his walk rate, I expect Conforto to bounce back to the level of a .800 OPS hitter next year, somewhere between his rough 2021 and the quality years prior. Health will undoubtedly play a factor, but Conforto is an exciting story to watch this upcoming season after a year off and a rough year prior.
Jake Cronenworth: Padres 1B/2B
Unfortunately, the "Crone Zone" has not been trending in the right direction over the course of his three-year career. The versatile infielder debuted in 2020 and was excellent as a rookie and played in 54 of the 60 games throughout the shortened season. He ranked in the 90th percentile or better in xBA, xWOBA, and xSLG and established himself as a major building block of the Padres developing young core. Cronenworth's plate discipline and very impressive whiff rate supported this breakout by showing his poise at a young age.
Cronenworth regressed marginally in 2021, but his OPS only dropped 31 points, and his lack of striking out continued to keep his floor as a player relatively safe for the time being. He also developed his power to the tune of 21 home runs, which offset the slightly less productive overall season.
However, his production took an even steeper drop this past season, where he produced by far career lows across the board with a .239 AVG and just a .722 OPS, after being at or above .800 the previous two years.
He seemed to be very streaky at times this season, almost as if he was trying to do too much without Fernando Tatis Jr. in the lineup. This led to easily the highest strikeout rate of his young career and worse offensive metrics in almost every category. His expected batting average and slugging both dropped into the bottom 20th percentile of hitters in the league. The highest walk rate of his career and continued excellent defense made him still a quality player overall, but the Padres need more from his bat.
Cronenworth has the talent to work his way back to at least his 2021 self and, with an incredible top four in the Padres lineup for protection, he should be able to thrive with less pressure.
In the month of June last year, Jake had an outstanding .954 OPS, and clearly has that ability in him. While I don't see him getting back to the hot start of his short 2020 rookie campaign, I see Cronenworth much more like the version of himself he was in 2021 as opposed to this past season. He'll continue to have quality at-bats every game and will have plenty of opportunities to drive in runs behind the best top four in the game.
Ronald Acuña Jr.: Atlanta Braves OF
I feel like I don't even need to write this one. But for anyone that is even slightly doubting Acuña after his weak (for his standards) season last year, I would like to help you put those doubts aside. Ronald missed the second half of the 2021 season and the opening of this past season while recovering from a torn ACL and put together the worst season of his career upon returning.
However, he is simply one of the best players in our game and there is no reason at all to believe he won't return to that level after a fully healthy offseason of getting his body prepared for 2023.
Prior to his injury midseason, Acuña was quite possibly on his way to an MVP award in 2021. In just 82 games, he accumulated 24 home runs while ranking in the 99th percentile in exit velocity, xWOBA, xSLG, barrel rate, and arm strength. I mean, are you serious?!
He was on another level and also happened to walk at an excellent rate and was one of the best baserunners in the league as well.
The incredible half-season in 2021 was following three years of elite production in his age 20-22 seasons. He was and still is on a trajectory of generational talent that we don't see often in this game. I simply will not put any weight into his struggles in 2022, which is why I almost considered not including him on this list. Given that, I think the increase in his metrics from last year to this upcoming season qualifies him as a bounce-back candidate.
He finished last year with a .764 OPS and I fully assume he's going over .900 with ease next year. He also managed only 15 home runs in 119 games, as he worked his way back into baseball shape, and I think he'll be much closer to the 41 home runs he cranked in his only full season in 2019.
Acuña is actually one of my personal picks for the MVP and I expect him to have a massive season with full health at his disposal. I can't wait to watch one of the most electric stars in the league this year.
Max Muncy: Los Angeles Dodgers 2B/3B
The .196 AVG last season has quickly changed the general opinion on Muncy for many fans. He was admittedly not a very good player last year and had by far his worst season since joining Dodgers. His contact was down a horrendous amount and the only way he regularly got on base was via the walk, which he ranked third in Major League Baseball with 90 of them. For many portions of the season, it felt like Muncy's only two positive outcomes were a home run or a walk.
Let's take a look back at what Muncy has done though in his three full seasons with the Dodgers prior to last year. In 2018, 2019, and 2021 Muncy had 35, 35, and 36 home runs, respectively. He also maintained a slugging percentage over .500 all three of those seasons with an OPS just below .900 or higher. I was even surprised when looking at these metrics because I think Muncy's hitting has actually been insanely underrated over the past five years.
All three of these seasons were accompanied by his elite walk rate of 14.0% or higher. There's an argument that could be made for Muncy to be considered a top-20 or so player over this three-year span.
While the decline in 2022 should be taken seriously, there are a lot of reasons why Muncy should bounce back and produce closer to his previous three seasons than what he did last year. He's still consistently hitting the ball very hard and there's no reason for that to change. While he did decline marginally, his hard-hit rate was only 1% lower than the year prior and his barrel rate still ranked in the 91st percentile of the league.
One of the possible reasons for his issues could be the significantly higher launch angle of 20.9% following 15.2% in his massive 2021 season. Muncy will surely be making some swing adjustments and should produce more like his past self next year.
Muncy is one the most underrated big bats in the league and him returning to his peak form could be a huge factor in overcoming the loss of Trea Turner for a Dodgers lineup that has more weaknesses than it has in a while. I think Muncy is going to mash this year, while continuing to walk at an elite rate and could be in for a huge year.
Wander Franco: Tampa Bay Rays SS
It's crazy to think of a guy that was the number one prospect in baseball less than two years ago as a bounce-back candidate, but here we are. Franco was one of the best minor league hitters ever and came into the league in June 2021, with otherworldly expectations. It took him some time to settle into the league, but he caught fire in the second half of the 2021 season and showed the world why he was one of the most highly-touted prospects of this generation.
Wander finished his first month and a half at the end of July hitting just .239, but after going on an incredible run, he ended the season his rookie campaign with a .288 AVG and an above-average .810 OPS. Franco showed his ability further via an impressively low strikeout rate of just 12% at twenty years old. That's simply not normal for someone that age to have such an advanced approach at the plate.
Then came the 2022 season, in which injuries and a lack of consistency seemed to hurt his season significantly. Franco started the season hot, sporting a .313 AVG in April, but ended up missing the majority of June with a quad injury. He returned from the injury only to find himself right back on the injured list for two full months with a wrist issue.
When on the field, he struggled throughout much of the middle of the season and it was clear he wasn't 100% healthy at times. However, he finished out strong and returned in September to post a .316 AVG and a .786 OPS over that month.
Franco's baseline stats in 2022 were not what many expected in his first full MLB season with the hype that surrounded him. The injuries also definitely took him out of the spotlight repeatedly.
However, it's interesting to look into his advanced metrics and see that his expected numbers were actually BETTER in 2022. His expected batting average, slugging percentage, and other metrics were all slightly higher this past season and his strikeout rate was actually in the 99th percentile of the league. Also, his defense improved significantly statistically and his athleticism indicates it could be even better in the future.
Wander's 2022 season has a good chance to be by fair the worst statistical season of his career. He's going to be just 22 years old (!!!) this upcoming season and his blend of elite contact, plate discipline, and speed is going to make him one of the most impressive players in the game. Don't forget about this guy, because he's due for a huge season.
Brandon Lowe: Tampa Bay Rays 2B
As long as we're talking about one Tampa middle infielder, we might as well look into the other half of this duo up the middle. Lowe had a similarly frustrating 2022 season as injuries, along with severe underperformance, led to easily the worst season of his career.
Lowe posted just a .690 OPS, after being over .850 in each of the previous three seasons. His hard-hit rate dropped all the way to 38.9%, after being over 43% his whole career. He only appeared in 65 games in 2022 after dealing with multiple back injuries and a minor issue.
Lowe really never got the chance to get it going offensively, as he seemed to get hurt every time he was close to a rhythm. He returned from one injury in mid-July and finished the month hitting .340, but struggled in August and eventually dealt with injury once again that caused him to play only four games the rest of the season after August.
When on the field, Lowe is an exceptionally talented hitter and reached the peak of his abilities in 2021 with 39 home runs, supported by elite metrics. He barrels the ball at a very high rate, over 14% each of his past three years, but barely topped 10% last year. He's easily been the most consistent hitter in the Tampa lineup since debuting in 2018.
A big development that could help Lowe reach his elite production once again would be a decrease in strikeouts. He struck out a ton in 2021 as he had the majority of his career.
The Rays lineup seriously missed the healthy versions of Lowe and Franco last season and their offense projects to be noticeable more effective this season. I expect Lowe to join Franco in having a big boucne-back season and returning to produce like he has in the past. If he stays healthy, I expect a 30-plus home run season for Lowe much like his career-year in 2021.
Jonathan India: Cincinatti Reds 2B
Another young star coming off a rough season, Jonathan India was the National League Rookie of the Year in 2021 and appeared to be future face of the Reds lineup. He finished his rookie campaign with a .835 OPS, to go along with 21 home runs and an impressive .376 on-base percentage. He showed poise at the plate with a very low chase rate as well as physically impressive traits.
India started the 2022 season at a solid production level, picking up where left off with a .295 AVG in April, but missed some games due to a minor injury. He didn't show much power yet, but he was still hitting decently well.
Unfortunately, he injured his hamstring and missed all of May and some of June while recovering. India returned from injury and didn't look comfortable for a while. He limped to just a .546 OPS after returning in June, but seemed to get it going once again with a .892 over the full month of July. He regressed once again over the rest of the season and dealt with another minor injury as well.
India finished the season with a slashline of .249/.327/.705 and his underlying metrics were rough all around. He hit the ball very softly and ranked in just the 3rd percentile of average exit velocity while walking much less than the year prior. It seemed like he was forcing swings later in the season and never really settled into a full comfort zone.
I think India is more like the player he showed in 2021 than what he was last season, when he clearly was never fully right. He should be able to get back on track with an offseason to focus on his baseball and get back to the best version of himself.
There's a chance he may be shifting positions in the coming season, as the Reds system is filled with talented infielders. This could end up being a good option for him as he's also struggled at second base defensively in his career.
I don't know if it's realistic to expect 2021 level production from India, but I think he's in for a much better year than last year, which realistically could push him towards an .800 OPS next year.
Cody Bellinger: Chicago Cubs CF
You didn't think I'd forget about good ole Cody, did you? The 2019 NL MVP is one of the most fascinating stories in baseball over the last few years. Bellinger was one pace to be one of the best players of this generation as he put together an insane first three seasons of his career. He topped it off with an absolutely crazy 2019 season, where he cranked 47 home runs and finished with an 1.035 (!) OPS and won the NL MVP.
At this point, he appeared to be the face of the Dodgers future, alongside newly acquired Mookie Betts. Cody regressed a lot from his MVP year in 2020, but it was a shortened season and his expected numbers still showed the elite player that he was the previous season.
And then everything went downhill in 2021. Cody dealt with some injury, only playing 95 games. He managed just a .165 AVG with a horrendous .542 OPS. Things didn't get much better this past season as he played a full season but finished with a slash of .210/.265/.389 and looked like a shell of his former self. He went from an MVP to one of the very worst hitters in the league in the course of two years.
Now that the harsh reality of the last two years is out of the way, let's be a little more optimistic. Bellinger has grown into one of the premier defenders in center field. He's going to provide elite defense for his new team regardless of his outlook at the plate. And look, the offense can't be worse. I can't imagine how a hitter as talented as Bellinger could completely lose all offensive production.
I think the days of him being an elite offensive player may be over, but he's better than one of the worst hitters in the league. If he can make some swing adjustments during the offseason and spring spent with his new coaching staff, I think we could see an average level hitter, which would be a massive improvement. There's a lot of room for improvement and I think Bellinger has a realistic chance to make strides towards being a useful MLB player once again.
Luis Robert: Chicago White Sox CF
We might as well talk about both Chicago center fielders while we're at it. As a lifelong White Sox fan, I explicitly remember the day that Luis Robert signed with the team in May of 2017. I was ecstatic about the potential that Robert has coming over from Cuba and the future outlook of the White Sox.
While he's showed his incredible tools at times, Robert has yet to fully break out in the big leagues.
He flashes his electric speed, defense, and power in his shortened 2020 rookie campaign, but showed clear signs of much-needed development. He struck out a lot and consistently whiffed at all forms of off-speed pitches. He appeared to be ready for a massive season in 2021, as he started hot in April and flashes all the potential that everyone was waiting to see. Unfortunately, an unlucky injury sidelined him for almost three full months in the midst of his breakout year.
He returned and dominated even more over the rest of the 2021 season and put up over a 1.000 OPS after returning from injury in August. He looked like a superstar in the making with his rare combination of size, speed, and pop. But in 2022, things took a turn for the worse for Robert, just like it did for the White Sox as a team. He started the season slow in April and dealt some minor injury issues. While the power wasn't quite there, he appeared to be picking up stem from May up until mid-July, when his batting average sat at .301 on the season.
Robert hit the injured list in mid-July due to blurred vision and vertigo-like symptoms. Minimal information was discussed with the media, but he was clearly not doing well and still didn't look very comfortable upon return in August. He began dealing with a wrist issue as well later in August that was obviously affecting his ability at the plate. He was in and out of the lineup over the last month, as the White Sox needed him as they tried to make one last push for the playoffs, but he was completely ineffective (likely due to the injury) and had a painful 0.43 AVG in the games he played in September.
He needs to stay on the field. Health is the biggest factor for Robert because there's no reason he shouldn't be able to reach the elite production he flashed in 2021. He just hasn't been able to consistently stay on the field long enough to make that big of an impact. The White Sox absolutely need their two injury-prone star hitters on the field (the other being Eloy Jiménez), in order to compete in the AL Central this season. If Robert can stay on the field, I expect a huge year that looks a lot like his 2021 campaign.