Rankings
2021 All-MLB Breakout Team
Just Baseball's All-MLB Breakout Team, spotlighting the players that showcased future stardom in 2021.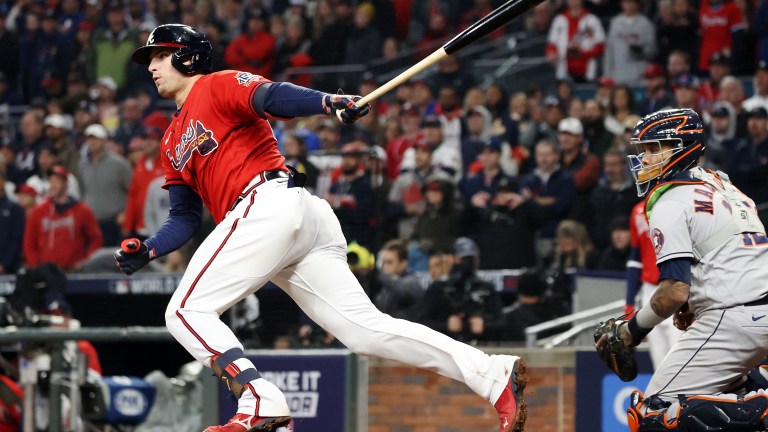 In Major League Baseball, we too often write off a player if they don't hit the ground running as soon as they get to the show. Prospects have become so well-known by the time they get promoted, that we just expect them to instantly become stars. But often it doesn't work out like that.
It can be really hard to hit major league pitching, with a learning curve that is steep for most hitters. That is why we can see an uber-talented player like Cedric Mullins come out of nowhere to become an All-Star in his fourth season, or see Austin Riley figure it out in the second half to help lead his team to the playoffs and eventually a World Series title.
Considering all of the breakout talent we watched on full display in 2021, we figured it would be a good idea to give you a breakdown of the best breakout stars at each position. Here is our 2021 All-MLB Breakout Team.
1B: Vladimir Guerrero Jr. – Toronto Blue Jays
2021 Stats: .311/.401/.601, 48 HR, 78 XBH, 111 RBI, 166 wRC+, 6.7 fWAR
Vladimir Guerrero Jr. highlighted our 2021 All MLB Position Player Team last week and once again finds himself atop the list of all first baseman. We all expected Guerrero to be a great player some day, but putting together a 6.7 fWAR season didn't seem likely heading into his third year.
Anyone who says they KNEW this breakout was coming is living in revisionist history. Guerrero hit 24 home runs across 183 games played in his first two seasons. This year he tripled his career home run total, blasting 48 bombs, while becoming a more complete all-around hitter.
Guerrero set expectations very high moving forward, as he is expected to be one of the game's premier sluggers for a long time. When we look back at his career though, 2021 is going to jump out as the year Guerrero became the player we always expected him to be.
2B: Brandon Lowe – Tampa Bay Rays
2021 Stats: .244/.333.480, 39 HR, 70 XBH, 99 RBI, 137 wRC+, 5.2 fWAR
Brandon Lowe has kind of been awesome for the Tampa Bay Rays ever since making his debut in 2018. Still, there has been a steady progression that has led to 2021 being the season where the second baseman put it all together.
Lowe was an All-Star in 2019, hitting .270/.336/.514 with 17 home runs and 51 RBIs. Unfortunately due to injuries, he played just 82 games.
In 2020, Lowe was again, awesome, mashing to a 152 wRC+ with a 2.7 fWAR in just 56 games played. But because of the shortened season, we still didn't get to see what Lowe looked like over a full 162-game schedule. Thankfully that changed in 2021.
The 27-year-old was just one home run shy of becoming the second player in Rays history to have a 40-home run season. Carlos Pena holds the single-season franchise record with 46 home runs in 2007. After watching Lowe's power on full display this year though, that record is certainly up for grabs.
SS: Nicky Lopez – Kansas City Royals
2021 Stats: .300/.365/.378, 78 R, 22 SB, 106 wRC+, 25 OAA, 4.4 fWAR
Nicky Lopez is probably never going to be considered one of the game's best all-around shortstops, because he is never going to become the type of power hitter that gains widespread attention. Still, can we not appreciate ELITE defense?
Anyone who pays attentions to Statcast's Outs Above Average knows about Nicky Lopez because he led the sport in the defensive metric this season. When Brandon Crawford won the NL Gold Glove Award, some objected to the fact that Francisco Lindor did not win, despite posting a league-best 20 OAA. Here is the crazy thing though. Lopez was the best defender in all of baseball and he wasn't even a finalist for a Gold Glove.
Maybe it is because he was trapped in the obscurity of Kansas City, but Lopez went completely under-the-radar this year. Lopez posted a negative fWAR in each of his first two seasons, putting doubt as to whether he was even capable of being an MLB starter. This year he hit .300, got on-base at a .365 clip and was a defensive whiz at shortstop. Sounds like a breakout season to me.
3B: Austin Riley – Atlanta Braves
2021 Stats: .303/.367/.531, 33 HR, 64 XBH, 107 RBI, 135 wRC+, 4.2 fWAR
Similar to Vladimir Guerrero Jr., Austin Riley is the second player on our All-MLB Breakout Team that made the All-MLB team as well. The 24-year-old had an incredible season in 2021, but really became a breakout star in the second half.
Riley hit .333/.377/.599, with 19 home runs, 18 doubles and 65 RBIs in 72 games played in the second half. Riley's 155 wRC+ in the second half was the 10th-best mark in baseball. Prior to 2021, Riley posted a wRC+ below 90 in each of his first two seasons. Atlanta always believed that Riley would come around and he sure proved them right this season.
C: Tyler Stephenson – Cincinnati Reds
2021 Stats: .286/.366/.431, 10 HR, 31 XBH, 45 RBI, 111 wRC+, 2.0 fWAR
Tyler Stephenson is the only rookie we are including on the All-MLB Breakout team simply because it was hard to find another candidate at the catcher position. All of the catchers who put together strong seasons were already established commodities prior to 2021. Jacob Stallings was really the only other candidate and while he won a Gold Glove, he still graded out as a below-average hitter with his 95 wRC+.
Stephenson put together a solid first offensive season, while also proving to be a quality defender behind the dish. The 25-year-old is clearly the catcher of the future for the Cincinnati Reds, as they chose to trade Tucker Barnhart (and his $7.5 million club option) to the Detroit Tigers following the season, opening the door for Stephenson to be their starting backstop in 2022.
OF: Cedric Mullins – Baltimore Orioles
2021 Stats: .291/.360/.518, 30 HR, 72 XBH, 59 RBI, 30 SB 136 wRC+, 5.3 fWAR
There might have been Baltimore Orioles fans that had faith in Cedric Mullins coming into this season, but I seriously doubt anyone had him putting up a 30-30 season. Yet that is exactly what the 27-year-old did, hitting 30 home runs with 30 stolen bases in what was technically his first full season.
Mullins made his debut in 2018, playing 45 games down the stretch for the Orioles. Baltimore made Mullins their Opening Day centerfielder in 2019, but he struggled so mightily (.095/.181/.156) that they demoted him to Triple-A in April. Mullins continued to struggle in the minor leagues and was even demoted down to Double-A, where he finished the 2019 season. Two years later, Mullins was starting in the All-Star Game.
It has been a crazy turn of events for Mullins, as he put together a decent campaign in 2020, before enjoying this season's breakout success. Now he is one of the few franchise cornerstones the Orioles are looking to build around.
OF: Bryan Reynolds – Pittsburgh Pirates
2021 Stats: .302/.390/.522, 24 HR, 67 XBH, 90 RBI, 142 wRC+, 5.5 fWAR
Bryan Reynolds is one of the more interesting breakout players on this list, because if we were to go back to his rookie campaign, this season's results would not be that surprising. In 2019, Reynolds hit .314/.377/.503, with 16 home runs, 57 extra-base hits and a 130 wRC+. His 3.2 fWAR in 134 games projected future stardom and he finished fourth in the Rookie of the Year voting.
All that promise was forgotten however after the 2020 season, as Reynolds put together a really bad body of work where he hit below the Mendoza line. In 55 games played in 2020, Reynolds was a non-factor, putting together a fWAR of exactly 0.0. This set him up to be a huge breakout star though in 2021.
Reynolds had an identical fWAR this season to Aaron Judge and Starling Marte, trailing only Juan Soto and Bryce Harper among all outfielders in baseball. He is the clear-cut face of the franchise for the Pirates right now. Unless of course they decide to trade him and continue their never-ending rebuild.
OF: Tyler O'Neill – St. Louis Cardinals
2021 Stats: .286/.352/.560, 34 HR, 60 XBH, 80 RBI, 15 SB, 145 wRC+, 11 DRS, 5.4 fWAR
I am just going to say what we are all thinking. Tyler O'Neill is jacked.
Now that I got that out of the way, we can talk about how this freak of an athlete put it all together in 2021, becoming a legitimate five-tool star for the Cardinals.
O'Neill's power is always going to get the most attention and rightfully so. His .274 ISO was second to only NL MVP Bryce Harper among all outfielders in baseball and his 145 wRC+ was fourth. Still, O'Neill was a great all-around player in 2021, posting positive defensive grades in both DRS (11) and OAA (3), while also stealing 15 bases.
Prior to this season, O'Neill had struggled to find his footing with the Cardinals and his future as a starter was not guaranteed by any stretch. In 2020, O'Neill hit .173/.261/.360, with a paltry 71 wRC+. Now at just 26 years old, O'Neill has finally delivered on the tools that made him a top prospect and looks to be a star St. Louis can build around.
DH: Kyle Tucker – Houston Astros
2021 Stats: .294/.359/.557, 30 HR, 70 XBH, 92 RBI, 14 SB 147 wRC+, 4.8 fWAR
Sure Kyle Tucker is not primarily a designated hitter, as he is actually a damn good right fielder. In fact, Tucker was a finalist to win a Gold Glove this year. Still, we only had three spots in the outfield and since I made up the rules anyway, Tucker's four games as a DH in 2021 qualified him for this position.
We have to acknowledge the breakout season Tucker just enjoyed, as he has become one of the franchise players in Houston. Tucker had solid seasons in 2019 and 2020, posting 121 wRC+ and 124 wRC+ respectively, but that was only accounting for 80 games played total between those two years.
Like many of the guys on this All-MLB Breakout Team, the 2021 season represented Tucker's first full 162-game season and he took full advantage of his opportunity to play everyday. Tucker posted a better slugging percentage than Aaron Judge and Juan Soto this season, with his .557 mark trailing only Bryce Harper (.615), Nick Castellanos (.576) and the previously mentioned Tyler O'Neill (.560) among qualified outfielders.
Honorable Mentions
2B/OF: Kikè Hernandez – Boston Red Sox
2021 Stats: .250/.337/.449, 20 HR, 58 XBH, 60 RBI, 110 wRC+, 14 DRS (CF), 3.9 fWAR
Kike Hernandez's breakout season was as much about role as anything in 2021. After spending years on loaded Los Angeles Dodgers teams, Hernandez got the chance to play everyday for the Boston Red Sox and he shined in that role.
He ultimately failed to make our All-MLB Breakout Team because his numbers weren't as strong as the other candidates. Hernandez also had a season in 2018 (3.3 fWAR) that was statistically very close to his 2021 campaign. Still, Kike certainly qualifies as a breakout star of the 2021 season.
OF: Teoscar Hernandez – Toronto Blue Jays
2021 Stats: .296/.346/.524, 32 HR, 61 XBH, 116 RBI, 132 wRC+, 3.9 fWAR
Did you know that despite his league-leading 48 home runs, Vladimir Guerrero Jr. did not even lead his own team in runs batted in?
That's because Teoscar Hernandez had a whopping 116 RBIs, five more than Guerrero. Hernandez has been around since 2016, but has never posted an fWAR over 1.5. This year, he more than doubled that, nearly posting a 4.0 fWAR season. He also cut his K% below 30% for the first time since his rookie year, when he only played 41 games.
The Toronto Blue Jays have a lot of decisions to make this offseason, as they look to build out their roster to compete in a very competitive AL East in 2022. One thing they know for sure though is that their lineup will be packed with plenty of power with Hernandez and Guerrero already in tow.