Analysis
Toronto Blue Jays Offseason Outlook
A young team with star power and assets, the Toronto Blue Jays are poised to be active in this offseason.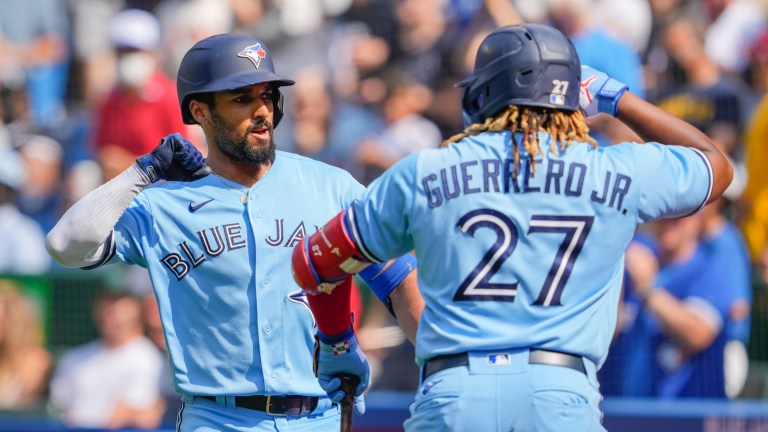 The AL East was a force to be reckoned with in 2021, putting three teams in the postseason while featuring four 91-win teams or better. Unfortunately for the Blue Jays, no matter how good a division is, only three teams can make the postseason. As a result, Toronto became just the third 90+ game winner to miss the playoffs since 2013.
To finish 20 games over .500 with several main pieces under the age of 25 and the team's big free agent splash in George Springer hurt for much of the season, there is plenty of reason for optimism moving forward. There are also questions to be answered this offseason as well for the Jays.
Free Agents & Finances
A key part of the Jays success in 2021 was Marcus Semien and Robbie Ray massively exceeding expectations. Semien launched 45 home runs and finished second on the team in fWAR (6.6), trailing only Vlad Guerrero Jr. Robbie Ray had a career year on the bump, posting a career best 25% K-BB rate and a 2.84 ERA in 193.1 IP.
The two veterans are set to hit free agency and are likely to command plenty of interest along with a nice sum of money. Semien made the move to second base with the Jays, but has said he would like to play his natural position of shortstop.
Semien's desire to play at the spot Bo Bichette is occupying, paired with his likely hefty price tag, may make him difficult for the Jays to retain. That said, it is a bad year for Semien to try to force his way back to a position given the historically deep free agent class at the shortstop position. The impact that Semien had on the young hitters for the Jays made evident by Bo Bichette's glowing comments on the veteran could push the Blue Jays to dig a bit deeper into their pockets.
Robbie Ray won't be easy to retain either, as the Cy Young candidate could command too much money in the open market for the Jays to justify with southpaw Hyun-Jin Ryu still on the books for $20 million and the deadline acquisition of Jose Berrios.
Depending on how some of the arbitration cases finish up, Spotrac has the Jays currently with a little over $100 million committed to the 2022 active payroll, which would presumably provide them with some wiggle room given the teams recent spending history.
Toronto will be relieved to finally shake free of the $12 million retained salary to Tanner Roark and combined $10 million between Troy Tulowitzki, Shun Yamaguchi, and Tyler Chatwood, there should be some spending freedom.
After an injury-plagued season for George Springer, Randall Grichuk was tasked with a larger role in the outfield. If the Jays feel confident in Springer's ability to stay healthy in 2022, they could look to unload the $21 million he is owed over the next two seasons.
If I'm in charge in Toronto, I wouldn't necessarily be deterred from delving out a long-term contract considering the fact that the team has very little money committed after 2023 besides George Springer. The fact that the team's young core of Guerrero Jr., Bichette, Kirk, Guerriel Jr., Hernandez and Manoah are all under control through 2023–most through 2024–should have the Blue Jays a bit more comfortable giving Semien the 5+ years he may command.
Alternative Infield Options
It seems to make sense for the Jays financially and roster wise to retain at least one of Ray and Semien. The team will still have a great offense with or without Semien, but 45 home runs from the second base position is not something you can just replace on a whim.
It was a disaster of a season for Cavan Biggio, who struggled defensively and posted a .678 OPS. Still, the power-hitting, versatile 26-year-old offers plenty of upside and is likely to get another opportunity at the big league level.
The emergence of Santiago Espinal makes things interesting as well. While Espinal may not offer a ton of power, he played fantastic defense at third and swung the bat really well down the stretch. Espinal teed off on left-handed pitching, hitting .348 with a 120 wRC+.
As we saw with the San Francisco Giants last year, platooning multiple positions does not necessarily compromise production if you have the right personnel. Toronto also has bat-first infield prospects Jordan Groshans and Otto Lopez who could break camp with the team this spring too.
Groshans is listed as a shortstop, but profiles more as a third baseman defensively and saw time at the position in Double-A. There's a litany of options to fill in at both third base and second base, but there's no doubt plenty of risk involved if the Blue Jays opt to replace Marcus Semien and his 6.6 fWAR with a combination of rookies. In the event that Semien departs, Otto Lopez and Biggio would likely battle for at bats or platoon at second base while Espinal gets the nod at the hot corner and Groshans waits in Triple-A.
Alternative Pitching Options
The market for Robbie Ray is a difficult one to pinpoint in terms of what he will make exactly. There's no disputing that he will make more than his $8 million 2021 base salary, but after his best season since 2017, will teams feel confident enough to give him a long-term deal?
As it stands now, the Blue Jays will have a rotation that features Hyun Jin Ryu, Jose Berrios, and Alek Manoah. While there are still high hopes for Nate Pearson, the flame thrower's injury history makes it difficult to write him into the rotation with anything but a light pencil.
There will be plenty of starting pitchers available on the market and if the Blue Jays feel as though Ray is not quite worth the price tag/length of contract, they could look for a more budget-friendly deal in the form of Eduardo Rodriguez, Jon Gray, Michael Pineda, or Anthony DeSclafani. All of the aforementioned arms are a sizable drop-off from Robbie Ray, but a massive upgrade over Ross Stripling.
A rotation of Alek Manoah, Hyun Jin Ryu, Jose Berrios, Nate Pearson and Eduardo Rodriguez would not be something to sulk about…especially with that Blue Jays offense.
Bullpen
After back-to-back fantastic seasons, the Blue Birds have their closer in Jordan Romano. The 28-year-old's performance was a huge boost for a team that signed Kirby Yates to close games for them prior to the season, just to lose him to injury before he threw a pitch for them.
The team also went out and traded for submariner Adam Cimber, who was fantastic for them down the stretch and is under control through 2024. Trevor Richards provides middle relief depth in a swingman role and Tim Mayza was effective even though the advanced metrics argue that he was unlucky.
Depending on how the Blue Jays want to proceed with Nate Pearson, a move to the bullpen doesn't sound totally crazy given his injury history, though I'd assume at just 24 years old, the team will want to see what he can do as a starter in 2022. Another intriguing arm with ridiculous stuff and an inability to stay on the field is Julian Merryweather. The 30-year-old only tossed 13 innings last year, but if he is healthy could slot right into the back of that Jays bullpen.
2022 Outlook
After winning 91 games and finishing just one game out of the final playoff spot in baseball's deepest division, it is safe to say that the Blue Jays have their sights set on the playoffs and then some in 2022. Personally, I think that means running it back with Marcus Semien, who was such a key cog to a young Jays team both on the field and in the clubhouse.
Letting Semien walk would likely mean that the entire Blue Jays infield would be 26 years old or younger. That is not to say that an infield that young can't win, but a veteran couldn't hurt. At the catching spot, the Jays have as much wealth as any team in baseball. Alejandro Kirk had a great rookie season and will only continue to improve, Danny Jansen was fantastic down the stretch, and they also have the No. 9 rated prospect in baseball who is a catcher as well in Gabriel Moreno.
I've heard that teams have been relentless trying to pry Moreno from the Blue Jays, but the front office has shown no willingness to part with him. There is a possibility that the team could look to move Jansen after his strong finish in a package for a reliever or more prospects.
The Blue Jays have young controllable talent that should continue to improve, some spending money, prospects that are close to big league ready, and tradable depth that puts them in as good of a position as any team in baseball heading into this offseason. Look for Toronto to continue to be active as the squad is just a couple pieces away from being a World Series contender.