Rankings
2021 All MLB Position Player Team
Just Baseball's 2021 All MLB Team for positional players.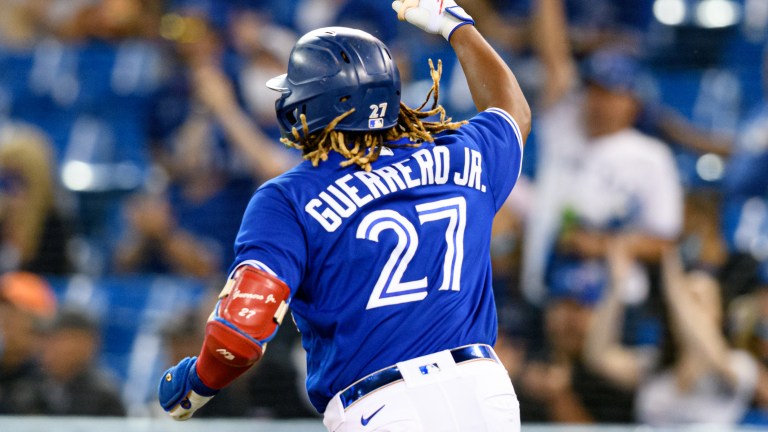 Click Here to Listen to the Full Just Baseball Show Episode
1B: Vladimir Guerrero Jr. – Toronto Blue Jays
2021 Stats: .311/.401/.601, 48 HR, 78 XBH, 111 RBI, 166 wRC+, 6.7 fWAR
In almost any other year, Vladdy would have won the AL MVP, but that Ohtani guy was just busy breaking glass ceilings. The 22-year-old slugger led MLB in homers (48), bases (363), runs scored (123), and was second to Bryce Harper in wRC+ (166), and OPS (1.002).
Guerrero Jr. came up a bit short of the Triple Crown in the RBI and batting average department, but there's a good chance we will be on crown watch for the 22-year-old plenty as his career progresses.
Honorable Mentions:
Matt Olson: .271/.371/.540, 39 HR 111 RBI, 146 wRC+, 5.0 fWAR
Olson cut the K's to a career low 17% while producing career highs in virtually every offensive category.

Paul Goldschmidt: .294/.365/.514, 31 HR, 99 RBI, 138 wRC+, 4.9 fWAR
Goldy is back do doing Goldy things. The 33-year-old posted his sixth 30 home run season and 8th season with a wRC+ over 130. Oh, and he won a Gold Glove.
Joey Votto: .266/.375/.563, 36 HR, 99 RBI, 140 wRC+, 3.7 fWAR
The 37-year-old Votto enjoyed a major power resurgence in 2021, hitting 30 homers for the first time since 2017. The Reds managed Votto's workload a bit, limiting him to 127 games, but he was as good as any slugger in the game for stretches of the season.
2B: Marcus Semien – Toronto Blue Jays
2021 Stats: .265/.334/.538, 45 HR, 102 RBI, 77 XBH, 131 wRC+, 6.6 fWAR
Semien set a career high with 45 HRs (4th in baseball), drove in more than 100 RBI for the first time in his career, won a Gold Glove and Silver Slugger at second base and is a finalist for the AL MVP AKA the Shohei Ohtani Award.
Sounds like a pretty good year to me. Whether Semien moves back to shortstop with a new team or remains at second base for the Blue Jays remains to be seen, but there's no doubting the fact that he is in for a big payday.
Honorable Mentions
Ozzie Albies: .259/.310/.488, 30 HR, 77 XBH, 106 RBI, 20 SB, 107 wRC+, 4.2 fWAR
A 20/20 season, Silver Slugger, and most importantly a World Series title, it was a special year for the Braves second baseman.
Brandon Lowe: .247/.340/.523, 39 HR, 70 XBH, 99 RBI, 137 wRC+, 5.2 fWAR
Lowe had a breakout season for the Rays, launching a career high 39 homers. His 5.2 fWAR was good for the second best of all second basemen and tied for 15th among position players.
Jose Altuve: .278/.350/.489, 31 HR, 63 XBH, 83 RBI, 130 wRC+, 5.2 fWAR
Altuve bounced back in a big way in 2021, tying his career high with 31 homers. His 83 RBI was the 2nd highest total of his career and he sported the highest walk rate of his career as well. Tied Lowe for 2nd highest fWAR at the position.
SS: Fernando Tatis Jr – San Diego Padres
2021 Stats: .282/.364/.611, 42 HR, 80 XBH, 97 RBI, 25 SB, 156 wRC+, 6.1 fWAR
I mean, what this kid does on the baseball field is nothing shy of special. Tatis only played 130 games and launched 42 homers–a 52 home run pace if he played the whole season. Despite defensive struggles and missed time, Tatis finished 7th in baseball in fWAR.
While he may come up a bit short for the NL MVP, the fact that he is in the conversation with Harper and Soto despite his missed time and team struggles speaks to how special Tatis was this year. He ranked in the top five or better in virtually every offensive category.
Honorable Mentions
Carlos Correa: .279/.366/.485, 26 HR, 61 XBH, 92 RBI, 134 wRC+, 5.8 fWAR
Far and away most valuable defender in baseball, Correa deservedly took home the AL Platinum Glove. His offensive stats were not too shabby either, posting a career high with 26 homers, career low 18% K-rate, while getting on base at the second highest clip of his career.
Trea Turner: .328/.375/.536, 28 HR, 55 XBH, 32 SB, 142 wRC+, 6.9 fWAR
Turner took home the NL batting title, clearing AL champion Yuli Gurriel by nine points as well. Turner's 195 hits led baseball as did his 6.9 fWAR
Brandon Crawford: .298/.373/.522. 24 HR, 57 XBH, 90 RBI, 139 wRC+, 5.5 fWAR
The Giants shortstop had his best offensive season of his career by a country mile. Crawford set career highs in: AVG, OBP, SLG, HR, RBI, SB, R, wRC+, all while winning his fourth Gold Glove.
3B: Austin Riley – Atlanta Braves
2021 Stats: .303/.367/.531, 33 HR, 64 XBH, 107 RBI, 135 wRC+, 4.2 fWAR
After back to back disappointing campaigns to open his career, Riley really put it together for the Braves in 2021. Likely to finish top five in NL MVP voting, Riley surprised many with his consistency. Few saw a .300 hitter in Riley even in the 90th percentile outcomes, yet here he is hitting .303 and finishing among the league leaders in hits. Riley is another huge building block for this defending champion Braves and is just 25 years old.
Honorable Mentions
Rafael Devers: .279/.352/.538, 38 HR, 76 XBH, 113 RBI, 134 wRC+, 4.7 fWAR
This dude just hits. It is easy to forget that Devers is still just 24 years old because he has been raking since 2017, but the Red Sox third baseman set career highs in HR, wRC+, BB% and ISO. All while recording the second lowest K-rate of his career.
Jose Ramirez: .266/.355/.528, 36 HR, 73 XBH, 27 SB, 103 RBI, 137 wRC+, 6.3 fWAR
Ramirez can do it all. He hits for power, doesn't strike out, steals bases, drives in runs, and plays good defense. Given his contract, age, and performance, Ramirez could very well be one of the most valuable players in baseball.
C: Buster Posey – San Francisco Giants
2021 Stats: .304/.390/.499, 18 HR, 41 XBH, 140 wRC+, 4.9 fWAR
Yes, we have a platoon at the catcher position, because this was just too darn hard. While Posey did not quite have the volume of some of the other catchers (113 games), he was one of the best players on the field at arguably the most important position every time he geared up.
A 4.9 fWAR when only playing in 113 games is a testament to how dominant Posey was in his final season as well as how valuable he was defensively behind the dish. Posey ended his career on a high note, recording the second highest wRC+ of his career and second highest OPS.
Please come back, Buster. We miss you already.
C: Salvador Perez – Kansas City Royals
2021 Stats: .273/.316/.544, 48 HR, 72 XBH, 121 RBI, 127 wRC+, 3.4 fWAR
If Perez didn't struggle so much with framing and other important catching metrics, he'd probably be the runaway. I mean, the man launched 48 homers–that's the most in baseball history for a catcher in a single season.
Salvy just barrels everything and is one of the game's most feared hitters, however he almost never walks (4.2 BB%). If Perez took a few more free passes his wRC+ would be among the league leaders thanks to his absurd offensive production. Still, an unbelievable showcase of power from Perez in 2021.
Honorable Mentions
Yasmani Grandal: .240/.420/.520, 23 HR, 32 XBH, 159 wRC+, 3.7 fWAR
Grandal led MLB with a 23% walk rate, but missed too much time to keep up with Perez and Posey. The 32-year-old's strong defense paired with a high OPS makes him extremely valuable.
Will Smith: .258/.365/.495, 25 HR, 46 XBH, 76 RBI, 130 wRC+, 4.6 fWAR
Smith is one of the most well rounded hitters at the catching position. He hits for power, limits the swing and miss, and gets on base at a solid clip. Smith's defense has improved dramatically, especially in the receiving department. Still, Smith was the most run-on catcher in baseball.
DH: Shohei Ohtani – Los Angeles Angels
2021 Stats: .257/.372/.592, 46 HR, 80 XBH, 100 RBI, 26 SB, 152 wRC+, 5.1 fWAR
All MLB Team at the DH position? That is light work for Ohtani, he is about to win the MVP. He is the only player in major league history to record 45 home runs, 25 stolen bases, and five triples in a season–oh, and he pitches too.
Yordan Alvarez: .277/.346/.531, 33 HR, 69 XBH, 104 RBI, 138 wRC+, 3.7 fWAR
Alvarez makes hitting look easy. For such a big guy, he produces a high rate of contact and demonstrates behemoth power to all fields. We are watching the beginning of what will be a prolific career.
OF: Bryce Harper – Philadelphia Phillies
2021 Stats: .309/.429/.615, 35 HR, 78 XBH, 84 RBI, 170 wRC+, 6.6 fWAR
An NL MVP finalist, Harper led MLB in OPS and wRC+. Couple that with 35 bombs, and the third highest WAR of all position players and you have an All-MLB campaign from the Phillies star.
OF Juan Soto – Washington Nationals
2021 Stats: .313/.465/.534, 29 HR, 51 XBH, 95 RBI, 163 wRC+, 6.6 fWAR
What an absurd stat line from Soto. The 22-year-old took off in the second half, getting on base at a .525 mark. In a game filled with so much swing and miss, Soto is a unicorn; the fourth year outfielder walked 135 times against just 95 strikeouts.
Soto and Harper could win Co-MVP and we wouldn't bat an eye–they were both just so special in 2021.
OF Aaron Judge – New York Yankees
2021 Stats: .287/.373/.544, 39 HR, 53 XBH, 98 RBI, 148 wRC+, 5.5 fWAR
See what happens when Aaron Judge is healthy? He absolutely mashes AND can play great defense in right field. Judge cut his K-rate to a career low 25% and finished third among all outfielders in wRC+ and fWAR.
Honorable Mentions
Cedric Mullins: .291/.360/.518, 30 HR, 67 XBH, 30 SB, 136 wRC+, 5.3 fWAR
2021's breakout player, Mullins posted a rare 30/30 season while playing great defense. Mullins has come out of nowhere to become one of baseball's most exciting young outfielders.
Nick Castellanos: .309/.362/.576, 34 HR, 73 XBH, 140 wRC+, 4.2 fWAR
Castellanos absolutely raked in 2021. A big reason why people felt like Castellanos was hitting homers at meme worthy moments was because he was just hitting homers all of the time. The new free agent finished 7th in wRC+ at the position while tallying 34 bombs and hitting over .300. Yes, the home/road splits are eye popping, but you cant deny this kind of production.
Tyler O'Neill: .286/.352/.560, 34 HR, 62 XBH, 80 RBI, 15 SB, 144 wRC+ 5.4 fWAR
Another toolsy player who put it together at the plate in 2021, Tyler O'Neil was a main component of the Cardinals' success in the second half. The super athletic outfielder brings plus defense to the table as well.
Bryan Reynolds: .302/.390/.522, 24 HR, 67 XBH, 90 RBI, 142 wRC+, 5.5 fWAR
Reynolds may be one of the most underrated players in baseball because of the fact that he plays in Pittsburgh, but he is not underrated by rival teams. Pittsburgh's dynamic outfielder has been one of the most asked about names of the offseason, but the Pirates are not inclined to deal their star, which is fair given the fact that he posted the same fWAR as Aaron Judge.
Kyle Tucker: .294/.359.557, 30 HR, 70 XBH, 92 RBI, 147 wrc+, 4.9 fWAR
Tucker is an elite combination of power and high contact. A slugging percentage over .550 and a K-rate under 17% puts him in a box with only Vladimir Guerrero Jr. and Juan Soto. Pretty good company. Tucker is still just 24 years old and with Correa potentially on his way out, the right fielder may be the star in Houston for years to come.