Analysis
Baltimore Orioles Offseason Outlook
While the Orioles don't look ready to contend in the AL East any time soon, Baltimore finally has some franchise cornerstones to build around.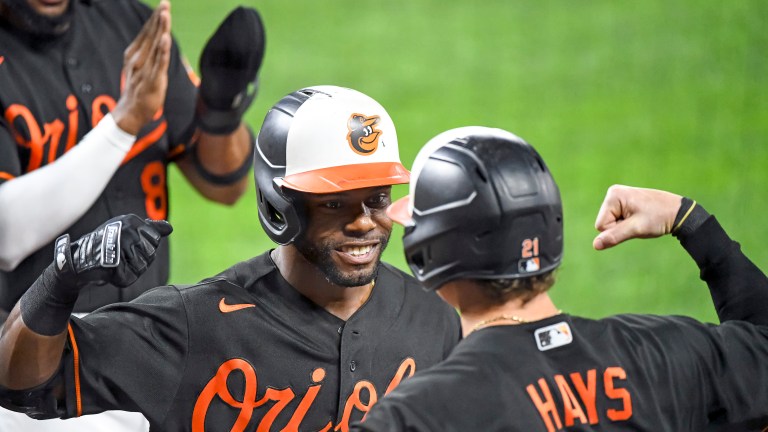 The Baltimore Orioles are well into a rebuild and the on-field product has not been pretty. Each of the past three full seasons have ended with 100 or more loses. The American League East is stacked with the Toronto Blue Jays, Boston Red Sox, New York Yankees, and the Tampa Rays.
Baltimore hasn't established a core that would allow them to add enough via trade or free agency to realistically compete in 2022. The goal of next season is to find that core, continue to develop and evaluate what you have, and begin to turn the corner and set the foundation to build on for the future. The question becomes, which players will be apart of the next playoff-caliber Orioles team?
Infield Outlook
The Orioles filtered through more than 15 infielders in 2021 trying to figure out who would stick and who wouldn't. Ryan Mountcastle (first baseman) and Ramon Urias (middle infielder) were two rookies who shined and earned a role going forward.
Mountcastle hit .255/.309/.487 with 33 home runs and looks like the first baseman of the future. He needs to work on his strikeouts and chase rate, but his ability to hit the ball to all fields, with power, shows just how bright his future is.
Urias, 27, is an older rookie who put up a 115 wRC+ in 125 games slashing .279/.361/.412. Time will tell if he's in the long-term fixture at either second or short, but at the very least you have a useful backup under control for several years.
Kelvin Gutierrez, Richie Martin, and Jorge Mateo were all disappointing and their 40-man roster spots are in jeopardy. Mateo has always had speed but has struggled to get on base. Gutierrez put together a nice September, but at the end of the day he's a replacement to below replacement-level player. Martin was flat out bad and hasn't shown he is an MLB-caliber player. I wouldn't be surprised to see all of them gone or in AAA in 2022.
Jahmai Jones is no longer qualified as a prospect, but at 24 years old and less than 100 MLB at-bats, he is still young enough to have more to prove. The O's could elect to start him at second and let him be this years "let's see what we have" candidate while the team is not in their contending window.
Potential Moves:
Trey Mancini has been one of the few bright spots for Baltimore during the rebuild. While battling cancer, Mancini has still put up respectable numbers. At 30 years old, it's unlikely he'll be part of the next playoff team in Baltimore. The roughly $8 million price tag is doable for most contending teams who need a first baseman/DH who can fill in a corner outfield spot if needed. It is time to trade Mancini and look for pitching in return, assuming he is tendered a contract.
The O's added Freddy Galvis and Maikel Franco in 2021 to round out the infield and I could see them going a similar route this season. Top Prospects Gunnar Henderson (#5 on Just Baseball's list), Jordan Westburg (#6), Connor Norby (#8), and Coby Mayo (#10) might be the future but are not yet ready for the big leagues. Adding a veteran on a one-year deal to play third would help bridge the gap to younger talent.
Outfield Outlook
How great was Cederic Mullins in 2021?
Mullins' 5.7 WAR last season brought his career WAR to 5.4, meaning he was a negative player until this season. Mullins put up a 30/30 season leading to his first All-Star game, proving he can be Baltimore's leadoff hitter and centerfielder going forward.
Austin Hays showed some power hitting 22 homeruns, but his inability to get on base leads me to think the team is not 100% sold on him long-term. Baltimore should give him everyday at bats in a corner and see if he can improve on his inconsistent play.
Ryan McKenna, Tyler Nevin, DJ Stewart, and Anthony Santander are still options for the final corner spot. Santander wasn't able to duplicate his 2020 season and it's possible he won't be tendered a contract. McKenna projects to be a fourth outfielder next year and provides speed off the bench. Nevin is on the 40-man roster with intriguing power, but needs to round out his game. Finding him at-bats in a corner spot or DH role in 2022 seems like the plan.
Potential Moves:
The first outfield move should be creating room on the 40-man roster. Non-tendering Santander and moving on from Stewart would be a start. Yusinel Diaz is on the 40-man but had a miserable 2021 and likely won't be ready for the majors in 2022. The next move would be signing a veteran to fill a corner spot or bench role. That signing can serve as a placeholder until Kyle Sowers is ready. There's no shortage of league average corner outfielders to provide competition to McKenna and Nevin.
Catcher Outlook
As of mid-November, Baltimore does not have a catcher on the 40-man roster. Pedro Severino is gone, and the organization will be looking for a new starter and back up. Austin Wynns could remain in the organization, but the Orioles will be active in free agency or the trade market.
Potential Moves:
Call up the kid. Adley Rutschman, Just Baseball's #2 overall prospect, is ready to start on Opening Day. The switch-hitting catcher has nothing left to prove in the minors and getting up with the big league club working with the pitchers is important for the future. Let him learn and iron out the kinks now and give Rutschman some experience before the team starts adding once their contention window really opens.
The next move would be to invest in a veteran catcher. Bring in a seasoned back stop to help Rutschman along and teach him a few things. I wouldn't be surprised if Baltimore spends a few million for this role. Protection and leadership for Rutschman is worth it.
Starting Rotation Outlook
In 2021, the Orioles saw 15 different pitchers start a game with Matt Harvey leading the team in starts. You never want to be in a situation where Harvey leads your team in starts at this point in his career.
For a rebuilding team, I like their strategy. Hand out starts to anyone who might have a chance to factor into the future and see how it plays out. John Means is the only starter going into 2022 that has proven he's a legit major league starter. The strategy next season should be the same, continue evaluation.
Dean Kremer, Bruce Zimmerman, and Mike Bauman are a few pitchers who Baltimore will likely give opportunities too. However, that's not enough to even eat up innings.
Potential Moves:
Add Grayson Rodriguez to the rotation. The Orioles #2 prospect is 22 years-old, 6'5", and has an upper 90's fastball. Rodriguez has progressed well through the minors, posting a sub-3 ERA at every stop. He's ready to pitch in the majors and adjust to big league talent while this rebuild is (hopefully) starting year one of improvement.
Add a relatively cheap veteran. The 2022 version of Matt Harvey!
Who isn't excited about that? All jokes aside, the Orioles need a veteran who can eat up some innings and provide some stability to this rotation. Of course, this player could always be traded at the deadline if younger pitchers impress. A name that came to mind would be Michael Pineda.
Bullpen Outlook
Remember when everyone in baseball was interested in trading for Tanner Scott and Paul Fry?
Both had down years and were not able to provide Baltimore with the solid later innings security they had hoped for. However, that role was assumed by Cole Sulser, who really impressed and will be back in 2022. Tyler Wells, Dillion Tate, and starter turned reliver Jorge Lopez showed enough to have a role next season.
The next step is deciding if any "failed starters" have earned a spot in the bullpen. Of course, you need many pitchers to get through a season and the bullpen, like many other positions, will be another evaluation and development season in 2022.
Potential Moves
The trick with rebuilding teams who are still very much rebuilding is their 40-man roster. It makes sense to add prospects who could get selecting in the Rule 5 Draft, but you also need spots for a few veterans to round out the club. The Orioles might wait and add a veteran arm late in the offseason or bring several into spring training and delay the corresponding roster move until roster cuts in spring training.
While I don't think the Orioles will be raising any banners in 2022, I do think they can take a step in the right direction. Think of it as year one of the improvement plan, with Rutschman and Rodriguez likely coming up and joining Cedric Mullins to build a young core fans can finally be excited about.