Analysis
Pittsburgh Pirates Offseason Outlook
The Pittsburgh Pirates are still in the thick of their rebuild, but some young top prospects could be on their way to promise a brighter future.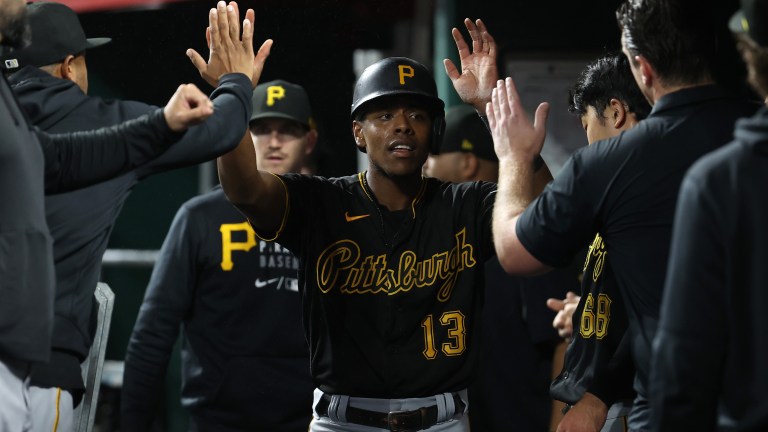 For the first time since 2010, the Pittsburgh Pirates lost over 100 games this past season, marking a new-low to a rebuild that has spanned six seasons. The Pirates last winning season came in 2018, when they won 82 games but still came in fourth place in the NL Central. They have not made the playoffs since 2016 and should be looking to turn the corner in this rebuild sooner rather than later.
For Pittsburgh, the emphasis remains on developing their young talent as they hope to unearth the next franchise cornerstones that they can build around. In the meantime, Ben Cherington and his staff need to continue to make the most out of the resources they have to build out their talent pool and try to get closer to a window of contention.
Here is an outlook of where things stand for the Pittsburgh Pirates as they look to begin moving in the right direction in 2022.
Constructing the 40-Man Roster
At this point in Pittsburgh's rebuild it is more important than ever to have a young, prospect filled 40-man roster, while avoiding losses to the Rule-5 draft. This winter, the Pirates are expected to add SS Liover Peguero (JB #82 prospect), OF Travis Swaggerty, OF Canaan Smith-Njigba, along with righties Tahnaj Thomas and Cody Bolton.
Since his hiring two years ago, Ben Cherington has made multiple pitching-oriented waiver claims, including recently acquired Eric Hanhold. While Hanhold's numbers seem underwhelming, the Pirates' pro scouting and analytics departments see upside. The same story has been true for Duane Underwood Jr., Dillon Peters, and Sam Howard; who were all acquired by means of trade. If another similar pitcher pops up on waivers, expect the Pirates to take a chance.
Due to all the anticipated movement on the 40-man roster, many players will have to be outrighted or designated for assignment. This includes late season depth adds such as RHP Tanner Anderson and C Taylor Davis. With the recent claim of OF Greg Allen and eventual addition of some prospects, struggling outfielder Jared Oliva will likely be removed from the roster.
Address the Pitching Staff
Toward the end of last season, the Pirates ran out of pitching depth, which led to many bullpen games without a designated starting pitcher. Going into 2022, the Bucs will await the healthy return of lefties Steven Brault and Dillon Peters, along with righty Bryse Wilson to their rotation.
The bullpen, however, was solid for the most part in 2021. The backend of the arm-barn consisted of David Bednar, Chris Stratton, and a better-when-healthy Sam Howard. For Bednar, 2021 was a breakout season, posting a 2.23 ERA and 2.69 FIP in 60.2 innings. The middle and long relief roles will most likely be filled by waiver claims and returns from last season, such as Nick Mears and Chad Kuhl.
With their overall lack of depth, the Pirates should definitely be looking to add an arm or two in free agency to address their rotation. Pittsburgh has done well acquiring veteran starters in the past, who can eat innings for them early in the season before potentially becoming trade chips at the deadline.
My Predictions
RHP Dylan Bundy: 2 years, $14 million.
RHP Jordan Lyles: 1 year, $6 million.
LHP Jose Quintana: 1 year, $5 million.
LHP Martin Perez: 1 year, $4 million.
Fill the Outfield Holes
After an outstanding season for All-Star Bryan Reynolds, the Pirates look to have their center fielder of the future. Unless of course they decide to continue their rebuild to trade him to the highest bidder.
Assuming Reynolds sticks around, the Pirates need to address the corner outfield spots around him if they want to improve. Since being claimed in May, Ben Gamel put together a solid season with a .247/.347/.388 slash, along with a 12.8 BB%. Gamel seems like the most likely answer in left field, despite a horrible defensive season. With the ability to cover some ground, the 29-year-old could easily get around a big PNC Park outfield.
Right field seems to be the biggest hole in the Pirates' projected 2022 lineup. Luckily, this year's outfield free agent class is pretty deep, and many players make sense for the Bucs. Top prospect Oneil Cruz (JB #38 prospect) could eventually be moved out to the outfield, with right field being a possible landing spot for the talented 6-foot-7 slugger.
For 2022, however, Pittsburgh may opt to play him at his natural position of shortstop to see if he can stick at the position at the big league level. This could lead to them acquiring the services of a veteran free agent to fill their vacant spot in the outfield. They also claimed OF Greg Allen from the Yankees, who could fit into the mix.
At first glance, veterans Kole Calhoun, Steven Souza Jr., and Mike Tauchman appear to be possible options. While Tauchman and Souza Jr. will most likely end up on the bench, Calhoun is a legitimate candidate to start in right field. The power-hitting Calhoun recorded just 410 plate appearances since the start of 2020, producing 21 homers, a relatively low 22.2 K%, and 104 wRC+. With a small right field at PNC Park, the 34-year-old's lefty power stroke could produce 30+ home-runs, as he did in 2019 with 33 bombs.
My Predictions
OF Kole Calhoun: 1 year, $7.5 million.
OF/1B Yoshitomo Tsutsugo (Resign): 1 year, $4 million.
OF Mike Tauchman: 1 year, $1.5 million.
Explore Trade Possibilities
Since Ben Cherington took over in 2019, he has built a top farm system through trades of former Pirates stars. While some of his deals seem better than others, Cherington has acquired a lot of pieces for a future competitive team. Outgoing players during his era include Starling Marte, Joe Musgrove, Jameson Taillon, and Adam Frazier. The returns included SS Liover Peguero (JB #82 prospect) and RHP Roansy Contreras (JB #69 prospect), who will make an impact at the big league level sooner rather than later.
Still in the middle of their rebuild, the Pirates could always be looking to move on from some of their valuable veteran players in search for more talent to infuse their farm system.
If Pittsburgh wanted to clear room for Oneil Cruz to play shortstop, they could move Kevin Newman to a team that is looking to add defense over at shortstop as the 28-year-old was a Gold Glove finalist. Similarly Jacob Stallings could have some trade value, as he actually won the Gold Glove for his work behind the dish.
On the hitting side, first baseman Colin Moran could be moved, as he has two years left of team control and is just a few seasons removed from hitting 43 extra-base hits in 2019. The 29-year-old had another injury-filled season though in 2021, producing a 98 wRC+ in just 99 games.
If the National League adds a DH in 2022, Moran would be a decent option for the Pirates. Right now, Moran's future is in the hands of Mason Martin's development, along with the status of free agent Yoshitomo Tsutsugo. Tsutsugo broke out during his limited time with the Pirates, who are actively trying to resign him.
Overall there just isn't a lot of valuable pieces the Pirates could trade at this point, outside of moving Reynolds, who they could instead just build around.
On the pitching side, the only real consideration is LHP Steven Brault. Brault had a strong season in 2020, pitching to a 3.38 ERA, but only made seven starts this year due to injuries. While the Pirates could certainly put him on the block now, they are probably better off banking on him to produce next season and deal him at the deadline. Fellow left-hander Tyler Anderson proved to be a much more attractive trade asset for the Pirates at the deadline last season, after he produced strong numbers in the first half.
When it comes to relievers, David Bednar would certainly generate interest on the market, but the Pirates will most likely keep him around, assuming he is the closer-of-the-future.
Breakout Candidates
INF Michael Chavis – Chavis was drafted by Ben Cherington when he was with the Red Sox back in 2014. While his bat has tremendous upside, the 26-year-old has yet to put it all together. When Chavis connects with the ball, he hits it hard and far, but a high strikeout rate has plagued the former first round pick. With that being said, Chavis had a strong second half with the Pirates, producing a .357/.357/.500 slash in just 42 at-bats. At Triple-A Indianapolis, the power-hitting-infielder impressed, holding a 151 wRC+ in 100 plate appearances. Chavis is also a good defender, so if the Pirates can improve his strikeout and walk rates, they may have something.
RHP Roansy Contreras – The Pirates dealt right-hander Jameson Taillon to the Yankees for four prospects last January. You can argue that the most well-known prospect at the time was Miguel Yajure, but Contreras seems to have flipped the script. The 22-year-old righty has three, maybe four, above-average pitches, with a fastball that can reach the upper 90s.
While Contreras isn't a stranger to previous success, he dominated Double-A last season, earning him a big league start at the end of September. In 12 Double-A starts, the Dominican Republic native owned a 2.65 ERA, 2.74 FIP, and a tremendous 34.9% strikeout rate in 54.1 innings. In 2022, look for Contreras to log some more MLB starts, propelling his way to the top of the Pirates' rotation.
2022 Outlook
Rebuilds can be tough on fan bases, with the Pirates' teardown being no exception. While we move into 2022, the team can only get better as their young talent from the farm system continues to rise to the surface. Next year will be filled with prospect debuts and key contributions from the young core.
Bryan Reynolds looks to build off of a career-year where he slashed .302/.390/.522 with 24 homers, all while playing Gold Glove-caliber defense. Reynolds, 26, was the most reliable option last season; proving that his horrendous 2020 season was just a fluke. The switch-hitting outfielder has generated interest from contending teams, but the Pirates' asking price is said to be too high for a deal to get worked out. With this being said, an extension this offseason may be in the works.
If there is one person who can break Nolan Arenado's Gold Glove Award streak, it is Ke'Bryan Hayes. The rookie third baseman played stellar defense, with 16 defensive runs saved, but wasn't a finalists for the award due to innings played. While his bat lagged last season, there is tremendous upside, making him one of the Pirates' key pieces for the future. In 2022, look for Hayes to put up a big season, hunting for that Gold Glove.
The 2022 season is just another stepping stone in what will be a competitive franchise come 2023 or 2024. The front office will focus on development of prospects for the time being, but a good Pittsburgh Pirates team is coming soon.