Analysis
Fantasy Baseball: The Biggest Busts of the 2021 Season (So Far)
With more than 100 games 2021 season complete, which players have ruined fantasy baseball manager's dreams of eternal glory the most?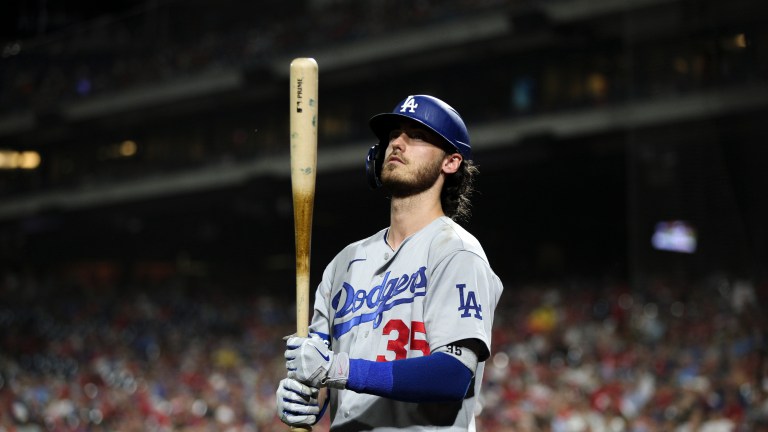 Ladies and gentlemen, it's time to be mean. I don't typically like to be mean since I'm a kindred spirit by nature. I don't know, the whole thing can be a bit confusing and unpredictable…[stares at the camera]…just like fantasy baseball! No matter how often you research, or how many pre-season draft rooms you enter filled with unbridled optimism, there's always going to be a slew of major letdowns that make you want to throw yourself into a volcano. Consider this article a bit of a group therapy session — a safe space, even — where we'll discuss the most heartbreaking players among both batters in fantasy baseball this season.
One major note to this: We're not going to be discussing players who haven't been valuable simply due to health reasons — which we'll call the Mike Trout Rule — as injuries can happen to anyone (although I must say if you're upset Byron Buxton has let you down in that department, that is 100% your fault), nor will we be mentioning players for more troubling off-field related issues. The latter is especially important, as minimizing the transgressions of some players as simply being inconvenient for the trivial purposes of fantasy baseball is insulting and I will play no part in it! Now, let's get down to business and be mean to some athletes that probably don't deserve it!
Batters
Cody Bellinger – Los Angeles Dodgers
Wait, why are you looking at me like that? Are you accusing me — the definitely–not-a-Padres fan, king of objectivity, master empirical facts — of mentioning Bellinger first as being part of some sort of bias? I'm outraged you'd think such a thing, but that's nothing compared to the level of outrage fantasy owners have had when it comes to the Dodgers outfielder. The former MVP is currently slashing .183/.274/.356 with a measly 9 HRs and 29 RBIs. Even if he's only played in less than 60 games, those kinds of numbers are, frankly, embarrassing; it brings into question whether or not major league teams have caught on to him.
As Just Baseball founder Aram Leighton so brilliantly described to me once: Cody Bellinger has looked a lot like Eric Hosmer's evil twin, with the latter seemingly hellbent on mashing balls into the ground while the former tries to launch nearly every ball into the air with his uppercut swing that would make Ryu from Street Fighter jealous. It's possible much of Bellinger's struggles have been due to a torrid of injuries, including one he suffered while celebrating a post-season win in 2020, but the numbers don't lie.
Considering Bellinger probably cost you a top-20 pick, you could argue he's the single-greatest bust of the season. It's not just Bellinger's pre-draft status that's frustrating, but also how little of a bounce-back he's had. There are plenty of players that struggled mightily, including all-stars, in a truncated 2020 season that have returned to their elite status (e.g. Jose Altuve) and it's a shame to see fantasy managers that be punished for, justifiably, expecting at least some return to elite status for a slightly discounted price.
Christian Yelich – Milwaukee Brewers
Yelich's season has been disappointing for a lot of the same reasons. Unless your league counts OBP, his slash line isn't doing anything for you (.232/.373/.350) and anyone that was hoping 2020 was just a simple fluke has paid dearly for daring to believe. Before the season, if I had told you the Brewers would be a top-5 team in baseball, you would've expected Yelich to be a major reason for that. Instead, it's been a flawless three-headed monster in their starting rotation and a mid-season trade for Willy Adames (!) that has cemented them as a true gang of dominance.
Similar to Bellinger, health might be playing a significant factor in Yelich's decline. Plus, if you consider the walk rate, there may still be hope that he can help you in the waning months of the season for playoff purposes. But regardless, there's a real chance Yelich's combination of speed and power upside was supposed to be the anchor of your fantasy baseball team, and you have my condolences.
Francisco Lindor – New York Mets
This one hurts. Again, similar to both Bellinger and Yelich, fantasy managers who drafted Lindor had rightfully thought that his down year 2020 was nothing but a fluke. In Lindor's favor, 2020 had even seen the best line drive rate (33.3%) and hard-hit rate (41.1%) of his career. Instead, Lindor hardly delivered on his lofty price tag in both fantasy baseball (a top-15 pick, at minimum, in most drafts) and in real life. It's true that Lindor started to show some signs of life as the season progressed (June 16-July 16: .248/.351/.442 with 6 HRs as well as steady walk and strikeout rates), the numbers weren't sensational enough to justify his horrid start.
The Mets as a whole have been disappointing this season, but Lindor's potential for being a true star in New York, and the realm of fantasy baseball, make it all the more tragic. Unless he returns from injury and looks like the top-3 shortstop he's been in year's past, it's not going to just be the wrath of fantasy managers that come Lindor's way; I can feel Mike Francesa looking into his mirror, giving himself a pre-game pep talk, and concocting a nuclear-level outburst on his radio show this offseason already.
DJ LeMahieu – New York Yankees
Another New York star (and brace yourself, New York fans, there's more coming) LeMahieu has gone from one of the great offseason fleeces to whatever the antithesis of the word fleece is; I don't feel like googling it. After being a legitimate MVP candidate in 2019 and 2020, LeMahieu has been a disappointment for the Bronx bombers. Considering that a good portion of LeMahieu's value stems from his herculean batting average and on-base skills (2019: .327/.375; 2020: .364/.421), his .272/.352/.372 line through nearly 3/4 of the season is a major blow. He's not scoring enough runs and, while power has never been his greatest strength, just 7 HRs in 107 games is bothersome.
Unlike some of the previously mentioned guys, you can't even chalk up LeMahieu's poor season to health. Part of me, since I'm secretly a jerk, takes pleasure in seeing Yankee fans miserable after throwing fits all offseason over the Yankees potentially not extending him, but alas. Aside from his positional versatility, he's been about as valuable as your typical fantasy baseball waiver-wire pickup; it's been THAT bad.
Eddie Rosario – Cleveland Indians
As much as I love to insufferably type onto my computer about fantasy baseball — or any topic, really, as I simply don't know how to shut up — as well as my penchant for hyping up Puerto Rican players, I truly don't have much to say here. No major analysis here, and I don't care what my editors have to say about it. Eddie Rosario was drafted simply in the hopes of giving you some cheap power. How many home runs does he have this season? SEVEN!
Gleyber Torres – New York Yankees
In the Golden Age of shortstops, Gleyber Torres can't even manage to be good enough for the Bronze Age. That was an incredibly stupid opening sentence, but the sentiment remains the same: Torres has been an unmitigated disaster. Regardless of how you feel about him as a real-life player (defensive stats aren't great!), Torres had plenty of upside heading into the season given that he's still just 24-years-old and already has a 38-homer season under his belt. Even in a down 2020 season, there were some encouraging signs with his better contact rates.
As much as I enjoyed Gary Thorne's freakouts, it's looking a lot like Torres' 2019 was an outlier given how much he managed to rake against the Orioles — a team that was, definitively, absolutely, no-doubt-in-mind, bad! With just 6 HRs in 2021, what once seemed like a limitless ceiling has become a whole lot murkier.
Michael Conforto – New York Mets
Will the New York pain for fantasy baseball ever stop? It's a shame to admit that the highlight of Michael Conforto's season was intentionally allowing himself to be hit by a pitch, because it was a pretty weak move. But few would've expected that moment of cowardice to wind up inciting the baseball gods to smite him misfortune for seemingly the entire 2021 season. After hitting 27 or more home runs in each of his last 3 full seasons, and looking other-worldly in 2020 (.322/.412/.515 with 9 HRs), Conforto has struggled to hit above the Mendoza line. Sure, there are some signs that Conforto has been a bit unlucky:
.305 wOBA and a .358 xWOBA
Current walk (13.6) and strikeout (22.3) are in line with career norms
.243 BABIP
But even if you're being generous in attributing Conforto's to bad luck, the fantasy value speaks for itself. He's not hitting the ball hard enough, gives you nothing in terms of speed, and has shown a troubling inability to hit curveballs.
Eugenio Suárez – Cincinatti Reds
What — and I can't emphasize this enough — on EARTH happened to Eugenio Suárez? Despite having 22 HRs on the season, he's hitting a horrid .173 and is in the Javier Baez-tier of strikeout rates (30.7). His season reminds me a lot of Chris Davis, given that he's basically been home run or bust for the whole season. But unlike some of those Chris Davis years, the home run power just isn't worth how much he's killing you in every other area.
If Suárez were a catcher, you might be able to stomach the abysmal stats…but he's not! Given the aforementioned golden age of shortstops we're in, he's gone from being one of the most overlooked assets in fantasy baseball to being the biggest liability.
Pitchers
Aaron Nola – Philadelphia Phillies
STOP! I know what some of you Philly fans are thinking, and I'm not in the mood for it. I know your team just swept the Nationals (who famously have a great pitching staff) and the Mets (who famously have an offense that scores plenty of runs) and you're feeling yourselves right now, but I'm not — and if you have a problem with this, message me offline for my address — in the mood for it! Aaron Nola has been the biggest disappointment among non-injured starting pitchers this season.
Despite an elite pitch mix, Nola's 4.39 ERA is, by itself, not what you're expecting from a guy that was drafted amongst the top-10 of starting pitchers. He's still useful for strikeouts (159 on the season), but the inconsistency — whether it be performance, missed time, or even having his best start in weeks being interrupted (not his fault, but I don't care!) — throughout the season have made him a major letdown.
Blake Snell – San Diego Padres
Since I took so long to get out this article, there's already a more in-depth look into Blake Snell's poor fantasy baseball season that's up on the site. You should check it out! I'll just add a few more points:
Blake Snell has, on multiple occasions, made me want to become the Joker.
2. Given how exciting the Padres off-season was, Snell's poor performance is especially tragic.
3. While it's fair to been cautious about Snell's Cy Young season potentially being an outlier, being the 128th ranked pitcher (according to ESPN) on the season is too much for my heart to handle!
Max Fried – Atlanta Braves
The Braves had the season from hell; there is still no verdict yet on why the sports gods seem to hate Atlanta fans so much. While he's looked a tad better of late, Max Fried has hardly been the breakout ace of 2020. There were some signs that regression would be coming his way (.268 BABIP, 4.9 HR/FB rate), but being outside the top-50 starters after being drafted as a top-20 or so starter is tough to stomach.
Jesus Luzardo – Oakland Athletics/Miami Marlins
Luzardo is a fine example of why you should be cautious when buying into young players and their future potential rather than what their value is now (this is different for all my dynasty league homies out there, stay strong!) Luzardo's ghastly 7.36 ERA is obviously a major miss given his top-30 draft status among starters, but it's compounded by the fact he was quickly removed from the starter's role only within the first few months of the season.
Considering the A's lost Trevor Rosental — who they inked to a one-year, $11 million dollar contract in the offseason — and the closer's role opened up as a result, there might've been some hope that Luzardo could at least serve as an option to make up for the poor performance. Unfortunately, such hopes proved to be fictitious and the A's ended up dealing him at the trade deadline in exchange for Starling Marte. There's hope for him in the future, but anyone who bought in on Luzardo for 2021 got burned worse than Harvey Dent in The Dark Knight.
Dylan Bundy – Los Angeles Angels
We should've known. We should've known that the Angels winding up with a legitimate frontline starter to help Mike Trout reach the promised land was nothing more than a pipe dream. After having a surprisingly productive 2020 season, Dylan Bundy quickly proved that it was, to paraphrase the great Notorious B.I.G, all a dream! Bundy currently sits at a nightmarish 6.14 ERA, which is a shame given how his strikeout (27%) and walk (6.4%) rates — combined with his home rate lowering (1.7 HR/9 to 0.7 HR/9, possibly thanks to a new ballpark — suggested some reason for hope; rebellions are built on hope!
In an age where we've seen some late bloomers (e.g. Carlos Rodon, Zach Wheeler), Bundy's move from the Orioles to the Angels seems to not have netted the same success. Sorry, Angels fans, at least you still have Babe Ruth on your team.