Analysis
The Curious Case of Blake Snell
Is Blake Snell on the verge of a season-changing breakthrough, or are his struggles here to stay?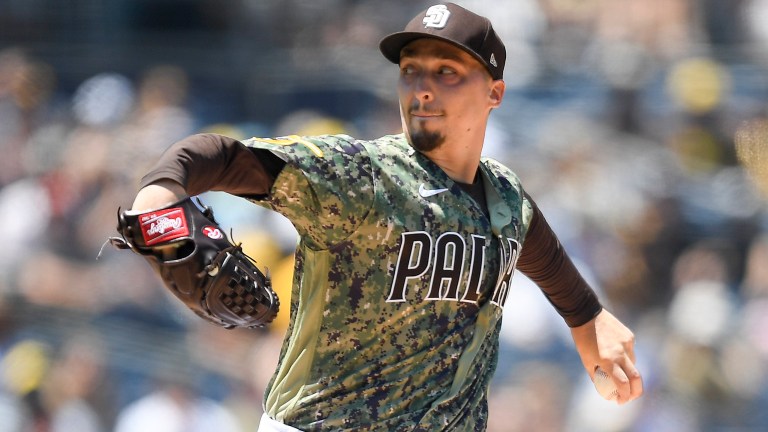 Times have changed rather quickly for Blake Snell. Just about 10 months ago, Snell was dealing in game six of the World Series against the Dodgers. We all know what happened next. He was pulled in the 6th inning. The Rays lost the World Series. Snell was traded to the Padres in the off-season.
It hasn't been quite the storybook transition in San Diego; he's gone 6-4 with a 4.86 ERA, 1.56 WHIP and has made it through six or more full innings of work in just four of his 21 starts. He may be picking up steam though, with his latest start serving as his best of the season.
This brings up an interesting question for both Padres' fans and Blake Snell fantasy owners: what can we expect the rest of the way?
Let's take a look at what has maybe caused Snell to have a down year.
The biggest difference for Snell so far this year has been a high walk rate (14.1% is the worst he's ever had, and it's well above his career mark of 10.7%). Additionally, his changeup is getting mashed. Until recently, he's been using it too much (more on that below).
For some reason, he's also been atrocious on the road (7.36 ERA), compared to home (2.40 ERA), and the Padres do have just 19 more home games compared to 29 remaining contests away from Petco Park.
The BABIP against (.326) is almost 30 points higher than his career, but his poor hard hit rate (34th percentile), xwOBA (14th percentile), xERA (14th percentile), xSLG (23rd percentile), barrel rate (12th percentile) all illustrate why. He's still getting good strikeout numbers, he just hasn't fooled as many hitters, and his lack of command has been a key reason.
Are there any numbers that tell a story of progression moving forward?
His xERA (5.39) indicates things should actually be worse, though his FIP (4.34) and xFIP (4.04) give more hope. If you average out the big four projection systems, here's what things are expected to look like the rest of the way:
ROS projections: 3-3, 3.81 ERA, 1.30 WHIP, 10.80 K/9
How plausible is a strong finish for Snell?
This is the ultimate question, and there's actually a lot of reason to expect Snell to finish the season strongly, after both a change in his repertoire, as well as his past success.
For his career, he's been a better second-half pitcher. He has a career 12-3 mark and 2.52 ERA in August, along with a 11-5 record and 2.76 ERA in September/October.
| I | Split | W | L | W-L% | ERA | IP | WHIP | SO9 | SO/W |
| --- | --- | --- | --- | --- | --- | --- | --- | --- | --- |
| | 1st Half | 21 | 24 | .467 | 3.89 | 363.0 | 1.342 | 10.4 | 2.43 |
| | 2nd Half | 23 | 8 | .742 | 2.90 | 239.1 | 1.216 | 10.8 | 2.82 |
Provided by Baseball-Reference.com: View Original Table
Generated 8/10/2021.
Perhaps the strongest cause for optimism is his last two starts, which coincide with his success in these final two months. Even in a road tilt, he had six strikeouts and allowed just one run in five innings of work, despite lots of traffic on the base-paths. His most recent outing saw him dominate the Diamondbacks in collecting 13 strikeouts over seven scoreless.
What's discouraging – or maybe encouraging depending on the way you look at it – is that his walk rate is still high in those starts at 13.0% and 11.5% respectively. Does that mean he's still got another level to go to if he fixes that issue, or does it mean his problems have yet to be solved and he was helped by facing a slumping A's offense and a poor Diamondbacks lineup? Time will tell.
One thing to keep an eye on with Snell is his pitch usage. His latest start saw him utilize 53 sliders, 52 fastballs, two curves and one changeup. The start before had less sliders, but 92.4% of his pitch usage still came from that offering and the fastball.
That's a key change because he just hasn't performed with his changeup this year. The pitch isn't moving as much horizontally as it normally does. For that reason, or maybe others, batters have tee'd off on that pitch to a .439 average and .610 slugging percentage. Up until recently, Snell was throwing it about 15% of the time. Now, he's used it just twice in the past two games.
What's the verdict?
It doesn't appear that Snell's poor walk rate is going to get better this season. That limits the ceiling, but overall the decision to finally ditch his changeup should pay huge dividends. His past success to finish the year and recent outings provide enough hope that I would be trying to buy shares of Snell right now for the right price. However, be prepared to sit him in the wrong matchups.