Analysis
Are the Padres in Trouble?
With the deadline now behind them, the Padres still find themselves with plenty of questions going forward.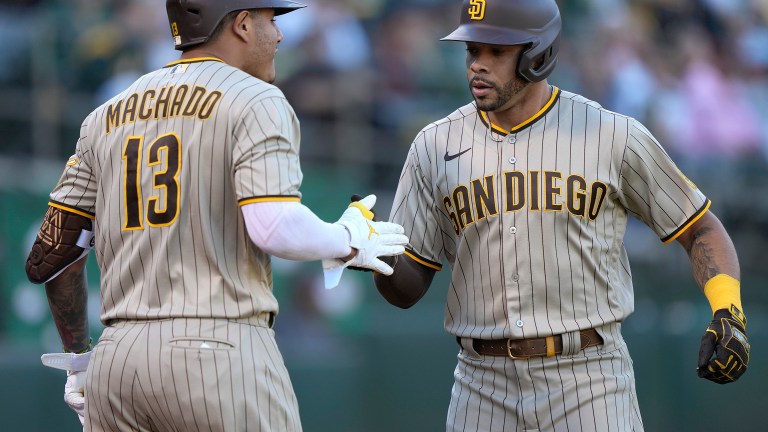 "He'll come through, I know he will, he always does," I mutter to myself on a Friday afternoon — my birthday, no less — trying to convince myself that the Padres were going to make up for the tragedy that occurred the night before: the Los Angeles Dodgers acquiring All-Stars Max Scherzer and Trea Turner. I was like a spoiled boy who'd been used to his parents doing all of his homework for him, magically making the fear of a challenge go away, and realizing such a treat wasn't coming his way.
I watched as Puerto Rican beast José Berríos was swept up by the Blue Jays, and even the entirety of the Cubs roster — leaving in its wake nothing but a decaying corpse of a roster — being shipped off to better pastures. But for the Padres, and notorious hellhound GM A.J. Preller, nothing major came to fruition. It was a disappointing moment and to further enforce the misery Fernando Tatis Jr. suffered a dislocation of his left shoulder for the 3rd time this season in the game later that same day to which season-ending surgery is "on the table." It's through this vein of devastation and rage that I, a known idiot, put out the following tweet, among many others:
I was a man in pain. But now a few days removed from the tragedies of the deadline, does everything with the Padres seem as dire as I thought? Well, sort of. When taking a more cursory look at the Padres, they're still a well-rounded team that's projected to win around 93-95 games. But they're also a team filled with some gaping holes that hamper the overall upside for a team that many thought, heading into the year, was the second-best in the league. Let's investigate this further and answer the question this article is titled after!
Is Adam Frazier enough to spark the lineup?
The funniest thing about all of this trade deadline cynicism is that the Padres did, in fact, make an impactful move! Psychologically (is that the right term? whatever), the Padres trading infielder Tucapita Marano, outfielder Jack Suwinski, and pitcher Michell Miliano in exchange for All-Star second baseman Adam Frazier the Sunday before the deadline probably contributed to all the despair. If it had happened the day of — or even the day before — the deadline I might be singing a different tune and the Scherzer news wouldn't have been as distressing.
But aside from all of that, the Frazier trade was a bit of a surprising one. For one thing, his looking eerily similar to Adam Scott is enough to send any individual into epileptic shock, but it's also due to the Padres lineup not seemingly in need of his particular skill set. The Friars have bounced around all season, but their lineup is littered with OBP machines (currently 6th in baseball), and have been at least in the top-10 in batting average for most of the season, both of which are Frazier's strong points. If anything, the Padres have been noteworthy in how little they've lived up to their #SlamDiego tagline (14th in home runs), and there's plenty of blame to go around.
In terms of the typically stellar players, Trent Grisham has been astonishingly dreadful since July 1st:
.181 .AVG
54 wRC+
3 XBH (.053 ISO)
20.4 K%
3.7% HR/FB
It's a shame, too, since Grisham's start to the season seemed to lend credence to the belief some had, including myself, that his abilities as a hitter would only improve after his 2020 season. Instead, he's been much of the same. But he's not the only one, either, as Tommy Pham's numbers (.217 AVG, 26 K%, 75 wRC+) in the same time span have been less than ideal. But insulting these guys is boring because there's too much evidence that they could simply be in the midst of a slump. No individual, even omnipotent forces of fury like myself (just ask my editors), are immune to slumps.
But then there's the big elephant in the room: the Wizard of Hos. Eric Hosmer, who signed a hefty 8-year, $144 million dollar contract with the Padres in 2018, has been one of the least effective first-basemen in baseball, especially for a good team. How bad is it? It's roast time:
Despite having some of the lowest hard hit, xwOBA, xBA, exit velocity, and launch angle numbers of his career, even the notoriously streaky and mediocre Wil Myers has somehow managed to be more productive, in some ways, than Eric Hosmer this season. He's got a higher OPS, WAR (according to FanGraphs), and wRC+ than Hosmer so far, and that's even taking into account Hosmer's been red hot for a month now (more on that in a second).
Jake Marisnick, who was acquired by the Padres at the deadline in exchange for their #9 prospect Anderson Espinoza, is pretty much a defensive-only bench piece at this point of his career yet has still managed to, somehow, have a higher WAR than Eric Hosmer this season (0.0 vs -0.3), according to FanGraphs. Marisnick has played less games, sure, but the point remains the same especially when you take into account the weirdness of Hosmer's last month…
Since July 1st, Eric Hosmer has been one of the hotter players in baseball, but seemingly also one of the luckiest. He's slashed .363/.435/.500 over that stretch with a wRC+ of 157, the latter of which is the 4th best mark of any first-basemen in all of baseball. Yet, his groundball rate over this hot streak remains as astronomically high as ever (56.3), his ISO numbers are fairly pedestrian (.130), and his .435 (!) BABIP is excruciatingly high.
It wouldn't be that bold to say at this point, despite the brief mirage of hope in the 2020 season, that Eric Hosmer may be one of the worst contracts in all of baseball. It was a long shot, to begin with — even with a magician at the helm in A.J. Preller — but dumping Hosmer and his obese contract might have actually been the greatest move the Padres could've made at the deadline; unfortunately, despite the rumors we received prior, there was no such luck.
Combine all of this with Fernando Tatis Jr.'s injury, and it's not exactly a guarantee that Adam Frazier — the leader in hits for the National League — will be enough of an addition to aiding the offense. If you were to be super cynical about it, there's even the chance Frazier could be the epitome of a second-half regression candidate when you consider how somewhat unprecedented his success has been combined with his high BABIP (.348). Instead, the Padre offense is more likely to remain just pretty good rather than ascend to the levels of #SlamDiego great.
Standing Still With Pitching
But more importantly — and not to sound like a casual Twitter warrior or anything — the Padres were in much more dire need of adding a starting pitcher. The acquisition of reliever Daniel Hudson from the Nationals helps bolster an elite bullpen that already has the best ERA in the majors (2.87, next best being the Rays at 3.03), but it's hard to get super excited about relievers. Just be honest, if that's what gets your engine going, then you're a nerd. The Padres are not a team for nerds, they're a team for fun, and there are questions surrounding nearly every aspect of their rotation.
Dinelson Lamet, while talented and capable of throwing one of the best sliders in the game, is constantly a question mark in terms of his health. Blake Snell makes me want to become the Joker, and has looked more like Robbie Ray (2019-2020 version, not the suddenly rejuvenated 2021 version) than a former Cy Young winner. His nightmarish home/road splits (2.81 ERA at Petco, 7.36 everywhere else and was even higher before his most recent performance against the A's) make him the Dr. Jekyll and Mr. Hyde of MLB starting pitchers.
Chris Paddack is about as unpredictable as Kanye West's album release strategy, and Yu Darvish has had an ERA of 6.25 since MLB cracked down on sticky substances (was 2.50 previously). Granted, Darvish has such a massive repertoire that there's reason to believe he can figure it out, but it's not the ideal situation to be in given the team is most likely headed towards a winner-take-all, Wild Card round face-off. Do I want Darvish as my pitcher in that game? Yes, but it feels like there's been an unhealthy range of outcomes to spawn from his recent struggles; he's a lot more like an x-factor than a sure-fire ace at this point.
But really, the sadness of the Padres forgoing the need of a starting pitcher was only exacerbated due to the tweet from this menace:
Rosenthal filling up our heads with delusions of grandeur, alone, might be the reason the deadline was so devastating. It's a mental thing, really. The timing was just atrocious and is easily one of the most tragic Padres moments to transpire over the last few years. Add on to this hoax ending with not only Max Scherzer, but also Trea Turner, heading to the division-rival Dodgers is a truly cursed moment.
Blaming AJ Preller and the Padres for failing to keep up with the literal arms race isn't exactly a line of thinking I agree. The package for the only other readily available impact-start on the market, José Berríos, was quite the chunky one, so Preller not pulling the trigger is a lot more understandable. The active and historically crazy market we saw at this year's deadline was an arena AJ Preller perhaps wasn't comfortable in dealing with. There's criticism to be made here, for sure, but it's hard to be truly irritated given all the incredible low-ball thievery he's been able to get away with the last few seasons.
Hope for the Future
The only good mojo that's come the Padres way over the last week, I suppose, is that Bad Bunny's new song references Fernando Tatis Jr.
The song serves as a reminder not just to myself, but all baseball fans, that the Padres have genuinely been of the more exciting developments in the sport. It's a team filled with not just an inimitable swagger but an obscene amount of depth. The best part? That's not going anywhere.
Padres Position Players and Years Under Control:
| | |
| --- | --- |
| Fernando Tatis Jr. | 2035 |
| Manny Machado | 2028 |
| Jake Cronenworth | 2025 |
| Trent Grisham | 2025 |
| Austin Nola | 2025 |
| Adam Frazier | 2023 |
| Wil Myers | 2022 |
Padres Starting Pitchers and Years Under Control:
| | |
| --- | --- |
| Yu Darvish | 2024 |
| Joe Musgrove | 2023 |
| Blake Snell | 2024 |
| Dinelson Lamet | 2023 |
| Mike Clevinger | 2022 |
| Chris Paddack | 2024 |
Sure, I left off some of the other less-than-exciting players on the team off the tables (basically just Eric Hosmer), but you get my point. The core remains strong!
Plus, all of their elite prospect assets remain just that: assets. Holding on to pitcher MacKenzie Gore and infielder C.J. Abrams, who remain tantalizing prospects (along with outfielder Robert Hassell and catcher Luis Campusano) is a strategy that shouldn't be dismissed. Heading into last year's playoffs, it wasn't yet a popularized belief that Blake Snell would be on the trade block. Who knows, maybe the soon-to-be Cleveland Guardians — in their infinite wisdom of being perennial sellers — will be looking to trade away Shane Bieber for some ungodly reason, or the asking price for someone like Kenta Maeda will go down enough for Preller to swoop in.
Or, you could simply keep them and trust that their high upside will come to fruition. Preller has earned the right to be trusted; unlike most other teams that hoard prospects, the Padres have shown that they're willing to be buyers at any time, too. Given that the team is locked up for a while, it's nice to have some flexibility if the unpredictability of baseball starts to rear its head around and you need to adjust. Being in a situation where you're not good enough to compete, but not bad enough to rebuild, is the worst place to be.
And that final point, in particular, needs to be emphasized: unpredictability. With the exception of last year's truncated season, it's not like the Dodgers have been immune to playoff upsets over the last decade. There's still plenty of optimism surrounding the Padres chances, especially when you consider it's the best squad the franchise has had in 20+ years (and maybe even ever). With such high expectations — for anything in life, really — often comes the even higher possibility of disappointment. But just like Ted Lasso shares his disagreement with the term "it's the hope that kills you," I, too, dismiss the idea that hope is ever a bad thing.
Sometimes, hear me out, you need to just sit back and appreciate what you already have — and what the Padres have is still something truly special, and one bad week shouldn't change that.