List
Biggest Breakout Hitting Prospects of 2021
These MLB prospects have made the biggest jumps this season.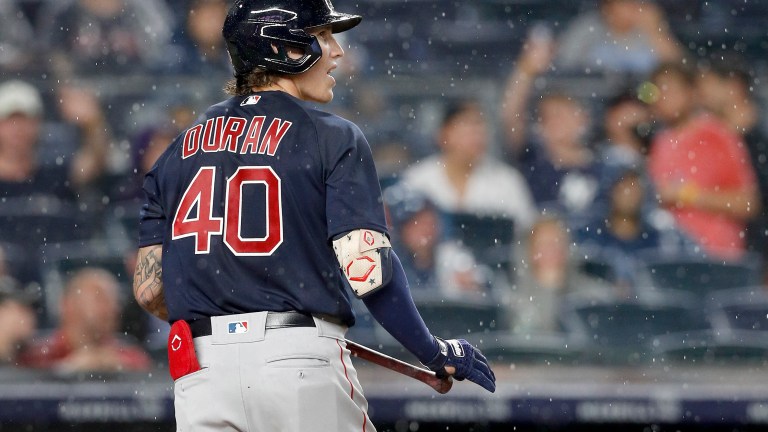 When the 2021 Minor League Baseball season kicked off on May 4th, it ended a more than 600 day layoff between seasons. The nearly two year gap between the last two campaigns limited players in a lot of ways and of course slowed development. On the flip side, the time off allowed players to work on things in a controlled environment and iron out kinks, or even just get after it more in the weight room since you cannot do much lifting during the season. Whatever it may be, I like to think of 2020 as the great separator for the minor leagues. Some players have returned in 2021 looking totally different.
Jarren Duran – Red Sox – Age: 24
2021 Stats (AAA): .270/.365/.561, 15 HR, 12 SB, 142 wRC+
It was never a question of athleticism for Duran. In fact, Duran's athletic ability was mostly the reason why the Red Sox decided to snag him in the 7th-round of the 2018 MLB Draft. Having hit only three home runs in his nearly 800 collegiate plate appearances, Duran's draft day profile was more of a fourth outfielder to bottom of the order hitter who could ride his speed to the big leagues. Duran's knack for getting on base complemented his 70-grade speed and helped quell some of the concerns around his bat enough to go on day two of the draft.
Duran ripped the cover off of the ball in the lower levels of the minors, racking up a .357 batting average with 14 doubles and 11 triples in his first 67 games. It was more of the same for Duran through the first 50 games of the season in 2019, slashing an absurd .387/.456/.543 in High-A. Then 22-years-old, the speedy left-handed hitter fast tracked his way to Double-A and fell flat. In 80 games, Duran's OPS took more than a 300 point nosedive, his strikeout rate rose to the highest of his career, and his wRC+ dipped to his lowest mark at 87.
During what would've been the 2020 MILB season, Duran worked on lifting the ball and generating power at the Red Sox alternate training site. Reports were strong out of the ATS, but I don't think anyone was expecting Duran to hit for the power he has this season.
After struggling in Double-A during the 2019 season, Duran's ATS performance encouraged the Red Sox enough to start him in Triple-A this season. The 24-year-old kicked off the season with a brigade of homers, while walking at the highest clip of his professional career. All of a sudden, the one area that wasn't expected to be in his game became a large part of it. Duran slugged 15 homers in just 46 games, helping him to a .927 OPS and 142 wRC+. His 15 home runs were triple the amount he hit in 2019 in a third of the games.
| | | | | |
| --- | --- | --- | --- | --- |
| 2019 (Double-A) | GB%: 50.6% | HR/FB%: 1.6% | Pull%: 35% | ISO: .075 |
| 2021 (Triple-A) | GB%: 36.3% | HR/FB%: 28.8% | Pull%: 42% | ISO: .291 |
Duran's 2019 and 2021 seasons have nothing in common.
It is probably safe to say that GM Chaim Bloom and the Red Sox front office did not plan on having Duran up in the big leagues by July, but he forced his way up there by parlaying his instructional league performance into production. Duran is still getting acclimated to the Majors, struggling through his first 50 PA's. I don't think there is much concern in that regard given the fact that he has fast tracked his development. Even if Duran's bat doesn't come around in time to be a fixture in the lineup this season, his speed will be a valuable asset to Alex Cora's team down the stretch and potentially into the postseason.
Jose Miranda – INF – Twins – Age: 23
2021 Stats (AA/AAA): .338/.401/.584, 22 HR, 19 2B, 63 RBI, 159 wRC+
When Jose Miranda was drafted out of the Leadership Christian Academy in Guaynabo, Puerto Rico, he became the school's highest MLB Draft pick ever; until the Giants selected current top 100 prospect Heliot Ramos 19th overall a year later.
The first few seasons of Miranda's career were lackluster. The infielder had (and still does to a degree) a very aggressive approach, which caused him to often put balls in play that he couldn't do much with. His ability to manipulate the barrel and make consistent contact kept the Twins organization confident that Miranda could turn into at least a league-average hitter. After all, heading into this season, Miranda sported a career K-rate hardly over 10%.
The production was limited in 2019 for Miranda, slashing just .248/.299/.348 in High-A. Since then, Miranda put on around 20 pounds of muscle, and has seen it translate into power production. After launching 13 homers in the first 47 games of this season, Miranda was quickly promoted to Triple-A where he homered three times in his first game. The 23-year-old really has not slowed down much at all, providing immense power with limited strikeouts (13.7%).
Miranda is enjoying one of the best Minor League seasons in Twins history. He has found himself among the likes of Joe Mauer, Michael Cuddyer and Justin Morneau. That's not to say that he will reach the heights of any of the aforementioned three, but what Jose Miranda is doing is impossible to ignore.
Mark Vientos – 3B/OF – Mets – Age: 21
2021 Stats (AA): .279/.350/.601, 20 HR, 15 2B, 52 RBI, 148 wRC+
Man, there is nothing better than when a prospect with crazy tools figures it out. Mark Vientos has had some of the best raw power in the Minor Leagues since he was a teenager, but had not tapped into it consistently and struggled to get on base at a solid clip (255/.300/.411 in 2019).
A second round pick in 2017, Vientos was long viewed as one of the highest upside high school bats in the draft. He is not the fleetest of foot, and was not expected to stick at shortstop, which pushed him out of the first round. A plus arm should allow him to anchor third or an outfield corner, both of which he has played plenty of this year.
Much like the profile when he was drafted, it is still all about the bat for Vientos, and the 6-foot-4, 200 pound slugger is asserting his value by finally producing gaudy power numbers. Among prospects 23-years-old and younger, Vientos only trails the two MILB home run leaders (Griffin Conine and MJ Melendez) in Isolated Power (ISO) at .322. Still just 21-years-old, Vientos is nearly three years younger than his Double-A competition.
Another encouraging sign for the South Florida native is that he has nearly doubled his walk rate from 2019 against a much better quality of pitching. The strikeout rate is on the edge of being high at 27.8%, but has hovered at that spot for most of the year. It's also important to remember that Vientos had never played above Low-A coming into the season and barely had more than 200 professional games under his belt.
Vientos had the tendency in the past to try to pull everything a bit too much in order to tap into his 70-grade raw power. Now, his bat path is much more efficient, and rather than being out and around baseballs, he is staying through them. The efficiency in his swing can be seen by the home runs he hits to dead center or even the other way now, or by his pull rate, which has dropped by 7% from 2019.
While Vientos will likely be nothing more than an average defender at third or left field, he has 40 home run potential and an ever improving feel to hit. I expect the K-rate to continue to drop into the low 20% range as he racks up the at-bats in Double-A, while the power will likely sustain.
M.J. Melendez – C – Royals – Age: 22
2021 Stats (AA): .285/.372/.628, 28 HR, 18 2B, 65 RBI, 158 wRC+
Another second round pick in 2017, M.J. Melendez was selected just seven picks before Mark Vientos at 52nd overall. At the time of the draft, Melendez was seen as a glove-first catcher with big raw power and concerns with the hit tool. After a solid first showing in his first full season, Melendez hit a brick wall in High-A in 2019. The catcher hit just .163/.260/.311 with a near 40% K-rate.
Melendez took the dead time in 2020 to refine his swing. He worked diligently with his father Mervyl Melendez, who is the Head Coach at Florida International University. Whatever the Melendez's did in that time off, it really worked. The 22-year-old has been one of the most dominant hitters in all of the minors, trailing only Griffin Conine in the home run department, while nearly cutting his K-rate in half from 2019.
An athletic backstop with good receiving skills, Melendez projects to be an above average defender. The fact that he has also slugged 28 homers, and looks like he has answered some of the questions around his hit tool, make him one of the more intriguing prospects to emerge this year.
Anthony Volpe – SS – Yankees – Age: 20
2021 Stats (A/A+): .309/.441/.622, 18 HR, 27 2B, 66 RBI, 180 wRC+
The only first rounder on this list, Volpe was taken 30th overall by the Yankees in 2019 out of Delbarton High School in New Jersey. Volpe got his first taste of professional baseball shortly after, struggling to a .215/.349./.355 slash line in 34 rookie ball games. There was not much cause for alarm with Volpe's early struggles given the fact that he was just 18-years-old at the time, impressed with the leather and clearly had room for physical growth.
Volpe jumped out this season looking like a totally different player. I mean, that's what can happen when you have more than 600 days to mature as an 18-year-old. Seen as a prospect with below average power, Volpe has produced 50 extra base-hits in just 77 games this year, including 18 homers. The slick fielding shortstop has not missed a beat since being promoted to High-A, actually boosting his average from .302 to .326, while maintaining a slugging percentage over .600. Volpe is an above average runner, and his 26 stolen bases look good on paper, but with MILB's ridiculous new base running rules, you have to take stolen base figures with a grain of salt.
Regardless, I expect Volpe's speed and savvy on the bases to play a part in his game. It has been an incredible season for the Yankees farm system, which has seen a handful of players make major strides this season beyond Volpe. But you'll be hard pressed to find a more impressive breakout than Volpe, especially when you consider the limitations placed on him by some scouts.