List
Fernando Tatis Jr.'s Top 10 Plays
In only 192 games, Fernando Tatis Jr. has already produced many memorable moments.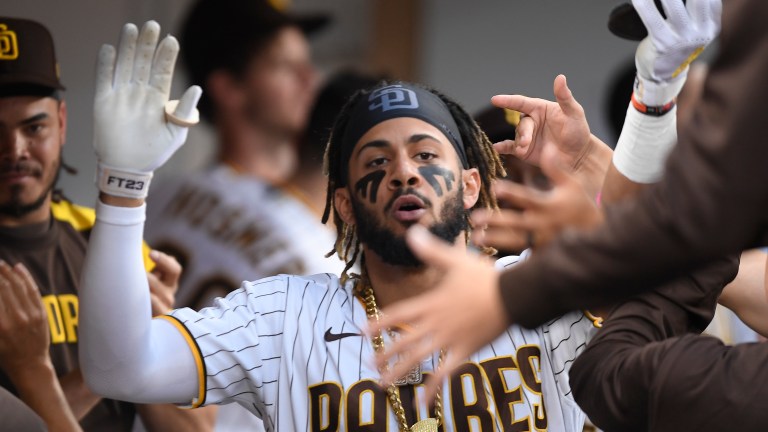 With apologies to PlayStation, Fernando Tatis Jr. is truly the one that "only does everything."
The super-stud shortstop for the San Diego Padres is not just a star in his own sport, but one that's quickly sky-rocketing past the traditional confines of baseball to become one of the most exciting athletes in any sport. Whether it be gargantuan home runs performed with irresistible charisma, a simple ground-out, or literally pulling off a split, Tatis is the hero the sport needs even if often doesn't necessarily deserve.
So, if you for some reason couldn't tell by the heading of this article, it's time to craft a tribute for the young rock-star; for all intents and purposes, this list should basically be considered the ten commandments of baseball. If you're thinking "Hey, he's only 22 years-old and has only played in 192 games," then I'm sorry to report that you, Chief Sergeant of the Fun Police, need to get your priorities straight. Now, let's begin this little road trip through paradise.
10. Diving Catch Against the D-backs
While you'd have to be a buffoon to call Fernando Tatis Jr. overrated, if there's one area that he's a bit lacking in, it's his defense. There's reason to believe that his arm strength and overall athleticism give him plenty of upside as a defender, but it's been a rough year for Tatis Jr. who leads the majors in errors (15) and has an OAA of -3, a far cry from his +9 figure last season. It's possible that the shoulder subluxation injury he suffered earlier in the year plays a part in this but, still not great!
Another thing that's not great is my sudden lapse in sanity by deciding to start this list off by criticizing the faults of Tatis. But before coming up with a punishment for myself, coming in at #10 is one of the first defensive plays I saw Tatis make thanks to the miracle of the Twittersphere. Against Arizona, Tatis does a barrel roll like he's in Gears of War to make a truly stupendous catch.
9. First Major League Home Run
You know when people get into movie debates and use the "But you just HAVE to give credit to the first because it's what started it all!" To a degree, that sentiment rings true here as well. It just felt wrong not to pay homage to the first hit homer of Tatis' major league career, and it was an absolute torpedo of destruction too.
There's something particularly special about seeing a highly-touted prospect's first home run, especially when you take into account that the Padres didn't elect to manipulate his service time, either.
8. Home Run First Day Back in the Lineup
This is simply storybook stuff right here. On his first day back from the aforementioned shoulder injury that sent nearly all baseball fans into the waiting room for sports therapy, Tatis did what he does best. Plus, Padres announcer Don Orsillo's energy makes the entire thing 10x better. Most importantly, the fact that it was against the Dodgers makes it 100x better! William Shakespeare himself couldn't have come up with something better.
7. Air Tatis
Again, while his defense has certainly been inconsistent, this play makes it to the list not just for the sheer excellence of the play, but the symbolism of it. Not necessarily symbolism in what it meant in a deeper meaning — this isn't a Paul Thomas Anderson film — but in the sense it actually became a literal symbol. The abundance of merchandise that spawned from the play helps elevate it to #7 on the list.
And to answer the most pressing question: Yes, MLB should absolutely make this their new logo.
6. Game-Tying Home Run Against Houston
Ah, the Astros. There's so much to say about them that I simply choose not to say anything, because doing so gives me headaches and I don't like headaches. What I will say, however, is that this home run by Fernando Tatis Jr., with 2 outs, gets absolutely launched to the moon.
Yep, he's clutch too. But it's all about the energy, not just of Don Orsillo's "ON TO THE TRACK!" call, but also every little mannerism that Tatis has; not only is he exciting, but he knows he's exciting. There are few players in the sport that not only come through in the big moments, but are also as uniquely adept at seizing the moment.
5. Game 2 Homer Against the Cardinals
Speaking of clutch, let's look back at perhaps my single favorite sports game I witnessed through all of last year: Padres vs. Cardinals Game 2.
With the Padres offense completely stifled for much of the series up to this point, Tatis brought the excitement back with one swing. This oh-so-glorious swing ends up kicking off a home run barrage, including a solo shot from Manny Machado right after this to tie up the game. The 2020 Padres were the type of team that could wake up at any moment, with momentum shifts that would make any fan base jealous. This was one of the greatest examples of just that.
4. Tagging Up on Pop Fly to Second Basemen
You could make an argument that this borderline insane decision by Fernando Tatis Jr. was one of the first major instances of his excitement being on display. How often do you see a guy crazy enough to actually pull this off? It's a crazier decision than Daniel Ocean choosing to rob multiple casinos on a fight night in Ocean's Eleven; it's a crazier decision than to trade Austin Meadows, Tyler Glasnow, and Shane Baz for Chris Archer; it's a crazier decision than trying to fight a bear with nothing but boxing gloves.
Okay, maybe not that crazy, but it's still one of Tatis' most memorable moments to date.
3. Homering Off of Trevor Bauer (Twice)
Fernando Tatis Jr. is a superhero; we know this with every fiber in our bodies. But in terms of supervillains, Trevor Bauer fits the bill. Without getting too deep into why because, again, I don't like getting headaches, Bauer's personality makes the two home runs Tatis launched off of him all the more exciting.
On top of that, Tatis decided to declare war on the man by taunting him not just once, but twice! The first instance in which Tatis put his hand over his eye was a not-so-subtle reference to Bauer's odd spring training practice method of keeping one eye closed (it had…mixed results), while the next was a simple imitation of Bauer's famous strut.
Were the taunts simple? Sure, but they got the job done and, in all honesty, this kind of petty beef is something baseball fans — not to mention the league itself — should cherish. Is it a bit silly? Of course! But considering how long the season is, a little puerility is good for variety's sake and if you don't like me saying it, just take it from Bauer himself.
2. The 3-0 Grand Slam
In terms of the actual game result, this might be the least consequential on the list. But of course, that was hardly the point, as (aside from the #1 spot) this became Tatis' most famous play or, depending on whether or not you're the worst kind of person, his most infamous. You see, this ranks so high simply because it exposed to more people just how ludicrous the unwritten rules of baseball were and still are.
Unlike previous offenders of unwritten rules, Tatis was an up-and-coming star that was beloved by nearly all in the baseball community. This was certainly no Carlos Gomez, Jose Bautista, or even Bryce Harper, but instead a player that had a genuine 100% approval rating. This might've been the driving force behind why the Rangers reaction to the hit was as universally condemned as it was and it felt like a real turning point in abolishing the abominable culture that has permeated throughout baseball for years.
1. The Bat Flip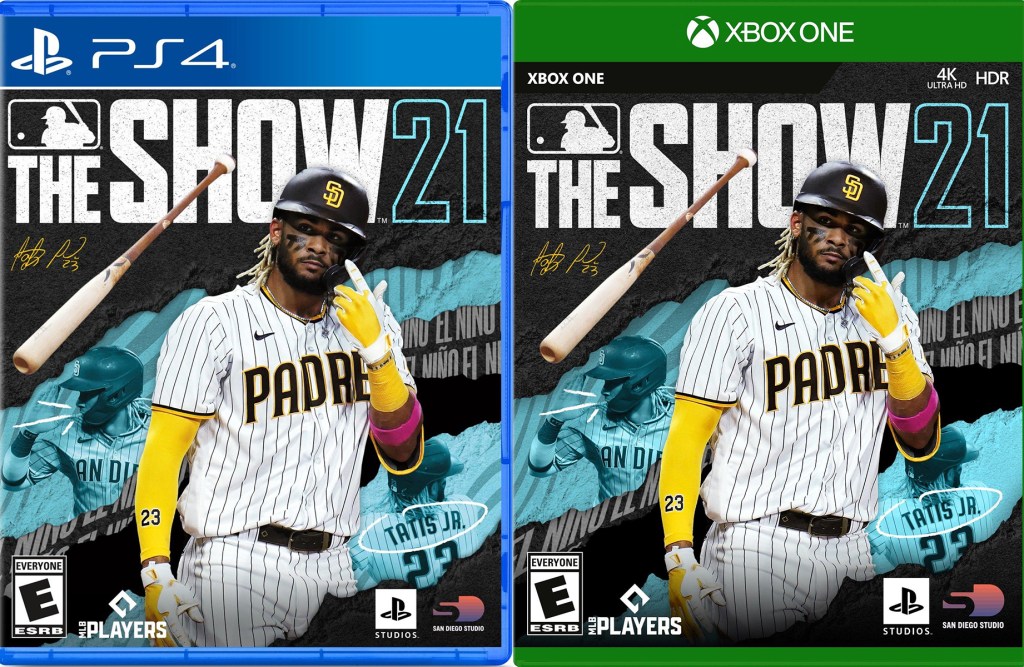 It got him on the cover of the latest MLB The Show release, so how could it not grab the top spot? That's really all that needs to be said, but I'll keep going because word counts are important. His second homer in that previously talked about Game 2 was a sensational one and became immortalized in gif form for months afterwards. The image is the most profound of the 2020 season. As the saying goes, a picture is worth a thousand words.
These words, in particular, eschew the most powerful mixture of talent, swagger, and entertainment the sport has seen in years, and here's to it staying that way for years to come.