Analysis
Could the Brewers Be the 2015 Mets?
The Brewers are baseball's hottest team. But are they also following in the footsteps of a previous World Series team?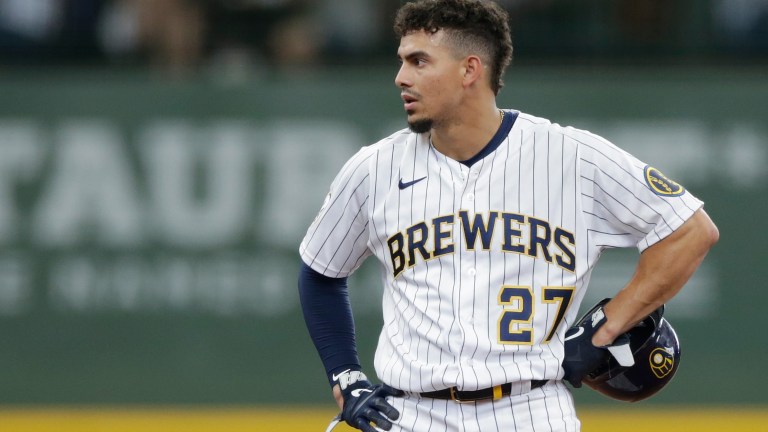 To yeet or to be yeeted, that my friends is the right question. The Milwaukee Brewers, as evidenced by the last month of baseball, have proven to be far more interested in the former. Thanks to their 56-39 record, they currently lead the NL Central with a 7-game lead — the largest of any division leader in baseball aside from the White Sox (8 games) — and are hotter than the surface of the sun. I couldn't exactly think of any good analogies for "hot" (takes an actually hot person to know one, I suppose), but the point remains the same: The Brewers are real good and have cemented themselves as legitimate championship contenders.
Of course, much of this has to do with their widely-publicized pitching staff. Their 1-2-3 punch of Brandon Woodruff, Corbin Burnes, and Freddy Peralta — all of whom were named to this year's All-Star teams — can instill fear into any lineup they come across. Plus, they've got plenty of bullpen help thanks to headliners Devin Williams (who's taken a bit of a step back in his sophomore season, but remains deadly nonetheless) and Josh Hader, who's been the premiere closer throughout all of baseball the last few years. Currently, the Brewers pitching numbers are among the game's best, as they're currently 3rd in ERA, 4th in WHIP, and 6th in FIP (just love the way those last two rhyme!) on the season so far. They totally rock.
With such a deadly pitching rotation, I got to thinking: is the team basically the 2015 Mets? It's perhaps one of the few times in which being compared to a Mets team is a good thing, too. The 2015 Mets did, after all, make it to the World Series, and a large part of that was their own nightmare-inducing rotation. That season, the Mets pitching staff finished with the 4th best ERA, 2nd best WHIP, and 6th best FIP in baseball. That's right, the combination of Jacob deGrom, Matt Harvey, and Noah Syndergaard is right on par with what the Brewers are working with, albeit without the same media flare and, admittedly, stupendous nicknames. Plus, the Mets closer that season, Jeurys Familia, was essentially their version of Josh Hader!
But more interestingly, the Brewers' similarity to the 2015 Mets goes even further: the offense. Now, there are two ways that you can look at this, which vary depending on whether or not you feel more in line with the Ted Lasso school of optimism or the Black Mirror mansion of cynicism. In respect to the latter, that first reason is that the Brewers, just like those 2015 Mets lads, have quite the underwhelming offense. They're currently 29th in batting average, 15th in OBP, 16th in HRs, and 23rd in slugging percentage. The Mets in 2015 were similarly lackluster, ranking 28th, 21st, 8th, and 17th in those categories, respectively, by season's end. You may have noticed that one of those numbers, the 8, is unlike the rest — and a good amount portion of that was aided by an absurdly productive mid-season trade for Yoenis Céspedes.
This leads to the second point, and it's the definition of being optimistic: what if Willy Adames is the Brewers version of Céspedes? After being acquired by the Rays, Adames has seemingly discovered Sage Mode in Milwaukee:
In 41 games for the Rays: .197/.254/.371, 5 HRs, 74 WRC+
In 51 games for the Brewers: .314/.398/.598, 11 HRs, 162 WRC+
It's this kind of random nonsense that I love about baseball. While Adames has certainly been a highly touted prospect at some points, he's never quite put it together — and especially on this level. Hitting at Tropicana field must be harder than hitting a bullet with another bullet while riding a Zebra if this is the kind of night-and-day results you get.
Sure, there's reason to expect Adames' breakout to regress (his .385 BABIP could be one sign of such), but he's been playing like a top-10 shortstop and could already be, despite the deadline being a little more than a week away, the best acquisition of the trade season. At the halfway point of 2015, the Mets ranked 19th in HRs and 29th in slugging percentage, which both improved by season's end thanks in large part to Céspedes. Is it possible that Adames could be providing that similar spark? Baseball! It's really good!
There are more reasons to be excited about the Brewers' offense that isn't entirely predicated on Adames keeping up his berserker rage. Christian Yelich is still capable of putting up MVP numbers if he gets his health in order, Kolten Wong has only played in 55 games of a possible 95 games this season and is one of the more underrated middle infielders in the game, and there's plenty of low-cost bats out there that could help tighten up the lineup. Most teams in baseball are going to be scrambling for elite starting pitchers (and, by the way, this year's crop isn't like that one time when Yu Darvish, Justin Verlander, and Sonny Gray were all available), while the Brewers can simply look to make an upgrade at 1st base with a guy like, say, Jesús Aguilar; screw it, bring that man back home!
The Brewers have gone from being a team that, just a year ago, were primarily known for being mentioned in connection with trade rumors for Josh Hader — which, granted, was largely due to a bunch of rascals on the Twittersphere being bored — to being legitimate World Series contenders. If their rotation is able to put up the type of big-game performances the Mets did, they're golden.
Their offense might be even more talented, on paper, than that Mets team, too. They're the type of under-the-radar, smart team that might not be taken seriously enough before it's too late. But something tells me Milwaukee fans like the idea of sneaking up on other teams — being the underdog, if I may — and combatting against whatever the ratings nerds will, I assure you, suggest as what's "good for baseball."
Onward, Milwaukee homies.