Analysis
2022 Free Agent Profile: Seiya Suzuki
Teams are lining up for the services of this year's top international free agent, as Seiya Suzuki has pop that can translate anywhere.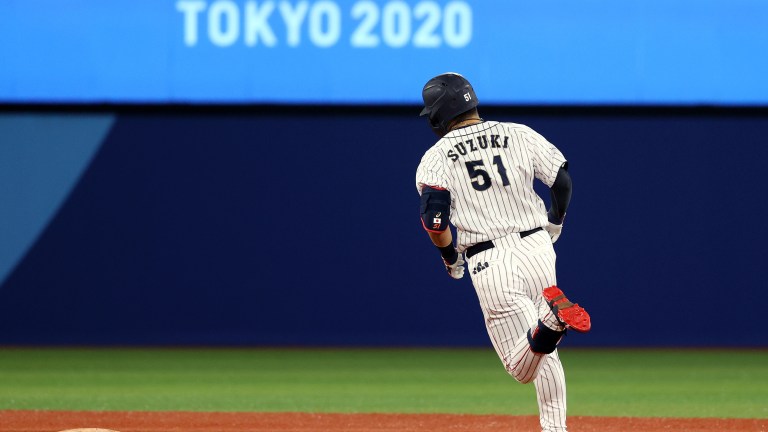 Position: Corner Outfield (LF/RF)
Bats/Throws: R/R
Age: August 18th, 1994 (27 years old)
Height/Weight: 5'11, 216 Pounds
2021 Traditional Stats (NPB): .317/.433/.636, 38 HR, 64 XBH, 88 RBI, 77 R, 89 K, 538 PA
Additional Stats: 16% K%, 16% BB%, 1.069 OPS, 8.4 WAR, 200 wRC+
The man from Japan is getting people excited, and for a good reason. Seiya Suzuki is one of the most talented players available in free agency this offseason. His now-former team, the Hiroshima Toyo Carp, have dotted the T's and crossed the I's to make him available to MLB teams, so he is free to sign with any big league club once free agency resumes.
Suzuki is clearly the top international free agent available right now, with a rumored list of a dozen teams having already shown interest in signing him prior to the lockout.
Path to Free Agency
Seiya Suzuki was not an instant sensation when he started his career after high school. He was in the same draft as Shohei Ohtani, but Suzuki fell to the second round. He entered the NPB as an 18-year old, and for his first three seasons, he never hit more than six home runs. He also played almost every position on the field, racking up at least 20 games at every position except catcher and second base.
Suzuki's early struggles can be attributed to his young age, the constant moving from the NPB to their minor leagues (Ni-gun), and getting used to playing six different positions.
When he turned 21, Suzuki finally started to show power, which would keep him on the NPB roster. In 2016, Suzuki burst onto the scene with 29 home runs, a .329 batting average, and a 182 wRC+. He won his first "Golden Glove" and finally settled into his outfield role.
This began a six-year window of utter dominance. From 2016 through 2021, Suzuki hit .317/.420/.586, 1.006 OPS with 177 HR, 77 SB, 16% K Rate, 14% BB rate. He was the ultimate power threat through these six seasons, putting up at least 25 HR in each season. He also hit at least .320 five times, with a wRC+ north of 180 four times.
While he has stolen many bases, Suzuki is not very efficient on the basepaths, with a success-rate of just 62%. Don't expect him to have the free reign to run like he did in the NPB, but Suzuki is still a great athlete, so that the speed will play a factor in his game.
Suzuki was initially a shortstop/third baseman but moved to the outfield, winning three Golden Gloves. The advanced defensive metrics have him average to a slightly above average fielder in a corner outfield spot. He doesn't have a ton of range but has a strong arm that easily translates.
Who is the Comp for Suzuki?
Seiya Suzuki is somewhat of an enigma. There is a level of risk in signing a player in hopes they will replicate their performance from the NPB. In recent years, pitchers have been far more successful making the transition as Yu Darvish, Kenta Maeda, Masahiro Tanaka, and Shohei Ohtani have all had success in Major League Baseball. Ohtani is the rare example of a hitter that has panned out, but he is the exception to the recent rule.
Shogo Akiyama and Yoshi Tsutsugo had fantastic offensive careers in the NPB, but their talents haven't exactly translated into big league success. When we compare Seiya Suzuki's last season in the NPB to Tstugo and Akiyama though, we see a clear difference in talent.
Shogo Akiyama (30 years old): .303/.392/.471, .864 OPS, 20 HR, 12 SB, 590 AB
Yoshi Tsutsugo (27 years old): .272/.388./.511, .899 OPS, 29 HR, 0 SB, 464 AB
Seiya Suzuki (26 years old): .317/.433/.636, 1.069 OPS, 38 HR, 9 SB, 439 AB
Akiyama and Tsutsugo never had the talent that Suzuki displays. He is simply a better athlete than Tsutsugo and Akiyama, capable of producing way more pop than either of them could muster. If we are really looking for the best comp for Suzuki, we have to look back a few years to another Japanese great. Hideki Matsui.
Matsui was a legend in Japan before moving stateside at 29 years old. He was a few years older than Suzuki when he made the jump, but the NPB career numbers are uncanny.
Seiya Suzuki: .316/.415/.572 .987 OPS 170 wRC+
Hideki Matsui: .304/.413/.582 .996 OPS 168 wRC+
Suzuki recorded a 200 wRC+ in his final season, while Matsui recorded a 218 wRC+ in his last year when he launched 50 home runs. Matsui displayed a bit more power than Suzuki has, however, Suzuki is a better athlete than Matsui was.
Reports indicate that Suzuki should be an above-average defender with speed and a powerful arm. He'll also be a threat on the basepaths, a trait Matsui didn't quite have.
How did Hideki Matsui fair in the major leagues?
He was a two-time All-Star and a World Series Champion in 2009, for which he was named the World Series MVP. He hit at least .287 in his first six seasons, with back-to-back years of hitting over .300 in 2005 and 2006. Matsui put up four 100 RBI seasons with the Yankees. He also hit at least 23 home runs in three of his first five seasons.
After spending the first seven years of his career with the Yankees, Matsui played for the Angels, Athletics and the Rays. Across his 10-year career, Matsui hit .282/.360/.462, with a 119 wRC+.
Contract Prediction
Comparing Seiya Suzuki to Hideki Matsui is not only a good way to project what the Japanese slugger could look like on an MLB roster, but also to figure out how much he is going to get paid.
When Matsui signed with the Yankees at 29 years old, he inked a three-year, $21 million contract in 2002. That's seven million dollars per year, just a smidge over the $6.9 million that Jeff Kent was making at the time (he hit 37 HR in 2002).
Coined the nickname "Godzilla", Matsui had a bit more hype than Suzuki as one of the most prolific power threats in NPB history, but Suzuki isn't that far behind. It's also 20 years later, so a salary prediction should be more inflated than what Matsui got.
Forecasts for his contract are all over the place. MLB Trade Rumors predicts five years worth $55M. FanGraphs is a bit lower, estimating a four-year deal worth $40M. ESPN is right in the middle, projecting a four-year deal at $48M. The consensus seems to be around $10-12M per year, and it looks as if the team to offer that fifth year has the best chance of signing him.
Top 5 Landing Spots
Seiya Suzuki has garnered a ton of attention from big league clubs, and it's rumored that as many as 12 teams have contacted him in the search for a corner outfielder. Plenty of teams could use a 27-year-old with 30+ HR potential, so let's dive into five teams that have the best shot at signing him.
5. Texas Rangers
Are the Rangers done spending?
They pounced on a couple of the top free agents before Rob Manfred locked the players and fans out of baseball, signing Corey Seager and Marcus Semien to deals that combined to cost the Rangers half a billion dollars. They also signed starting pitcher Jon Gray to a four-year, $56 million deal.
Although they've dropped enough money this offseason to buy the Vegas Golden Knights, all reports show that the Rangers plan to spend more once this lockout is over. And if there is one place where they should be looking to spend, it is in the outfield.
The Rangers' current outfield consists of (LF) Willie Calhoun, (CF) Adolis Garcia, and (RF) Kole Calhoun. That's not going to win you many ball games. The corner outfield spots are the main issue for Texas, as Adolis Garcia can man center with the best of them.
Adding Suzuki to this lineup would make them one of the more potent offenses in the American League.
4. Seattle Mariners
The time is now for Seattle to go all-in to win, but why would they sign Suzuki when they already have so many outfielders?
Top prospect Julio Rodriguez is set to make his highly anticipated debut in the outfield, and Jared Kelenic should bounce back after last season's struggles. Kyle Lewis went down with an injury early last season, and Mitch Haniger hit 38 home runs last year. So, what's the issue?
Even with the incredible amount of talent, question marks remain. When will Rodriguez indeed be ready? Will Kelenic take the step up that everyone thinks he will? Can Kyle Lewis be the answer in center field? Is Mitch Haniger headed for more of a DH role?
The Mariners were one of the teams to conduct a zoom interview with Suzuki, and GM Jerry Dipoto came away pleased, "He's a great player. He's had a great career. Now that he's a free agent, it'll be interesting to see what he chooses. But yeah, I don't know what that'll be."
The last time the Seattle Mariners had the chance to sign a corner outfielder named Suzuki it worked out rather well for them. Seiya may never be able to match the impact of a Hall of Famer like Ichiro, but he can certainly provide the Mariners with some pop and a lot of excitement heading into the 2022 season.
3. Toronto Blue Jays
When the Blue Jays showed they had strong interest in Suzuki before the lockout, I was a bit surprised. The outfield was a strength for the Blue Jays last year, even though their fancy new signing George Springer played just 78 games. Lourdes Gurriel Jr took a big step forward, and Teoscar Hernandez is one of the best right fielders in the game.
Toronto also hasn't been at the forefront of international signings from Japan. However, what is interesting is that there are reports that Toronto is comfortable trading away MLB talent this offseason in search of more pitching. It makes a lot of sense, considering how loaded the Blue Jays offense is. Could we see them trade from the MLB roster and sign Suzuki?
I think we just might.
2. San Francisco Giants
The Giants are doing more due diligence than most on Seiya Suzuki. In November, Andrew Baggerly of the Athletic wrote that the Giants were one of the teams conducting zoom interviews with Suzuki. The Giants have a few free agents coming off the books, so they have enough to spend on a player like this.
They traded for Kris Bryant at the deadline, but he's unlikely to return. Darin Ruff was excellent last year, but he'll most likely play a DH role. Lamonte Wade was a valuable contributor, but he'll play a lot of first base to alleviate an aging Brandon Belt. That leaves the Giants outfield looking relatively thin, so signing a free agent outfielder makes a lot of sense.
Suzuki would immediately fill a need and be less expensive than Nick Castellanos. He's a far better defender than Kyle Schwarber, and he's younger than both. This is one of my favorite fits, and the Giants are definitely one of the front-runners to sign him.
1. Boston Red Sox
The Red Sox are engaged. Very engaged. In a report by the Boston Sports Journal, the Red Sox were one of the early suitors for Seiya Suzuki and have kept a watchful eye on him throughout the entire offseason.
Here's a quote from that article that should fire up the Bostonians, "One major league evaluator who has scouted Suzuki extensively for his club remarked to colleagues recently that Suzuki is, indeed, 'a difference-maker'."
It's also evident that Suzuki has taken a liking to Boston. He has a strong relationship with former Red Sox Koji Uehara, follows the Red Sox on social media, and likes Xander Bogaerts.
It's clear that Chaim Bloom loves Suzuki, but does he fit their outfield situation?
They already made a move, trading Hunter Renfroe to the Brewers for Jackie Bradley Jr. in a deal that improved their defense but hurt their offense. Alex Verdugo has solidified left field, but pairing him with a combination of Jaren Duran and Jackie Bradley Jr isn't all that enticing. They have JD Martinez, but he'll likely play most of his games at DH. Kike Hernandez will get some time in the outfield, but his services will be needed at second base as well.
Signing Seiya Suzuki would be the perfect final piece to the puzzle for the Red Sox outfield, improving their depth both offensively and defensively.
Final Prediction: Seiya Suzuki signs a five-year, $50M deal with the Boston Red Sox.