Analysis
MLB Award Odds: Who Are the Favorites to Win in 2023?
Who are the favorites to win the Most Valuable Player, Cy Young and Rookie of the Year Awards in both the National and American Leagues?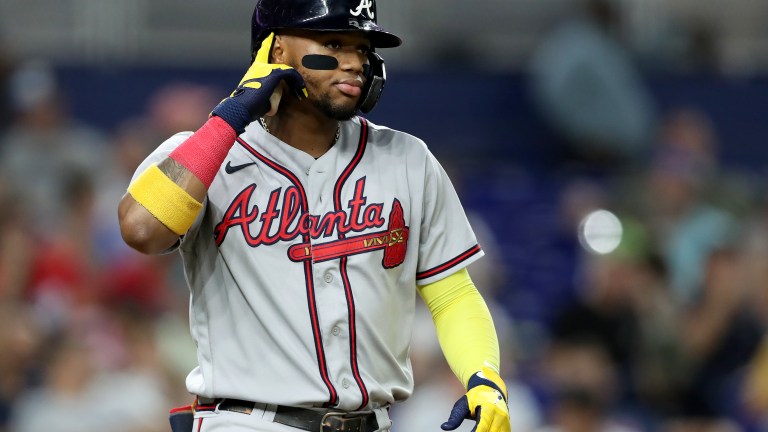 We have less than 50 games in the 2023 Major League Baseball regular season, with much already decided in regards to the award races in each league.
There have been clear favorites established, with some awards all but set in stone by this time of year. Today we will take a look at the updated odds on each of the major award races in both the National and American Leagues.
From these odds, we can see who the clear favorites are to win these awards and if there are any underdogs worth wagering on before the season comes to a close.
All odds are provided from our partners at BetMGM. If you sign up to BetMGM with our promo code JUSTBASEBALL you will receive up to $1,000 in Bonus Bets back if your first bet doesn't win.
AL MVP Odds
There is really no point in breaking down the MVP odds in the American League, because this is a race that has been sewn up for a very long time. The only way the AL MVP race could have even become one is if Shohei Ohtani was traded to the National League at the deadline.
In that case, Ohtani might have still been the favorite, but some of the other top players would have had a few months to catch up and turn it into even a discussion.
Now, we look at the -10000 odds of Ohtani winning the MVP and realize it is basically a foregone conclusion. But hey if you got some money to spare, lay down $1,000 on Ohtani and you can get yourself a nice return of $10.
NL MVP Odds
Ronald Acuña Jr -650
Freddie Freeman +500
Matt Olson +1600
Mookie Betts +3000
Another race with a heavy-favorite, but at least one that is worth wagering on.
Ronald Acuña Jr. has been the best position player in baseball this season, posting a league-leading 6.2 fWAR. He is hitting .338/.423/.577, with a 168 wRC+. Acuña is leading the league in runs scored (109), stolen bases (55) and on-base percentage (.423), all while playing on the best team in the National League. The odds clearly say he will win the award, but there a few guys worth taking a flier on who could still conceivably upset Acuña down the stretch.
We will start with Acuña's former teammate, Freddie Freeman.
Freeman's slash line nearly mirrors that of Acuña, being within 10 points in all three categories as he has hit .336/.414/.583. Freeman has posted a wRC+ of 167, which is just a point behind Acuña for the National League lead, and his 5.9 fWAR is not far behind as well.
Furthermore, if you look at Freeman's numbers since July, he is gaining ground on Acuña.
Over his past 37 games, Freeman is hitting .372/.444/.669, with a 197 wRC+. Known to finish seasons strong, there is every chance Freddie can run down Ronald and at +500 that is worthwhile bet to take. Or, you could just lay something down on the guy who replaced Freeman in Atlanta.
Speaking of gaudy numbers since July, Matt Olson has also been on an absolute heater as of late. The Braves first baseman has smashed 15 home runs over his last 38 games played and is hitting .346/.462/.728, with an MLB-best 206 wRC+ during that span.
Olson has grabbed the MLB-lead in home runs from Shohei Ohtani, pacing the league with 43 home runs. He is also leading the league in RBIs by a wide margin, with 107 runs driven in already. Olson and Acuña may split votes, which could be a reason to look towards Freeman, although the same could be said with his own teammate in Mookie Betts.
A former MVP in his own right, Betts is having a great season as well, hitting .289/.389/.579, with a 159 wRC+ and a 5.8 fWAR. With 31 home runs, Betts is four away from matching his career-best mark of 35 from last season.
AL Rookie of the Year Odds
Gunnar Henderson -200
Masataka Yoshida +400
Triston Casas +400
Josh Jung +8000
When we last checked in on the Rookie of the Year race in the middle of June, Josh Jung was the favorite with Masataka Yoshida and Gunnar Henderson not too far behind. A few weeks later, we were talking about how it was Henderson who now should be considered the favorite.
Now here we are with less than 50 games left in the season and it is in fact Henderson that has become the betting favorite to win the award in the American League, but not because of Jung's play on the field.
Instead, it is a fractured thumb that has taken Jung out of this race, as he could be sidelined for the rest of the season. Although the Rangers are hopeful he will make a return before season's end to be part of their playoff run.
This has opened the door pretty wide for Gunnar, who is second in fWAR at 2.4 right now behind Jung's 2.7 mark. Gunnar is also three home runs away from taking the AL rookie lead from Jung as well. The Orioles are in the middle of a playoff push, giving Gunnar all the exposure needed to win the award. He has struggled since July though, hitting just .232/.292/.452.
If not Henderson, there are a pair of Red Sox rookies who could take over this race down the stretch, with Yoshida and Triston Casas. Both featuring +400 odds, it is Casas who I'd be wagering on.
Since June, the 23-year-old has hit .301/.392/.575, with 13 home runs and a 159 wRC+ over 59 games. He is the hottest rookie in the American League right now and a real dark horse to take this award down the stretch.
NL Rookie of the Year Odds
Another race that is a foregone conclusion, Corbin Carroll will be the NL Rookie of the Year in 2023.
Carroll is pacing all NL rookies in many categories, such as fWAR (4.1), wRC+ (129), runs scored (83), stolen bases (36) and is tied with Francisco Alvarez in home runs at 21.
AL Cy Young Odds
Gerrit Cole -350
Kevin Gausman +400
Framber Valdez +1400
Luis Castillo +1400
Shohei Ohtani +4000
George Kirby +5000
The current favorite to win the AL Cy Young is Gerrit Cole and for good reason. Assuming Nathan Eovaldi does not return, or does not return until much later in the season, Cole is the leader among qualified pitchers in ERA at 2.76. He is also pacing the league in innings pitched.
Outside of Cole, Kevin Gausman has a good shot to win the AL Cy Young, leading the Toronto Blue Jays with his 3.04 ERA across 139 innings pitched. Gausman is leading the league in both fWAR at 4.4 and in strikeouts-per-nine at 11.85 K/9.
It would take incredible finishes to the year for someone other than Cole or Gausman to win, as reflected by the odds.
NL Cy Young Odds
Zac Gallen +180
Blake Snell +250
Logan Webb +300
Spencer Strider +700
Justin Steele +900
Zack Wheeler, Corbin Burnes +3300
Currently the slight favorite in the National League, Zac Gallen has pitched to a 3.24 ERA and is leading the league in innings pitched at 155 2/3. He is also leading the NL in fWAR at 4.3.
With the Diamondbacks falling out of playoff contention though, there is a chance for other pitchers to get more recognition down the stretch, and potentially grab the award from Gallen. One of those pitchers is not necessarily doing much better when it comes to team success, but he has been the best pitcher in baseball for months now.
Blake Snell is leading the NL with his 2.63 ERA, as he looks to add some extra dollars to his upcoming contract when he hits free agency this winter. Being a reigning Cy Young should do him very well in negotiations, especially considering the fact that he has already won the award once.
Logan Webb and Justin Steele have each been a model of consistency for their respective clubs, while Spencer Strider is going through a rough patch, but still posts the most gaudy strikeout numbers in the game.
Zack Wheeler and Corbin Burnes have both gone from preseason favorites to longshots, but each is leading their teams on playoff pushes that could change that narrative back around.