Analysis
Underrated Hitting Prospects Who Have Seen Their Stock Rise
These seven position player prospects have exceeded expectations and elevated their stock in 2023.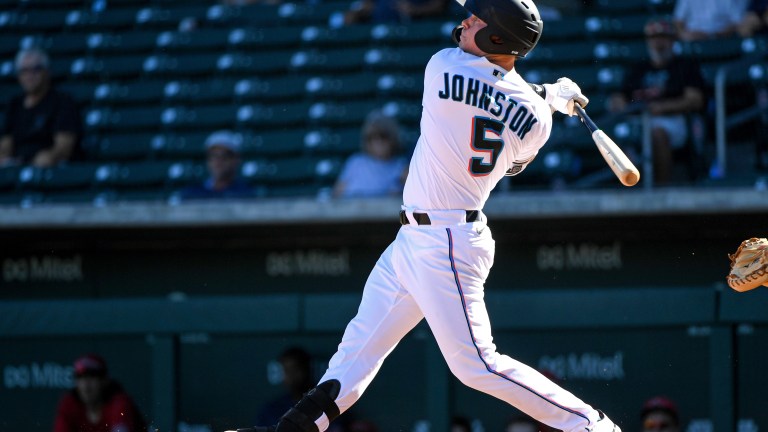 With our Top 100 Prospect Update dropping last week, I wanted to take a moment to shine some light on prospects who are elevating their stock. Maybe not enough to be top-100 prospects just yet, but these are names whose arrows are pointed at a steeper angle than others.
It could be relative. Maybe a prospect who was viewed as an organizational depth piece (a kind term for a career minor leaguer) who has played his way into top-30 status for his team, or a back-end top-30 guy who has played his way to the brink of cracking the top 100 list.
Put simply, this is an exciting opportunity to highlight the players who have exceeded the expectations many had for them heading into this year.
Justice Bigbie – OF – Tigers
2023 stats (A+/AA): .345/.406/.553, 17 HR, 38 XBH, 163 wRC+, 15 K%
Have the Tigers found their next Kerry Carpenter? It is, of course, too early to tell, but the similarities are eerie. And I'm not talking about where they played their Double-A ball. Both Bigbie and Carpenter heard their name called in the 19th round, putting up rather pedestrian numbers in their first full season before breaking out in their age-24 campaigns. They both had pressure on their bats due to defensive questions in the corner outfield as well.
It's impossible to ignore Bigbie's slash line, but the numbers beneath the hood are extremely encouraging as well. In fact, in terms of exit velocities and contact rates, Bigbie has Carpenter beat in the data department (of course, there's much more to it than that).
But Bigbie is running an above-average zone contact rate of 86% as well as a well-above-average 90th-percentile exit velocity of 105 mph. Both of those figures are on par with plenty of top-100 prospects, yet the difference is that Bigbie is an aggressive hitter who had little track record prior to this season and will turn 25 years old at the start of next year.
That said, Bigbie has played his way into not only being considered a legitimate prospect but a player who could get a big league look next year. His swing is quiet and repeatable with power to all fields. With some slight improvements to his approach as well as his glove in the outfield, Bigbie could play his way into being a top-10 prospect in a solid Tigers system.
Blake Dunn – OF – Reds
2023 stats (A+/AA): .323/.424/.528, 20 HR, 41 XBH, 158 wRC+, 23 K%, 47 SB
A 15th-round pick out of Western Michigan in 2021, Dunn enjoyed a solid collegiate career in the MAC, posting a .900 OPS over his four seasons with his main selling point being his athleticism. A standout two-sport athlete in high school, Dunn is explosive but struggled to consistently tap into power in college. Teams were intrigued by his upside, and he reportedly received plenty of interest as an under-slot candidate in 2020's shortened draft.
Dunn opted to return to Western Michigan after his number was not met, and he would go on to have a good, not great, season where he was a bit banged up. It didn't take long for the Reds to realize that they made the right decision in snagging the player whom many teams had glossed over after his 2021 collegiate campaign.
A strong start to 2022 was encouraging, as he slashed .290/.468/.495 in 33 Low-A games before colliding with a teammate in the outfield as well as dealing with some forearm inflammation. Already 24 years old at season's start in 2023, Dunn was assigned to High-A, where he began to make up for lost time.
After mashing to a 150 wRC+ in 47 High-A games, Dunn was promoted to Double-A where he kicked things into another gear. He swiped 27 bags in his first 60 games at the level while producing a wRC+ of 163. Most notably, Dunn has tapped into above-average power, flashing exit velocities as high as 112 mph while hitting the ball in the air with a bit more consistency.
With average contact rates, above-average exit velocities, a patient approach and elite speed, Dunn has taken himself from late-round flier to a player who could be in consideration for big league playing time at some point next year. His ability to play all three outfield spots and mash lefties could make him a nice platoon option for the Reds.
At the time of writing, Dunn is slashing .386/.504/.733 in 125 plate appearances against left-handed pitching.
Abimelec Ortiz – 1B – Rangers
2023 stats (A/A+): .302/.362/.628, 30 HR, 53 XBH, 159 wRC+, 29 K%
Signed as an undrafted free agent in 2021 out of Florida SouthWestern State College, Ortiz struggled in his first pro season, posting just a .688 OPS at Low-A. He emerged in 2023 looking like a different hitter.
His exit velocities jumped by multiple ticks, and he slashed his ground ball rate. Hitting the ball harder and in the air more frequently will, of course, result in more homers, and Ortiz has been among the MiLB leaders in that department this season.
As a bit of a free swinger who gets his A-swing off as often as possible, there's a fair amount of whiff in his game, but there is still a better feel to hit than some may expect. Limited to first base, Ortiz will need to slug his way to the big leagues, but his all-fields power and impressive age-21 season have him ascending from outside the Rangers' top 30 to inside the top 10.
Austin Shenton – 3B/1B – Rays
2023 stats (AA/AAA): .302/.405/.591, 26 HR, 62 XBH, 152 wRC+, 27 K%
A fifth-round pick by the Mariners in 2019, Shenton hit the ground running offensively, quickly climbing to Double-A in his second pro season before being traded to the Rays in 2021. Shenton may not have the same "started from the bottom" type story as some of the other prospects featured in this article, but he really struggled with injuries last year, limiting him to just 52 games where he struck out at a 31% clip and posted an OPS of just .753.
Shenton's rough 2022 offensively and limited defensive value resulted in him being left unprotected in the Rule 5 Draft, where he went unselected. He repeated Double-A to start 2023, where it was clear that he was healthy and back to his mashing ways.
He hit .307/.415/.567 with 15 HR in 73 Double-A games, though his 26% strikeout rate made the looming challenge of a Triple-A promotion an important one. He hasn't missed a beat since joining Durham, mashing 11 homers in his first 37 games.
There will likely always be whiff to tolerate with Shenton's profile, but he hedges that with plus power, a patient approach and the ability to drive the ball to all fields. The defensive limitations hold him back a bit, but Shenton has played his way onto either the Rays 40-man roster or a potential Rule 5 selection.
Joey Loperfido – UTIL – Astros
2023 stats (AA/AAA): .291/.386/.537, 21 HR, 49 XBH, 137 wRC+, 23 K%, 24 SB
Loperfido has looked like a heist of a draft pick since the start of the 2022 season. A seventh-rounder in 2021, Loperfido came with a strong track record of hitting at Duke and good numbers on the Cape. Still, questions about his long-term defensive home and power upside caused him to slip a bit.
He put together a fantastic 2022 campaign at the lower levels, mashing to a 148 wRC+ between Low-A and High-A with 41 extra-base hits and 32 stolen bases. While his season absolutely elevated his stock last year, the fact that he was a 23-year-old college bat elicited the classic, "let's see him do it at the upper-levels" type of response.
Well…he has done it at the upper levels. Loperfido has tapped into all-fields power, launching 19 homers in 84 Double-A games while improving his stolen base efficiency with 20 steals on 23 tries prior to his Triple-A promotion.
Not only did his slugging numbers improve, but he maintained his palatable 22% strikeout rate while upping his walk rate to 12%. Defensively, Loperfido has settled into center field well while still showing the versatility to play the corners as well as some second and first base.
With still more power in the tank, Loperfido has not only solidified himself as one of the better prospects in the Astros organization, but he could be knocking on the door of top 100 lists if he doesn't debut before that.
Troy Johnston – 1B – Marlins
2023 stats (AA/AAA): .315/.404/.580, 24 HR, 61 XBH, 151 wRC+, 18 SB, 151 wRC+
Another player who was left unprotected in the previous Rule 5 Draft and went unselected, Johnston would almost surely be snagged by another team if the Marlins left him exposed this offseason.
Setting career marks in every offensive category will do that for a player, but Johnston has also kicked things into another gear since being promoted to Triple-A, where he is slashing .365/.426/.617 in 28 games with six home runs.
Another fun wrinkle within Johnston's game is his base running. An average runner, Johnston worked hard on his jumps this offseason to make stolen bases a minor part of his game, swiping more this season (18-for-19) than he had in his entire professional career entering 2023 (11-for-15).
Above-average power and an above-average feel to hit have Johnston trending towards a September call-up or a chance to break camp in 2024. Regardless, he has just about guaranteed himself a spot on the 40-man roster.
Victor Scott II – OF – Cardinals
2023 stats (A+/AA): .303/.372/.417, 6 HR, 32 XBH, 118 wRC+, 16 K%, 81 SB
An absolute burner on the base paths, Scott has improved at the plate, which has helped him push towards a near triple-digit stolen base pace while looking like a more complete player. The 2022 fifth-round pick put up meager offensive numbers in Low-A last season but has topped those figures at both the High-A and Double-A levels this year.
Scott's contact rates have progressed to plus territory, while he is still running a chase rate of only around 23%. Combine that with his elite speed, and Scott has turned himself into an on-base machine despite the fact that he is the guy teams want on the base paths the least.
After swiping 13 bags on 16 tries in 31 Low-A games last year, Scott is 81-for-92 against more challenging competition in 2023. A great defender in center as well, Scott might be kicking the fourth outfielder label and making a case for his everyday upside in center.