Analysis
AL Central Prospects to Watch This Spring For Fantasy Baseball
Fantasy managers should keep a close eye on these top prospects in the AL Central throughout spring training.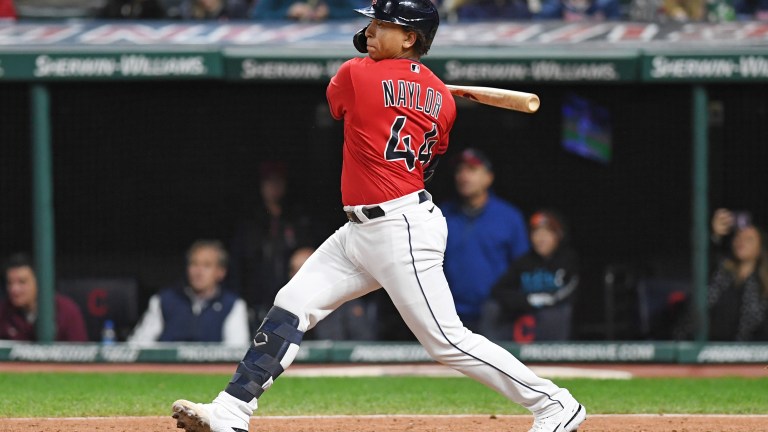 Yesterday we went over the American League West prospects to keep an eye on in spring training, and now it's time to go over the AL Central's prospects. In this series, we will give a primer of sorts about prospects in spring training. Some of these prospects will be participating in the World Baseball Classic – more on that in a later article.
I will denote (*) which players are on the 40-man roster, because being on the 40-man roster means they have an easier route to being on the active roster (from the team's perspective). Any prospect not on the 40-man roster is a non-roster invitee. Without further ado, let's get to the least scary division in the American League and their prospects who got the invite to spring training.
Cleveland Guardians
Joey Cantillo – LHP*, Bo Naylor – C*, Gabriel Arias – SS*, Jhonskey Noel – 1B*, Brayan Rocchio – SS*, George Valera – OF*, Logan Allen – LHP, Peyton Battenfield – RHP
Cantillo once was a prospect that had some serious hype; now he's looking to string together a full, healthy season. In his career, he has never posted a strikeout rate below 25% at any stop, so that is encouraging. There is a back-end fantasy starter here if he can ever remain consistently healthy. I am going to be more interested in where the Guardians assign him after spring training. He's worth a buy-low right now – any pitcher in the Guardians org really is. 
Bo Naylor has a chance to work his way into being the backup in Cleveland with a good spring. After that, he has a chance to carve out the starting role if he can hit and catch well enough. Only Mike Zunino is in his way, and Naylor, while not the catcher that Zunino is, is a much better offensive option. Naylor can also pitch in here and there with 10-12 stolen bases (excellent for a catcher), which helps especially in Roto formats. Arias is all tools, and who knows if he will ever hit enough. He's got 20-20 upside if he can ever just hit .240-.250. 
Jhonsky Noel has elite raw power, may truly be 80-grade, but he just can't stop swinging-and-missing, and he doesn't have a defined position, which makes him seem like the anti-Cleveland prospect. Rocchio is your classic Guardians prospect: he makes contact at an above-average rate, has some speed and some positional versatility. He's a deep-league flier at this point. I do have him rostered in a few spots, so this may be wishful thinking on my part. 
Neither of these prospects are participating in spring training, and maybe this is the reason why. Daniel Espino being hurt is why people are wary of pitching prospects in the fantasy game. This is a bummer.
Chicago White Sox
Sean Burke – RHP, Matthew Thompson – RHP, Colson Montgomery – SS, Oscar Colas – OF
If you have Sean Burke and Matthew Thompson on your roster, I commend you for being in a deep league. Both profile as relievers for a team that thinks of itself as a competitor. Unless you are in a 30-team league, these arms aren't of much value to you. 
Colson Montgomery is the gem of the, well, not good White Sox system. He's athletic enough to pitch in here and there with some stolen bases. His calling card will be posting solid averages with solid power. He's not ever going to be a star, but I am fairly confident he will be a good fantasy player for years to come. He'll never be someone you cut in a standard keeper league and there's lots of value in that. 
Colas is a physical player who's not ever going to steal any bases. But he does hit the ball and hit it hard. He's also right on the doorstep of the majors. And given the fact that Gavin Sheets is the starting right-fielder, Colas may get a chance at the job sooner than many anticipate. 
Minnesota Twins

 
Jordan Balazovic – RHP*, Simeon Woods-Richardson – RHP*, Edouard Julien – 2B*, Matt Wallner – OF*, Brooks Lee – SS, Austin Martin – 2B
Balazovic has had some command issues show up, and that hurts the profile, and the stuff has diminished, according to reports. We will keep an eye on this in spring training, but if you still roster him, it might be time to bail. Balazovic is currently set to miss some time in spring training with a broken jaw.
Simeon Woods-Richardson is a real mouthful to say, but he's a good enough pitcher. There's prospect fatigue here, and that may present a buying window. He's a back-end starter in the fantasy game who is more valuable as a ratios asset. 
Julien is going to be an OBP monster. He has always shown an ability to draw a walk and hit the ball hard. He's a top-100 prospect on any fantasy list because of those skills. Playing time may be hard to find this year in Minnesota because Jorge Polanco routinely is the most underrated player. Wallner is all about hitting for power, and I question if he will ever make enough solid contact, but he does offset his poor contact skills with good walk rates. He's a deeper league option who did get some time last year with the big league squad. He even posted a 104 wRC+ in that brief sample. 
Brooks Lee likely costs you a high pick in your FYPDs and for good reason, because he's good. Lee will likely not get too much run with the squad in spring training, but we shall see. If he gets a hit or two and shows he can maybe stick at short, that'll be enough for me. There's 25-homer potential here; he'll be solid for a long time. Martin is becoming less and less fantasy relevant by the season. I question now if he will ever hit even 15 homers in a year. His fantasy skills and production will be tied to his speed and his batting average, which on their own aren't super valuable if he only hits 8-12 homers. Please graduate from prospect status this year. 
Detroit Tigers
Reese Olson – RHP*, Wenceel Perez – SS*, Parker Meadows – OF*, Colt Keith – 3B, Justyn-Henry Malloy – OF
Reese Olson, despite having the suboptimal way of spelling the name we share, is a solid arm. In 2021, he punched out 33.1% of the batters he faced while having a 42.2% ground-ball rate which is the recipe for fantasy success. Even if he has to move to the bullpen, he could be nasty in that spot. Wenceel Perez's fantasy value is tied to his speed, and hopefully he hits for enough power. Meadows has serious power and speed, just, well, he might not ever hit enough. Oh, also there will be a chance he plays with his brother, which is cool. 
Colt Keith should be everyone's top Tigers prospect in my opinion. This dude just rakes. He could become a 30-homer bat if he played his home games in any other ballpark. I also think he's up earlier than people will expect. If he mashes at Double-A, we could see him rather quickly because the third-base spot in Detroit is, uhh, not good. 
Justyn-Henry Malloy will be an interesting one because he had a breakout season in the Atlanta org, I just hope this wasn't a sell-high by one of the league's smartest front offices. JHM will need to hit and hit for power because there is little to no speed here.
Kansas City Royals
There are no real fantasy-viable prospects here that were invited to spring training. It's weird to see no Gavin Cross, but that's just the Royals, baby. Much like the major league squad, this farm system is rather boring, so here, enjoy a Gavin Cross homer.