Analysis
Despite Trades, Yankees System Has Vastly Improved
It has been a dream year for the Yankees farm system.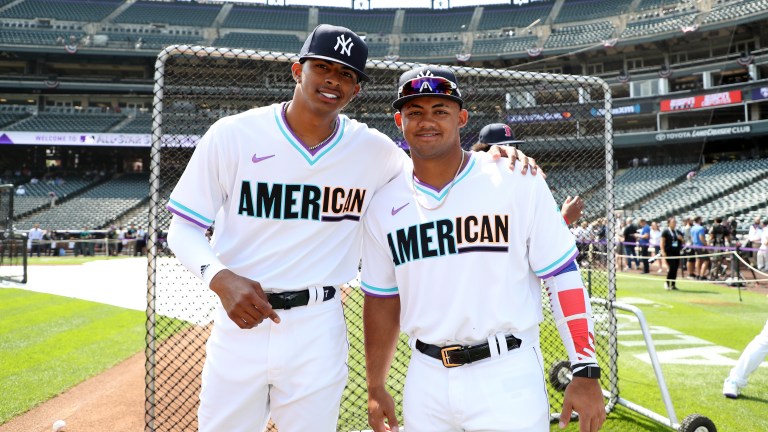 Generally, the most improved farm system from season to season is that of a team who decides to sell off its big league assets. That's not the case this year, however. The Yankees were able to acquire Joey Gallo and Anthony Rizzo at the deadline and still have one of baseball's most improved farm systems since the first pitch was thrown this season.
It seems counterintuitive that a team which subtracted quality prospects like Josh Smith, Ezequiel Duran, Kevin Alcantara, Glenn Otto, and others could somehow improve, but it speaks volumes to how many prospects took major leaps in the Yankees' system this year. In fact, many of the prospects the Yanks dealt were guys who boosted their value significantly during this season.
Breaking Into the Top 100
No big league team added more than a pair of top 100 prospects at the deadline this year. The Nationals of course attained two incredibly valuable prospects in Josiah Gray and Keibert Ruiz, but the Yankees have seen several of their prospects catapult into our soon-to-be-released top 100 list, with several others knocking on the door.
Anthony Volpe could not be found on a single top 100 list heading into this season. A late first round pick in 2019, Volpe was seen by many as a safe glove-first shortstop who would hopefully swing it well enough to become a regular at the position. After a rocky pro debut in rookie ball and cancelled 2020 season, Volpe has exploded in 2021 to the tune of .298/.423/.617 with 25 home runs. The power has shocked many, sending him not only into every top 100 list, but in the top third of many. The Nationals had to trade Trea Turner and Max Scherzer to acquire a couple players in that 55+ future value range.
Another Yankees shortstop prospect who has developed into a consensus top 100 prospect is Oswald Peraza. The 21-year-old has always had a well-rounded skill-set and ability to barrel the baseball, but he has truly come into his own in 2021. Peraza's leap in terms of prospect stature is not quite as dramatic as Volpe's by the general industry's perspective, as he was already regarded as one of the better bats in the Yankees' system prior to this year, but Peraza has still become a top 10 shortstop prospect in baseball.
In terms of the system depth offensively, many of the back-end top 30 guys, and even unranked prospects, made major improvements this year. Nine different Yankee prospects have hit at least 15 home runs, and young players like Everson Perriera, Austin Wells, and Oswaldo Cabrera are enjoying spectacular seasons that could put them on the top 100 radar for 2022.
On the pitching side, the results have been equally as fruitful for the Yankees. Even the big league team has enjoyed the benefits of the system-wide progress in the form of Luis Gil. The 23-year-old flamethrower was striking out nearly 13 batters per nine innings before the Yankees brought him up in a pinch. Gil came up big for the Yankees, not surrendering a run in his first three starts. Last night's start for Gil was the first time he has faced adversity in the majors, walking seven and surrendering three earned runs, but his ERA still sits at 1.42.
Luis Medina is another name who has been on radars for a while thanks to his effortless 100 MPH fastball, but his command issues and lack of consistency with his secondaries held him back from being considered an elite prospect. While command is still a bit of an issue, Medina has improved his feel for his secondaries and harnessed his stuff enough to reap the rewards on the mound. The 22-year-old embarrassed High-A hitters to the tune of a 2.76 ERA and 13.8 K/9. Now in Double-A, Medina has seen his command slip a bit, but has still been effective and continues to exceed expectations in 2021.
The biggest riser still in the Yankees system has no doubt been southpaw Ken Waldichuk. The 23-year-old entered the year ranked 45th in the Yankees system by Fangraphs and is now considered a consensus top 10 prospect for the Yankees. It took a lot for the 2019 fourth round pick to get there though, posting a 2.96 ERA in 19 starts between High and Double-A along with a 13.8 K/9. The 6-foot-4 southpaw has a good three pitch mix and commands it well.
Other names who have impressed include the recently drafted Beck Way, Randy Vazquez, Hayden Wesneski, and Mitch Spence. All of them own a sub-four ERA, while striking out at least 10 batters per nine innings.
Appreciating Assets
The other half of the reason why the Yankees were able to acquire Joey Gallo and Anthony Rizzo without hurting their system is because many of the prospects traded were some of the other players who made the biggest improvements this year as well. Of all the pitchers I just detailed above, none has improved more than Glenn Otto.
Otto was sent to Texas as part of the package for Gallo that also included Ezequiel Duran, Josh H. Smith, and Trevor Hauver. If the Yankees proposed that deal before the season started, the Rangers would've hung up the phone. Otto had only thrown 78 innings since being drafted in 2017, Smith was 23-years-old without having played above short-season ball, and Hauver had just been selected in the third round of the 2020 draft.
As we all know at this point, that package appreciated not only enough to get Gallo, but also to have his salary covered by the Rangers as well. Otto added a slider which has instantly become his best pitch and aided him to a big league call-up already, Smith posted a near 200 wRC+ in 39 games before getting dealt, and Hauver started his professional career with a 159 wRC+ in 66 Low-A games. Ezequiel Duran was the highest regarded prospect in the package coming into 2021, and did nothing but help his stock with the way he swung the bat early in the season, as well as some improvements defensively.
All in all, it has been a dream year as far as the Yankees' farm system goes. Brian Cashman and Co. had a strong draft as well this year, adding three high-upside guys in Trey Sweeney, Brendan Beck, and Brock Selvidge. A Yankees system I was very indifferent about heading into the season has more than caught my attention with the franchise's undeniable success of developing prospects over the last year. Next test? Jasson Dominguez.