Analysis
Kerry Carpenter Proving to Be a Long-Term Piece for Tigers
Drafted in the 19th round back in 2019, Kerry Carpenter has been one of the best surprise finds of the Detroit Tigers rebuild.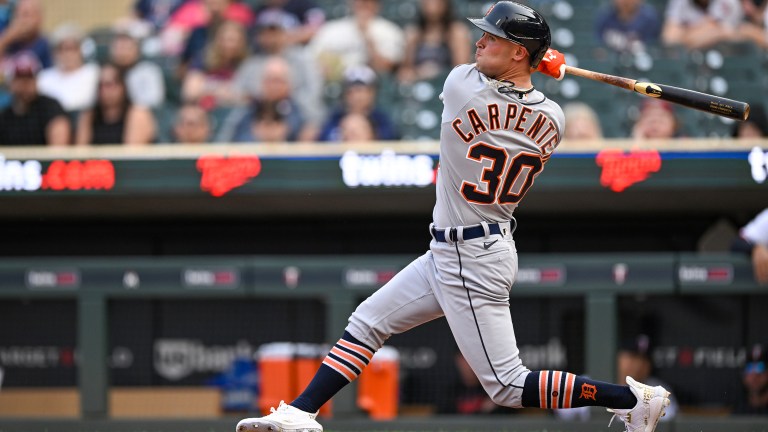 Players selected in the 19th round rarely find their way on prospect list, let alone a big league roster. One is true for Carpenter. Not only did he not appear on any national list, Carpenter was left off most Tigers pre-season prospect list heading into 2022, making his breakout even more impressive.
The pop-up prospect exploded onto the scene in 2022 mashing 30 home runs across Double and Triple-A, hitting over .300 at each stop. A late season call-up allowed Carpenter to show his ability, hitting six home runs in 31 games, but there were still questions about his ability to stick.
The improvements we have seen so far from last year show signs of an everyday regular developing.
| | | | | | | |
| --- | --- | --- | --- | --- | --- | --- |
| Carpenter | K% | Avg. Exit Velocity | Max Exit Velocity | Barrel % | Hard Hit % | Opposite Field % |
| 2022 | 28.3% | 87.2% | 107.3 mph | 11.1% | 36.1% | 23.4% |
| 2023 | 24.8% | 90.8% | 109.3 mph | 13.8% | 42.5% | 31.3% |
Improvements
Although the sample size is small, we are working with about the same sample in each year (31 games compared to 32 games). His batted ball profile across the board has already improved and he's impacting the baseball at a consistent rate, while cutting down on his swing and miss.
An area of concern was Carpenter's ability to hit non-fastballs. Entering this week, all 11 of his career home runs have come off fastballs. In 2022, he hit .316 on fastballs and is currenting hitting .328 on velocity. Off speed and breaking pitches were a different story.
Bottom line, Carpenter needs to be able to hit non-fastballs in order to really reach his potential, and we are seeing glimpses, albeit in a small sample, that he can do just that.
On June 19th, Carpenter hit his first non-fastball home run on a change up.
Ridiculous to read too much into one pitch, right? Especially one located like that, RIGHT?
Maybe so, but Carpenter has shown improvements and this is the payoff. He's increased his batting average against breaking balls from .161 to .208 and off-speed from .200 to .231. While that's not sound the alarm numbers, he's trending in the right direction and more importantly looking more comfortable in doing so.
Taking what the pitcher is giving him and hitting some line drives, even taking it the other way. Remember, this is a player with essentially two months of major league experience under his belt. He's learning on the fly, and even small improvements should be noted.
Another encouraging sign has been Carpenter's willingness to go to the opposite field. He'll continue to get plenty of pitches away, and learning to drive them to right field can really help him become a more complete player.
Although Carpenter has brought a spark to this offense and looks much better than he did pre-injury, there's still room for improvement.
Areas of Needed Improvement
Like all young, inexperienced players, Carpenter has room to improve. The first area is his defense. Last season he posted a 86% success rate in right compared to a 91% expected success rate. He's also posting lower success rates than expected to begin this season. Fielding metrics can be strange and hard to absorb, but if you watch the games, his struggles in the field are obvious.
A few different times we've seen Carpenter fumble a scoop or take an inefficient route to a fly ball. Splitting time in left and right probably doesn't help him settle down, but I understand why they might move him around. The good news – he can always DH. Let him play, make mistakes, and learn from them to see how much his defense can improve. Even if it does not, you can always keep his bat in the lineup.
An area of improvement that I think can help him the post is laying off pitches outside of the zone. His 30% chase rate (down from 33% in '22) is still high and learning to lay off those pitches will help in several ways. He'll not only draw more walks, but he'll get more fastballs as pitchers try to work from behind in the count. We already highlighted how Carpenter handles fastballs, this will likely lead to more in the zone.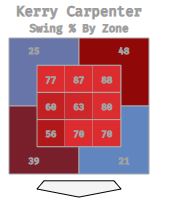 Pitchers will continue to throw pitches out of the zone if Carpenter keeps swinging at them. Putting those pitches in play happens, but rarely is the result positive. He's gotten lucky a few times, but falling into a habit of swinging at bad pitches will show it's ugly face over time.
Conclusion
The Tigers have found a gem in the deep rounds. Not only has Carpenter been productive, but he is trending towards getting better over time. Even if he has holes in his game, the power is real. Once he gets more comfortable with major league pitching, he could really take off.
The Tigers might be injured and under .500, but you don't have to squint too hard to see a decent team in the next couple of years. Having a few guys prove they can be part of the core makes Scott Harris's job much easier and Carpenter is looking like he'll be a big part of the future.